Masterstudy LMS vs Academy LMS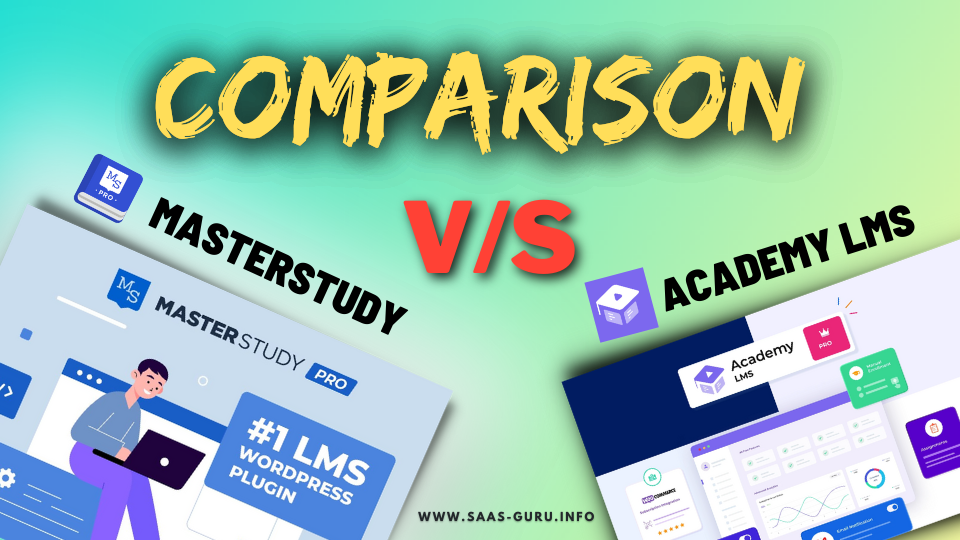 Searching for Best WordPress LMS Plugin,
Read this detailed comparison between Academy LMS vs Masterstudy Lms to find out which one is best course plugin for creating and selling online courses.
Are you a teacher, professor, expert in any field, online creator, or coach looking to sell your own online courses?  Then wordpress might be the best option for you as there are many LMS course plugin to get started and turn website into a online e-learning portal.
Some of in these course plugins, Masterstudy and Academy lms are the best ones coming with all important features yet very affordable.
And it's really hard to know which can be right option for you as both have some differences.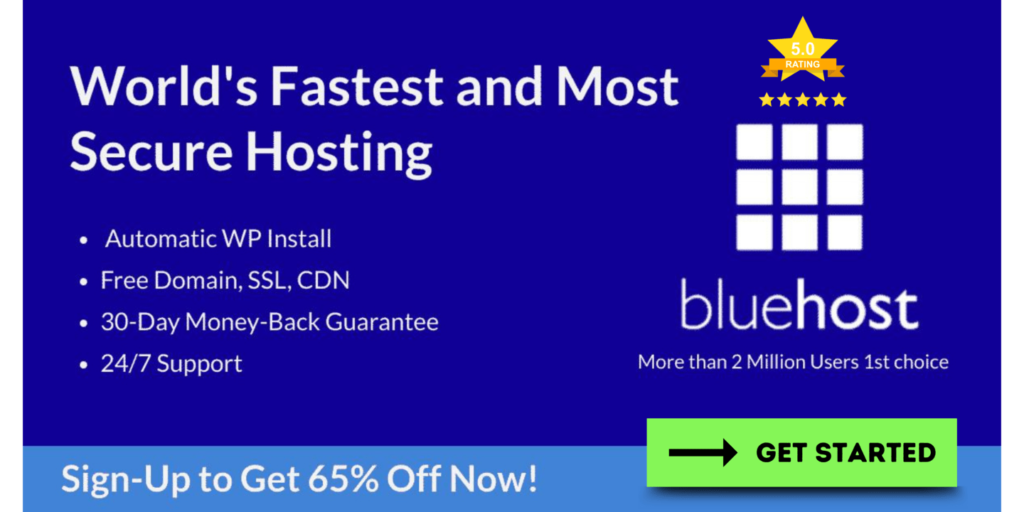 But don't worry!, Reading this comparison will help you to find out!
Here I have compared their,
Features
UI (user interface) & Ease of use
Course builders
Add-ons and integrations
Support & Documentation
Pricing & Lifetime Plans (if available)
So let's start comparing their features side by side.
Overview – Academy LMS vs Masterstudy
Academy LMS Review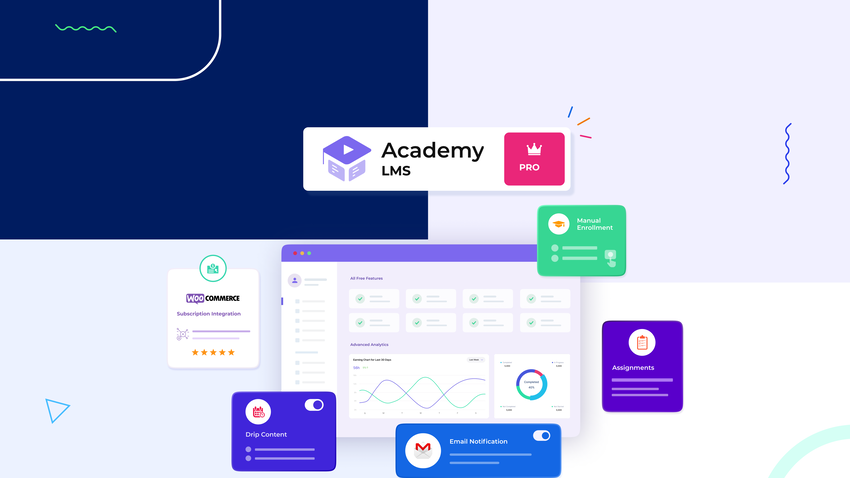 Academy LMS WordPress plugin lets you to easily create, offer, and manage any kind e-learning courses.
It has backend course builder using that you can create custom courses, add lessons and launch them in just a few minutes.
The plugin is light weight, fast-loading and has intuitive dashboards for both instructors and students, allowing for easy course management and tracking of progress.
Plus, it also offers a variety of customizable templates and widgets to create an engaging e-learning website fast, compatible with quizzes, videos, and for multiple instructors. You can to create and share custom certificates to acknowledge student achievements.
It comes with lot of advanced add-ons and 3rd party plugins integrations to give the flexibility for adding more functions.
Masterstudy LMS Review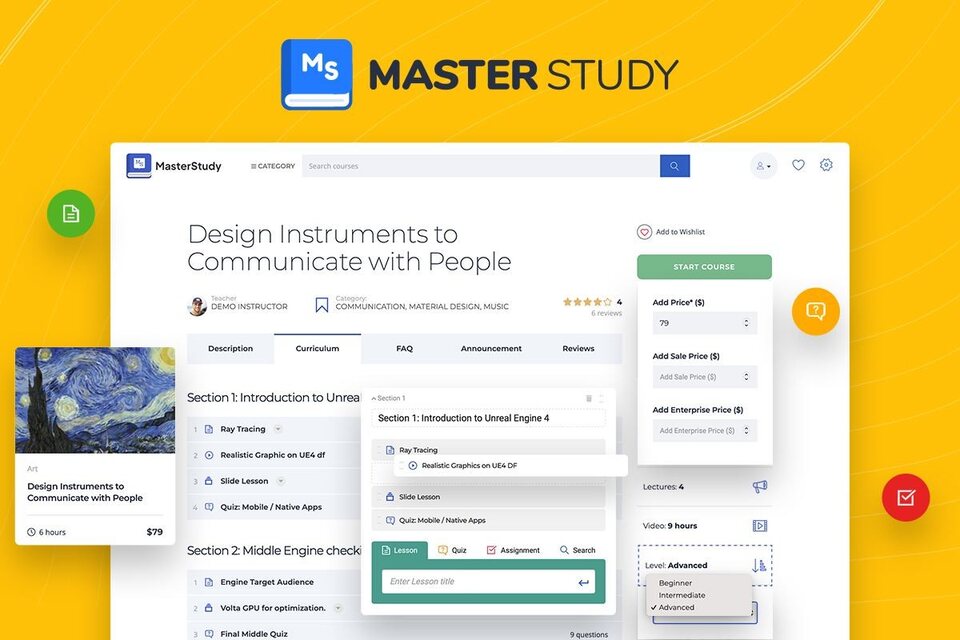 Masterstudy LMS plugin is a complete solution to turn your wordpress site into a online teaching portal with advanced features.
Developed by stylemixthemes, this learning management plugin has all the functionalities from creating to selling your online course content.
Recently Masterstudy LMS 3.0 launched with better course builder ui and other enhancements.
Using Masterstudy front course builder, you can create courses, lessons, quiz, contests, assignments and even live classes.
It also offers a flutter mobile app version for android and IOS. And whatever changes you will on website, automatically sync to the app.
What is the difference between MasterStudy theme and plugin?
The MasterStudy theme and plugin are both designed to help create and manage online courses, but they function differently.
MasterStudy WordPress theme is a complete website design that includes a set of templates, layouts, and features specifically optimized for creating an e-learning platform. It provides a visual interface through which you can customize the look and feel of your site, including colors, fonts, logos, and other branding elements.
On the other hand, plugin provides additional functionality to your e-learning platform by adding features such as course management tools, student progress tracking, quizzes and assessments, and payment processing integrations.
Did you know, Masterstudy offer it's theme free with plugin lifetime deal.
Features Comparison – Masterstudy Lms vs Academy LMS
Features
Masterstudy
Academy
Course Builder
✅ Front end + Back end
✅Back end
Personalized Dashboard
– Teachers
– Students
– Teachers
– Students
Multi Instructor
✅
✅
SPA Interface
❌
✅
Add-ons & Integrations
✅
✅
Udemy Importer
✅
❌
Certificate Builder
✅
✅
Drip Content
✅
✅
Zoom Integration
✅
✅
Live Streaming
– Youtube integration
– Zoom
– Zoom
Prerequisites
✅
✅
Mobile App
✅
❌
Form Builder
✅
✅
Gradebook & Points system
✅
[Upcoming]
Notifications
✅
✅
Discussion Panel (Live chat)
✅
❌
Email Manager
✅
✅
Multi Language
✅
❌
Multi Payment Modules
✅
✅
Documentation
– Articles
– Videos
– Articles
Pricing
-1 site: $69
-25 sites: $138
-100 sites: $207
-1 site: $29.
-25 sites: $99
-100 sites: $199
Visit
Get Masterstudy
Get Academy
Differences:
Both Masterstudy and Academy LMS have several common features. They both offer back-end course building, support for multiple instructors, certificate builders, drip content, Zoom integration, and multi-payment modules.
Even provide personalized dashboards for teachers and students, as well as notification options and an email manager.
As for the differences. Masterstudy has some unique of features over academy lms, including a Front-end course builder, Udemy course importer, a mobile app version, a discussion panel for live chat, multi-language support, and a gradebook with a points system.
On the other hand, Academy LMS offers a Single Page Application (SPA) interface, which is not available in Masterstudy.
So overall Masterstudy more extensive option with a wider range of capabilities and language support. While, Academy LMS focuses on simplicity, a SPA interface, and affordable pricing.
Winner: Masterstudy, it has many extra features with advance functions.
Also Check – Learndash vs Tutor LMS vs Learnpress comparison
User Interface & Ease of use Comparison – Academy LMS vs MasterStudy
Academy LMS UI
It has interactive user interface and easy to understand layout for both students as well instructor.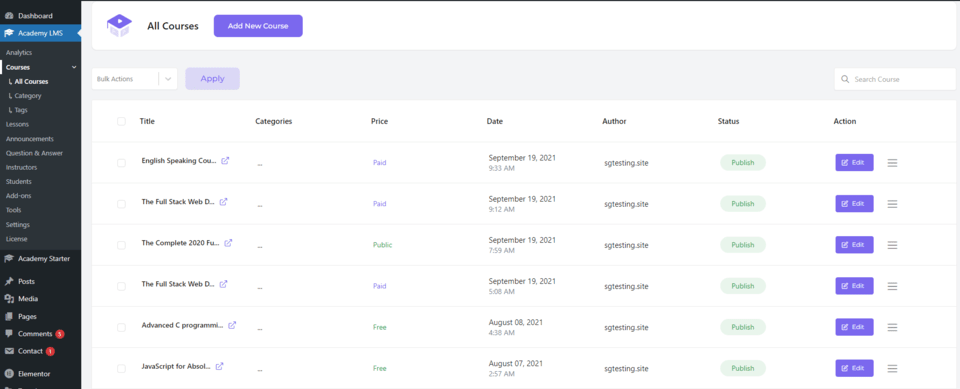 It has back-end course builder available to create courses effortlessly. And the best thing its course page interface is based on SPA (Single Page Application) built with react.js which makes it fast loading and distraction free while learning.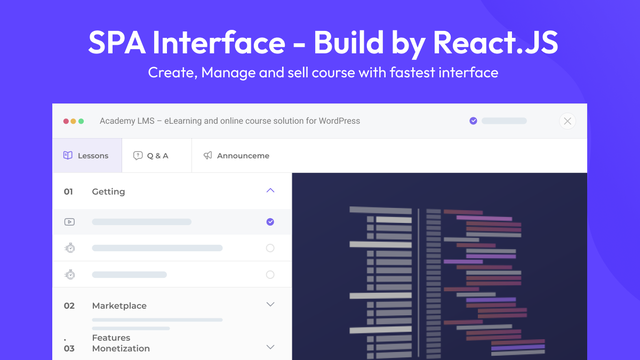 Instructors can also add Quizzes, QnA and create certificates within the platform. And if you are team of multiple instructors, don't worry it's good option there revenue sharing option available.
Masterstudy UI
It has Easy to use back-end and front-end course builder to create course and Users can customize main colors, course page layout & designs anytime as they like with few clicks.
After first time installing the plugin it launch a setup wizard where in 4 to 5 steps admin user can setup all the thing in just 3 minutes. So based on these things I can say masterstudy is one of the best yet easy to use and configure course plugin.
As a Teacher or Instructor, it just take 4 step process to upload the new course . Plus It has simplified dashboards either it's for teacher or students.
Most amazing thing, It also offer App for it's users to launch on Play store or IOS. App users interface is also good and always sync with website dashboard.
For example students can continue watch left lesson from website in app. Or whatever changes are made in website automatically applied on App.
Winner: Masterstudy as it's Ui is much better and there's also mobile app.
Differences:
After comparing these LMS tools U.i and dashboard, overall both are user-friendly, provide good user experience, dashboard filled rich features and easy to understand.
But in masterstudy, there are few things that can be much better like, front side Menu tab.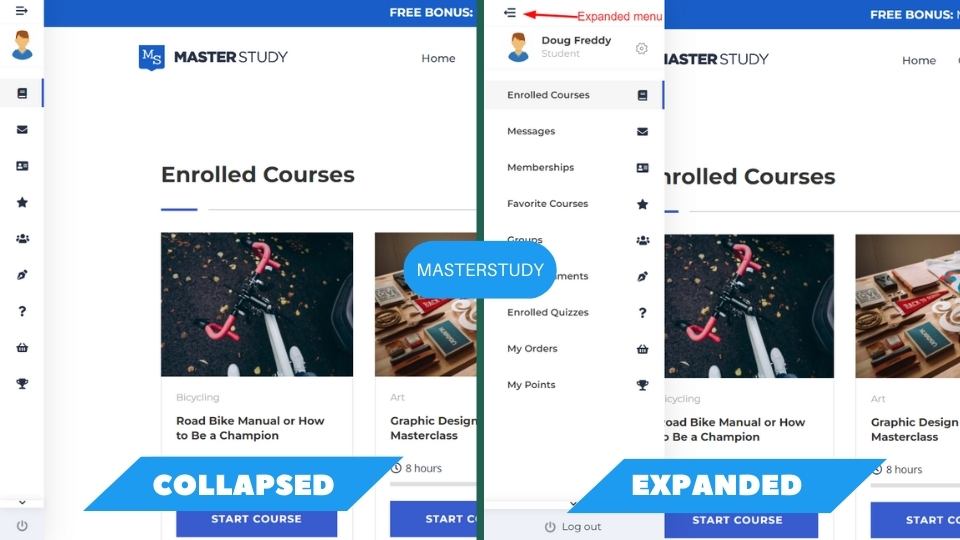 In default, menu tab collapsed and when click to expand it cover a portion of dashboard screen. But this is on front side.
While Academy Ui simple and interactive for students undivided attention from learning.
Winner: Academy LMS
Course Builder – Masterstudy Lms vs Academy
Masterstudy LMS Course Builder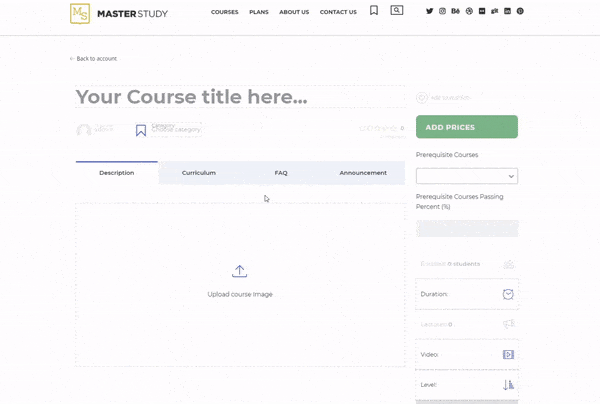 For course uploading and editing, Masterstudy offer front end and back end drop course builder.
And with recent 3.0 Update, they made their course builder even better.
Front end course builder offer better and easy visual experience for uploading course lessons and details without needed to enter in wordpress back end.
All you have to enter asked details one by one like course title, category, files etc. This lets you create courses without any coding or technical knowledge.
And all the changes you will do using front end builder or back end, automatically applied to app. That's the best part I like most.
Plus with various layouts you can create different course pages.
While back-end course builder lets you manage courses from wordpress dashboard.
Academy LMS Course Builder
This plugin only comes with back end builder. Plus with back end drag and drop features you can easily adjust and change elements locations.
But it's back end builder not that much great compared masterstudy
Winner: Masterstudy
Add Ons & Integrations – Masterstudy Lms vs Academy
| Academy Add-ons | Masterstudy Add-ons |
| --- | --- |
| Certificate Builder– Gutenberg based drag and drop certificate builder | Statistics and payouts– Built analytics reports and payment structures as you need |
| Elementor Add on- get elementor support with this add on | Udemy Importer– Imported already created courses directly from udemy |
| Starter Template– Create an optimized and functional eLearning website instantly with the help of Academy Templates. With just a single click, beginners can effortlessly build a fully optimized eLearning platform. | Prerequisites– Unlock course's next lesson on completion previous lessons. |
| Email– You can conveniently send automated emails to students, instructors, and administrators directly from your eLearning platform, eliminating the need to navigate away from the site.  | Online Testing– Conduct online test and exams |
| Course Prerequisites– This feature ensures that students complete previous lessons to unlock next lesson. | Trial courses– Give student trail demo of courses |
| Integrity– Keep protect your courses from spam, hacks and unauthorized copy. | Content Dripping– Denied course access until start date or course process (schedule) |
| Multi Instructor– Activate the feature on your eLearning platform to assign multiple instructors to the courses.  | Co-instructors– Add multip[le teachers to a course |
| Paid Membership Pro– This  addon allows for effortless management and monetization of your membership site. | Point System– Boost motivation of students by giving points and awards |
| Tutor Booking– The tutor booking add-on makes it easier for students to schedule in-person sessions with their tutors. | Assignments– Built in assignment writing section |
| Visual Customizer- Premium Addon for pre designed templates library. | Gradebook– Track students performance with a gradebook |
| Quizzes & Assignments- Create quiz and offer assignments | Live Streaming– Do live classes with Youtube without leaving the platform |
| Content Drip– Enable the content drip option, allowing admins and instructors to schedule course content in a sequential manner.   | Group Courses– Let you sell courses to a group or team |
| Manual Enrollments– Manage and control students enrollment data | Email Manager– create good looking emails with pre designed templates |
| Advance Analytics– Access Advanced Insights for Your eLearning Business with Analytics on Earnings, Refunds, Discounts, and Beyond! | Course Bundles– Sell courses in bundle |
| Zoom integration– Allows seamless integration with Zoom, enabling the creation of online live classes for students on your eLearning platform. | Google Classrooms– Import as well as conduct live classes |
| | Zoom Conference– Integrate with zoom for conferences, live classes, and webinars |
| | SCORM– Pre built e-learn courses templates |
| | Certificates– Create course certificates from pre-designed templates |
| | Forms Editor– A user friendly form editor for courses |
| | File Upload Manager– Upload and manage any kind of file |
These are all the premium Add-ons you can find in both lms plugins. But masterstudy has more add-ons compared to academy.
Winner: Without any doubt, Masterstudy LMS
Support & Documentation – Masterstudy vs Academy
Difference:
Both platforms offer good support via chat and email and has documentation section for tutorials and learning about different features activity.
But while Academy has only text based tutorials, Masterstudy also offer video based tutorials along with articles.
And video are far better compared to text information when it comes to tutorials. Because it show step by step process and save lots of time.
Winner: Masterstudy documentation is better here
Pricing & Lifetime Deal Plans– Learndash vs Masterstudy Lms
Academy Pricing – is there any lifetime plan?
Good news, academy lms lifetime deals available. Means just pay for one time you will get lifetime support and updates.
Academy official pricing has annual plans starting from $119/Lifetime Plan for 1 site coming with all add-ons.
And there's a free plan but it's doesn't offer add-ons and unlimited courses.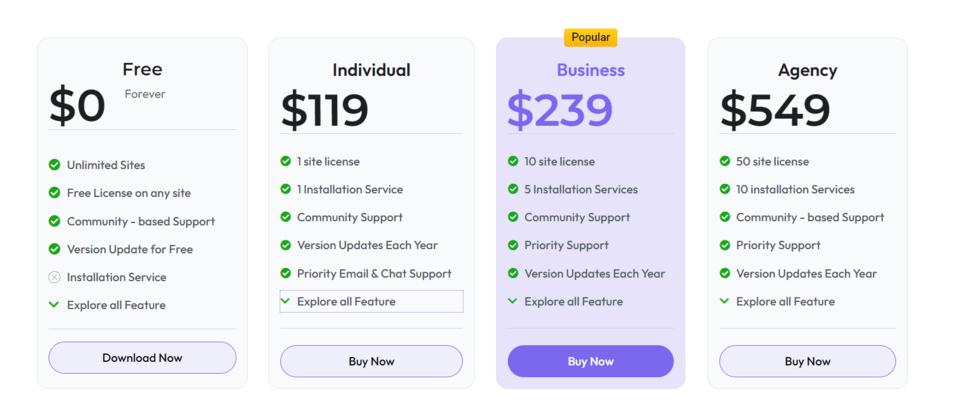 Appsumo Lifetime Deal
Appsumo also offer academy lms lifetime deals at very affordable pricings compared to official website starting from just $29 for 1 site and coming with 60 days money back guarantee.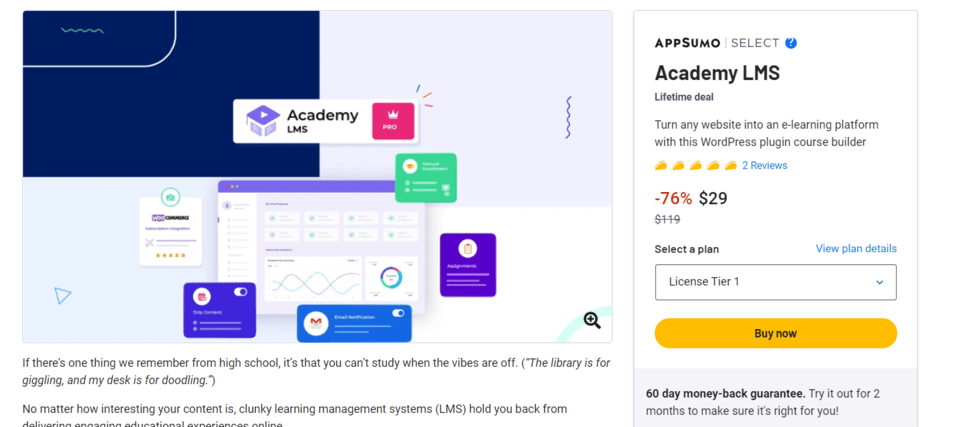 Academy LMS Lifetime Plans Comparison:
MasterStudy LMS Pricing – is there any lifetime plan?
Yes, Masterstudy Lms lifetime deal available and compared to it's annual plans, Masterstudy lifetime deal much more affordable.
For example,
On official site, only 1 website lifetime plan cost $149. while annual plan cost is $59/year.
And it also offer just 14 days money back period.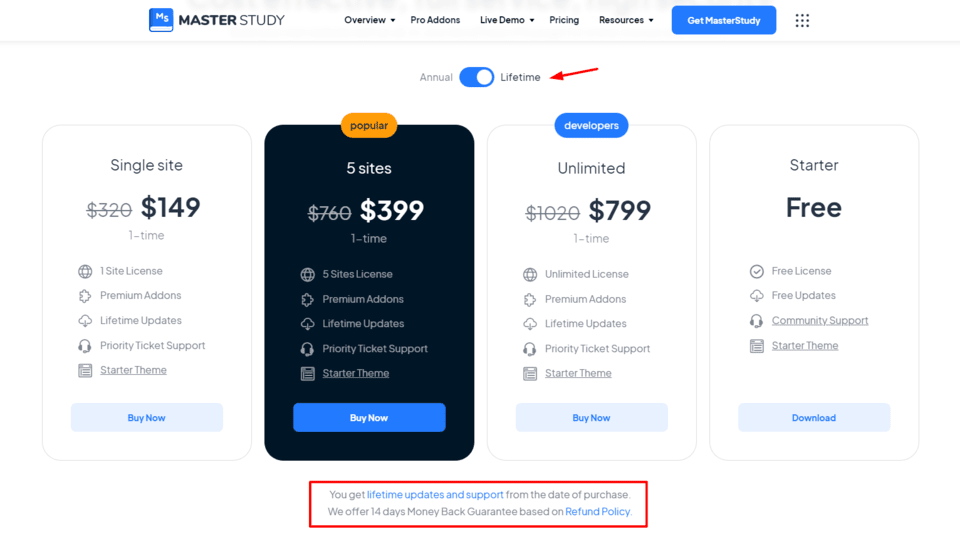 Masterstudy LMS Lifetime Deal:
|   | $149 | $399 | $799 |
| --- | --- | --- | --- |
| Site license | 1 sites | 5 sites | Unlimited |
| Lifetime Updates | ✅ | ✅ | ✅ |
| All Add-ons | ✅ | ✅ | ✅ |
Every lifetime deal comes with 14 days money back guarantee, if somehow you are not happy just return within 14 days and your money will be backed 100% without asking any questions.
Is there any Masterstudy Lms free plan:
Masterstudy also offer free plugin with very limited basic features and there's also free teaching theme available with every plugin license.
Difference:
Academy lms lifetime plan pricing much more affordable and offer better money back period compared to Masterstudy.
So in terms of pricing and value for money Academy plugin is winner.
Winner: Academy
Final Conclusion: Masterstudy LMS vs Academy LMS
Both lms tools as their unique features and selling points. Where Masterstudy offer more features and add-ons. Academy has better pricing and value to money.
And until you don't want any specific features, I think Academy give more value to money because it has almost major important features which also in masterstudy.
So If you want to Start a LMS website with unlimited courses for online teaching with affordable budget, Academy lms is one of best wordpress lms plugins compared to Masterstudy. And don't forget appsumo deals are more affordable compared to same plan official website plans.
But if want better features in your website and budget is not problem then go with masterstudy.
So, that's all about Academy vs Masterstudy Lms comparison. Hope you got all the information and it's your time to use this tool and tell me what you liked most about it in comments.
FAQ: Most Asked Questions
What is an LMS Plugin?
LMS means Learning management system. and with a plugin you can turn any wordpress site into teaching platform.
Is Academy an LMS or Theme?
Yes, Academy is a wordpress LMS plugin.
Which is the best LMS plugin for WordPress?
In this comparison I found out masterstudy is best for lms plugin for wordpress as it has very good features along with affordable pricing. Plus there's also a free masterstudy plan available.
Is Academy only for WordPress?
No, along with wordpress it's also available for php.
Liked the comparison, You might also like reading these,
Learnpress vs Masterstudy LMS Comparison

Scalenut vs Jasper ai – Which One is Better?
Thank you for reading this post, don't forget to share with more people like you!