Are searching for the Best LMS Plugins for wordpress sites so you can start an online academy to create and sell courses.
In this article we have listed out best wordpress LMS plugins which can easily allow you to sell and create courses on your website. All you have to do is just install these plugins and the rest of the work will be automatically done.
What is a WordPress LMS plugin?
WordPress Learning Management System or LMS plugin transforms your wordpress website into an e-learning platform with functionalities to add courses, create quizzes, assignments, certificates, students management and accept payments with various payment methods.
Many elements plugins also offer some advanced features such as gamification, incentives, live chatting, drop content, email marketing, mobile app and third party integrations.
With the help of these plugins you can easily create text based courses, video courses and offer easy digital downloads.
What are the best wordpress lms plugins?
Some of the best WordPress LMS plugins include LearnDash, LifterLMS, WP Courseware, Sensei, Tutor LMS, and LearnPress. These plugins offer a range of features such as course creation, student management, progress tracking, and payment integration. Choose one that fits your needs and budget
List of Best WordPress LMS Plugins
Plugin
Pricing
Free Plan
Link
MasterStudy LMS Pro
$149
Lifetime Deal
✔️
VISIT
Tutor LMS
$499
Lifetime Deal
✔️
VISIT
Learnpress
$299
Yearly
✔️
VISIT
LifterLMS
$199
Yearly
✔️
VISIT
MemberPress
$179.5
Yearly
❌
VISIT
LearnDash
$199
Yearly
❌
VISIT
Sensei LMS
$179
Yearly
✔️
VISIT
WP Courseware
$129
Yearly
❌
VISIT
Academy LMS
$119
Yearly
✔️
VISIT
Namaste LMS
$67
Yearly
✔️
VISIT
Disclaimer: Saas-guru.info is reader-supported and earns money from mentioned affiliate products. You may find few affiliate links on this post as well. When you click on links, we may earn a commission without costing you extra!. This helps us to cut down costs of review products, online tools and website.
Things to Look Before choosing the Right WordPress Course Plugin
There are many tools and learning plugins available for wordpress but these features and things you should always look out before choosing the right course plugin for a website.
Front-end or Back-end Course Builder:  Every learning plugin offers course builder, some lets you add or upload courses, PDFs, Docs and lessons/module data from back-end wordpress dashboard. while some have front-end visual course builder.
Students Management: Track students performance and manage enrollment, fee and membership.
Content Dripping or Prerequisites: Don't allow course access until start date or student's course process.
Course Progress: An essential feature to keep your students updated on their progress for enrolled online courses so that they can have a clear understanding of where they stand.
Quizzes: For creating quizzes like true/false, multiple choice, fill in blanks and more.
Assignment & Tests: Offer assignments and Conduct online tests or exams.
Grading or Point System: Boost motivation of students by giving points and awards
Notifications: Send announcements, update and alerts
Certificate builder: Give custom certificates to your students on course completion.
Multiple Payment Options & Methods: Let students choose any type from one-time subscription, pricing plans, memberships and course bundles.
File Upload Manager– Easily Upload and manage any kind of file to offer file download for students.
Community & Chat: This feature let students create profiles, and enables them to communicate with fellow students and teachers through online chat rooms and forums.
Hopefully all these important features are available in below listed wp plugins.
Best WordPress Lms Plugins (2023)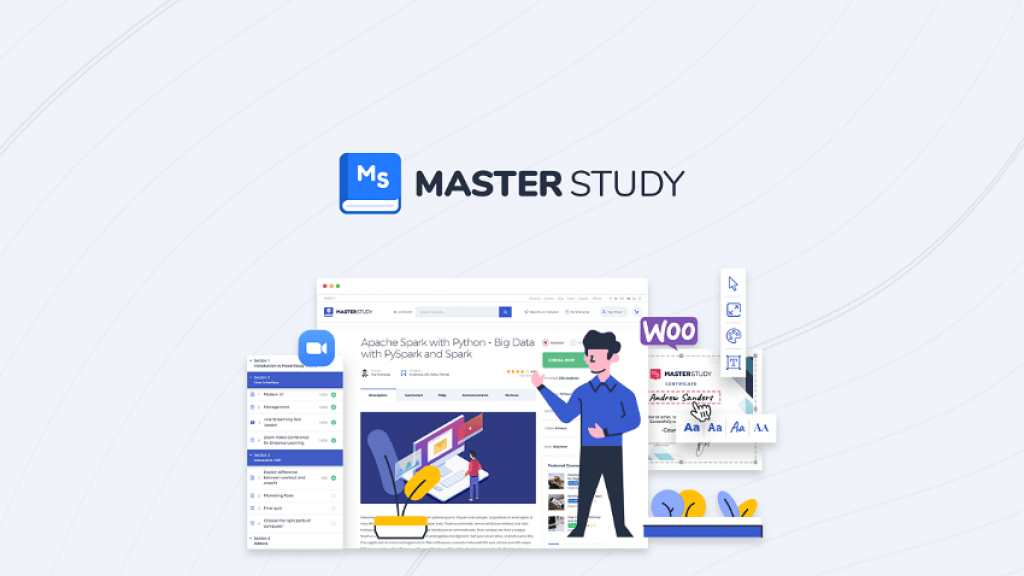 Masterstudy is a WordPress online course plugin developed by Stylemixthemes that turns your website into an online teaching portal.
It offers a comprehensive set of features, including a front-end course builder, live classes, mobile app version, payment gateway, and customizable design.
The plugin also integrates with many popular third-party tools and services. It is a user-friendly and powerful tool for creating and managing online courses.
It's one of the best lms plugin for wordpress.
Key Features of This WordPress Course Plugin
User-friendly course builder: Create courses, lessons, quizzes, contests, and assignments easily without coding skills.
Live classes: Conduct real-time online classes and webinars with integrated Zoom feature.
Mobile app version: Manage and update course content on the go with seamless Android and iOS app sync.
Payment gateway: Monetize courses by selling directly on the website with built-in payment gateway supporting multiple payment methods.
Customizable design: Customize the look and feel of courses and pages with pre-designed templates or drag-and-drop interface.
Third-party integrations: Integrates with popular third-party tools and services like Mailchimp, Zapier, WooCommerce, and BuddyPress.
User management: Manage student profiles, track progress, and view grades and achievements.
Advanced quiz options: Offer multiple choice, fill-in-the-blank, and matching questions, and set time limits and pass/fail criteria for quizzes.
Custom certificates: Create branded and personalized certificates for students who complete courses.
Udemy Importer: Using this add-on users can import their courses in wordpress from udemy platform.
Pricing & Plans: Masterstudy Pro Plugin
Masterstudy offer multiple license plans starting from $59/year for 1 site with all features and pro add-ons. Plus Masterstudy lifetime plans also available from $149 one-time payment for 1 site.
| | | |
| --- | --- | --- |
| Plan | Annual | Lifetime |
| 1 Site | $59/year | $149 |
| 5 Sites | $149/year | $399 |
| Unlimited | $299/year | $799 |
Free plan
Masterstudy lms free plugin license also available but with very limited features access.
---
Tutor LMS WordPress plugin turn websites into an online learning platform. With a rating of 4.5 and over 500 reviews, it is a popular choice for online courses.
Recently launched new version Tutor 2.0 offers new features and improvements, with a premium version offering more comprehensive features to assist course building and management.
It has a drag-and-drop builder, payment gateway options, customizable templates, quiz features, and custom certificate creation, Tutor also supports multimedia and social engagement through platforms like WooCommerce shopping cart, Mailchimp, and BuddyPress.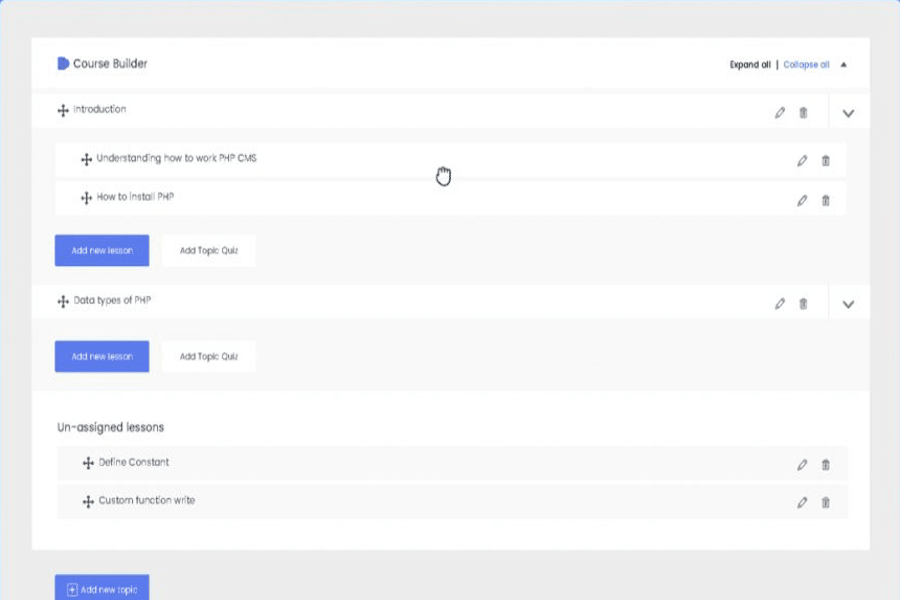 While there is a free version available, but capabilities are limited.
Key Features of This WordPress Course Plugin
Create and manage courses with ease using Tutor's intuitive course builder
Add various content types to courses, such as video lessons, quizzes, and assignments
Frontend course builder for more efficient course building
Multilingual support for courses in different languages
eCommerce integration for easy monetization with popular plugins
Gamification elements, such as badges and certificates, to motivate and engage students
Detailed reports and analytics to track student progress and improve teaching strategies
Quiz management options, including timed quizzes and randomized questions
Student management for personalized learning experiences
Communication tools, including email notifications and messaging, to stay in touch with students and offer support
Mobile responsive design for seamless course access on all devices
Pricing & Plans: Tutor 2.0
Tutor offer annual as well as lifetime plan, annual pricing starts from $199/year for 1 site and for lifetime plan it is $199.
Free plan
Along with premium plans, tutor lms free plan also available with limited features. Front end course builder not include in free plan.
---
3. Learnpress (Free & Paid)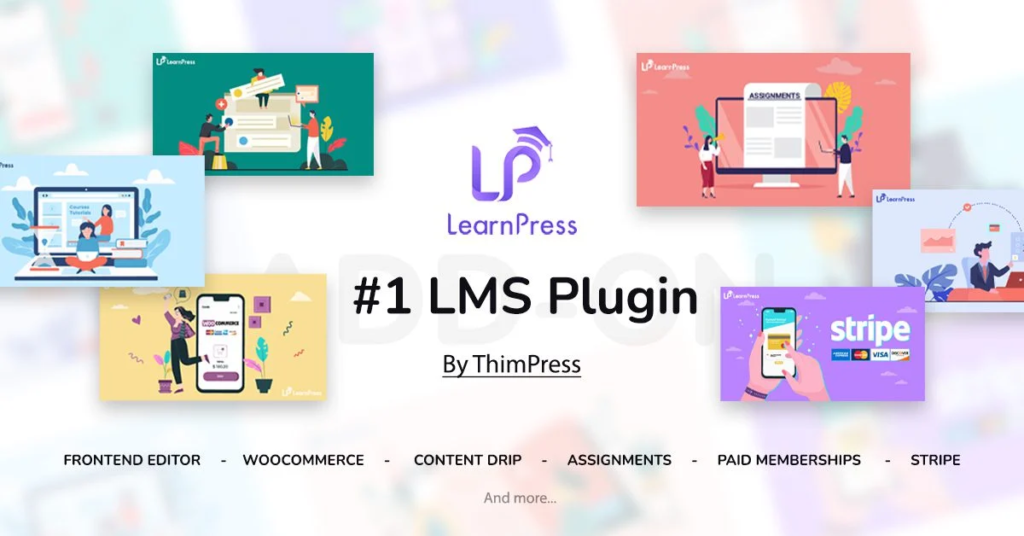 Learnpress, a top-notch learning management system based on WordPress, boasts all the essential features for online learning along with visually pleasing course designs. Created by Thimpress, it is one of the Best WordPress LMS Plugins with over 266,600 active installations.
The popularity of Learnpress can be credited to the fact that the base plugin is offered for free, with add-ons being the only paid feature. It serves as an excellent alternative to otherplugins such as Masterstudy, Learndash, Lifterlms, and Sensei LMS.
Learnpress also has add-ons that allow users to build courses on the front end, create a mobile app version, and utilize content dripping. However, these add-ons must be purchased to be used.  
Key Features of This WordPress Course Plugin
User-friendly interface for easy course building and management
Powerful course builder for creating courses, lessons, quizzes, and assignments
Add-ons for extended functionality, including front-end course builder and content dripping
Built-in payment gateway with support for multiple payment methods
Course reviews and ratings for student feedback and course improvement
Advanced quiz options with time limits and pass/fail criteria
Custom certificate generation with branding and personalized student names
Full compatibility with popular WordPress plugins such as WooCommerce and BuddyPress.
Pricing & Plans: Learnpress
First of all Learnpress don't offer any lifetime plan at all. And cost of learnpress is $299/year for 1 site.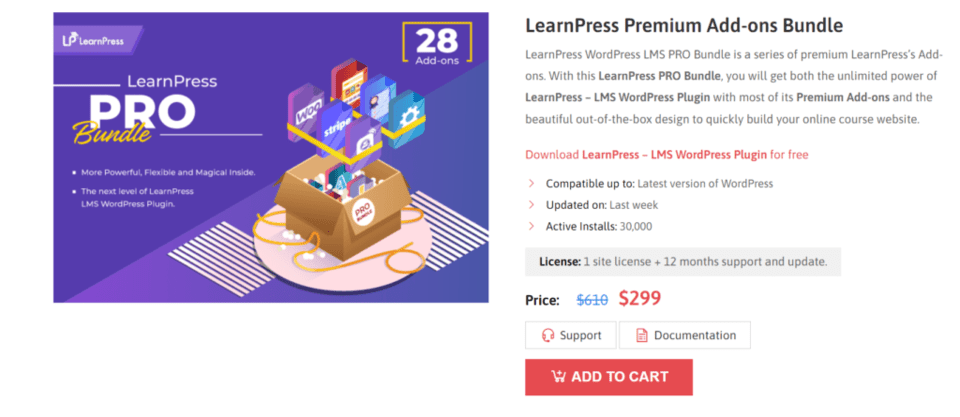 Free plan
Although it's plugin is free but using all 28 add-ons you have buy them in bundle or separately. 
---
4. LifterLMS (Free & Paid)
Lifter WordPress plugin offer advance features to create and sell online courses. While the plugin's basic version is free, you can access premium features via addons buying the paid package.
Users can also try the 30-day demo option for only $1. Throughout this duration, you'll have full access to all the tools and features Lifter provides, allowing you to test its capabilities on a demo site hosted by the company.
Lifter offers various addons that allow you to customize your courses and integrate new functionalities to the plugin, making it easier to create and offer your courses online.
These addons can improve your students' learning experience as well. All in all, if you wish to develop an eLearning or courses website on WordPress, LifterLMS is an excellent choice.
With its user-friendly interface and comprehensive features, creating compelling online courses and delivering them is a breeze. 
Key Features of This WordPress Course Plugin
 Course creation tools including outlines, lesson planning, multimedia embedding, and student tracking
Customizable course layout, multimedia content, and quizzes/assessments
Promote courses with customizable landing pages, email marketing tools, and social media integrations
Manage students with user registration, progress tracking, and analytics
Payment integration with PayPal and Stripe, plus tax management, coupons, and refunds
Addons to extend functionality with email marketing, membership management, payment methods, and advanced reporting/analytics.
Price & Plans:
LifterLMS pricing starts from $199 for 1 website and it's also offer 30 days trial in only $1 with 30 days money back guarantee if you not satisfied.
Sadly, It doesn't have any LTD plans.
| Plan | Annual Pricing |
| --- | --- |
| 1 Site | $199/year |
| 5 Sites | $360/year |
| Unlimited | $1200/year |
Free Plan
Although it has plugin is free but to use all add-ons you have to go with pro plan.
---
5. Memberpress (Paid)
MemberPress is a top-notch WordPress membership plugin that offers various features including course development and selling.
The plugin comes with a Classroom Mode that simplifies course creation and a user-friendly interface for students.
The course builder uses the WordPress block editor, making creating lessons and embedding multimedia content a breeze.
More advanced users can customize course designs with custom CSS support to give unique design through custom codes. MemberPress allows you to create free or paid courses and provides support for payment ways like PayPal and Stripe.
The plugin also includes content dripping and works with third-party tools like Google Analytics.
Key Features of This WordPress Course Plugin
MemberPress allows for easy membership subscription management
Course creation and management is simplified with built-in features
Classroom Mode allows for easy online classroom creation without coding skills
Course builder utilizes the WordPress block editor for ease of use
Progress tracking of student progress is available from the WordPress dashboard
Allows for creation of free courses or membership subscriptions for full control over course access
Payment integration is available with popular payment methods.
Content dripping can be used to schedule release of new content to keep members engaged
Integrates with popular third-party tools such as Google Analytics and SendinBlue
Offers content protection to prevent unauthorized access to courses.  
Price & Plans: MemberPress
Membership course builder pricing starts from $179.50/year for 1 website and there is no lifetime deals.
| Plan | Annual Pricing |
| --- | --- |
| 1 Site | $179.5/year |
| 2 Sites | $269.50/year |
| 5 Sites | $319.60/year |
Free Plan
This WP course builder don't offer any free plans or plugin.
---
6. LearnDash (Paid)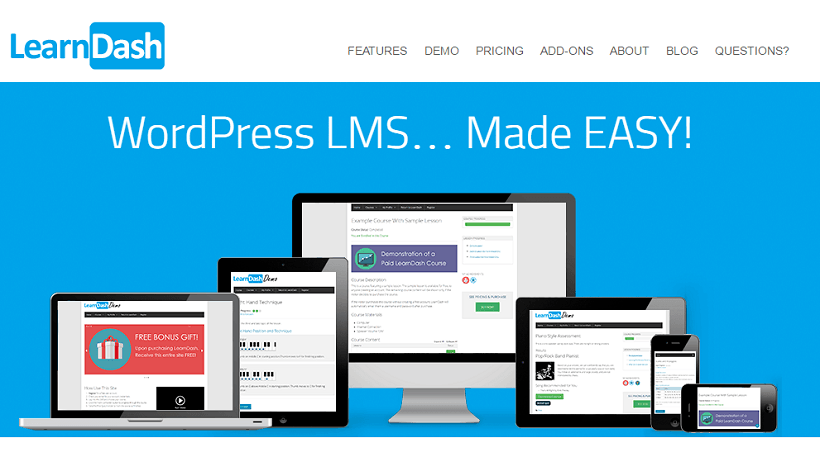 Learndash learning plugin offers an extensive platform for creating limitless courses, classes, and subjects, while also incorporating interactive features such as quizzes, tasks, and much more to your courses.
A notable aspect of LearnDash 3.0 is the capacity to impose one-time or recurring access fees for your courses.
It also offer advanced features like content dripping and course requirements, making it a heavyweight option for people tasked with developing and administering online courses on WordPress.
If you're thinking of using LearnDash, perusing our comprehensive review can assist you in making an informed decision regarding whether it's the right plug in for your needs. 
Key Features of This WordPress Online Course Plugin
LearnDash allows creation of unlimited courses, lessons, and topics with ease
Drag-and-drop course builder for easy course creation
Different types of content can be added, including videos, text, images, and audio
Quizzes and assignments can be created to test learners' knowledge
Various question types can be added, such as multiple-choice, true or false, and essay questions
Drip content feature allows gradual release of course content
User-friendly dashboard for progress tracking, including grades and certificates
Built-in monetization features let courses be sold for one-time fee or recurring subscription
Certification and badge system to reward learners for completion of courses
Customizable certificates and badges with set requirements for earners
LearnDash is compatible with various WordPress themes and plugins, as well as popular payment ways such as PayPal and Stripe. 
Price & Plans:
Learndash offer different price and plans for it's wordpress plug in charges begin from $199/year for 1 website. No Lifetime plans available.
Free Plan
It doesn't offer free plan or free license.
---
7. Sensei LMS (Free & Paid)
Sensei is a widely-used learning management system plugin designed to cater to entrepreneurs, educators, coaches, marketers, and agencies. The plugin has user-friendly interface, fast loading speed, and good reliability, making it one of the Best WordPress LMS Plugins.
It is backed by Automattic, the same company behind renowned platforms like WooCommerce, wordpress.com, JetPack, and more.
Sensei offer advanced features, including a course page builder, Prerequisites, interactive lessons, quizzes, and videos, among others.
Plus, it comes integrated with WooCommerce, making payment options like one-time payments, subscriptions, and memberships effortless to set up.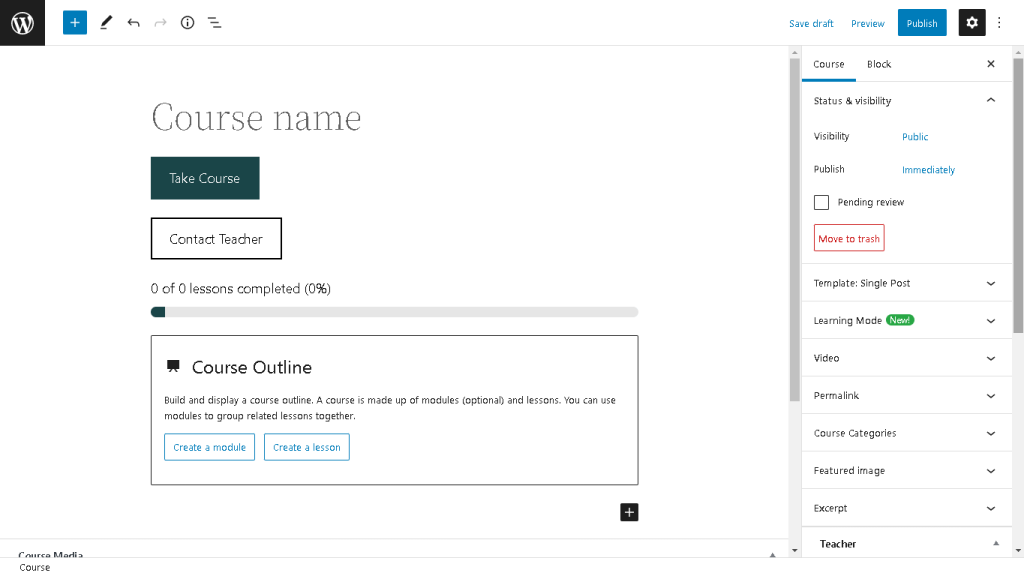 Apart from these features, Sensei LMS has also features like content drip, co-teachers, groups and cohorts, an expert support team, learning mode, full-site editing, interactive blocks, and many more. 
Key Features of This WordPress Online Course Plugin
 Sensei integrates seamlessly with WooCommerce for easy course sales and payment management
Lessons can be scheduled and content can be drip-fed to students
Advanced quiz options include multiple choice, true/false, and open-ended questions
Interactive videos can be included, allowing students to pause, rewind, and review content
Features like flashcards and image hotspots make courses more engaging
Co-teachers can be assigned for collaboration and content contribution
Groups and cohorts of students can be created for targeted content
The Sensei LMS support team is experienced and available for technical assistance
Learning Mode feature allows for progress tracking and course review
Full site editing capabilities for complete customization of eLearning site
Price & Plans:
Sensai LMS offer 2 annual subscription plans 'Pro' & 'Bundle'. No Lifetime plans available.
Pro Plan – It's price is $179 for plugin and premium add-ons.
Bundle Plan – This plan comes with cloud hosting bundle including pro plan.
Free Plan
Sensai LMS also has free plan to create unlimited courses, certificate builder, learning mode etc.
---
8. WP Courseware (Paid)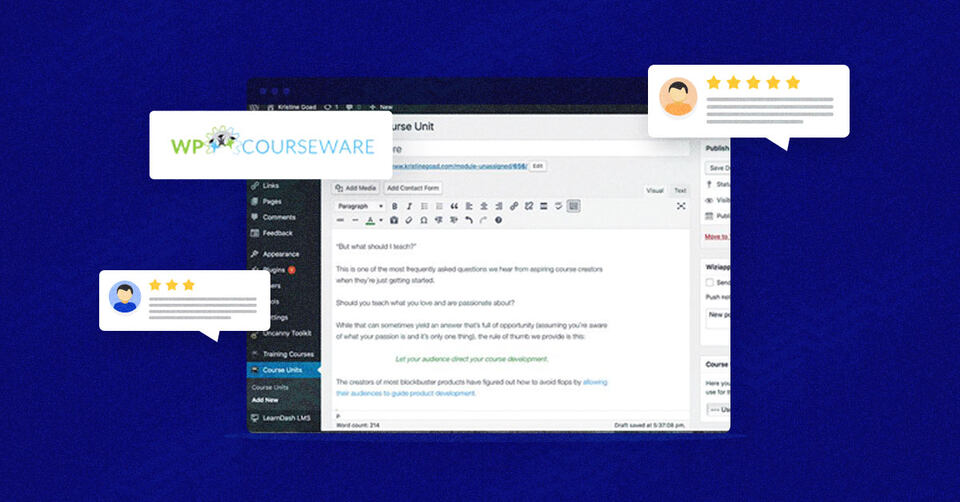 WP Courseware serves as an excellent Learning Management System (LMS) plugin, enabling users to generate online course content simply by using its user-friendly drag-and-drop course builder. Thus course building process becomes hassle-free with this efficient tool. 
This WP lms first launched in 2012 and till now they have added more than 250+ features including, drip content, notification & email alerts, quizzes & surveys, certificate builder and many others.
Wp courseware compatible with most themes and plugins without any issues.
Key Features of This WordPress Online Course Plugin
WP Courseware has a drag and drop course builder interface
Quizzes and assignments can be created to test student knowledge
Courses can be sold using payment gateways such as PayPal and Stripe
Certificates can be offered for course completion
Drip content can be scheduled to pace students
Course progress can be tracked
Compatible with various WordPress themes
Membership integration with popular plugins such as MemberPress
Highly customizable to meet branding requirements
Dedicated support team available to assist with any issues or questions. 
Price & Plans:
Wp Courseware has 3 plans starting from $129/year for 2 sites licenses. But it doesn't offer any lifetime plan.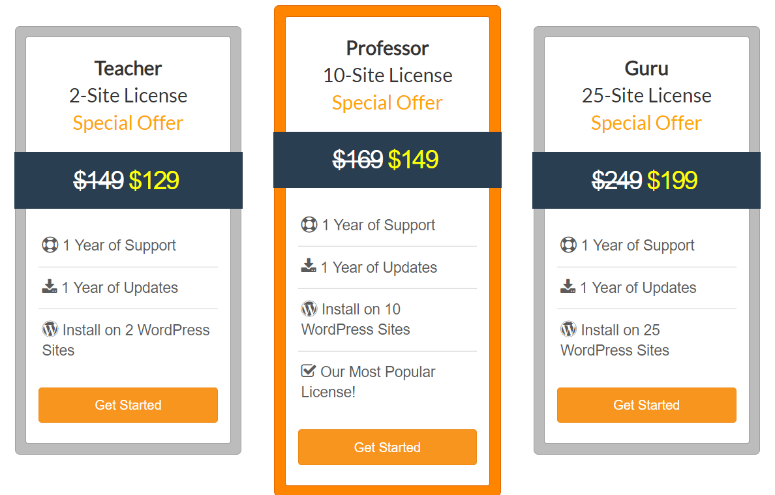 Free Plan
No free plan available.
---
9. Academy LMS (Free & Paid)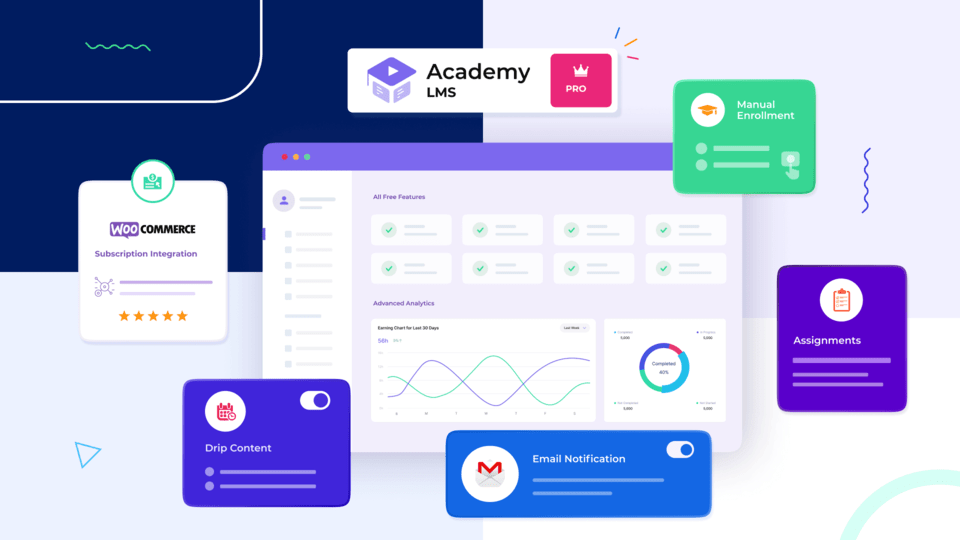 Academy LMS is a comprehensive learning management system plugin designed for WordPress.
It offers advanced features to create and manage high-quality online courses. Academy Analytics provides data-driven insights to assess course efficiency and student performance.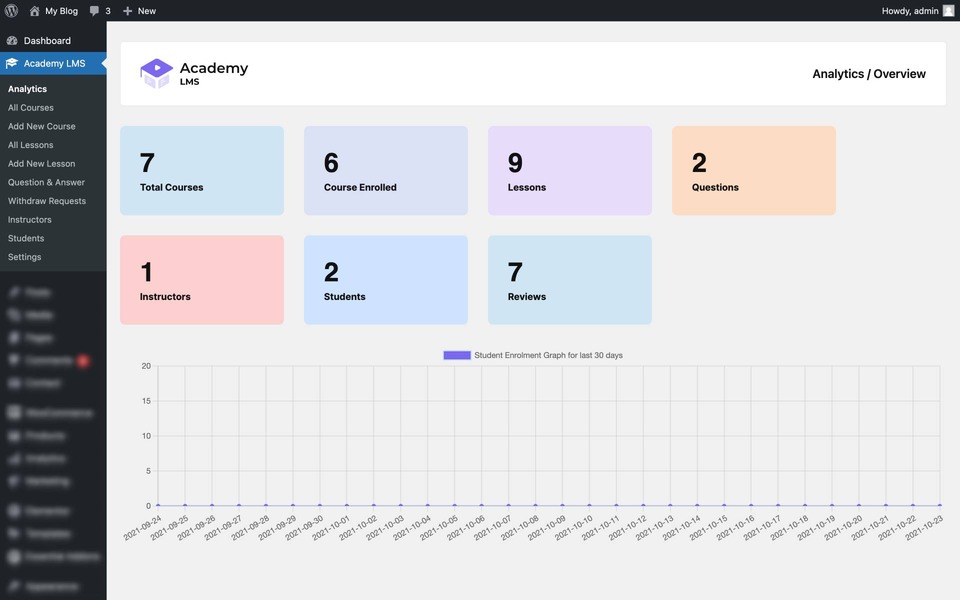 Key Features of This Word Press LMS
The course builder is robust and has next-generation features, including the ability to use a range of media such as texts, attachments, excerpts, and YouTube and Vimeo videos.
Q&A system allows unlimited questions from students to instructors, who can answer them seamlessly through the system.
Academy LMS has a certificate builder that enables administrators to award students on successful completion of their courses.
This LMS plugin allows for multiple instructors to be assigned to preferred courses, and revenue can be shared among instructors and admins upon the sale of premium courses.
The quiz builder feature makes it easy to create engaging quizzes alongside online courses, with unique question types, timers, and more.
Plugin integrates seamlessly with WooCommerce, allowing administrators to sell premium courses and generate revenue through various payment gateways, including shopping carts, one-time purchases, lifetime access, and subscription models.
Reports and analytics give detailed data on courses, students, instructors, and overall progress, student enrollment, and student retention.
The plugin also offers advanced customization options to create unique style and performance needs.
Price & Plans: Academy LMS
Academy LMS has 3 annual plan starting from $119/year for 1 website and also offer Lifetime Deal for all 3 plans at $357 for 1 site license.
| Plan | Annual | Lifetime |
| --- | --- | --- |
| 1 Site | $119/year | $357 |
| 10 Sites | $339/year | $717 |
| 50 Sites | $549/year | $1647 |
Free Plan
There's also a free plan available to experience Academy lms features.
---
10 Namaste LMS Pro (Free & Paid)

Namaste LMS turns WordPress into an e-learning platform with a range of customizable features. Its student management tools, assignments, and notes help users oversee the learning process.
With manual and automated enrollment process and a built-in ecommerce function, educators can interact with students online and charge fees for course access. 
This WP plugin is easy to use, and its comes with free as well as paid version provide users with more control and functionality.
Namaste LMS offers a hassle-free solution for sharing knowledge and instruction through tests, assignments, and online courses. 
Key Features of This Word Press LMS
Course management: create and manage unlimited courses, lessons, and assignments with multimedia content.
Enrollment management: manual or automatic enrollment, set up approval processes, and manage student access.
E-commerce integration: sell courses and accept payments through Stripe and PayPal.
Student management: student profiles, grading systems, and progress tracking from a central dashboard.
Course completion criteria: define completion criteria and set up manual approval processes.
Communication tools: interact with students through WordPress, post notes, answer questions, and share information.
Reporting and analytics: track student progress and performance, generate custom reports and view analytics.
Integration with other WordPress plugins: enhance functionality with Namaste! Reports, Connect, Watu, or WatuPRO plugins.
Customizable course descriptions: entice students to enroll with course descriptions to increase class size and revenue.
Certification Builder: issue passing or award winning documents to students upon course completion
Price & Plans: Academy LMS
Namaste LMS offer 3 plans to use in unlimited sites,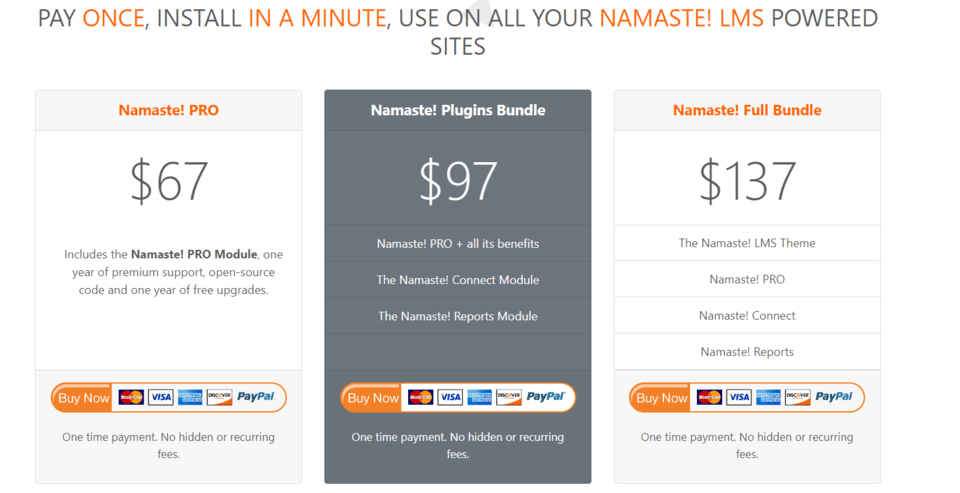 Namaste Pro ($67/year) – Offer pro module
Namaste Plugins Bundle ($97/year) – This plan include all add-ons and benefits
Namaste Full Bundle ($137/year) – This plan comes with a Namaste Theme and all features access.
Free Plan
Namaste lms also offer it's free lms plug in to download and use.
---
Which is the Best WordPress LMS Plugin? (Expert Pick)
That's the list of 10 best wordpress lms plugins you can find on internet for transforming your website into full fledged online academy.
And after reviewing and comparing these wp lms plugin features with each other we find out 2 top picks. Which are affordable and best in every factor, whether you are just starting or a expert you can create any type of course with these 2 LMS Plugins.
MasterStudy Lms Pro Plugin
Tutor LMS
Both are best lms plugin for wordpress.
Expert Pick #1. Masterstudy LMS Pro Plugin
Masterstudy offer all essential features and advanced premium add-ons to create any type of course which you can build from both side front-end as well as back-end. Plus, you can also customize course page design layout.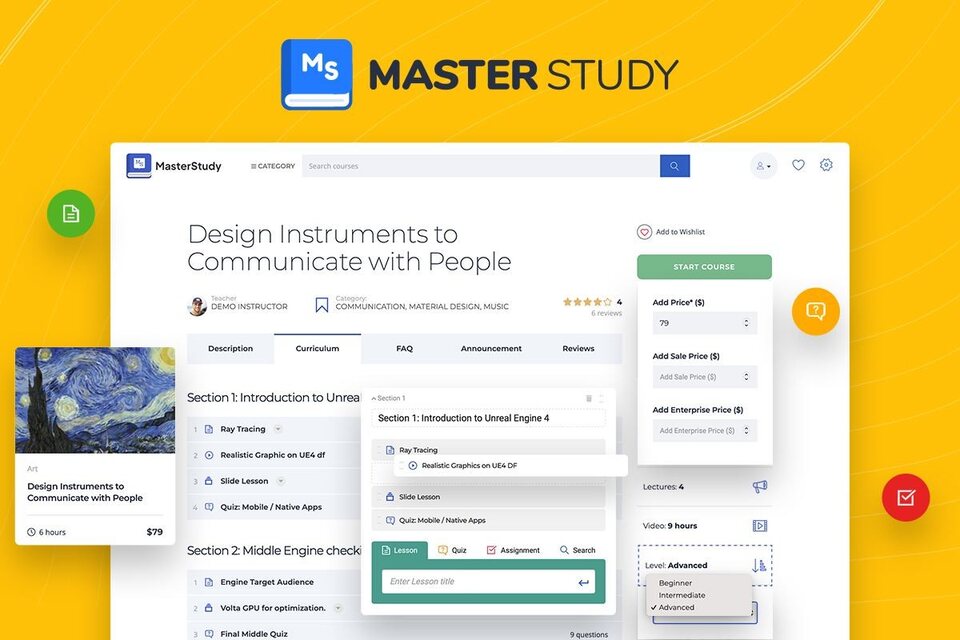 It's Udemy Import add-on lets you import your already built courses from Udemy (if you have any). And unlike others you don't need third party plugin integrations for Chat or Live Classes.
And best thing, along with annual plan Masterstudy LMS Lifetime Plans also available at very affordable pricing compared to other LMS platforms starting from just $149 one-time with complete access to all features.
There are tons of text and video tutorials available to setup the Masterstudy Pro.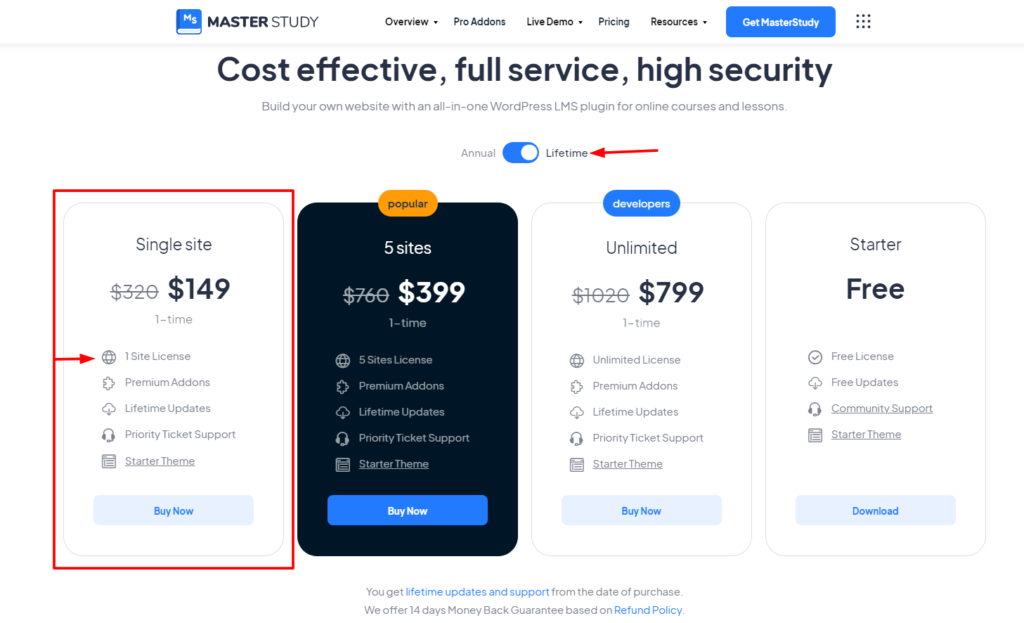 Plus with this Lifetime deal, you will also get Masterstudy Theme FREE. Means in one price you will get Masterstudy Plugin + Theme.
Expert Pick #2. Tutor LMS
Tutor LMS also a good choice for starting complete online teaching platform. It user interface makes it one of the Best WordPress LMS Plugins. You can add any type of course whether it's text lessons or video lessons.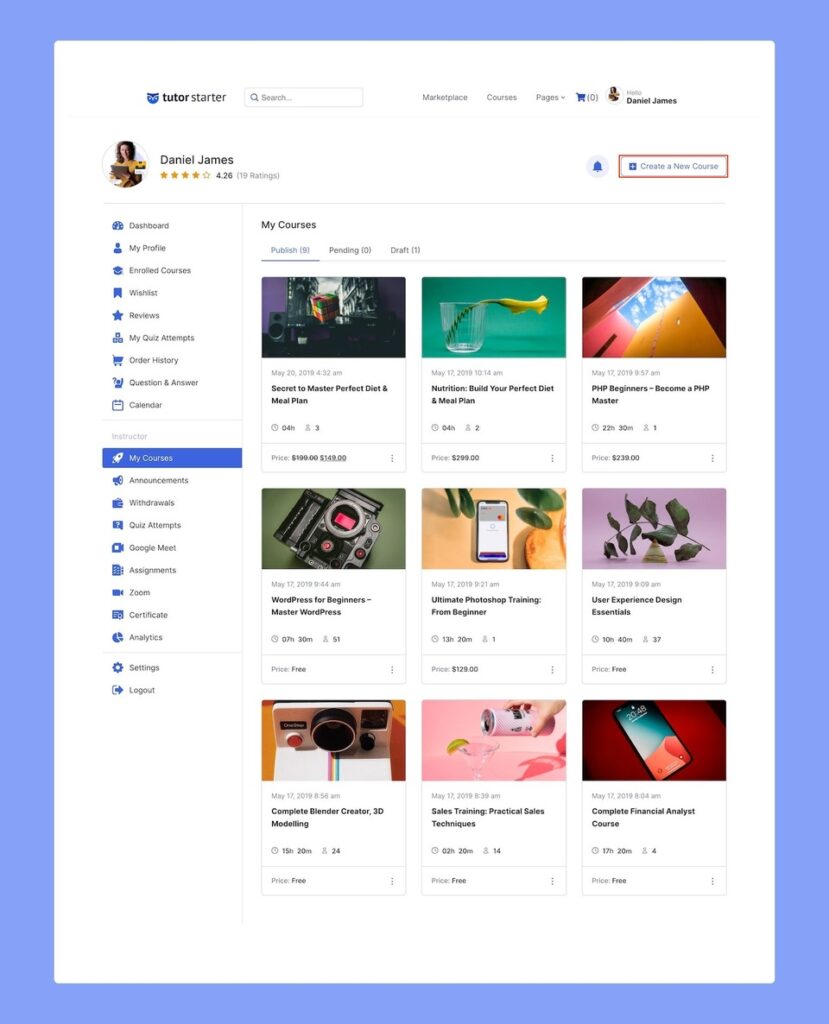 Like Masterstudy, Tutor LMS also offer Lifetime Plans along with annual subscriptions.
But It's Lifetime Plans are quite expensive compared to Masterstudy, For only 1 site lifetime license you have to pay $499.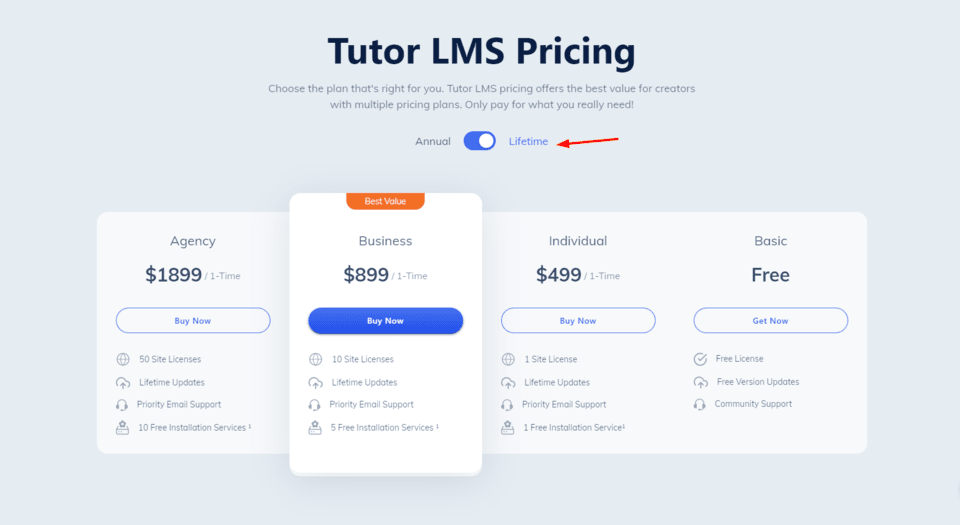 If you are still confused between these 2, here a detailed Comparison to checkout – Masterstudy LMS vs Tutor LMS: Which one is Best?
What should I look for in a wordpress lms plugin?
While selecting a WordPress LMS plugin, you should consider few factors such as ease of use, compatibility with other plugins and themes, payment gateway integration, course management features, and student progress tracking.
You should also check that LMS tool user reviews, what others are saying and ratings before making your final decision.
What are some of the top rated wordpress lms plugins?
Some of the top-rated WordPress LMS plugins include LearnDash, LifterLMS, Sensei, WP Courseware, and Teachable.
These plugins offer a variety of features such as course creation and management, student progress tracking, quizzes and assessments, and payment processing.
FAQ: Best WordPress LMS Plugins
What is WordPress LMS plugin?
LMS plug in turn wordpress into an e-learning platform with functionalities to add courses, create quizzes, assignments, certificates, students management and accept payments with various payment methods.
Can WordPress be used as an LMS?
Yes, after installing a good LMS plug in you can transform your wordpress website into a complete learning management system (LMS).
How do I add LMS to WordPress?
To turn wordpress into LMS all you have to install a LMS plug in such as Masterstudy LMS or Tutor LMS
How much is LMS plugin WordPress?
You can use either Free plugin version or go with pro versions to use advanced features. Some plugins like Masterstudy LMS also offer affordable lifetime plans with just one-time payment.
Is the Masterstudy Theme included in the Masterstudy LMS Plugin price worth it?
Yes, definitely! The Masterstudy Theme is a great value-addition to the already feature-packed Masterstudy Plugin.
With this plugin, you can create a professional-looking website for your online courses without any additional cost.
Additionally, both the plugin and theme are designed to work seamlessly together, ensuring that you get the most out of your e-learning platform. So, for those on a budget who want a complete solution for their online teaching needs, the Masterstudy Plugin is an excellent choice!
is there a difference between free and paid versions of LMS plugins?
Yes, free lms plug-ins only give access to limited basic features, while paid premium versions provide access to all advanced add-ons.
Is there any disadvantages to using a WordPress LMS Plugin?
No, there is no disadvantage. in fact it only give advantage to transform your wordpress site into e-learning platform.
Is MasterStudy a free WordPress LMS?
Although Masterstudy is free but to use all premium features and add-ons you have to buy it's pro version.
Thank you for reading this post, don't forget to share with more people like you!