This article is going to be a detailed WP Rocket vs RabbitLoader comparison to help you find out which is really the best WordPress cache Plugin.
After using and testing both cache tools for few weeks, Now I know which one is better & why?
In this comparison, I'll talk about both Rabbitloader and WP Rocket's features, Cache settings, Performance, Pros and cons and much more.
And because both are paid tools, these information will help you to know which one is better option for you.
In the end, I will also share my website speed experience and performance while using both plugins.
But before that let me tell you, Why Cache Tools Important?
Every website owner wants to boost website loading speed for few reasons, first website gives viewer better and fast experience,
Second to get the possibility to rank higher on google, Higher ranking = High traffic.
But due to technical stuffs they can't able to due that. In fact majority of sites loading speed is less what google suggested.
And that's where Cache tools and plugins used for making websites load faster.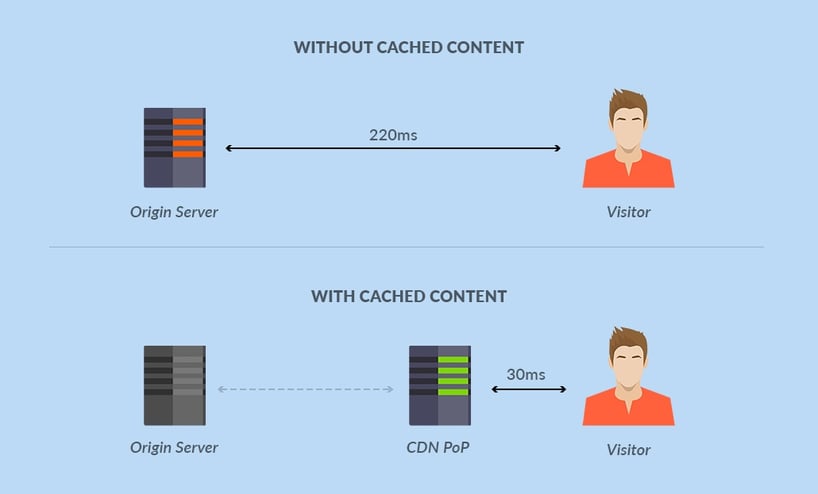 Now let's get into the comparison.
WP Rocket vs RabbitLoader: Side by Side Comparison
| Feature | WP Rocket | RabbitLoader |
| --- | --- | --- |
| Server Origin Fallback | ❌ | ✔️ |
| Premium CDN | ✔️ | ✔️ |
| Page Caching | ✔️ | ✔️ |
| Browser Caching | ✔️ | ✔️ |
| Database Optimization | ✔️ | ❌ |
| Cache Preloading | ✔️ | ✔️ |
| Minification | ✔️ | ✔️ |
| Concatenation | ✔️ | ✔️ |
| Mobile Detection | ✔️ | ✔️ |
| Free Version Available? | ❌ | ✔️ |
| Lifetime Plan | ❌ | ✔️ |
| Pricing | From $49/Year- 1 site | $59/Lifetime- 5 sites |
| Page Load | 2.5 seconds | 1.9 seconds |
| URL Performance | ❌ | ✔️ |
|  | Explore WP Rocket | Get Rabbitloader |
WP Rocket vs RabbitLoader – Which one is Better WordPress Cache Plugin
WP Rocket is a premium caching plugin which offers Lazy Image Loading, Cache Preloading, Browser Caching, GZIP Compression, CDN Support and more at Just $49 per year pricing.
Whereas Rabbitloader also a premium cache plugin but there's also a free version available with limited features.
Rabbitoader has Cache management, Browser caching, Brotli compression, LQIP, Prefetching & preloading and CDN with 300+ locations. It's pricing starts from $7.49/month for yearly billing.
What is WP Rocket – Overview
WP Rocket has become one of the top tools for improving your website's loading speed. It's also one of the most popular caching plugins available out there used by more than 2 million websites.
We've found it to be an indispensable tool for speeding up any WordPress site.
When we first started using WP Rocket, we had a lot of trouble getting it installed correctly. Once we figured everything out though, and it took longer time than we expected due to custom configurations.
But after that, its performance was satisfactory.
Wp Rocket Feature:
Browser caching
Database optimization
Google fonts optimization
Caching of all the pages for quick viewing
Caching for mobile visitors
Caching for logged in users
Preloading the cache of pages
Reduction of the number of HTTP requests to reduce loading time
Decreasing bandwidth usage with GZIP compression
Apply optimal browser caching headers (expires)
Minification and combine of JavaScript and CSS files
Remove Unused CSS
Deferred loading of images (LazyLoad)
WebP compatibility
Deferred loading of JavaScript files
Delay JavaScript Execution
Generation of Critical Path CSS and deferred loading of CSS files
Database optimization
WordPress Heartbeat API control
DNS prefetch
CDN integration
Cloudflare integration
Sucuri integration
Easy import/export of settings
Easy roll back to a previous version
Wp Rocket Pros & Cons:
Pros
Industry-leading cache plugin
Users have full control over all caching aspects
Caching take effect immediately after activation
Google fonts loading is available for minimizing all HTTP requests
Cloudflare CDN integration is available
Consistent updates & roll back to previous versions.
Cons
Complicated configuration
No free plan, only paid version
Wp rocket's preload setting sometimes overloads the server CPU if hosting is shared.
---
---
What is Rabbitloader – Overview
Rabbit loader is a CDN cache plugin which scans the website and auto minify all the heavy loading files such as HTML, JS, CSS and reduces image sizes to load the website fast.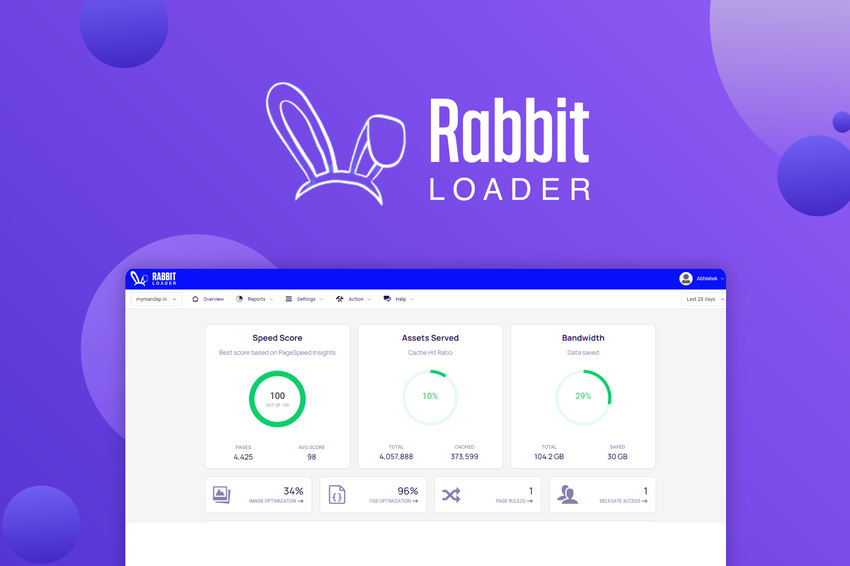 There's also CDN included in this tool, which has more than 300 points worldwide, which create a cache website version and saves it in their cloud.
So whenever a visitor open your site, a faster-cached version loads from the CDN cloud.
This gives the website a faster loading speed.
Watch my detailed rabbitloader review with demo,
Rabbitloader Feature:
Plus, there are tons of other website optimization features also available such as,
Webp Images
Brotli Compression
Lazy loading
LQIP
Prefetching and Preloading
Page Rules
Http/2
Browser caching
Google fonts optimization
Sample Item
Minification and combine of JavaScript and CSS files
Remove Unused CSS
Generation of Critical Path CSS and deferred loading of CSS files
Inbuilt CDN with 300+ locations
These all combine and work for every type of website to make their loading speed optimized for all countries, browsers, devices, and bandwidth.
Rabbitloader Pros & Cons:
Pros
Easy to use and beginner friendly
Make your website fast and improve page speed upto 100
Improve Google rankings
Best Wp Rocket alternate cache plugin
Most easy to use and understand U.i
No manual settings or configuration is required, everything is done automatically
Just install and activate the plugin
Built-in CDN with 300+ points to load your website faster from anywhere in the world.
Email and Phone support are available
Free plan available
Cons
No live chat support
There is nothing else we found as a disadvantage
Setup & Configuration Comparison – Wp rocket vs Rabbitloader
Setup & Configuration – Wp Rocket
Wp rocket is a premium tool means until you have paid for this you cannot use in on your website.
And once you install the plugin, this where real task begins because you will need to fine tune the plugin settings for website.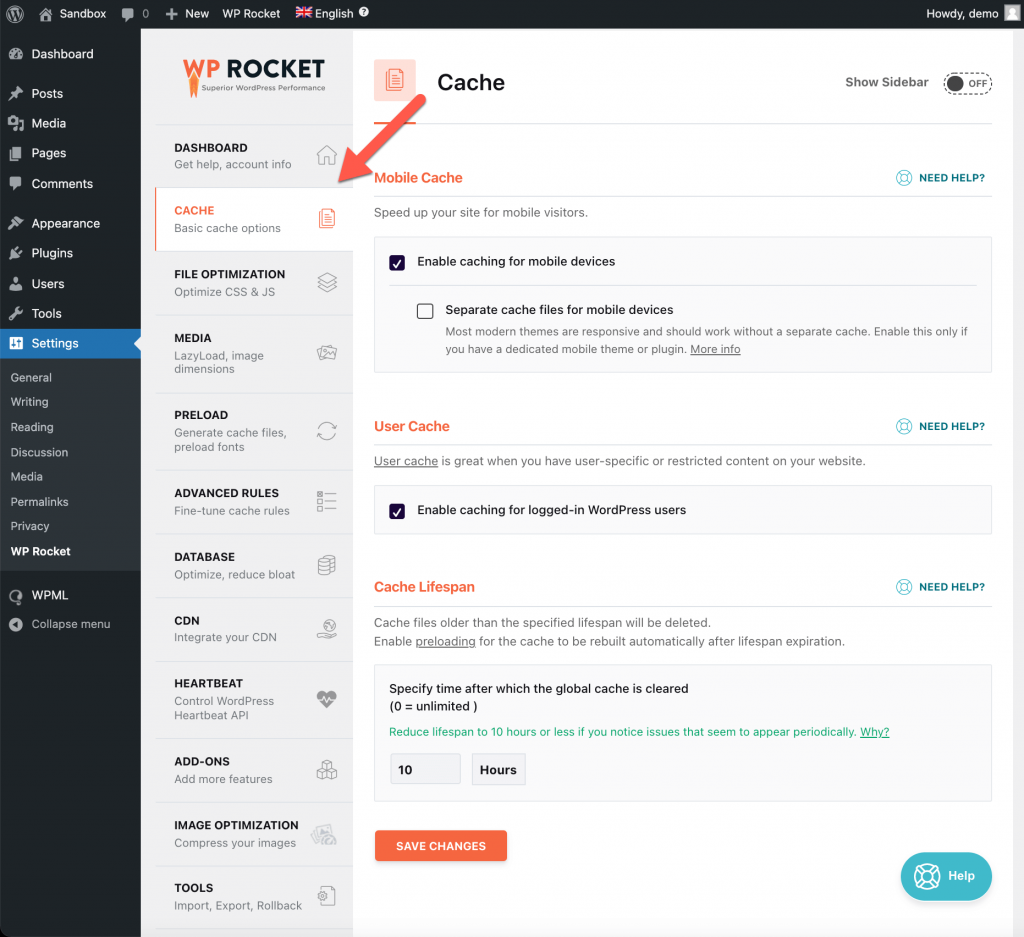 There are dozens of settings and these configuration settings can be different for different sites.
And believe me until you don't what you are doing, you won't be able to optimize your website speed.
This is tedious works, testing and finding out best cache configuration with different settings.
Setup & Configuration – Rabbitloader
Rabbitloader has free + premium both plans, but free plan is very limited just give you it's taste of experience. That's why premium plan suggested.
And setting up this cache plugin is really easy,
All you have to just install the plugin in youe website and connect with rabbitloader account.
That's all no complex configuration like Wp rocket or testing with different setting. Just install and connect.
And unlike wprocket, rabbitloader also show your website's realtime google pagespeed score on the dashboard.
Winner: Rabbitloader
Features Comparison – RabbitLoader vs Wp Rocket
◾️Caching & Website Speed
Caching can make your website super speedy. Basically, when you use caching plugins, your visitors don't have to wait for every single file to load every time they go to your site. And faster loading times means better SEO!
Hopefully, both Rabbitloader and Wp rocket offer caching but their setting and configuration is different.
Wp Rocket
Wp rocket create cache for website asset files and make it faster for future visitors to access them. Plus, it has browser caching which helps to store files that don't get updated often in the local cache memory, so your visitors can access them even faster.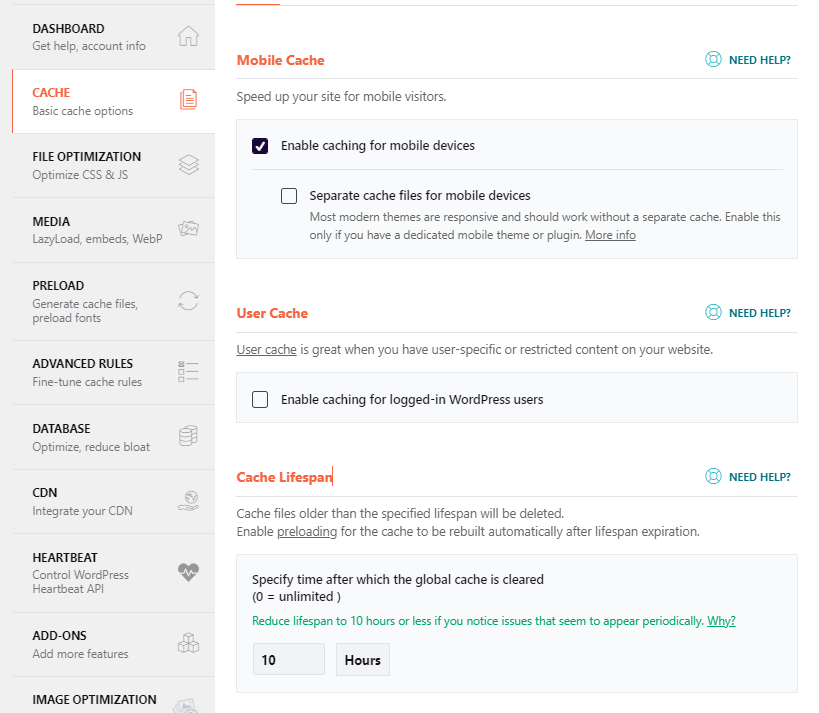 Whenever you make changes to your site, WP Rocket preloads the cache for visitors so they don't have to wait for your updates to load. It also stores resources that are accessed often, like images, CSS, and JS code, in the local memory of the device.
But you need to configure all these cache settings to work properly.
RabbitLoader
This cache plugin also do the same thing compressing and minifying HTML, CSS, Java files and load website content faster but it store cache to browser as well CDN network. Which makes this CDN caching compared to normal caching.
And best part, like Wp rocket it doesn't require manual settings, just install rabbitloader wordpress plugin and it will do best configuration for your website automatically.
Winner: RabbitLoader, as it don't require any manual settings for cache configuration.
◾️CDN
Content Deliver Network known as CDN which simply means various cloud servers available in various locations interconnected with each other.
CDN offering Cache plugins create website copies and store them in their all CDN server locations, so whenever a visitor try to open any webpage it instantly load from nearest CDN server (in place of origin server) to that visitor's location. Thus website load time decrease
Basically, it can increase website speed, core web vitals and user experience dramatically as it load web pages from a
Both cache plugins offer CDN,
Wp Rocket CDN name is RocketCDN which can also integrate with Cloudflare.
RocketCDN provides a range of features including Unlimited bandwidth, SSL Traffic, and access to all the global PoPs. The CDN files are also automatically delivered over HTTPS.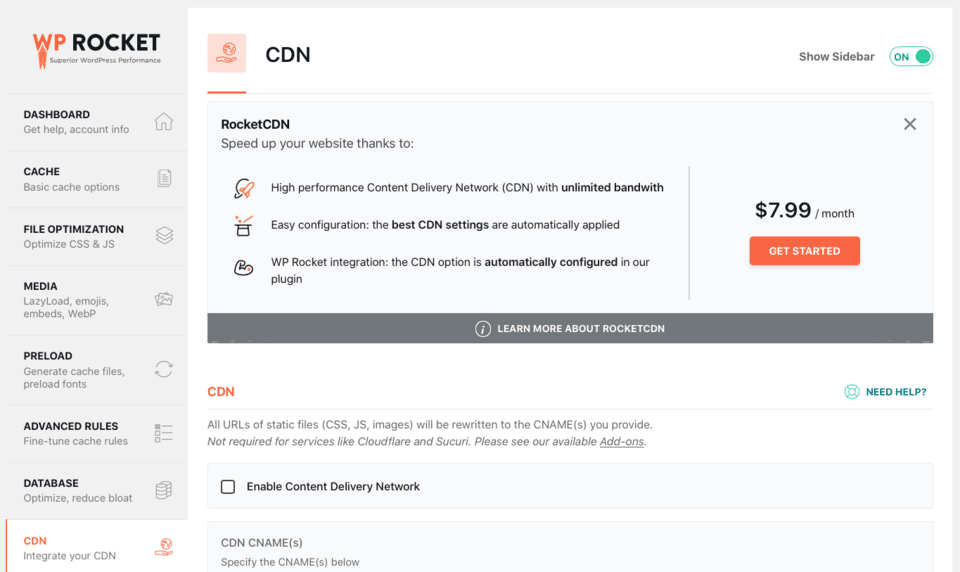 But using RocketCDN in Wp rocket cost extra money as it cost $7.99/month additional.
While RabbitLoader CDN don't cost anything extra and come built in with over 300+ server locations in 47 countries with all important features Unlimited bandwidth, SSL latency, files over HTTPS, global PoPs etc.
Plus along with website asset files and it also store images in it's CDN network.
Winner: RabbitLoader
◾️Image Optimization
Most heaviest files in any website are it's images so reducing their file size improve load time a lot. But image optimization in WP rocket is tedious & costly as it requires a third party plugin integration with premium subscription.
While Rabbitloader has built in image optimization along with converting PNG, JPG into webP format (more browser friendly format). It reduce image file size without do=roping image quality.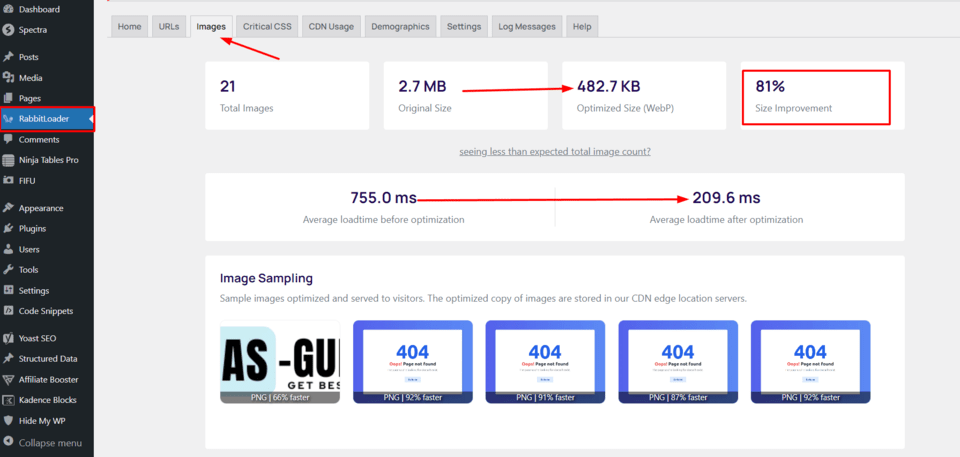 Plus rabbit loader also offer lazy load and CDN for image optimization without charging anything extra.
Winner: Rabbitloader, Clearly wins here.
Performance Comparison – Wp rocket vs Rabbitloader
Here we will compare the site's performance using both cache plugins WProcket and Rabbitloader.
To conduct this performance comparison, I'm going to use GTmetrix.
Website Performance using WP Rocket
So after installing and configuring settings, here's the site performance.
As you can see above, here is the performance report after using WP Rocket.
PageSpeed score: 89%
Structure: 97%
LCP (Largest Contentful Paint): 1.4 seconds
TBT (Total Blocking Time): 0 milliseconds
Website Performance using Rabbitloader
Now let me show the website performance and speed after installing Rabbitloader,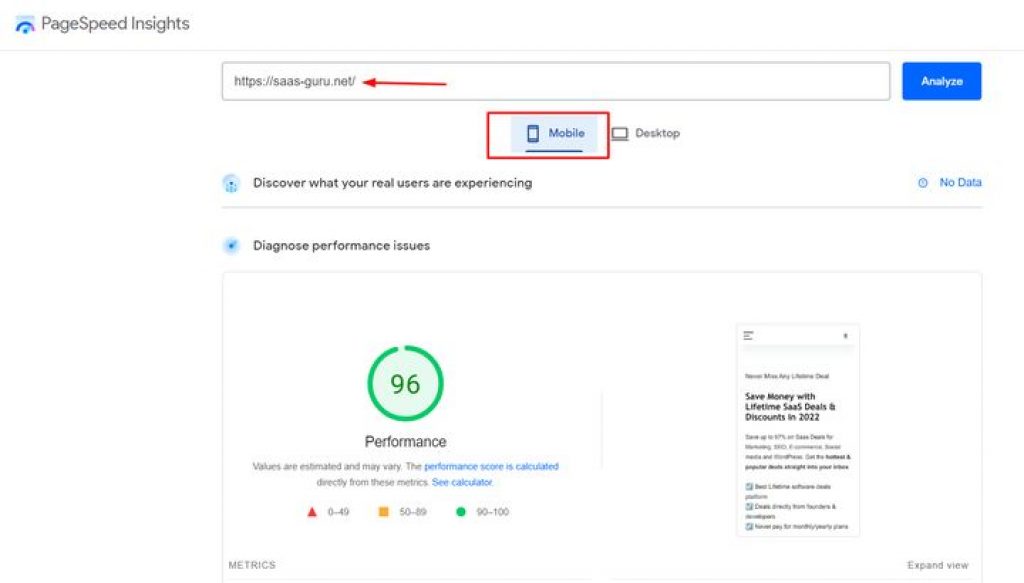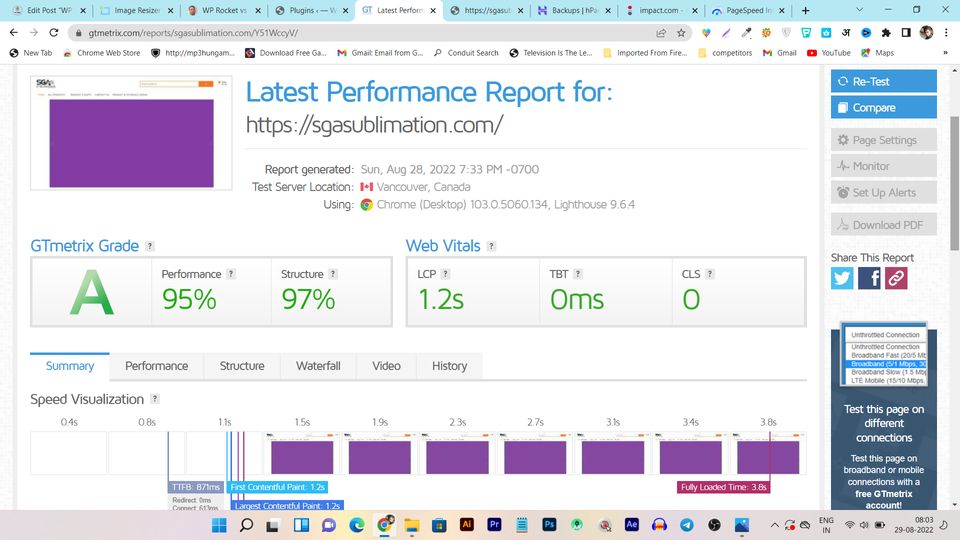 You can see above the improved speed and performance.
PageSpeed score: 96% (increased 7% compared to wp rocket)
Structure: 97%
LCP (Largest Contentful Paint): 1.2 seconds (20 milliseconds faster than wp rocket)
TBT (Total Blocking Time): 0 milliseconds
Bottom Line – Winner!!!
Although after installing the Wp rocket cache plugin, website performance dramatically improved to 89%. But when we test the performance after using Rabbitloader results are far better compared to Wp rocket.
Overall performance improved to 95% and speed also improved to 1.2s.
That's really great and this showed us that using the rabbit loader cache plugin gives better performance without doing any configuration settings.
All you have to install the plugin and it will do everything on automation.
Pricing Comparison – Wp rocket vs Rabbitloader
WP Rocket – Pricing & Plans
WP Rocket pricing starts from $49 and currently has 3 plans to choose from,
Single – $49 for 1 website with 1-year updates & support
Plus – $99 for 3 sites with 1-year updates & support
Infinite – $249 for unlimited sites with 1-year updates & support
Buyers also get 14-day money-back guarantee, which means if the user is not satisfied with the plugin. they can return them within 14 days and get their money refunded.
RabbitLoader – Pricing (Is there any Lifetime Deal?)
Here's the sweetest part, currently RabbitLoader Lifetime Deal is available on appsumo with one-time payment starting at $59 for 5 sites.
◼️ Lifetime Plans Available
Tire 1 Plan – $59
100 GB monthly traffic bandwidth
5 websites
25-page rules
Unlimited page views
Tire 2 Plan – $109
250 GB monthly traffic bandwidth
Unlimited websites
Unlimited page rules
Unlimited page views
Tire 2 Plan – $189
500 GB monthly traffic bandwidth
Unlimited websites
Unlimited page rules
Unlimited page views
◼️ RabbitLoader Refund Policy
Rabbitloader comes with 60 days money-back guarantee and refund policy, which means if somehow after buying the plugin subscription you are not happy with the results, just return it within 60 days period and you will get a full refund.
So what are you waiting for!
Also Check 31+ Best Appsumo Lifetime Deals of September 2023
Conclusion – Final Thoughts
Without a doubt, rabbit loader lifetime deal pricing is more affordable here with 5 sites access.
While for wp rocket you have to pay every year for updates and support, using rabbit loader you have to buy just one time and for the lifetime you will get the updates with premium support.
Plus, performance-wise also rabbitloader is the in this comparison.
Needs Attention: Most appsumo lifetime deals are out of stock within a week of coming to a lifetime deal offer. So take it now if you need it or don't want to miss it.
FAQ – Most Asked Question About RabbitLoader WordPress Plugin
What is RabbitLoader?
Rabbitlaoder is the #1 wordpress cache plugin, which makes your wordpress website load faster and helps to achieve upto 100/100 google pagespeed.
Do we need any technical knowledge to use rabbitloader?
No, all you have to install the plugin and it will do everything automatically.
Can we use rabbit loader for E-commerce sites?
Yes, until your website hosted wordpress CMS you can use rabbitloader cache plugin for any type of website, even if it is a e-com website.
Thank you for reading this post, don't forget to share with more people like you!