Funnelkit vs Carflows: Are you searching for the best funnel builder for your WordPress site?
With so many options out there, it can be challenging to decide which one is better suited for you. But In this blog post, we are going to provide an in-depth comparison between 2 most popular wordpress builders Carflows vs FunnelKit, including their features, pricing, and benefits.
Note: Funnelkit previously known as Woofunnels.
Both of these funnel builders offer drag-and-drop functionality, pre-built templates. Making them easy to use, even for beginners.
With FunnelKit and Cartflows, you have the ability to create custom checkout pages and optimize the checkout experience for your customers.
We have also mentioned what are the differences in these two funnel builders from each other as well as which one is more user-friendly.
By the end of this article, you'll have a clear understanding of which platform suits your needs best and why. So let's dive in!
FunnelKit vs CartFlows: Side by Side Comparison
Features
FunnelKit
Cartflows
Ratings
4.5 out of 5
4.0 out of 5
Funnel Builder
✔️
✔️
Unlimited Funnels
✔️
✔️
Prebuilt Templates
✔️
✔️
A/B Testing
✔️
✔️
Page Builders
Support
✔️
✔️
Order Bumps
✔️
✔️
1 Click
Upsells/Downsells
✔️
✔️
Slide Cart
✔️
❌
Checkout Pages
✔️
✔️
2 or Multi Step
Checkout
✔️
✔️
Thank You Pages
✔️
✔️
Abandon Cart Recovery
✔️
✔️
Optin Pages
✔️
✔️
In-Built Automation
✔️
❌
Email/SMS Broadcast
✔️
❌
Deep Analytics
✔️
✔️
Payment Integrations
✔️
✔️
Free Version Available?
✔️
✔️
Lifetime Plan
❌
❌
Pricing
$99/Year
$79/Year

Get FunnelKit
Get CartFlows
Overview – FunnelKit vs Cartflows
FunnelKit Review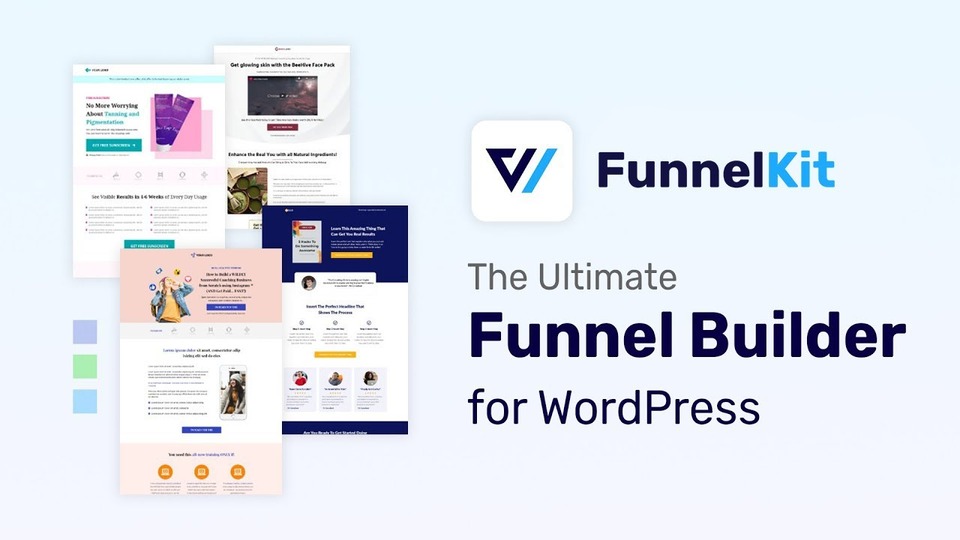 FunnelKit (previously known as Woofunnels) is a powerful WordPress plugin which lets you create high-converting sales funnels.
It offers features such as AeroCheckout, which provides customizable and mobile-responsive checkout pages, order bumps to increase the average order value, Upstroke for one-click upsells, and Autonami CRM for automation and customer relationship management.
In addition to the built-in analytics, Funnel Kit also has a dedicated integration for Facebook Pixel, allowing users to track and analyze the performance of their funnels and upsell offers on the Facebook platform.
This is the same basic mechanism that most funnel builders use, including popular ones like ClickFunnels and ThriveCart.
Developed and built by XLPlugins, Funnelkit also has a free version on wordpress.org with 10,000+ active installs and 560+ 5 star user rating.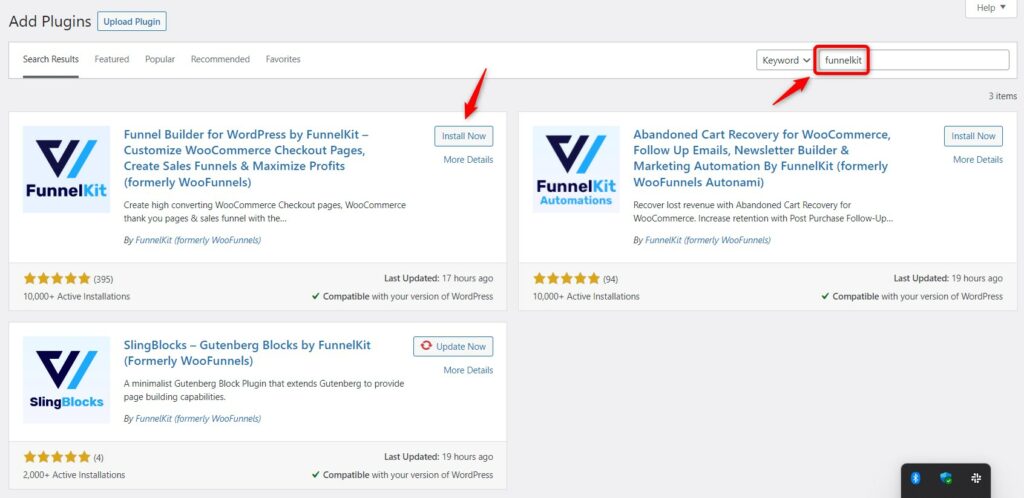 Compared to other funnel-builders, Funnel Kit is considered the most advanced and user-friendly. With Funnel Kit, users have access to high converting pre-designed funnel templates and wizards that allow for easy setup of upsells, downsells, and more.
There'a also an inbuilt automation and rules engine tool called Autonami, which acts as a lightweight CRM. Users can add tags to contact profiles, define custom fields, trigger automations, send email broadcasts, and segment contacts.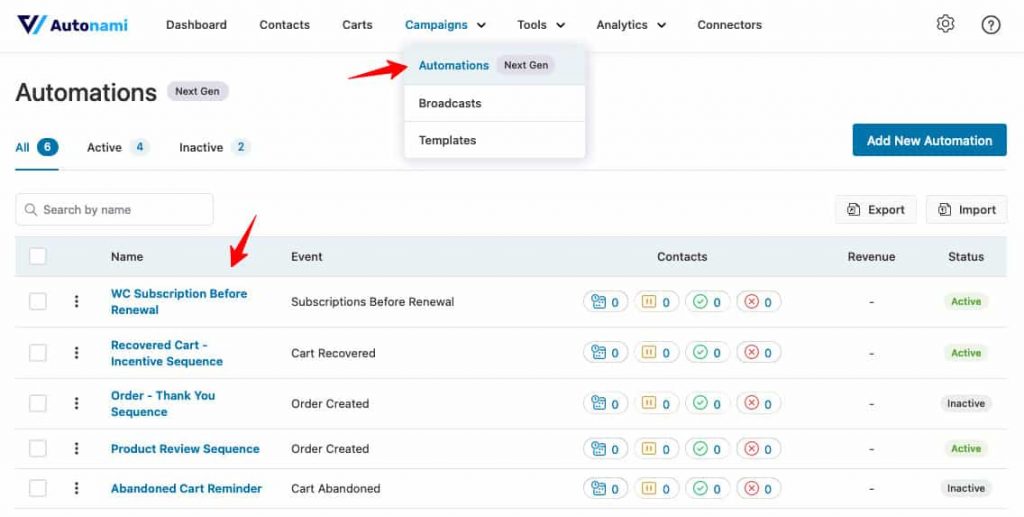 It also allows for automated follow-ups based on cart behavior and integrates with third-party apps.
Alternatives to FunnelKit include CartFlows. Which is also one of the best wordpress funnel builder.
Key Features of FunnelKit:
FunnelKit has a user-friendly interface for building and managing sales funnels, making it easy for users to create and customize funnel according to their specific needs.
You get the freedom to customize your sales funnels with custom fields and even set up workflow automation.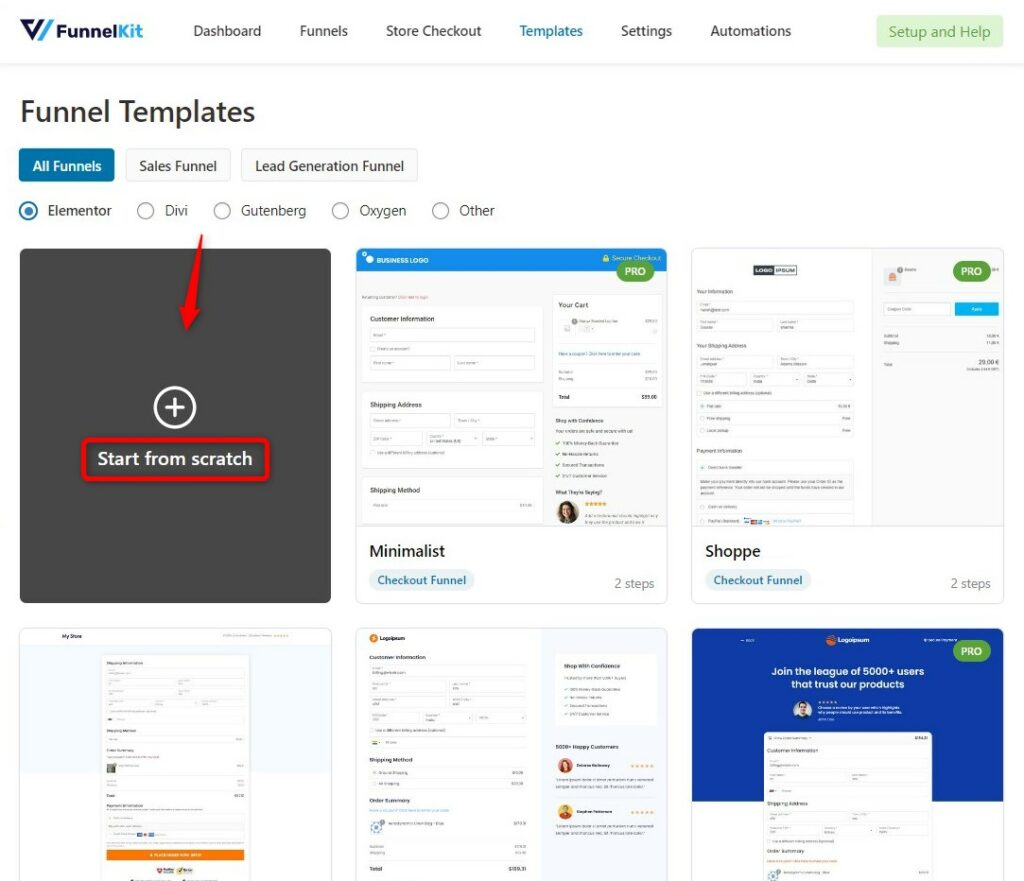 It also allows you to create single-click opt-in pages, which are mostly easier to capture leads and grow email list. 
And to easily customize Funnel Kit integrates with popular page builders like Elementor, Gutenberg and Divi, for more flexibility in designing your sales pages. It has all important features like, 
Pre-designed Funnels – It has ready to import pre-designs funnel for every kind of business which you can use in 1 click.
Funnel Checkout – Highly focused to convert visitors into buyers
One-click upsells – Allowing you to maximize your revenue by offering additional products or services to your customers with just a single click.
Integration with Email Marketing & CRM platforms – Lets you to automate your marketing and communication processes, and streamline your sales funnel.
A/B Testing – You can easily test different variations of your funnel landing page and optimize them for better conversion rates. 
Advanced analytics and tracking – Get detailed information on funnels effectiveness and make data-driven decisions to improve your marketing strategies.
With these features of Funnel Kit, you can create highly effective sales funnels, increase your average order value (AOV), and drive more conversions for your business.
FunnelKits: Pros & Cons
Pros
Drag and drop WordPress based funnel builder
Even a non-techie person can create funnels with Funnelkit
Advanced Marketing Automation
Prebuilt templates and automations
Order bumps, upsells and downsells can add anywhere
Almost all page builder support including Elementor, Gutenberg, Divi
Email CRM, Learndash LMS, Zapier integration and many more…
Side slide cart makes easy to view cart products without leaving shopping page.
Cons
Although base plan pricing is affordable, but based on features you have to purchase higher plans.
Autonami requires additional purchase.
Cartflows Review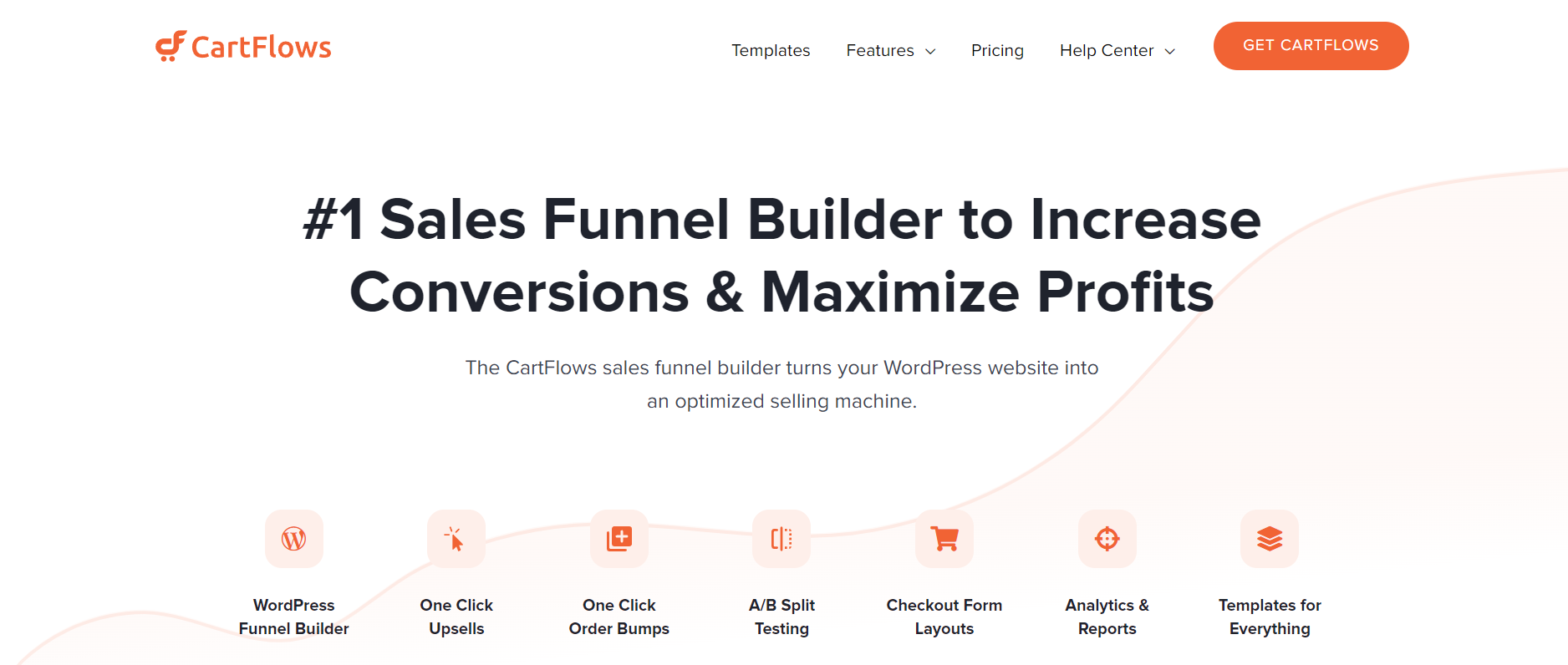 CartFlows is a popular funnel builder plugin for WordPress that is designed to improve the checkout process for online businesses. The plugin remove the limitations of the default WooCommerce checkout page and offers a customized and optimized sales funnel solution.
Developed by WPcrater (independent Wp tutorials youtube channel) and Sujay Pawar from Brain Force, Carflows has more 200,000+ active installs with average rating 4.8 out of 5 from 290+ user reviews.

It has so many active installs compared to less ratings is due to Astra theme partnership with Cartflows for bundles demo.
One of the key features of CartFlows is its ability to create different types of funnels that can be customized using popular WordPress page builders including elementor and gutenberg. 
The plugin also allows for the addition of checkout custom fields and offers features like order bumps and one-click upsells/downsells. It integrates with major payment gateways like PayPal and Stripe and can be integrated with CRMs to address cart abandonment issues.
Key Features of Cartflows
Cartflows offers a range of key features that make it a powerful tool for creating and optimizing your sales funnels. One of main features, Cartflows seamless integration with WooCommerce, allowing for a smooth and user-friendly products checkout experience.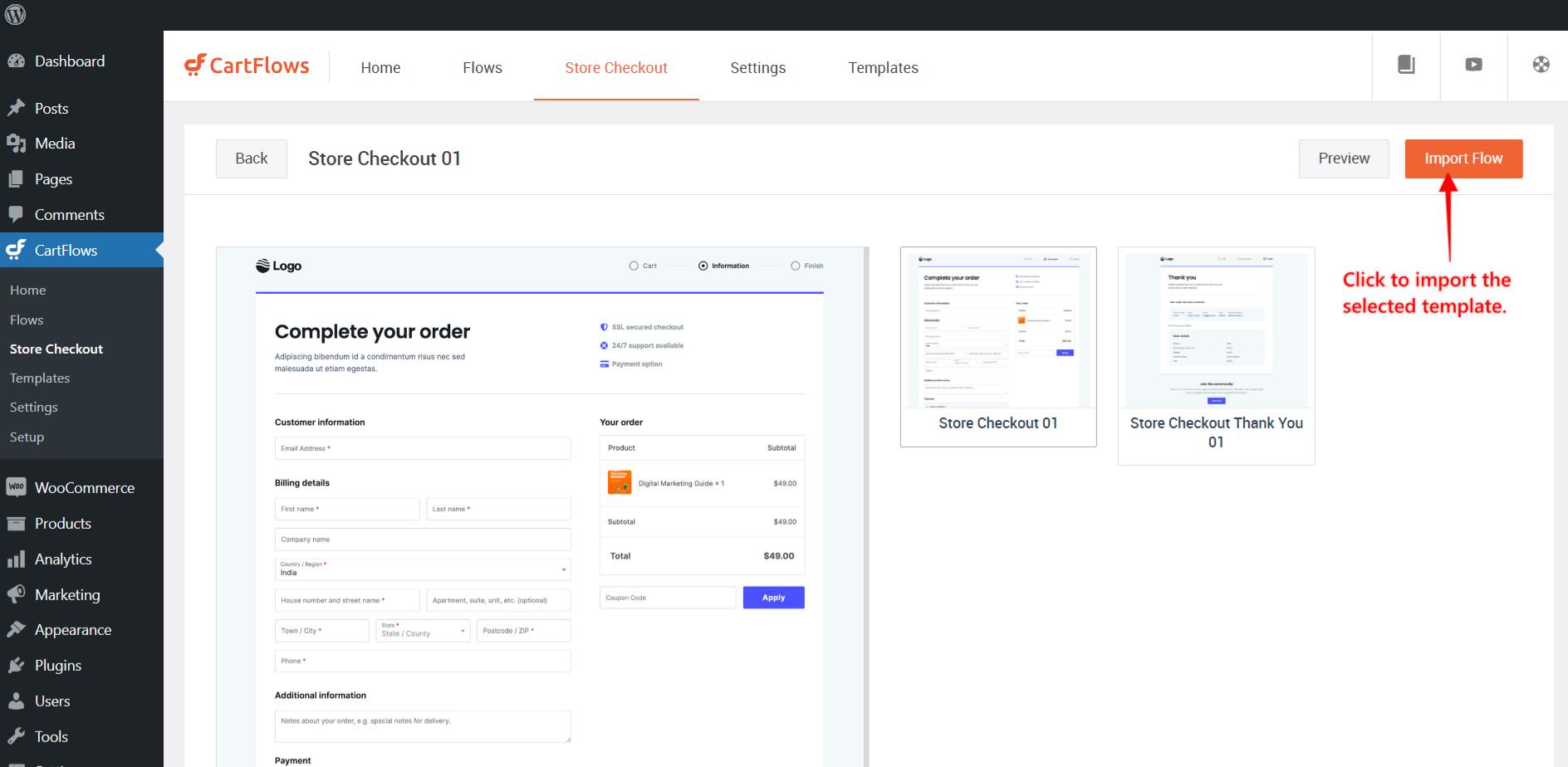 Plus, you can easily create upsells and downsells to increase average order value. There's a drag-and-drop builder lets you to create custom checkout pages for different objectives like brand or customer preference. 
Cartflows has also marketing automation features that help you nurture your customers throughout the sales funnel. It also provide detailed analytics and reporting valuable insights to track funnel performance.
Cartflows All Features:
Pre-made templates – for different types of sales funnels, making it easy for users to get started quickly. 
Canvas Mode – With this funnel visualizer you can design imagine customers journey and build even complex funnels.
One-click upsells and downsells – This can greatly increase the average order value (AOV) and improve overall sales performance. 
Order Bumps & Dynamic Offers – This feature lets you add complimentary or relevant products at checkout as order bump.
A/B Split Testing – Do split testing and find out which version converting most.
Advanced cart abandonment – features that can help businesses recover lost sales. 
Payment gateways – Support PayPal and Stripe, Cartflows makes it convenient to handle transactions.
There are still many great features cartflows comes with for easy conversion like Pre-checkout, Modern Checkout pages, Dynamic links
And the best things I liked most, it integrates with all wordpress page builders and e-commerce plugins.
Cartflows: Pros & Cons
Pros
Canvas mode, helps you design your funnel.
Easy to create funnels with pre-designed templates and Drag n drop funnel builder.
1 click order bump, upsell or downsell.
Abandoned Cart recovery follow ups.
Multiple checkout formats.
Affordable pricing
Cons
No inbuilt email marketing
No automation, require 3rd part apps like zapier
Membership funnel creation need 3rd party plugin.
Cartflows vs FunnelKit – What's The Difference?
Comparing Funnel Creation Features:
CartFlows Funnel Builder Features

Users can experience the exceptional ease of use when utilizing cartflows with any WordPress e-com site, as it seamlessly integrates with WooCommerce stores.
After installing cartflows, it replaces the mundane checkout page provided by WooCommerce with its highly conversion-focused pages, thereby enhancing the user experience during checkout.
The flexibility of cartflows allows for the configuration of different types of checkout pages for various categories or products. This distinct feature sets cartflows apart from alternatives like Funnel kit, OptimizePress, and Thrivecart.
As for funnel building it's a canvas mode which lets you freely imagine the customer journey for purchasing product and based on that you can assemble page for funnel creation (even complex funnels can be build easily).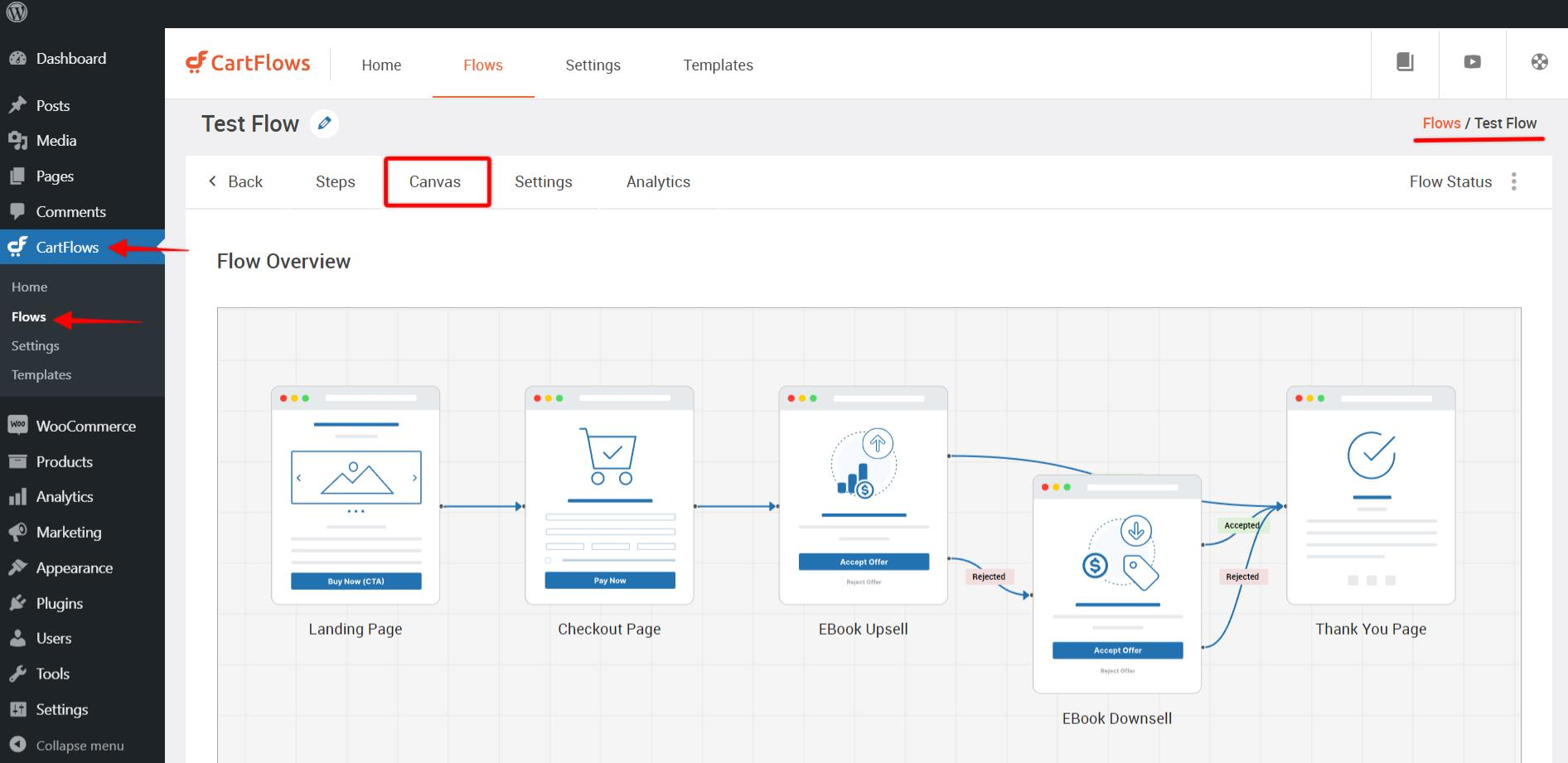 And to design funnel pages it has a drag and drop funnel builes which works really fine with all popular page builders. The most amazing part this funnel builder has multiple pre-designed 
funnel templates with the help you can import already high converting funnels in your e-com site in 1 click under few minutes.
It has A/B split testing features with the help of your can create multiple funnels, test them and find out which one converting most.
Although Cartflows also has some good automation and marketing features like one of my favorite Cart Abandonment. But still I find out Funnel kit is much better in this.
FunnelKit Funnel Builder Features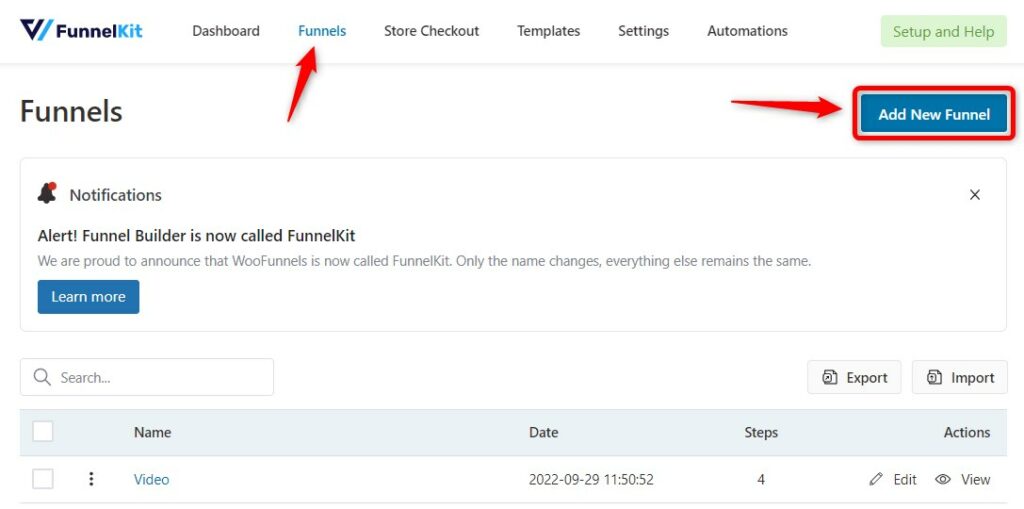 Like Cartflows or Thrivecart, Funnelkit also has all major sales funnel builder features. With just installing and running the setup wizard it automatically connect with woocommerce, configure all settings and create important pages.
And after that you can use it's pre-designed funnels library to import any suitable funnel in 1 click and then customize the funnel using drag and drop builder like text, image, buttons according to your needs.
It has A/B test, Email marketing, slide cart, and easy settings to set up funnels in few minutes.
For Marketing and Automations, Funnel kit offers Autonami which is an advanced tool for funnel automation.
Difference:
The only major differences I have found in both, support to page builders.
While Cartflows only integrate with Elementor, Beaver builder and Gutenberg. FunnelKit has the support of all major page builders including Elementor, Divi, Gutenberg, Oxygen, Beaver and many more…
Plus, Funnelkit also has various types of checkout formats like one of most popular side slide cart checkout.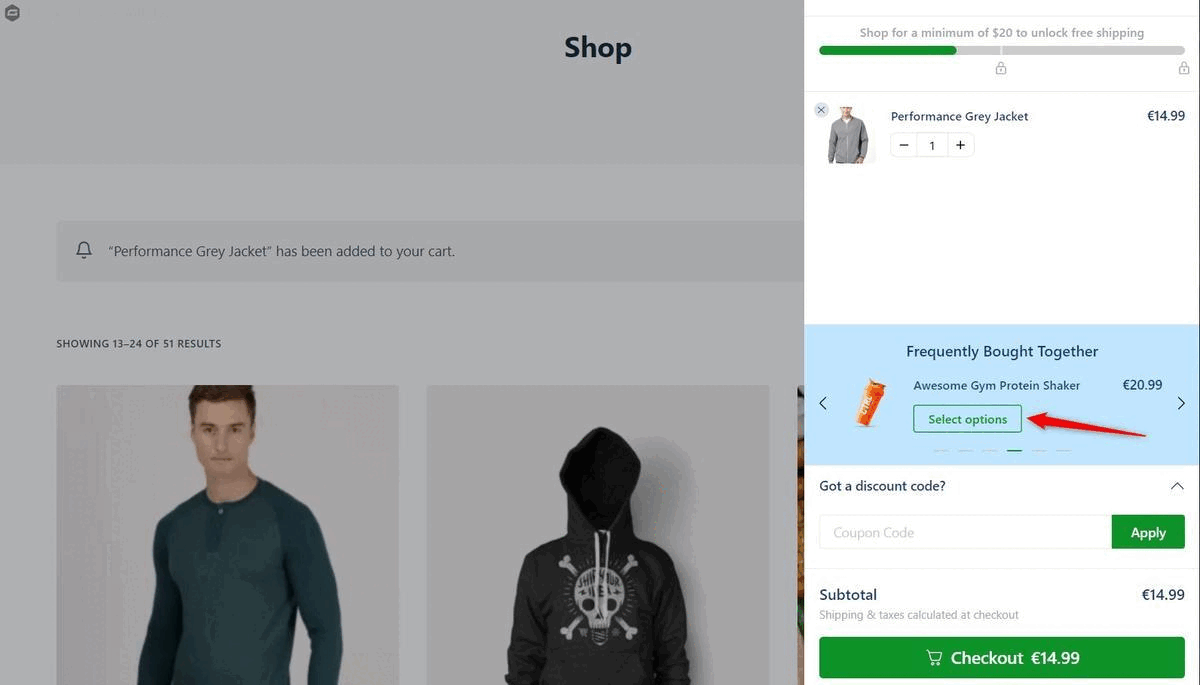 Winner: FunnelKit, as it has all Cartflows features and it's own advanced features and supports much more page builders comparing to Cart flows.
Also read – Funnelkit vs Wpfunnels Comparison
Bump Offers, Upsells and Downsells
In both funnel builders, you can create and add Bump offers, Upsells or Downsells. If you don't know they are the best yet easiest way to increase cart value and get more sales. Hopefully both have these.
But funnelkit has better options as it also show customers relevant products as Upsells and Order bumps automatically in Side slide cart without leaving the shopping page. While cart flows only shows your set up products on checkout page as it doesn't have any side cart like funnelkit.
Winner: Although both have Upsell/Downsell and Orderbump, But funnelkit has better options.
Funnelkit vs Cartflows: Which one is more user-friendly?
When it comes to user-friendliness, both Funnelkit and Cartflows are good, easy to use and easy to understand. Both have drag and drop funnel builder, perbuilt funnel library, and all important features which you needed to create and promote wordpress sales funnel.
Winner: Tie
CRM and Marketing Automation
Both Funnelkit and Cartflows come with powerful CRM and marketing automation features to enhance your sales process. Cartflows seamlessly integrates with popular CRM platforms allowing you to efficiently manage your customer relationships.
On the other hand, Funnelkit has advanced marketing automation called Autonami has all built-in marketing features, such as abandon cart recovery automation, Email and SMS marketing, making it easier to nurture leads and drive conversions. 
Both funnel tools also provide automation for email marketing campaigns, allowing you to save time and deliver personalized messages or coupon to your audience. 
Where Funnelkit stands out with its advanced workflow automation capabilities with Autonami, 
While Cart flows comes with cart follow ups but doesn't have any in-built automation tool. So you have rely on 3rd party options.
Winner: FunnelKit, as it has dedicated in house built automation tool – Autonami.
A/B Split Testing
Sometimes a little bit of changing in funnel aspects can bring high conversion, and you can do this easily with AB Split testing.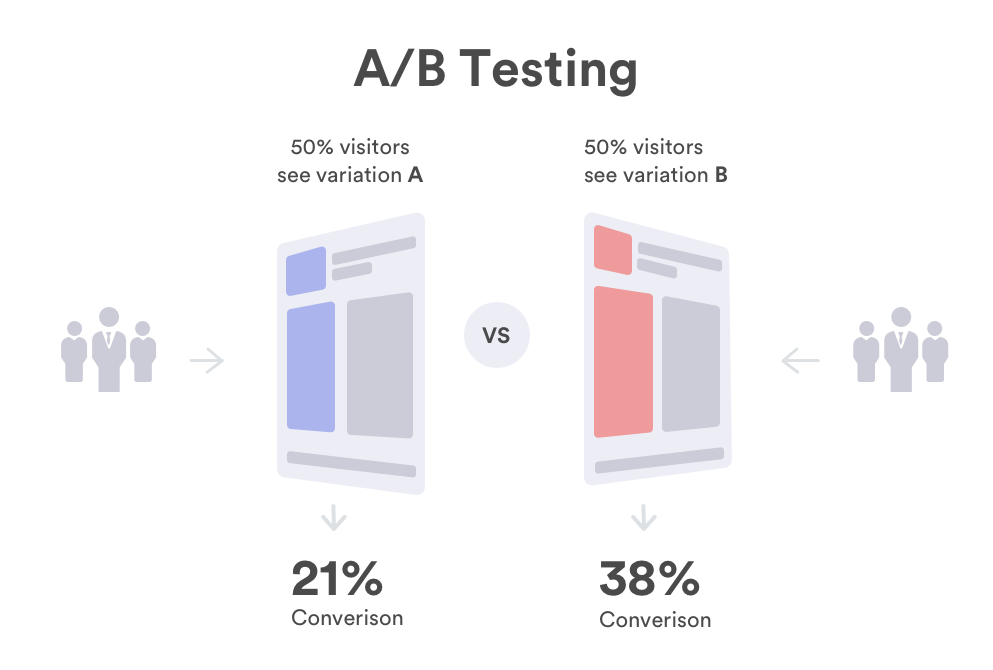 Good thing, both plugins have A/B testing features which lets you create as many variants as you want and also shows you which one performing best.
Winner: Tie
Reporting & Analytics
Funnelkit and Cartflows, both offer detailed reporting and analytics section to help you track, manage and optimize your sales funnels. 
Funnelkit connect with Google Analytics and provide you in-depth funnel tracking and insights. You can track conversion rates and make data-driven decisions to optimize your funnels for better results. 
On the other side, Cart flows has inbuilt analytics on sales funnel performance, and lets monitor cart abandonment to improve checkout process. 
With both funnel plugins, you will get access to the data and insights you need to measure the effectiveness of funnels and make informed decisions to drive sales and conversions. 
Whether you choose Funnelkit or Cartflows, you'll have the reporting and analytics features to take your ecommerce business to the next level.
Why choose FunnelKit over Cartflows?
FunnelKit offers most customization options and advanced automation features, which allow you to create personalized sales funnels in most easiest way using wordpress. It support all popular page builders like Elementor, Gutenberg and Divi.
With powerful automation, Email & SMS marketing, detailed analytics reporting and flexible pricing plans, FunnelKit is a good choice for you.
FunnelKit also has a free version with limited features, making it free to use at beginning.
Why choose Cartflows over FunnelKit?

Cartflows offers a seamless checkout experience with direct integration to WooCommerce.
Increase your average order value with easy upsells and downsells. You can save time with pre-made templates and designs. To recover lost sales it comes with advanced cart abandonment features.
It has flexible pricing plans for businesses of all sizes. Although all these features also available in Funnelkit.
Pricing comparison between FunnelKit and Cartflows
This is most exciting part of the comparison because here we will talk about both's pricing and plans.
FunnelKit Pricing & Plans – Is there any lifetime deal?
Let's start with WooFunnels/Funnelkit, first of all, there's also a free version of plugin to test this funnel builder. But the sad part there is no lifetime deal. Only yearly plans available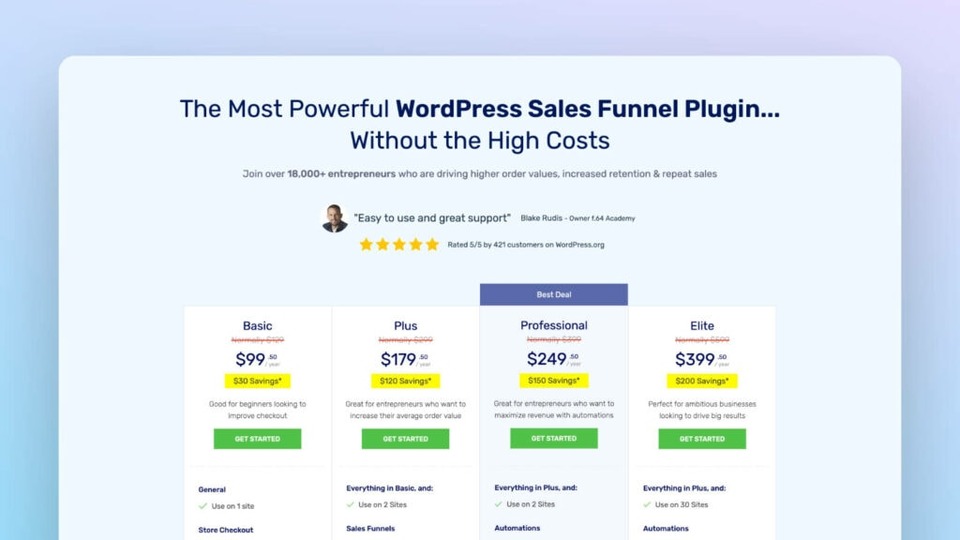 Funnelkit pricing starts from $99/year for single site with funnel builder features and higher plans unlock more advanced features,
Basic $99
1 Site
Plus $179
2 Sites
Professional $249
2 Sites
Elite $399
30 Sites
Funnel Builder
✔️
✔️
✔️
✔️
Unlimited Funnels
❌
✔️
✔️
✔️
FunnelsTemplates
❌
✔️
✔️
✔️
Checkout Templates
✔️
✔️
✔️
✔️
Cart Recovery
❌
✔️
✔️
✔️
Automations
❌
✔️
✔️
✔️
Upsells
❌
✔️
✔️
✔️
Order Bumps
❌
✔️
✔️
✔️
Contact Management
❌
❌
✔️
✔️
Broadcast
❌
❌
✔️
✔️
Analytics
❌
❌
✔️
✔️
Integration
❌
❌
✔️
✔️
With all plans, funnelkit offer 14 days money back guarantee, which makes it risk free to try.
CartFlows Pricing & Plans – Is there any lifetime deal?
It's yearly pricing starts from $79 and has 3 plans available. Higher plan offer more features and limits. Sadly cartflows also don't offer any lifetime plan. But there's free version plugin with very limited features to test.
Starter $79/yr
1 Site
Plus $149/yr
10 Sites
Pro $269/yr
30 Sites
Funnel Builder
✔️
✔️
✔️
Canvas Mode
❌
❌
✔️
Funnels Templates
❌
❌
✔️
Checkout Templates
✔️
✔️
✔️
Cart Recovery
✔️
✔️
✔️
Analytics
❌
❌
✔️
Upsells
❌
✔️
✔️
Order Bumps
❌
✔️
✔️
A/B Testing
❌
❌
✔️
Modern cart
❌
❌
✔️
Automations
❌
❌
✔️
Support
✔️
✔️
✔️
There is also no questions asked 14 days money back guarantee, which makes it risk free to try.
Final Verdict: CartFlows vs FunnelKit – Which One Better For You?
After comparing all important aspects, FunnelKit and Cartflows both have important features for funnel like User-friendly interface, Drag n drop builder, one-click upsell/downsell, pre-designed templates and many more. Yet there are also some big differences. 
FunnelKit stands out with its Side Slide Cart, CRM and Autonami automation + Marketing capabilities. 
On the other hand, Cartflows excels in good user experience functionalities. 
And when it comes to pricing, FunnelKit offers a flexible pricing structure based on your business needs, while Cartflows provides a more affordable option for smaller businesses. 
Ultimately, the final choice between FunnelKit vs Cartflows also depends on your specific business requirements and budget. 
But in my suggestion, I found out Funnelkit has much better advanced features and good pricing including all major things. Plus to get started it also has free version to use.
FAQ – Frequently Asked Questions on Cartflows vs Funnelkit
Thank you for reading this post, don't forget to share with more people like you!