SEMrush vs Keywordtool.io: In this post, I'm going to compare Keywordtool.io vs Semrush for keyword research to find out which ones have better features to find out high volume low competition keywords to rank easily on google.
Semrush is an all in 1 SEO tool kit which also offers an advanced keyword research tool with lots of features and it's data trusted by many SEO experts, agencies and brands.
While Keywordtool.io is only an easy-to-use online keyword research tool that generates tons of keyword ideas based on your queries using the Google autocomplete function. You get hundreds of long-tail keyword ideas within seconds.
But which one is best for keyword research for you, don't worry this post will help you to find out that.
So let's begin by comparing both tool's features side by side, to understand what they have to offer.
Reading this side by side comparison, you can see the tool's similarities and differences at a glance.
Here's my detailed comparison video of Semrush vs Keywordtool io with keyword research demo and tutorial, make to subscribe our channel for stay updated to new saas tools updates & alerts.
Main Difference: Tools & Features for Use
As you know SEMrush is an all-in-one SEO tool kit, which offers lot of tools under its kit, you can see there are multiple categorized sections available under the SEO Section.
You can find everything about SEO, Competitive research, Keyword research link building, on-page and technical SEO tools, something like that.
And in advertising, you can find PPC related tools and there are tons of things you can find, especially in the SEMrush toolkit.
And while I compare it to the keywordtool.io, it's only a dedicated keyword research tool. And here you can find this something very unique thing you can see.
Which is individual platforms selection to start the keyword research.
If you want to do keyword research for Google, then you can select Google.
If you want youtube, eBay, Amazon eBay place to Instagram or Twitter, then you can select this platform and start your keyword research.
See? So that is very, pretty much unique that we haven't seen in the SEMrush.
But I originally think that we haven't needed this thing in the SEMrush.
Because although it doesn't have dedicated platforms like keywordtool.io but it has more advanced features that show trustworthy data all across the globe and don't forget other SEO tools that coming along with the Keyword Research Tool.
Winner: SEMrush
Pricing & Plans
Now let me show you what is the pricing for both tools because it is a very understanding thing to get the value for money proposition.
if you want to check out the Keywordtool.io pricing, then you can check it here.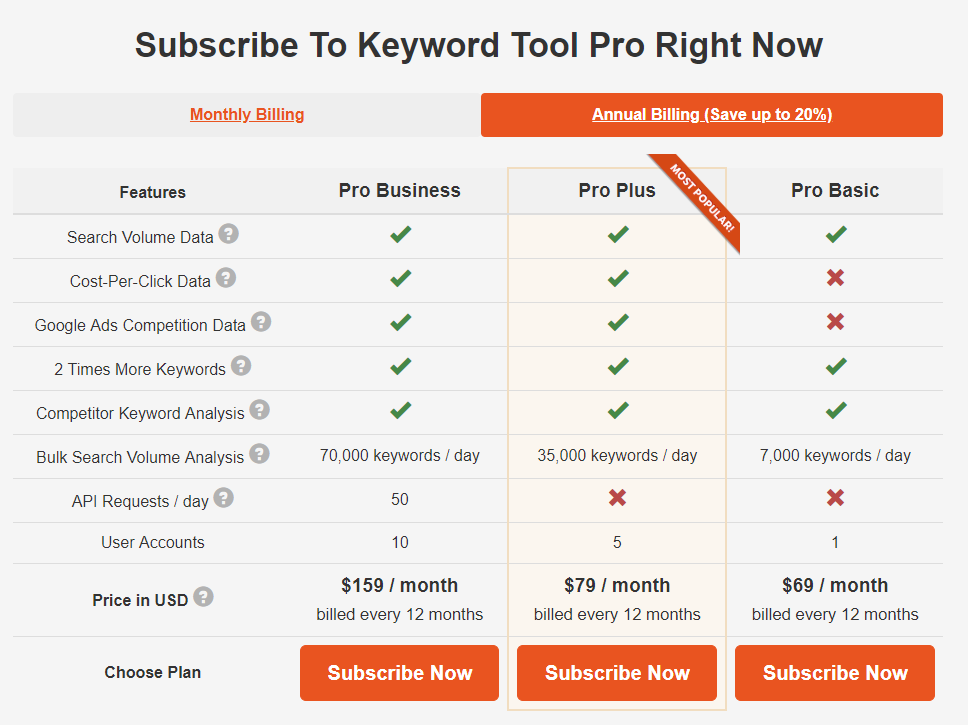 It's the basic plan. Start from the $69 per month (when billed annually). But if you go for the monthly planning, you can see it's $89 per month.
And I personally think it's expensive and overpriced only just for keyword research.
In comparison, SEMrush starts from $119.95 per month for the basic plan. And if your budget allows, I definitely suggest you to for the SEMrush without a thought.
Because at this price you are getting access to all major tools and features.
Conclusion – Winner !!!
Although Keywordtool.io is a good tool, but it's pricing did not the value we are getting,
In fact, everything we can do with Keywordtool.io, Semrush also offers plus more advanced features and filters.
And believe me, SEMrush's data is more trustworthy. So why pay only for a keyword research tool when in little bit extra we can get a full SEO tool kit.
And the best part SEMrush also offers a 7 DAY FREE Trial, to experience their tool's power. So it's a risk-free tool to tree.
I hope you liked my semrush vs keywordtool io comparison, if it helped you get the better information which one good choice for you.
If you want to stay updated to such comparisons, Saas deal updates, Lifetime alerts, then you can Subscribe my Email Newsletter.
Thank you for reading this post, don't forget to share with more people like you!