Scalenut Content Optimizer Review: Scalenut is an AI-powered SEO and Content Marketing Platform, is one of the top tools for optimizing content and generating AI-driven writing. Its exceptional range of features caters well to content creators, entrepreneurs, marketers, and teams alike.
However, we don't want you to simply take our word for it.
In this scalenut review, we will delve into Content Optimizer, Scalenut's comprehensive tool that makes your content SEO-ready, allowing you to witness its capabilities firsthand.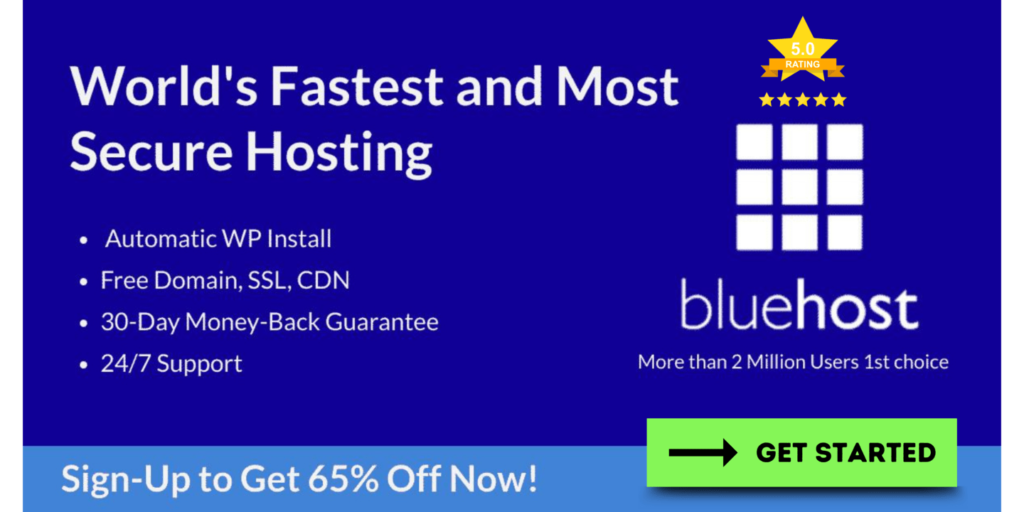 By the end of this article, you will have all the necessary information to choose Scalenut for your content optimization. 
I'll also share My experience with Scalenut, How I used it's Content Optimizer feature to improve my old blog post and ranked Google's 1st page in 33 Hours.
Are you ready? So, Let's begin!
Scalenut Review by SaasGuru
Disclaimer: Saas-guru.net is reader-supported and earns money from mentioned affiliate products. You may find few affiliate links on this post as well. When you click on links, we may earn a commission without costing you extra!. This helps us to cut down costs of review products, online tools and website.
What is Scalenut Content Optimizer?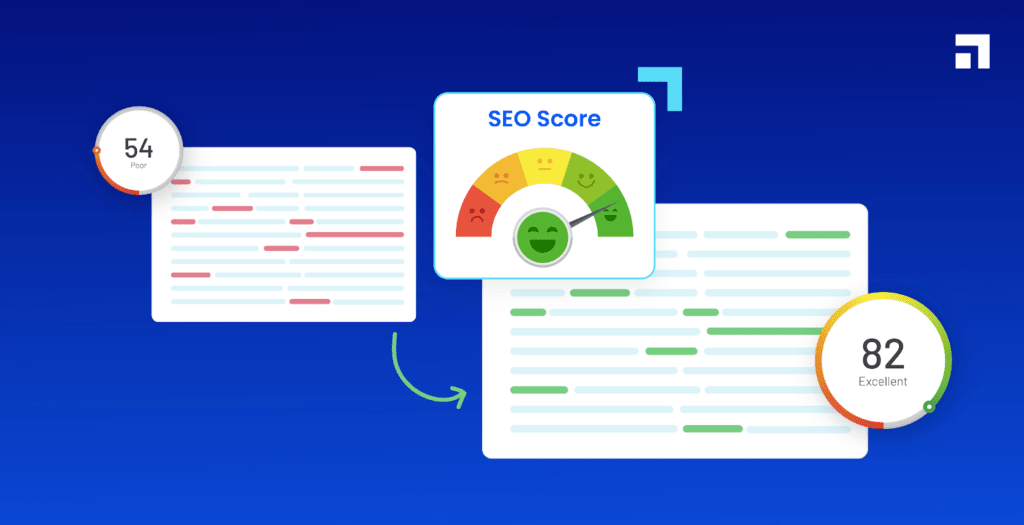 Scalenut's Content Optimizer provides a comprehensive solution that covers all aspects of content optimization.
It's Designed to enhance your content creation process, the Content Optimizer is a powerful tool that aids in generating exceptional content that is fully optimized for SEO. 
By utilizing various features such as meta tags, outbound linking, and keyword density, you can create high-quality content that not only achieves a favorable ranking but also effectively captivates your audience.
Key Elements of Scalenut Content Optimizer 
The Scalenut SEO Score provides a comprehensive assessment of how effectively your content is optimized for search engines.
Unlike typical SEO content scores that rely solely on keyword count and density to calculate a numeric score, we found that the Scalenut SEO Score takes a more comprehensive approach. 
It considers #9 key SEO aspects to evaluate the optimization level of your content.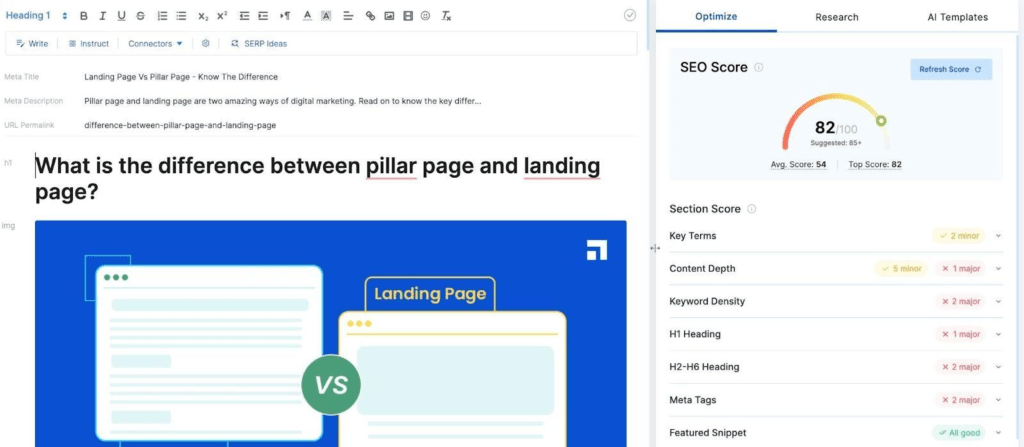 The score is based on a comparative analysis, measuring how well your content compares to the highest-ranking blog pages for the target keyword in the target location.
With the introduction of the new Scalenut Content Optimizer tool, you can now receive an average score and the highest score achievable.
This information helps you gauge the degree of optimization required to improve your ranking in search results. 
Let's discuss the #9 SEO aspects that we got in Scalenut's SEO score. 
#1. Key Terms 
In order for search engines like Google to understand the topic and depth of your content, it is essential to include key terms. These key terms are important semantic words that indicate the relevance of your content to a specific topic.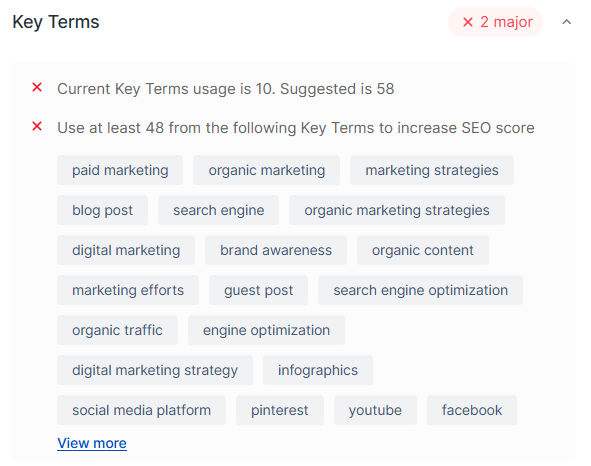 The Scalenut Content Optimizer tool identifies these key terms by analyzing the internet's top-ranking pages.
We were able to incorporate the most important keywords into our content by using the tool. 
In addition, the Scalenut Content Optimizer provides a screenshot of the Key Terms Optimization feature.
It accurately counts the number of key terms you have used and compares it to the number of key terms used by the majority of top-ranking pages. 
Additionally, it offers a helpful list of ready-to-use key terms for your blog content.
By leveraging the Cruise Mode, we were able to use Scalenut's advanced language models to generate relevant content specifically tailored to our key terms.
#2. Content Depth 
Content depth is an often neglected aspect of content optimization, but search engines pay attention to these factors when determining rankings.
Scalenut Content Optimizer tool ensured that our content encompasses essential elements related to content depth.
The Scalenut Content Optimizer provides a screenshot of the Content Depth Optimization feature.
It offered us a real-time analysis of our content, considering factors such as the total word count, number of headings, number of bold words, number of images, and the alt text associated with our images. 
By evaluating these elements, we were able to optimize our content to improve its depth and increase its relevance to search engines. 
#3. Keyword Density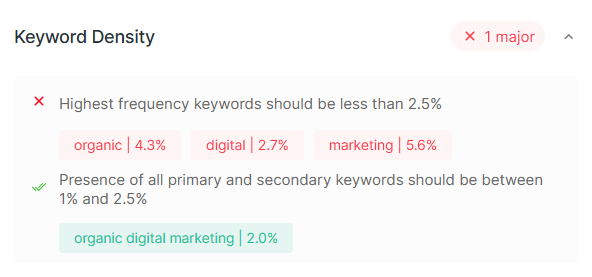 Maintaining an appropriate keyword density range of 1% to 2.5% of the total word count is crucial in content optimization as it helps avoid keyword stuffing. 
With the Scalenut Content Optimizer tool, you can analyze the presence of keywords in your text and receive alerts if your keyword density exceeds 2.5% or if your primary keyword density falls below 1%.
By clicking on a specific keyword, the optimizer highlights all instances of its usage throughout your content.
This feature allowed us to easily identify where we had used the keywords and make any necessary adjustments to maintain an optimal keyword density for improved content optimization. 
#4. H1 Tag 
The H1 heading tag plays a significant role in indicating the structure of your content to search engines.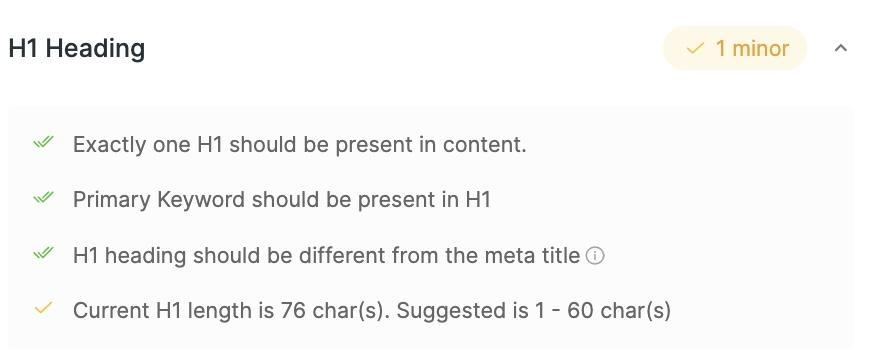 If your H1 heading does not include the primary keyword, it diminishes the likelihood of search engine crawlers recognizing your content as a relevant source of information for the target keyword.
This feature analyzed our H1 tag to determine the presence of our target keyword and assessed its character length.
By examining these factors, the Content Optimizer helped us ensure that our H1 heading is fully optimized, increasing the chances of search engine crawlers indexing our content for the target keyword.
#5. H2-H6 Tags 
This feature assisted us in ensuring that all our headings were enriched with keywords. Additionally, it encouraged the inclusion of at least one question among the H2-H6 tags.
The Content Optimizer also provided suggestions for keyword-infused headings within the tool, empowering us to generate content specifically tailored to those headings. By leveraging this feature, we can optimize our headings to enhance the visibility and relevance of our content.
Optimizing all headings, not just the H1 tag, is essential for your content to be recognized as a potential source of information for the target keyword. Including key terms in your headings increases the likelihood of search engines considering your content relevant.
#6. Meta Tags 
Meta tags provide detailed information about a web page, aiding search engines in comprehending the content's purpose and relevance.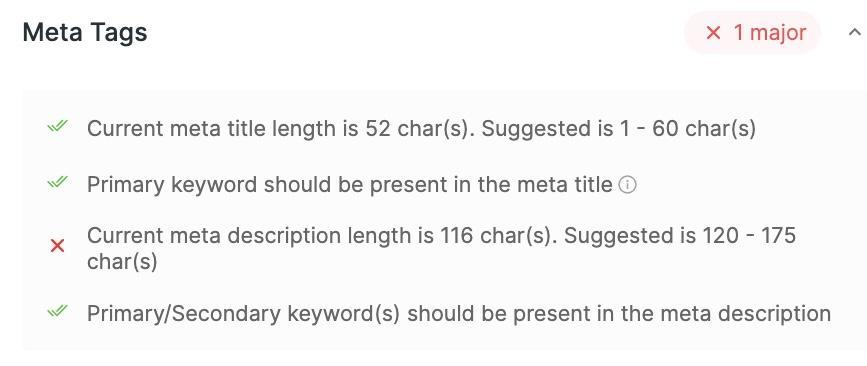 This feature by Scalenut's Content Optimizer enabled us to assess our meta tags for the presence of keywords and checks their character length. 
The Content Optimizer also offered the option to utilize its AI to generate a meta title and meta description that align with search engine guidelines. This ensured that our meta tags got optimized, enhancing search engine understanding and visibility of our content.
#7. Featured Snippet 
To increase the likelihood of your content appearing as a featured snippet for your target keywords, it is crucial to include at least one question within your H2 tags, accompanied by a 300-character answer to that question.
With the featured snippets feature, we could verify that our content contained a question with a 300-character answer.
Plus, it suggested incorporating a People Also Ask (PAA) question as a heading in our content. 
#8. Links 
In order to establish credibility as a credible source, it is important to include outbound links in your content that verify the information presented.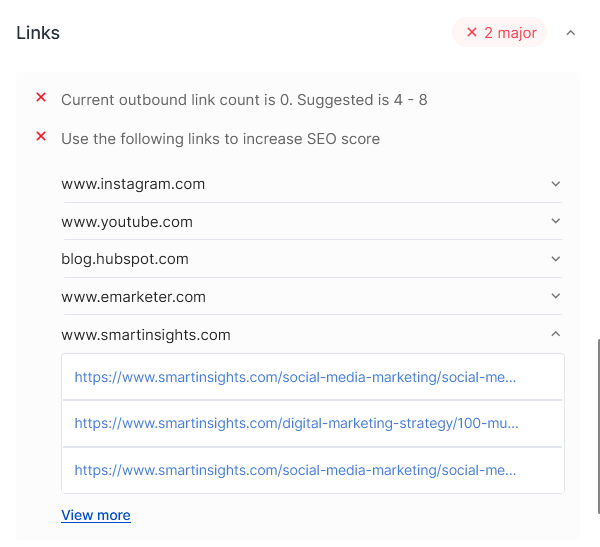 The 'Links' section of the Content Optimizer is designed to assist users in this aspect. 
It helped ensure that our content contained relevant information supported by outbound links to credible sources.
By incorporating these outbound links, we were able to enhance the reliability and trustworthiness of our content, providing readers with additional resources for further validation.
#9. URL
The URL of your webpage holds significant importance, just like the content it represents.
Recognizing this, Scalenut's Content Optimizer includes a dedicated URL section to evaluate your URL for keyword inclusion and semantic simplicity.

This URL section of the Content Optimizer analyzed our URL to ensure the presence of relevant keywords. Additionally, it emphasized the importance of maintaining a URL structure that is clear and straightforward, contributing to its semantic simplicity. 
By optimizing our URL with appropriate keywords and ensuring its simplicity, we could enhance its relevance to search engines and improve the overall optimization of our blog and case studies.
My Experience – How I Used Scalenut SEO Content Optimizer to Get 1st Page Ranking (Video)
In this video, you can watch step by step Scalenut Tutorial and My content optimization journey 'How I use it to rank my post on google 1st page in 33 hours after optimizing old post content as Scalenut suggested me.'
Scalenut's Content Optimizer: Is It Worth? 
The Scalenut Content Optimizer is a powerful tool that can significantly boost your Google rankings. With its comprehensive features and analysis, it covers essential aspects of content optimization that are often overlooked. 
From keyword analysis and density optimization to heading structure, meta tags, outbound links, and URL optimization, the Content Optimizer ensures that your content aligns with search engine guidelines and best practices.
By utilizing the Scalenut Content Optimizer, we could enhance the visibility and relevance of our content, increasing our chances of ranking higher in Google search results.
Besides, it empowered us to optimize our content for search engines while delivering valuable insights and suggestions to improve your overall optimization strategy. 
To put it simply, don't miss out on this tool. This powerful ally helped me achieve higher Google rankings, and it'd allow you to do the same. 
And best thing along with Content Optimizer, Scalenut also offer other features,
Keyword Planner
SEO Article Writer
Cruise Mode (5 Min SEO ready Article Writer )
Content Optimizer
Ai Templates (50+)
All these come with 1 pricing point.
Pricing & Plans
Scalenut all features comes under $39/monthly starting deal in which users get access most of it's tools.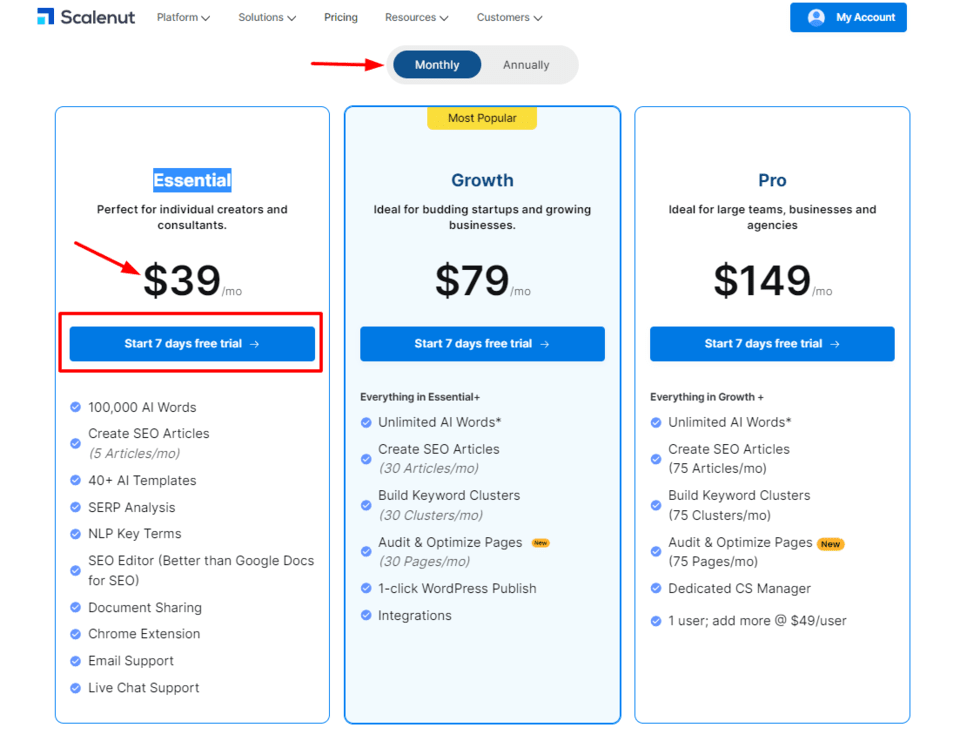 With this growth plan you can access prime features such as Cruise mode, Paraphrasing, and team collab for $79/month.
And if you switch to annual plan prices goes down 40% compared to monthly plans.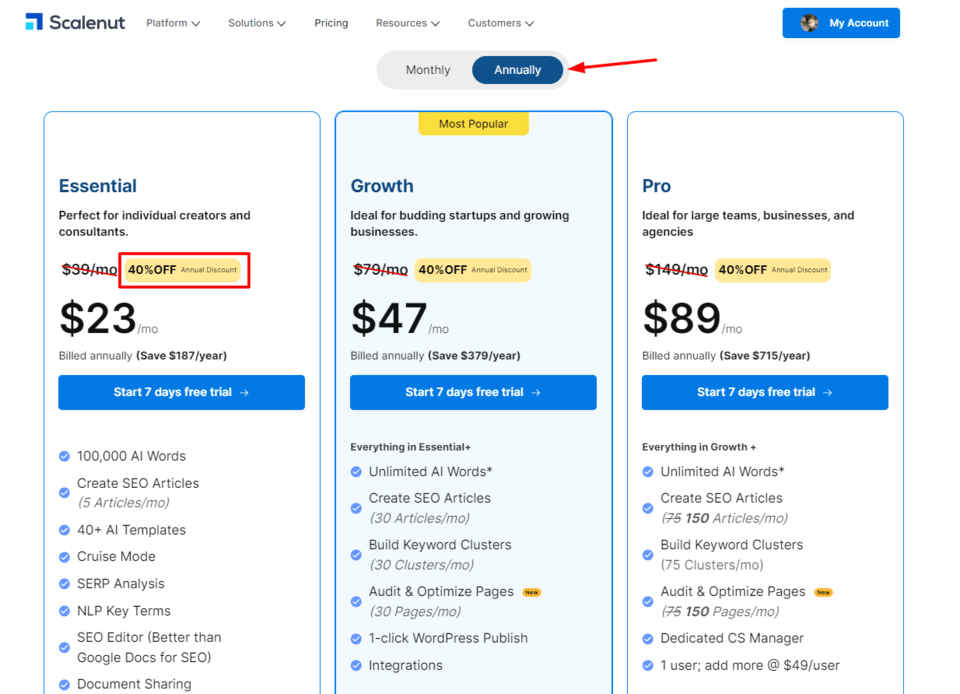 Compared to alternatives like Surfer SEO, Scalenut is much more affordable.
Plus, there's also a scalenut-free plan available to try and experience this amazing tool.
For SaasGuru audience, Scalenut is also offering 20% extra saving discount code. If you will use discount code "FOREVER20" at checkout, it will give 20% extra discount on monthly plans.
You will save 20% (only on monthly plans, will not work on annual plans)
And before buying plan, you can try Scalenut's 7 Days Free Trial to experience it's feature.
Liked the comparison, You can also read this,
Surfer SEO Vs Scalenut: Which One Is Better?
Thank you for reading this post, don't forget to share with more people like you!