Scalenut vs Japser Ai/Jarvis: In this post, I'll review and compare the industry's 2 best A.I writing tools- Jasper vs Scalenut. And will find out which one is really the best A.I tool for Copywriting, SEO optimization and SERP rankings.
Note: Jarvis rebranded their name to JASPER Ai
Both platforms are GPT-3.5 A.I based writing tools, which generate content short as well as long-form formats for making content writing an easy task.
After testing and using both Jasper ai and Scalenut for few months, I learned many things about both tools which makes them different to each other.
Plus both have their own unique features, pros and cons.
But which one you should choose?, don't worry this comparison post will help you to find out.
So without wasting more time, lets start the comaprison.
Scalenut vs Jasper Ai: Side by Side Comparison
| Features | Jasper Ai | Scalenut |
| --- | --- | --- |
| Ai Assistant | ✔️ | ✔️ |
| Content Generation | ✔️ | ✔️ |
| Content Research | ❌ | ✔️ |
| Keyword Research | ❌ | ✔️ |
| Content Optimization | ❌ | ✔️ |
| Article Brief | ❌ | ✔️ |
| Grammar Check | ✔️ | ✔️ |
| Plagiarism Check | ✔️ | ✔️ |
| Command Features | ✔️, Boss Mode | ✔️, Cruise Mode |
| NLP Terms | ❌ | ✔️ |
| Content Quality Check/Grade | ❌ | ✔️ |
| Factual Content | ❌ | ✔️ |
| Chrome Extension | ❌ | ✔️ |
| SEO Features | ❌ | ✔️ |
| Team Collaboration | ✔️ | ✔️ |
| Free Version Available? | ✔️ | ✔️ |
| Pricing | From $49/mon | From $39/mon |
| Email Support | ✔️ | ✔️ |
| Live Chat Support | ✔️ | ✔️ |
|  | 👉Try Jasper | 👉Try Scalenut |
Scalenut Vs Jasper ai: Which one is Better
Jasper ai is built on GPT 3.5 technology using that users can generate short-form content as well as long-form blog articles.
There's also a Boss Mode writing assistant available for more flexibility in generating content.
While Scalenut is also built on same ai technology along with their own in-house developed ai models to give far better article generation which is highly related to your topic.
Along with ai writing assistant, there are also SEO features included in Scalenut such as Content grading, NLP terms, briefs, SEO metrics and more at a 4X cheaper price compared to Jasper ai.
Jasper ai (Jarvis) Review
Like I said, Jasper.ai is GPT-3.5 artificial intelligence-based ai tool that can help you create google ads copy, long form posts, social posts, blog/e-commerce product descriptions, marketing emails, and much more.
What's great about Jasper.ai is that it can help creators save a lot of time and effort in writing content. All you need to do is input what you want to write about, and Jasper.ai will do the rest.
In addition, Jasper.ai is constantly learning and improving its algorithms, so you can be sure that the content it produces will be of the highest quality.
If you're looking for a good ai writing tool that can help you save time and create high-converting content, Jasper.ai is definitely worth checking out.
Features:
3 reasons why you should choose Jasper for Copywriting
One of the most notable features of Jasper is its ability to learn and improve over time. This means that as more data is fed into the system, Jasper gets better at making predictions and recommendations.
Another key feature is its focus on personalization. The platform is designed to offer users personalized recommendations based on their individual preferences. This makes it different from other AI platforms that tend to focus on providing general recommendations.
Finally, Jasper is also designed to be highly scalable. This means that it can be used by businesses of all sizes, from small businesses to large enterprises. This is made possible by the fact that it is built on top of the Amazon Web Services (AWS) cloud platform.
Pros & Cons:
Pros
Easy to use User interface.
10,000 Free Credits on Signup, Join Here
Really useful ai templates, especially AIDA, PAS, and content improver.
Very helpful long form assistant.
Comes with game-changer Boss Mode
Supports up to 30 different languages for contentwriting.
Grammar fixer and simplifiers make things easier.
Cons
Not all of the content that is generated is usable, thus credits waste
Users have to buy monthly or yearly price subscriptions. (biggest con compared to it's competitors)
Prices are a little too high.
---
Scalenut Review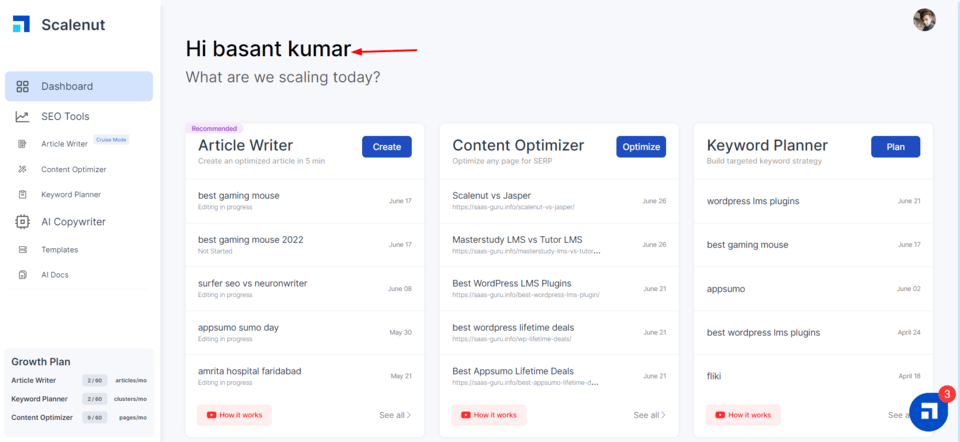 Along with being an Ai writer, it also offers Article research, Briefs, Keyword/SEO suggestions and NLP terms to get a higher SERP position in search engines.
In most simple words, this is the perfect tool for topic researchers who want to get the most out of their content marketing.
With this Ai tool, you can easily find the most relevant and target keywords for your post, write SEO-friendly long-form content for organic traffic, and create click-worthy marketing copies.
There's also a Cruise Mode similar to Jasper's Boss Mode without needed to pay extra.
UPDATE:

Recently Scalenut announce integration with SEMrush. This means users can make better use of existing features like SEO competitor analysis, topic clusters and more to optimize their SEO efforts for better ROI.

This is huge news for anyone who relies on SEO to drive traffic and sales, as Semrush is one of the most popular and comprehensive SEO tools on the market.

With it, you can now track your SEO progress and performance in real-time, and make adjustments on the fly to ensure you're always ahead of the competition.

Not to mention, you can also use Semrush's powerful keyword research capabilities to find the right keywords to target for your business.
Scalenut also offers a free plan to experience it's feature.
Feature:
3 reasons to use Scalenut for SEO-Optimized Blog Posts
Begin with a single term and receive extensive reports chock-full of useful information. SEO functionality helps you plan material that will rank by using its knowledge of important terms, h tags, readability, and intent.
Get winning topic ideas and copy from AI. With AI Copywriter, you will get new and limitless ideas at the touch of a button. It's your obvious advantage, which extends to full blogs, email headers, ad copy, social media postings, and various other content formats.
With the SEO Assistant's intelligent editor, make sure everything is in order, from key terms and image density to pertinent questions and h tags, and generate winning ai content every time.
Pros & Cons:
Pros
Great UI/UX, easy to use and understand
High-Quality Content (Output)
A lot of Copywriting templates
Google NLP feature is a good inclusion
Content research made easy
Cruise mode to generate posts with the fast pace
Affordable pricing
Keywords and SEO suggestions
Chrome extension makes the usage even outside the platform
Cons
There is nothing to mention here as a disadvantage because platform consistently improiving.
What is the difference between Scalenut and Jasper?
Scalenut is a platform that uses AI to generate high-quality content quickly. Jasper, on the other hand, is an AI-powered chatbot builder used for customer service and support. While both use AI technology, they serve different purposes and have different features.
There's also a good detailed comparison video, which instantly answer which tool is better, I suggest you should watch it,
A.I Generated Content Quality Comparison – Scalenut vs Jasper
First thing first, generated quality of these tools!
Content Quality – Scalenut
If you watched the above Scalenut vs Jasper comparison video to the end, then it's quite clear that scalenut is best in terms of A.I's quality and generate better results.
It's long-form editor is equipped with a toolbar and generated content is useful and relevant to the topic.
Content Quality – Jasper (Jarvis)
While on the other hand, Jasper is a good generation of short-term content but when it comes to long-term, it's really disappointing and sometimes shows irrelevant results.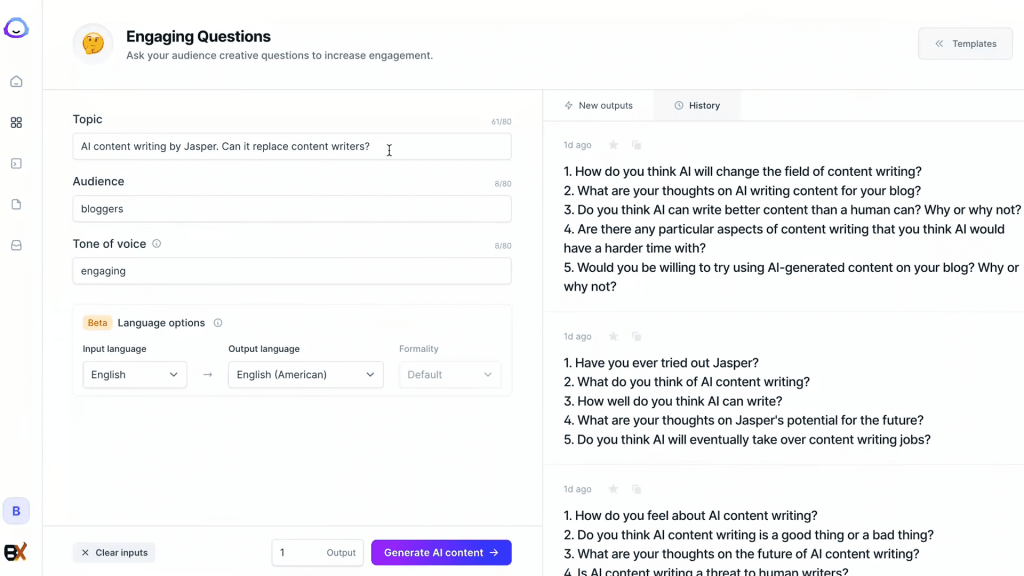 Plus, there's no editing toolbar like we have in scalenut.
Scalenut recently even added google doc integration and upgraded their a.i for better writing results.
---
Keyword Research – Scalenut vs Jasper
Scalenut – Keyword Research
There's a dedicate keyword planner section available in Scalenut dashboard, which lets you do detailed keyword research for any topic with monthly search volume and CPC indication.
Plus it also Create every possible Topic Cluster (means topic relevant keywords group) for that keyword with combined search volume so that if you have a new site, writing posts on these topics will instantly boost blog's authority.
Jasper – Keyword Research
Jasper don't offer any keyword research feature.
Winner: Scalenut
---
Content Research – Scalenut vs Jasper
Content Research – Scalenut
After integration with Semrush, Scalenut now also offer Keyword Research & Topic Clusters to give it's users more useful features for research.
Plus in SEO Tools section, as part of content research we can get all rich insights and information about the topic/keyword (we are aiming for top ranking position) from analyzing Top 30 SERP competition. Such as,
How much average Words Count should be for the post
Headings needed
Images
Readability level
Top Trending Questions
Citations
& NLP Terms (Semantic keywords)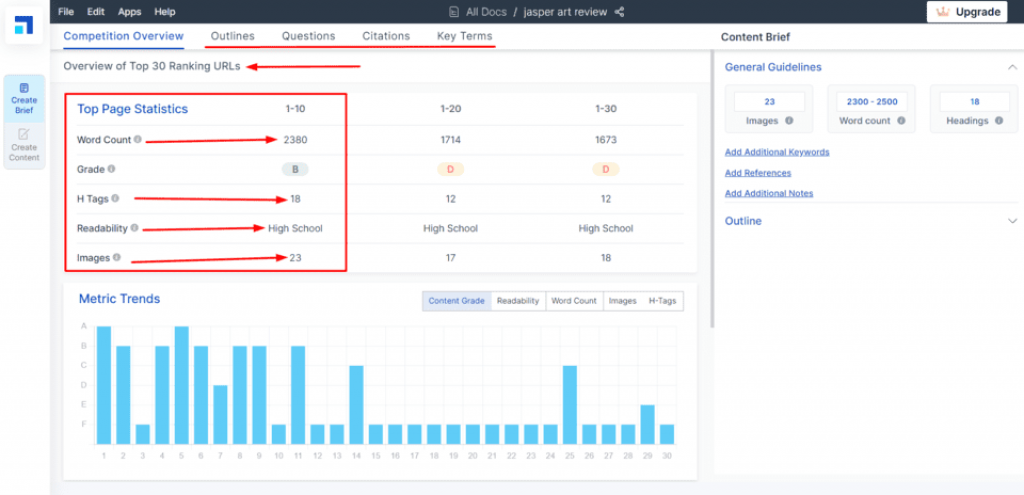 This gives us an overall idea how much avearge words, headings or images we needed in our article to compete with top SERPs.
Additionally, we can also research and see Competitors outlines (topic headings) which they covered in their post.
We can even find most relevant questions, citations & NLP terms which can be used in our content.
Believe it saves a lot time for topic research. And I havn't found such good until now.
Content Research – Jasper
Jasper don't offer any research features at all. Users need to use other tools such as Surfer SEO.
Scalenut is the clear winner here. It's topic research feature saves a lot time and efforts.
Resulting we instantly get what need to be added in our post to compete and rank higher for the targeted keyword.
---
Content Brief – Scalenut vs Jasper
This simply means creating a outline or road map from analyzed data, what topics we are going to cover in post.
Content Brief – Scalenut
Along with research we can also create a brief (exoskeleton of our content) in scalenut.
Like I said above in content research section, we can also see top competitors outlines (topics they covered in their post). And because they are ranking on top SERP results means topic they have covered, people finding it helpful.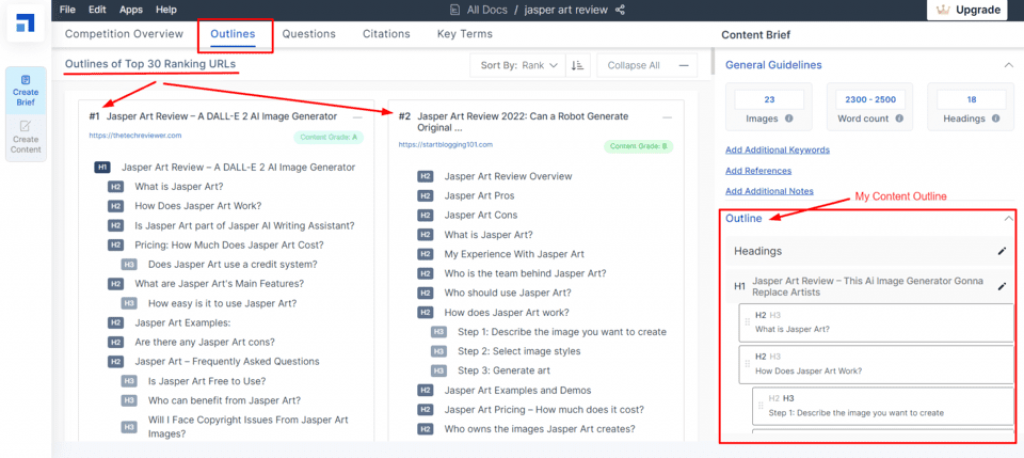 Now my simple task to also add and cover same topics in my postr but with more detailed information.
Content Brief – Jasper
Sadly, Jasper even don't offer Content Brief feature with well analysed data.
Although there's a outline builder ai assistant but there's no relevancy with top SERP competiors.
It's just ai generated headlines, no actual analysis done.
---
Content Writing Assistant – Scalenut vs Jasper ai
Content Writing – Scalenut
Scalenut writing panel filled with rich features and helps to create better content with only goal to achieve top SERP ranking.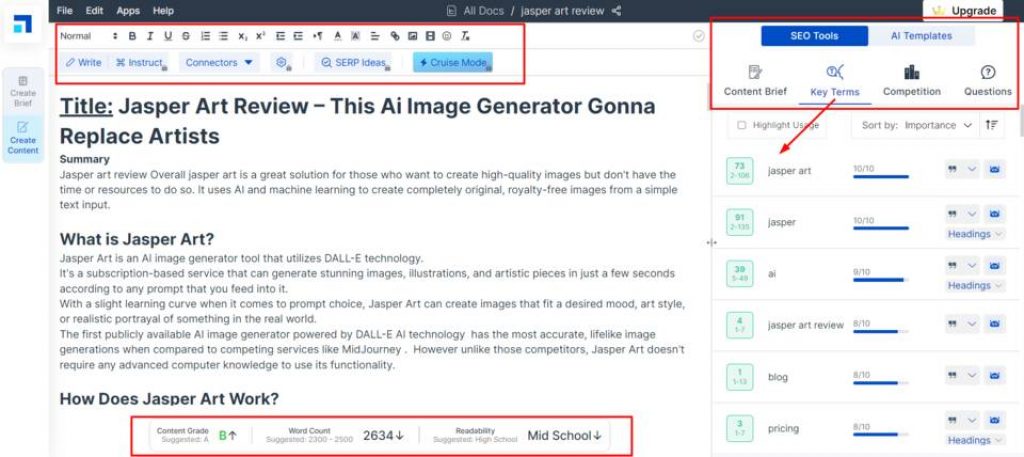 Here, scalenut gives us ability to use all it's features A.i writer, SEO/content optimizer, NLP terms, Competitor content glimpse, writing assistant.
For example, in above image you can notice my content brief imported what I've researched and created.
After that I used a.i to write some content for few topics with manual arrangement.
While writing, in the same time I can view what is my word count, readability, and grade.
Plus, how many times most relevant keywords appeared on article. Along with these, I can also view my Competitors (top SERP positions), content for some guidance.
And all this I can do without leaving the platform.
Think yourself, how much time efforts it saved me. And most importantly My content is better than competitor, fully SEO optimized with relevant topics included.
Most amazing thing, using Scalenut's Cruise Mode you can create full blog post in less than 5 minutes consisting all keyword terms and SEO optimized.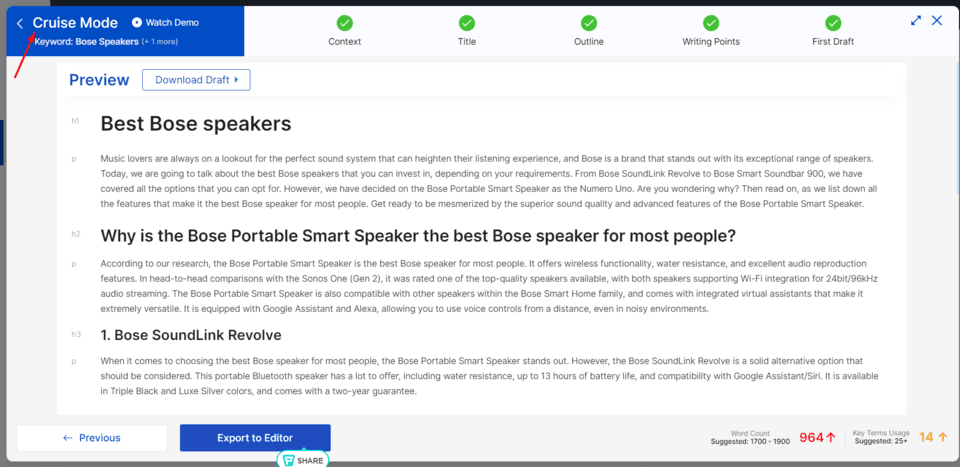 This is the magic of Scalenut.
Content Writing – Jasper
Jasper writing assistant gives control over A.i on content generation, like you can choose Tone of voice and content output length.
And compared to Scalenut, jasper has only some basic text formting options, that's all you can do.
It's most of the power is A.i generation.
Scalenut give us more than an A.i writer.
---
Pricing Comparison – Jasper ai vs Scalenut
Jasper Ai
Scalenut
Price Starts
From $59/month (Boss mode)
From $39/month (Essential)
Credits Use Limit
– Credits spends on output generation.
– No rollover of unused credits to the next billing cycle.
100K AI words in as low as $39/month (+ 30 SEO reports)
Free Trial
– Offer 10,000 words Free Plan, Get here (Full-feature set can be used)
– Payment details required
– 7 Days Plan (Full-feature set can be used)
– Limited features available after the free trial is over (if not subscribed)
– No payment details required for a free trial.
Refund Policy
5 Days with money-back guarantee
7 Days with money-back guarantee
Command Feature
Boss Mode
Cruise mode, Chrome Extension
Winner
???? Scalenut
Jasper Pricing & Plans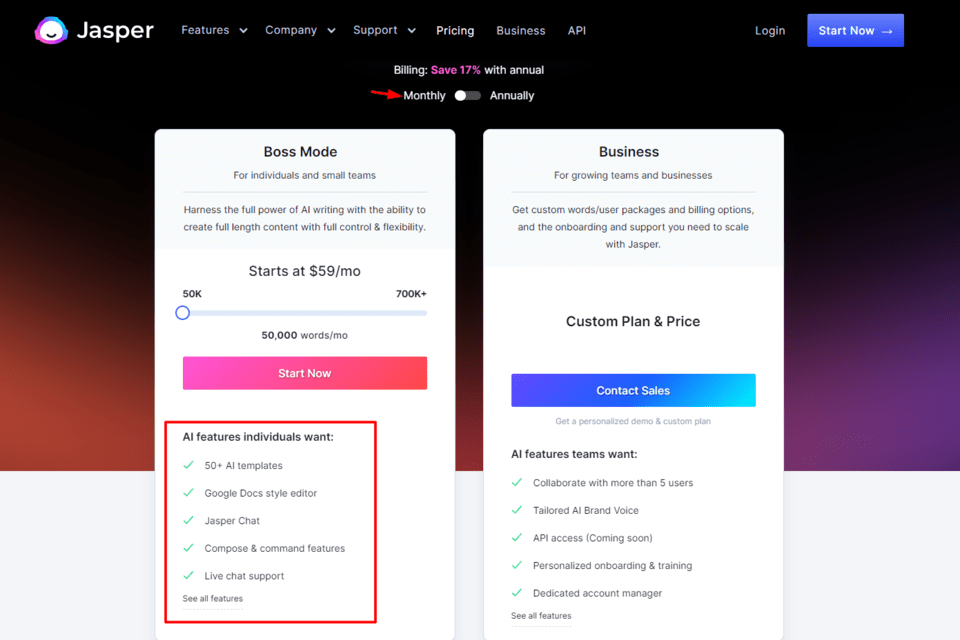 Jasper comes with monthly subscription plans which start from 59$/month, where's users get credits and it spends every time when results are generated, no matter whether it's useful and relevant to the topic or not.
And to use long form generator, users need to buy Boss mode which pricing is $59/month
And personally, I feel it's a little bit expensive when compared to its competitors like scalenut. From this, you can get access to more affordable pricing payments.
But don't worry there's also a free plan.
Jasper Free Plan
Normally, you cannot find any free trial or plan on Jasper's website. But here's the good news we have partnered with Jasper and got a free plan for the saas guru audience.
Using this link, users will get the Jasper free plan with 10,000 words credit.
Scalenut Pricing & Plans
As for Scalenut Pricing, it comes under $39/monthly starting deal in which users get access most of it's tools.
With this growth plan you can access prime features such as Cruise mode, Paraphrasing, and team collab for $79/month.
And if you switch to annual plan prices goes down 40% compared to monthly plans.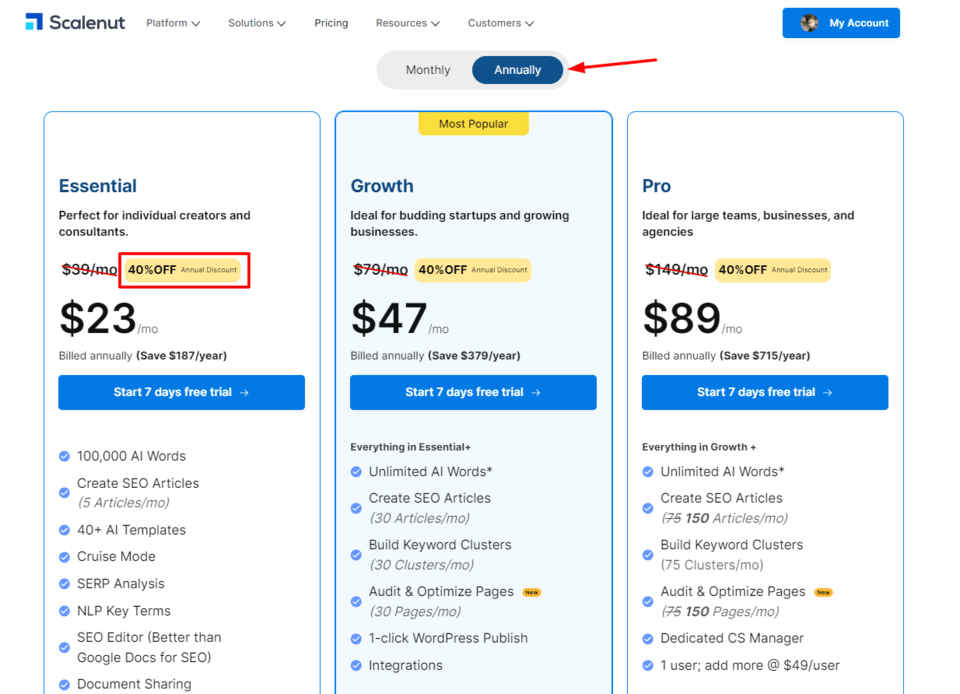 Compared to Jasper, Scalenut is much more affordable.
Plus, there's also a scalenut-free plan available to try and experience this amazing tool.
Winner: Scalenut
Scalenut is offering 20% extra saving discount code for Saas guru audience. If you will use discount code "FOREVER20" at checkout, it will give 20% extra discount.

You will save 40% (annual plan)+20% (Discount code) = 60% OFF Deal

And before buying plan, you can try Scalenut's 7 Days Free Trial to experience it's feature.
Is There Any Scalenut Lifetime Deal?
No, currently there is no scalenut lifetime deal available.
Final Conclusion: Is Scalenut better than Jasper?
So this is end of Scalenut vs Jasper ai and based on conclusion I can say,
Both tools are good but comparing various factors based on their features and performance, I felt Scalenut is far better than Jasper in every terms of Content quality, Keyword research, NLP terms, SEO features and pricing.
I mean why pay the high amount when you get more advanced and better features in less price
In simple words,
Scalenut = Jasper + Surfer SEO and still winning.
Liked the comparison, You can also read this,
Surfer SEO Vs Scalenut: Which One Is Better?
FAQ: Most Asked Question for Scalenut vs Jasper ai
Is Scalenut better than Jasper?
Yes, after comparing Jasper with scalenut in various terms and factors. We find out scalenut is better. Plus it's more than an Ai writer with tons of content and SEO features.
What is the best alternative to Jasper AI?
Scalenut, Copy ai, Writecream
Is Jasper good for writing?
Jasper offer ai content templates and frameworks to generate short as well long form content. there's also boss mode to control the ai output for generating content.
Is Jasper really worth it?
In Jasper vs Scalenut comparison, We found Scalenut is better option.
Which one is better: scalenut or jasper?
Scalenut offer better tools and features, plus it's pricing also affordable compared to Jasper.
Thank you for reading this post, don't forget to share with more people like you!