Searching for WordPress LMS Tool that can help you create and manage courses with ease? Read this detailed LearnDash review!
Here we have given everything you need to know about Learn Dash, including its advantages and disadvantages, who can use it, the features it offers, installation and user experience, pricing/plans, and if there is any learndash lifetime deal.
We'll also explain what sets Learn Dash apart from other e-learning wordpress plugins, as well as provide some alternatives to consider.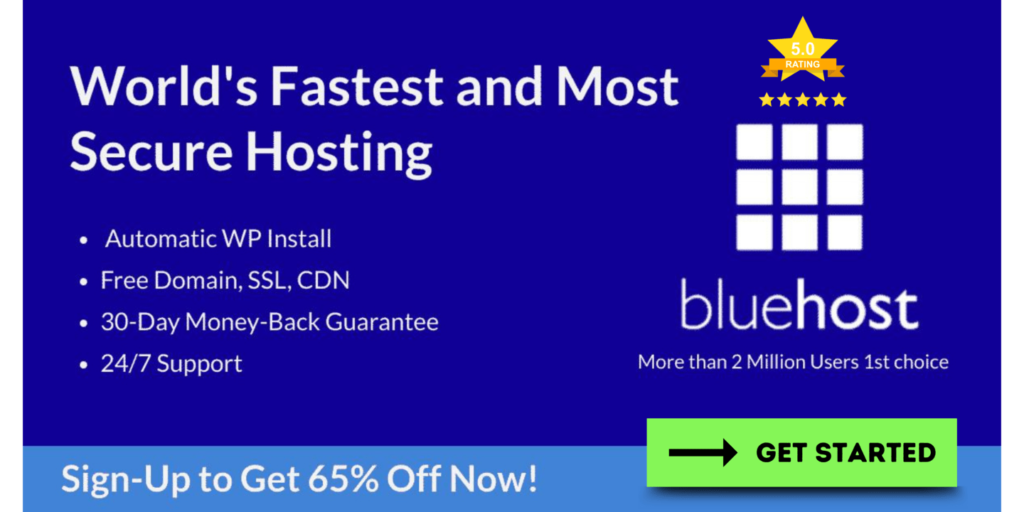 In the end, share some testimonials from satisfied customers and answer the most frequently asked questions about Learn Dash.
By the end of this Learndash review, you'll have a clear idea whether this LMS Plugin is right for you or not!
LearnDash review by Saas Guru
Disclaimer: Saas-guru.net is reader-supported and earns money from mentioned affiliate products. You may find few affiliate links on this post as well. When you click on links, we may earn a commission without costing you extra!. This helps us to cut down costs of review products, online tools and website.
LearnDash Review: What is it?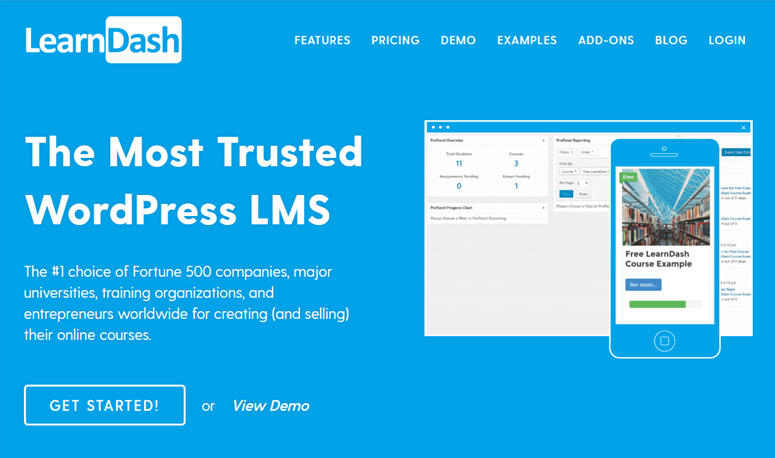 Learn Dash is a featureful LMS plugin for WordPress, which let you to create and sell online courses with students management.
It has a modern and user-friendly interface and a back-end course builder, with the help of which you can easily add or customize your courses and overcome the learning curve.
And the best thing configuring homepage or courses layout is really easy and fast using pre-built templates. Overall, Learn Dash offers various features, including engagement triggers, for a satisfyingly good learning experience.
You will learn more about features below in 'Installation & User Experience' section.
Who Can Use LearnDash?
Basically anyone who is looking for a featureful lms tool to create and sell online courses can use Learn Dash. It's one of the most popular learning systems among entrepreneurs, educators, Instructors, and businesses of all sizes.
Best part, whether you're a beginner or an experienced course creator, Learn Dash offers a user-friendly interface for every one.
Organizations and Businesses
Organizations and businesses can choose LearnDash as their WordPress LMS without a second thought. With its user-friendly interface and powerful course builder, it's easy for creating and managing online courses.
Whether you are a small business or a large corporation, Learn Dash provide the flexibility and scalability you need. You can easily create new lessons, integrate videos from platforms like YouTube, and manage your courses through the WordPress dashboard.
Plus, It allows you to customize the learner's experience by adding sidebar widgets, progress bars, and more.
These features make Learn Dash a valuable tool for organizations and businesses looking to deliver high-quality online training.
Educational Institutions
Educational institutions, such as schools, colleges, and universities, can greatly benefit from using Learn Dash. This powerful WordPress LMS plugin offers a user-friendly interface and course builder, making it easy for educators to create engaging courses, add new lessons and topics QnA.
The plugin also provides detailed reporting and administration tools, allowing institutions to track student progress and performance.
By leveraging the power of Learn Dash, educational institutions can enhance their online learning programs and provide a seamless learning experience to their students.
Entrepreneurs and Individuals
As an entrepreneurs and individuals, with Learn Dash, you have the power to create and manage online courses directly on a WordPress website.
The course builder, equipped with a drag-and-drop interface, allows for easy course creation. You can add various media types, such as videos, quizzes, and assignments, to enhance the overall learning experience.
Additionally, Learn Dash seamlessly integrates with popular plugins like WooCommerce and WordPress membership plugins, giving you more flexibility and control over your online courses.
Features of LearnDash:
Learn Dash offers all important features that make it a top choice for creating and managing online courses.
Course Builder and Management
By default Learn Dash comes with a wordpress back-end course builder that allows you to create courses and add lessons easily.
With a drag-and-drop course builder, you can organize course content into lessons, topics, and quizzes. Although it also support a front-end visual course builder as an add on but that required additional purchase.
This structured course outline allows you to set prerequisites and drip-feed content to learners which mean until students did not complete previous they cannot access upcoming lessons.
And once student complete course you can offer them course certificate as it a certificate builder.
Best part, Learn Dash provides flexible options for course access and enrollment settings, giving you control over who can access your courses. Plus, the course management tools enable you to track students progress and manage learner activities.
Advanced Course Features
Learn Dash, being a complete WordPress LMS plugin, offers advanced course features that enhance the learning experience.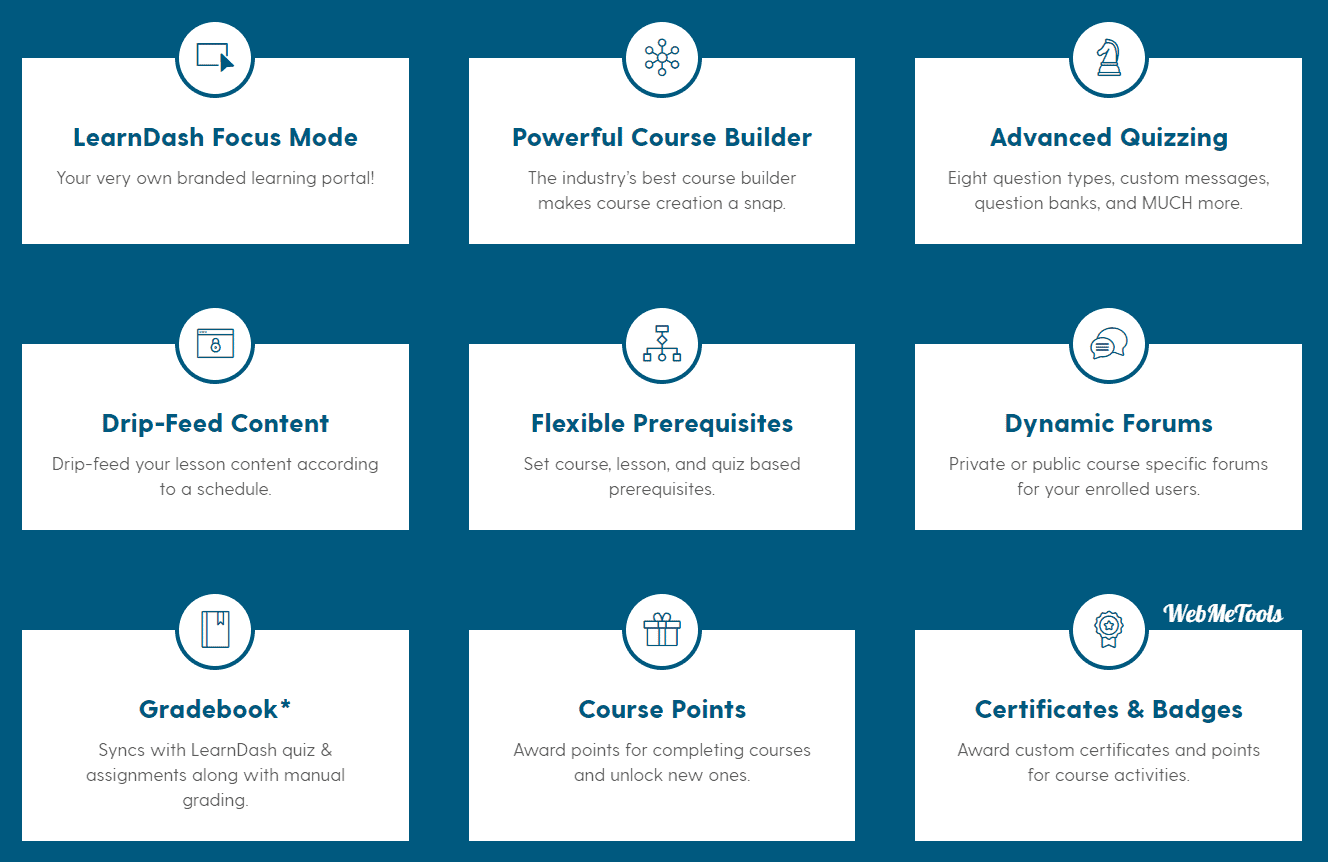 It supports Gradebook, course points, dynamic forums and one-on-one coaching, allowing learners to interact and receive personalized guidance. Plus, to boost learning activity it has gamification elements such as points and badges, growing learner engagement and motivation.
The plugin also enables the creation of interactive quizzes and assignments for learner progress effectively.
For notifications or alerts, It allows automated email notifications to schedule course reminders, keeping learners engaged and on track.
What I liked moist it has content protection features like unauthorized access to course materials to safe your course content. Which ensure a secure learning environment.
User-Friendly Interface
Although it's ui is easy to use and easy to understand, but as for beginners you need to visit all options for first time understanding. All the features you can access from Learn dash menu option in WordPress dashboard.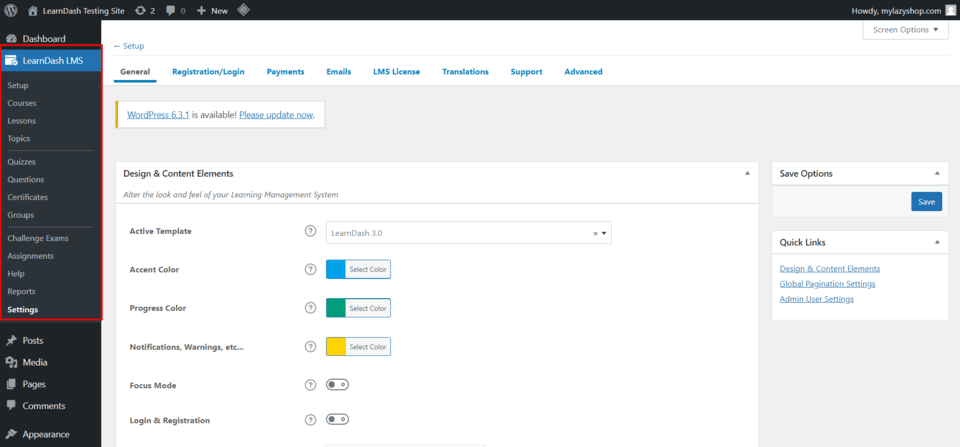 Reporting and Administration Tools
LearnDash provides a deep reporting and administration tools that make managing your online courses easy and effort free.
You can easily track learner progress and performance through analytics reporting features. Generate detailed reports on course completion, quiz scores, and user activity to gain valuable insights into your learners' engagement.
Plugin offers powerful administration tools that allow you to manage user enrollment, groups, and permissions effortlessly. You can also export data for further analysis or integration with other systems.
Membership Sites and Integrations
LearnDash offers seamless integration with popular membership plugins, allowing you to create exclusive membership content for your courses.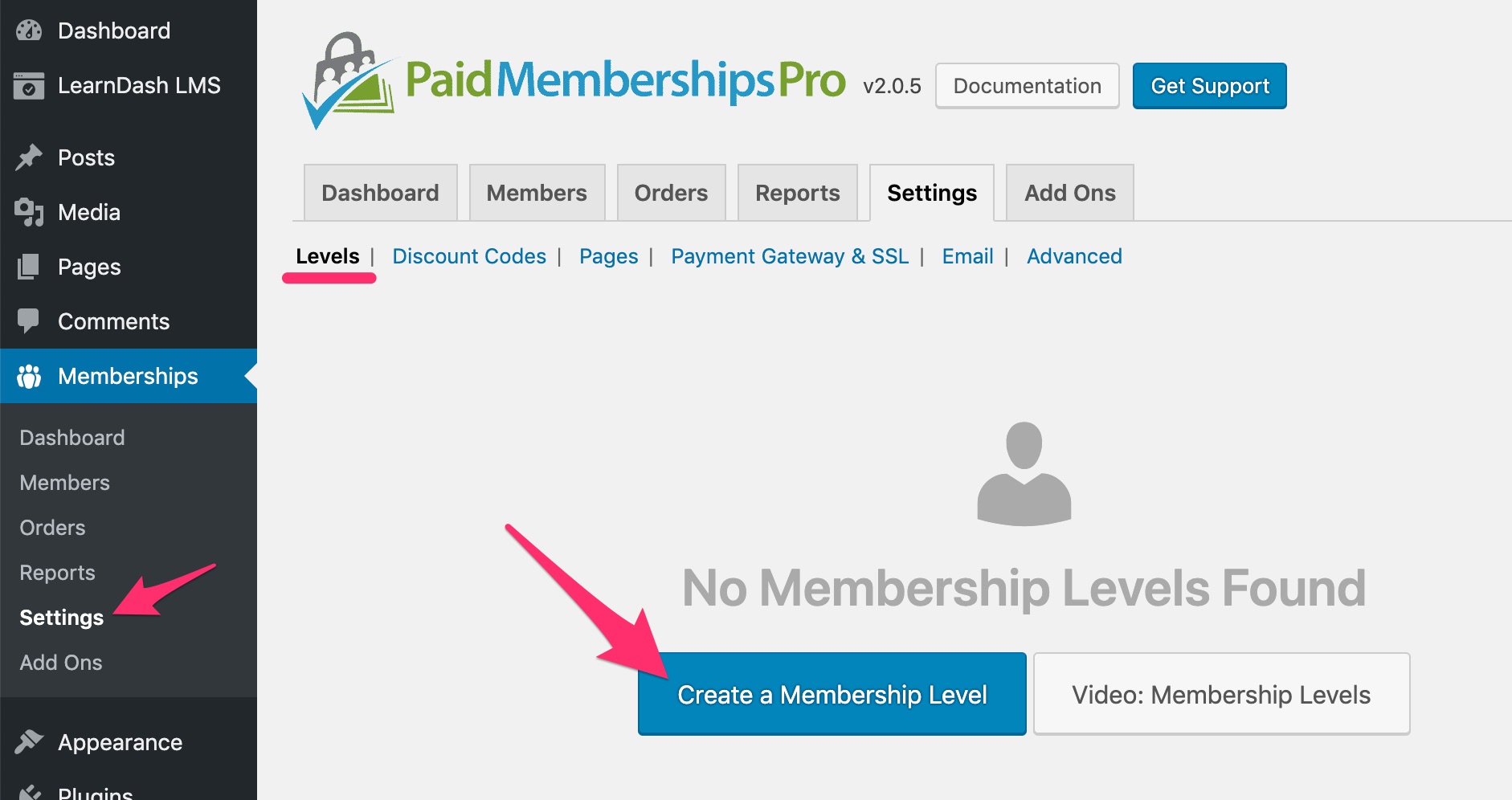 With membership pro integration, you can offer recurring subscriptions or one-time purchases to provide access to your valuable content.
And it also integrates smoothly with WooCommerce, providing e-commerce functionality for selling your courses and other learning materials.
The platform also supports third-party add-ons, enhancing the compatibility of your courses and expanding their functionality.
You can even integrate email marketing platforms for effective communication with your learners for course updates, promotions, and engagement.
Settings and Controls
LearnDash has a variety of settings and controls to customize the learning management system (LMS) site.
Like, you have the flexibility to configure course layout, access settings, enrollment options, pricing plans and payment acceptance according to your specific requirements.
While setting it up, LearnDash provides few pre-designed templates that allow you to personalize the appearance of your courses layout and colors.
Furthermore, Learn Dash lets you configure user profiles, assign user roles, and manage user settings effortlessly through its easy to use interface.
Helpful Knowledgebase & Documentation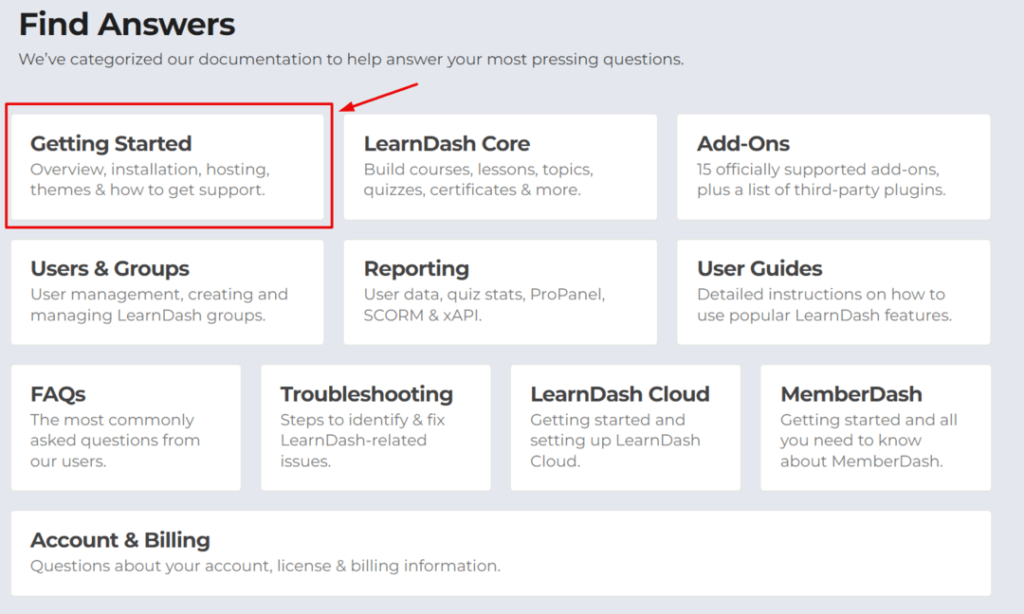 When it comes to using LearnDash, you can rely on its user support documentation guides to navigate through the platform effortlessly. For every feature it offers detailed step by step guide with tutorial images include.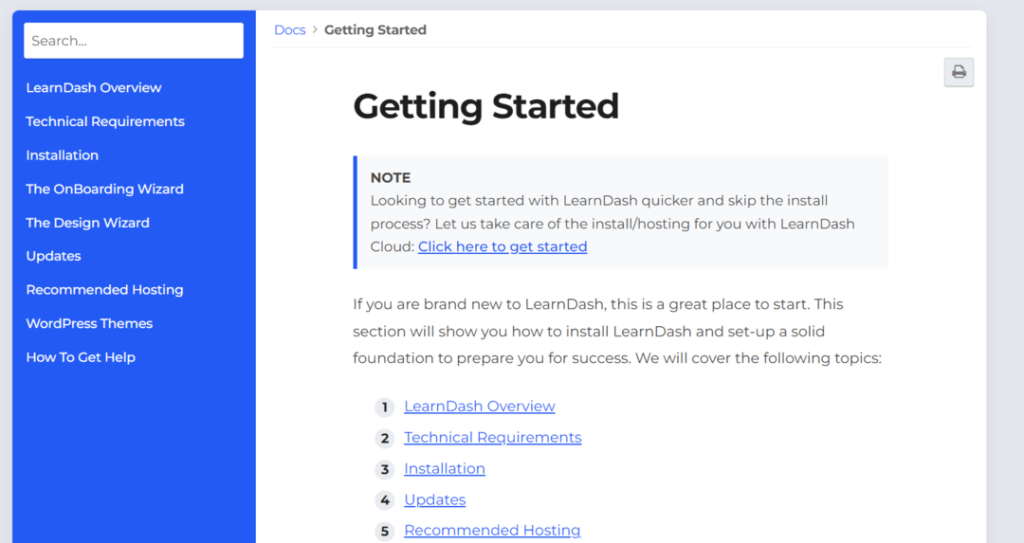 And good part there's also many learndash video tutorials on youtube from community.
24X7 Support
In case you encounter any queries or issues, don't worry! LearnDash offers 24/7 customer support to address your concerns promptly. It has live chat, contact form and email support.
Plus, you can also seek assistance from the online community forums where you can connect with other users for peer-to-peer support and knowledge sharing.
LearnDash Installation & User Experience
Getting Started with Learn Dash – Installation
Learndash offers 2 ways to get started using it,
1. Learndash plugin with their cloud hosting
To make the things easily get started, learn dash offers its own cloud hosting plan along with plugin. In which wordpress and learn dash will be installed. All you have to setup and add courses.
2. Installing Plugin on your own hosting
In this way, you can just buy LMS plugin (not cloud hosting plan) and then upload the plugin in your own hosted wordpress site. Then basic setup process are same in both ways.
Basic Setup
Did you know in just 3 steps you can fully setup your online teaching website. This apply for both ways (Cloud Hosting and Own Hosting).
Once you install and activate the plugin, go to 'Set Up' under learndash lms. Here you will find all 3 steps.
Step 1: Setup Your Site
In this step, it will ask you select the type for courses. Is it Simple course type, Quiz type or Group courses. Basically it will setup the layout look for course page.
Step 2: Design Your Site
This step let's you choose your website design from pre-designed templates. And the best part you don't need to do anything manually just select any of suitable template and then select the font and colors.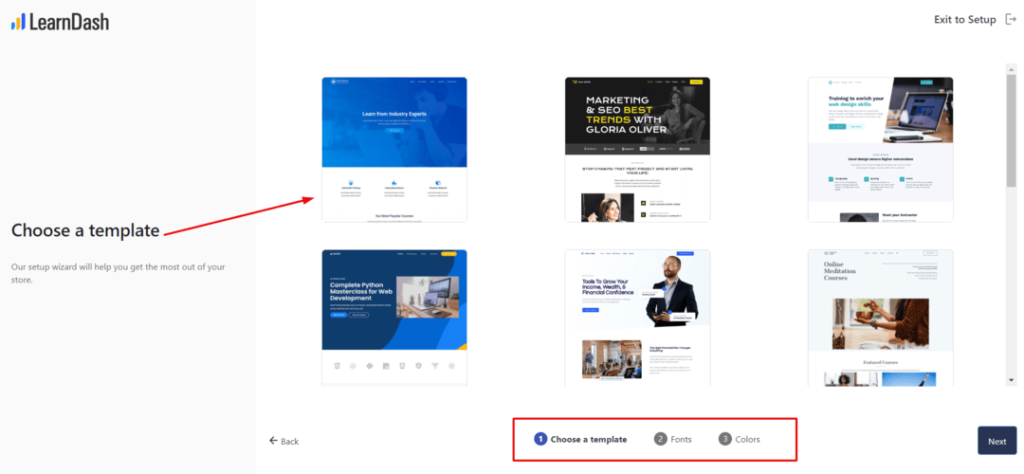 That's all your website design is done. Isn't this just crazy and so much time saving.
Please Note: Learndash use Kadence theme for templates. So after selecting the template you will see Kadence theme installed along with Kadence Plugins. Don't remove or uninstall them. Otherwise your website will not work properly.
Step 3: Configure Payment
Last step, it will ask you connect payment method for accepting payment. You can select from Stripe or Woocommerce. And provide you all asked details to connect the payment gateway.
After completing all these 3 steps you are good to go creating courses and selling them.
Course Creation and Configuration
When it comes to course creation and configuration, LearnDash offers a flexible and user-friendly back-end builder. With LearnDash course builder, you can easily structure your courses using lessons, topics, and quizzes, providing a complete learning experience for your students.
You can create Text or quiz type course or use Video playlists for lessons.

One of the key advantages of LearnDash is its customizable course progression and completion requirements, allowing you to meet the unique needs of your learners.
Plus, it provides the option to enable drip-feed content, enabling gradual learning and enhancing student engagement.
Integration with learning management systems further enhances the functionality of LearnDash, allowing more functions with existing tools.
For example with Chatgpt integration, you can use AI to generate Course Outlines.
Lastly, LearnDash enables you to track student progress and performance, providing valuable insights for course improvement.
Adding Lessons/Topic Content
Adding lessons or topic content in LearnDash is a simple and straightforward process. You have the flexibility to include various types of multimedia content such as text, images, videos, and more.
The content can be organized in a hierarchical manner, allowing for easy navigation and seamless user experience.
Like I mentioned above, you also have the option to set lesson prerequisites, ensuring that learners follow a sequential learning path. You can import content from external sources like Youtube.
Another useful feature is the ability to schedule content release, enabling time-based learning. With LearnDash, creating engaging and interactive lessons has never been easier.
Adding a Quiz

When creating online courses, you have the ability to enhance learning engagement by adding quizzes.
Adding a quiz is a simple process, you can create quizzes with various question types and formats. Plus, customize the quiz settings according to your specific requirements, such as setting time limits and passing grades.
There's an option to enable randomization of quiz questions, ensuring a unique experience for each learner.
With premium add-on grade books you can automate the grading process, making it easier for instructors to track student performance.
Publishing and Managing Courses
Whether you want to offer self-paced or instructor-led courses, this WordPress LMS plugin has got you covered with its publishing and course management features.
There are built-in communication tools enable easy interaction between students and instructors.
The system also provides the ability to track student progress and completion rates, allowing you to stay updated on their journey. And with email notifications you can ensure that students receive timely course updates and reminders.
LearnDash Pricing & Plans
LearnDash offers transparent pricing with multiple plans designed to suit different needs. You have the option to choose between various yearly subscription plans.
And For those looking for extended functionality, there are additional add-ons available with separate purchase.
WordPress LMS Plugin Pricing
WordPress plugin pricing starts from $199/year for 1 site license and if you want membership features you need to additional buy the $199/year for the Membership plugin. In total it will cost you $398/year for 1 site.
LMS Plugin with Cloud Hosting Plan
In this plan you will get the cloud hosting with fast server and many premium plugins installed including Learn dash LMS.
There are multiple options even in this hosting plan, but pricing starts from $25/month for starter plan limited to 1000 students.
Things you will get in this hosting plan.
LMS plugin (Cost $199)
Propanel ($49)
Ithemes Security Pro ($99)
Cloud Hosting
All this from just $25/month. Compared to only installing lms plugin in own hosting where we have paid for both hosting and plugin. This is really valuable.
Add Ons Pricing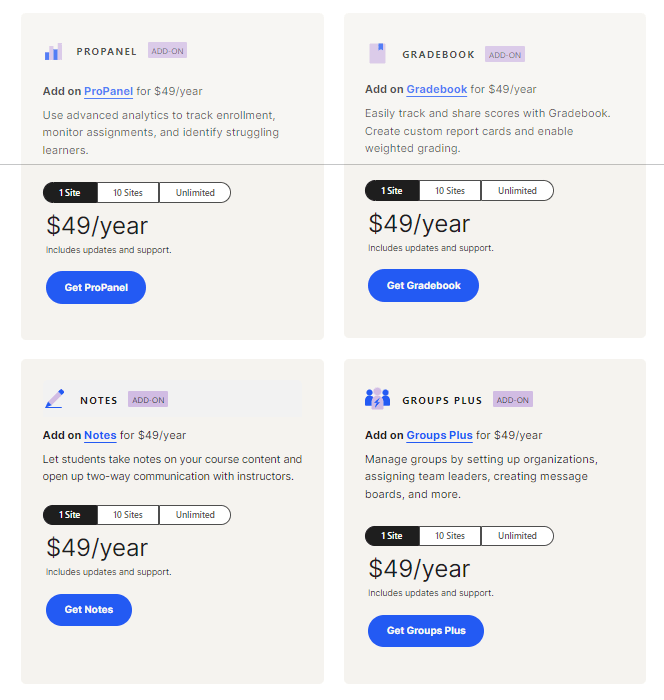 Learndash also offer various premium addons with additional purchase such as,
ProPanel for $49/year – Used for advanced analytics to track enrollment, monitor assignments, and identify struggling learners..
Gradebook for $49/year – Easily track and share scores with Gradebook. Create custom report cards and enable weighted grading.
Notes for $49/year- Let students take notes on your course content and open up two-way communication with instructors.
Groups Plus for $49/year- Manage groups by setting up organizations, assigning team leaders, creating message boards, and more.
Bundle Plans
To make the pricing more valuable, There also some bundle plans including all add ons and lms plugin.
Creator Plan ($299/year for 1 site): Include all add ons and LMS plugin.
Student Success Plan ($249/year for 1 site): This plan only has Note and Gradebook add on with LMS plugin.
Is there any LearnDash Lifetime Deal?
Unfortunately learn dash does not offer any lifetime deal or free trial plan. While there is no lifetime plan in this plugin. You can check this article filled with Top WordPress LMS Plugin Lifetime Deals!
Alternatives: LearnDash vs Others
Tutor LMS vs Learndash

When comparing Tutor LMS and Learn dash, it's essential to look at the features offered by each platform. Tutor LMS provides a comprehensive set of tools for course creation and management, while Learndash offers advanced course features and reporting tools.
In terms of pricing, Tutor LMS and Learn dash have different plans and additional costs to consider. It's important to review these options and compare them to the features and benefits provided.
Another factor to consider is the customer support provided by both platforms. Tutor LMS and Learn dash both offer customer support, but the level of assistance may vary. It's crucial to evaluate the level of support you require for your specific needs.
Furthermore, learndash interface experience is a significant consideration. Both Tutor LMS and Learn dash have intuitive interfaces, but it's essential to assess which platform aligns better with your preferences and provides a smoother user experience.
Finally, it's important to evaluate the pros and cons of using Tutor LMS versus Learn dash. Each platform has its strengths and weaknesses, and it's crucial to consider them in relation to your specific requirements for an online learning management system.
By carefully comparing the features, pricing, support, user experience, and pros and cons of Tutor LMS and Learn dash, you can make an informed decision on which platform best suits your needs.
Read Detailed Comparison here- LearnDash Vs Tutor LMS Vs LearnPress: Which Is The Best?
Learnpress vs Learndash

Learnpress and Learndash are both powerful learning management systems (LMS) for WordPress. They offer course creation and management capabilities. But Learnpress also offers a free plugin with additional paid add-ons, whereas Learndash requires a paid license.
Users have praised Learnpress for its user-friendly interface and extensive documentation, while Learndash is known for its robust course builder and advanced features.
Ultimately, the choice between Learnpress and Learn dash depends on individual requirements and budget. Analyzing these factors will help determine the best fit for your LMS needs.
Learndash Review: Pros & Cons
Pros
Cons
While LearnDash offers many advantages, there are some drawbacks to consider.
Final Thoughts: Is LearnDash Right for You?
LearnDash is a powerful learning management system that offers a wide range of features and flexibility for various types of users.
Whether you are an organization, educational institution, or an individual entrepreneur, LearnDash provides the tools you need to create and manage engaging online courses.
With its user-friendly interface and comprehensive documentation, getting started with LearnDash is a breeze. The platform stands out with its unique features and has received positive reviews from satisfied customers.
While there is no lifetime deal available, the pricing plans are reasonable considering the value it offers especially it's cloud hosting and buddle plans.
And If you're looking for alternatives, Tutor LMS, Learnpress, and Masterstudy LMS are worth considering.
Ultimately, the decision of whether LearnDash is right for you depends on your specific needs and preferences. Take into account the pros and cons discussed in this review, and make an informed choice.
You can also read – 9+ Best LMS Plugins for WordPress(Free & Paid) of [Year]
Here are some key points to consider for you while selecting the right LMS Tool.
Key Points to Consider
When considering LearnDash for your online course platform, there are several key points to take into account.
Firstly, it's important to evaluate the pricing plans and any additional costs that may be associated with plugins or add-ons.
Understanding the features and functionality offered by LMS is crucial in determining if it meets your specific needs.
Additionally, considering the user experience and interface of that LMS can greatly impact the ease of use for both you and your learners.
Reflecting on the pros and cons discussed in this review can help you make an informed decision.
Lastly, assessing the testimonials and experiences of users can provide valuable insights into the platform's effectiveness and suitability for your requirements.
Hopefully Learn Dash meeting all the criterias successfully.
What are some testimonials of people who bought the Learndash?
Hear how this powerful learning management system has helped individuals and organizations achieve their goals, improve the learning experience, and enhance their businesses.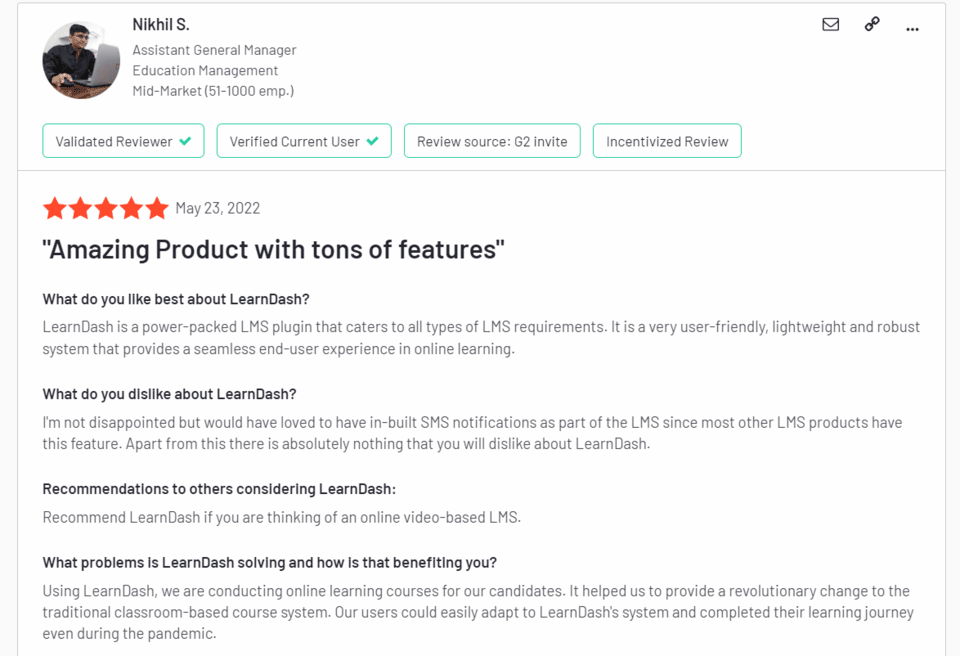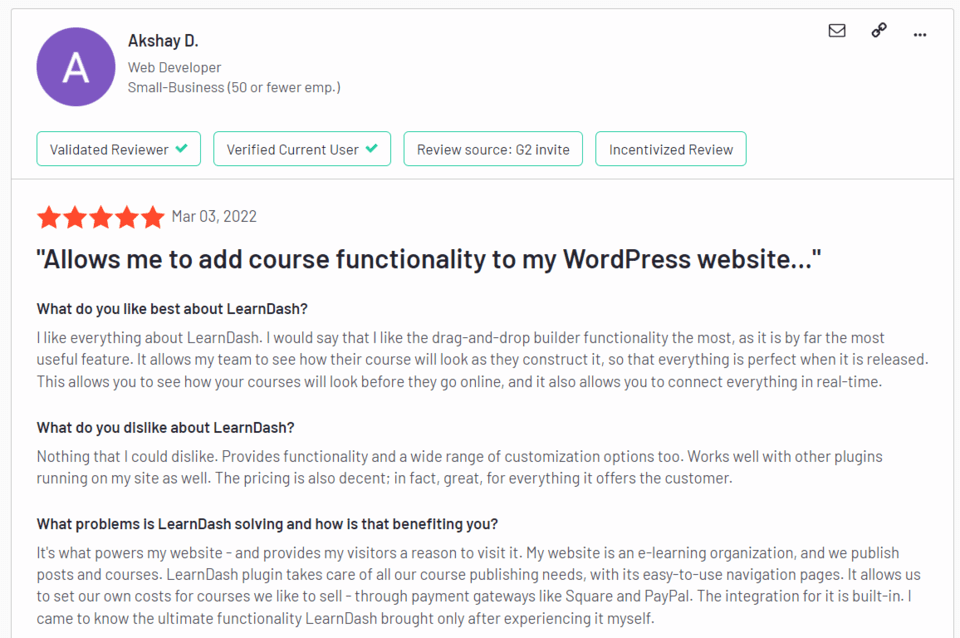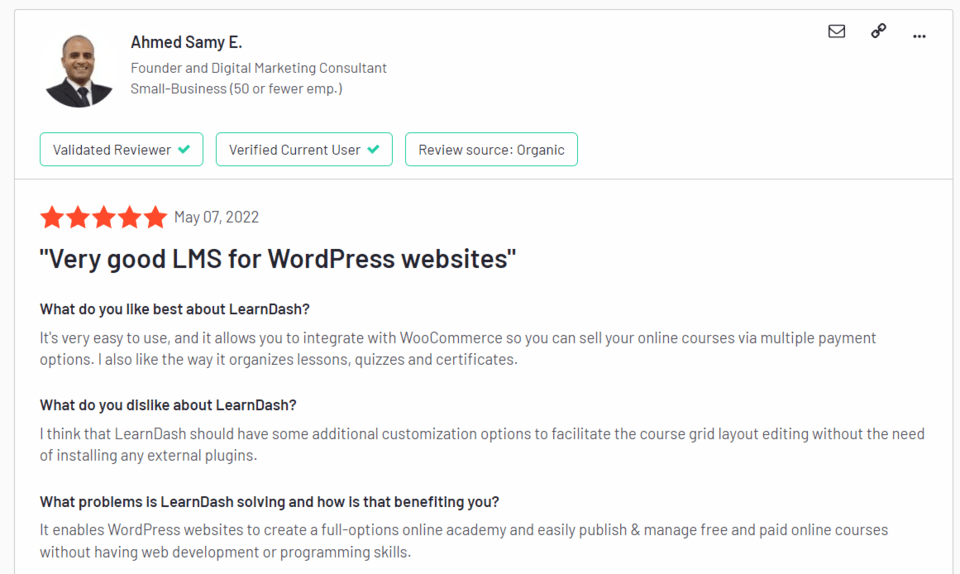 LearnDash Review – Video
FAQ: Most Asked Questions on LearnDash Review 2023
Thank you for reading this post, don't forget to share with more people like you!