Searching for a reliable Learning Management System (LMS) plugin for your WordPress website? Getting a WordPress LMS plugin lifetime deal can be a smart decision since it offers long-term benefits at an affordable price. 
In this article, we have listed Best LMS plugins for WordPress with lifetime deal. And this article will also help you understand how to choose the right LMS tool for your online learning requirements.
If you want to learn more about e-learning plugins and how they can benefit your website, be sure to check out our blog.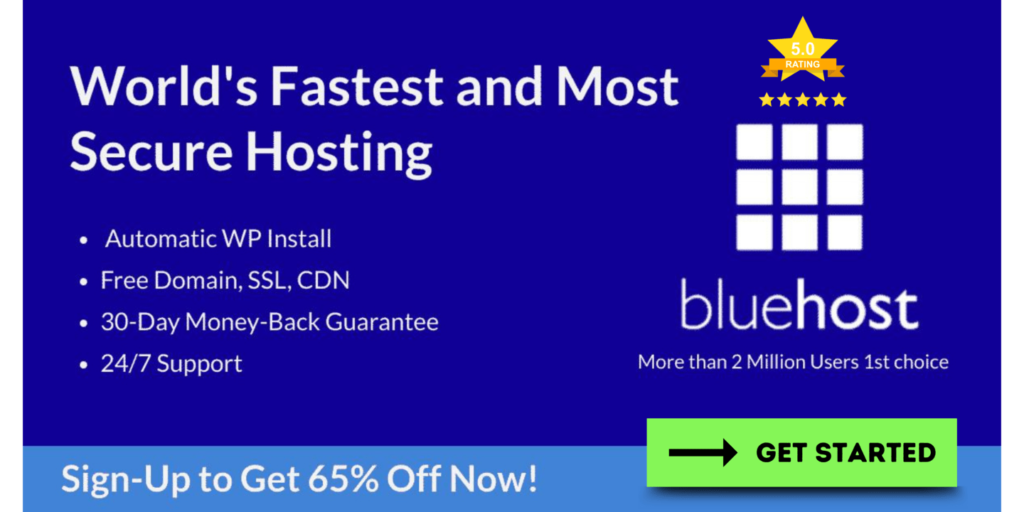 By the end of this article, you will have all the information you need to make an informed decision and finding the best WordPress LMS plugin with a lifetime deal that meets your requirements.
What is WordPress Lifetime License?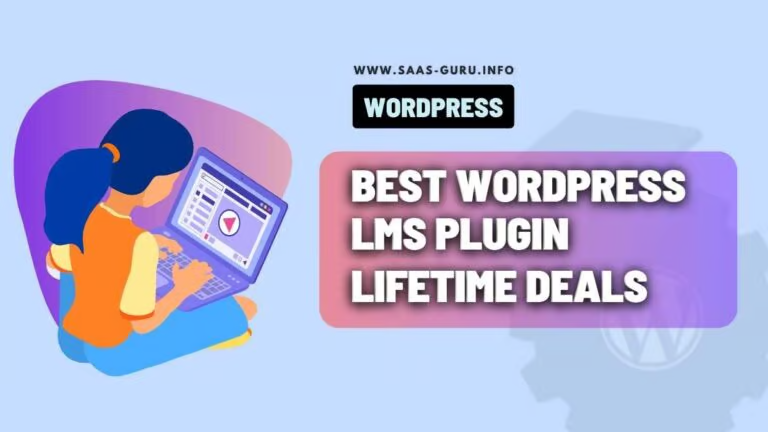 A WordPress lifetime license guarantees extended access to the plugin for a long time, eliminating the need for renewals.
By going for lifetime deals, users can enjoy unlimited usage of that plugin/tool with a one-time fee, providing long-term savings compared to annual subscription plans.
With no hassle of monthly or yearly payments, WordPress lifetime licenses offer peace of mind. Enjoy all the functionalities without worrying about expiration. No need to introduce the topic again.
Is WordPress good for setting up an online course?
Yes, WordPress is a popular and versatile platform for setting up online courses. With its wide range of plugins and themes specifically designed for e-learning, it provides a user-friendly interface and powerful features to create, manage, and sell online courses effectively.
List of Best WordPress LMS Plugin Lifetime Deals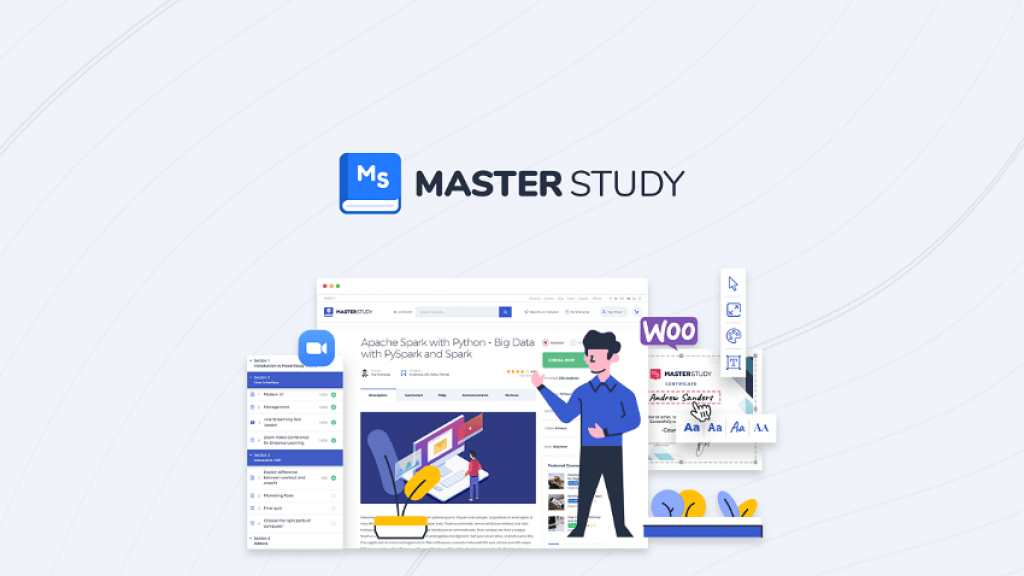 Masterstudy is a online course plugin developed by Stylemixthemes that turns your wordpress site into an online teaching portal optimized for search engines.
It offer various features, including a front-end course builder, live classes, mobile app version, payment gateway, customizable design, and the ability to build and manage an email list.
The plugin also integrates with many popular third-party tools, services and payment gateways like Paypal or Stripe, providing a seamless online learning experience for bloggers. It is a user-friendly and powerful tool for creating and managing online courses.
It's one of the best lms plugin for wordpress.
Key Features of This WordPress Course Plugin
User-friendly course builder: Create courses, lessons, quizzes, contests, add drip campaigns and assignments easily without coding skills.
Live classes: Conduct real-time online classes and webinars with integrated Zoom feature.
Mobile app version: Manage and update course content on the go with seamless Android and iOS app sync.
Payment gateway: Monetize courses by selling directly on the website with built-in payment gateway supporting multiple payment methods.
Customizable design: Customize the look and feel of courses and pages with pre-built unique design templates or drag-and-drop interface.
Third-party integrations: Integrates with popular third-party tools and services like Mailchimp, Zapier, WooCommerce, and BuddyPress.
User management: Manage student profiles, track progress, and view grades and achievements.
Advanced quiz options: Offer multiple choice, fill-in-the-blank, and matching questions, and set time limits and pass/fail criteria for quizzes.
Custom certificates: Create branded and personalized certificates for students who complete courses.
Udemy Importer: Using this add-on users can import their courses in wordpress from udemy platform.
Masterstudy Lifetime Deal: Pricing & Plans
Masterstudy offer multiple license plans starting from $59/year for 1 site with all features and pro add-ons. But the good thing is that Masterstudy also offers a lifetime plan available for download from $149 one-time payment for 1 site.
| | | |
| --- | --- | --- |
| Plan | Annual | Lifetime |
| 1 Site | $59/year | $149 |
| 5 Sites | $149/year | $399 |
| Unlimited | $299/year | $799 |
Free plan
Masterstudy lms free plugin license is available but with very limited features access. This can let you even create free courses for starting.
Tutor WordPress plugin turns websites into an online learning platform with e-commerce features, providing best educational experiences. With a rating of 4.5 and over 500 reviews, it is a popular choice for online courses.
Disclosure: Recently launched new version Tutor 2.0 offers new features and improvements, with a premium version offering more comprehensive features to assist course building and management.
It has a drag-and-drop builder, payment gateway options, customizable templates, quiz features, automation and custom certificate creation, Tutor also supports multimedia and social engagement through platforms like WooCommerce shopping cart, Mailchimp, Facebook and BuddyPress, all in one convenient bundle.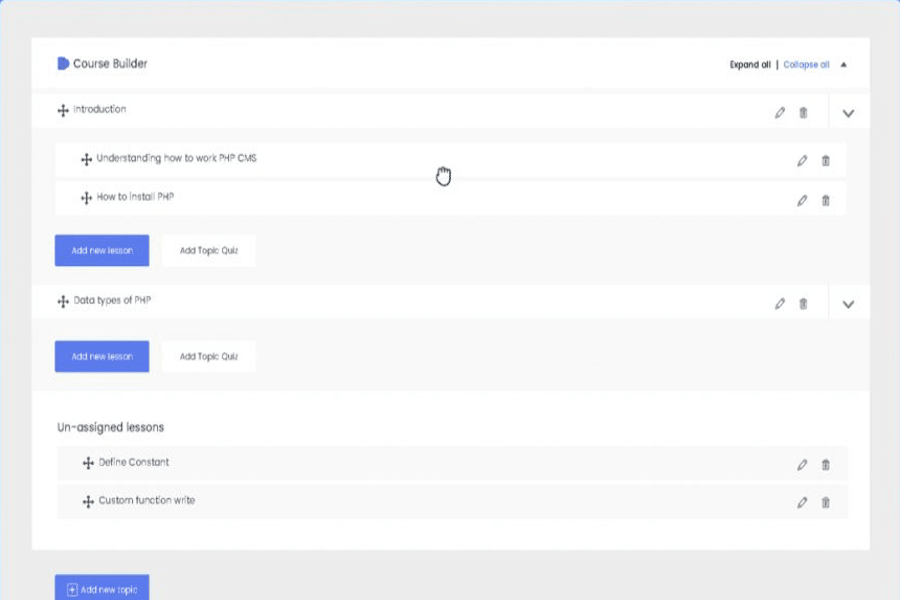 While there is also a free version available, but capabilities are limited.
Key Features of This WordPress Course Plugin
Create and manage courses with ease using Tutor's intuitive course builder
Add various content types to courses, such as video lessons, quizzes, and assignments
Frontend course builder for more efficient course building
Multilingual support for courses in different languages
eCommerce integration for easy monetization with popular plugins
Gamification elements, such as badges and certificates, to motivate and engage students
Detailed reports and analytics to track student progress and improve teaching strategies
Quiz management options, including timed quizzes and randomized questions
Student management for personalized learning experiences
Communication online tools, including email notifications and messaging, to stay in touch with students and offer support
Mobile responsive design for seamless course access on all devices
Pricing & Plans: Tutor LMS Lifetime Deal
Tutor offer annual as well as lifetime plan, annual pricing starts from $199/year for 1 site and for lifetime plan it is $199.
Tutor offers 3 premium plans on annual subscription starting from $199/year for 1 site.
But the best part, Tutor lifetime Deal also available for all 3 premium plans.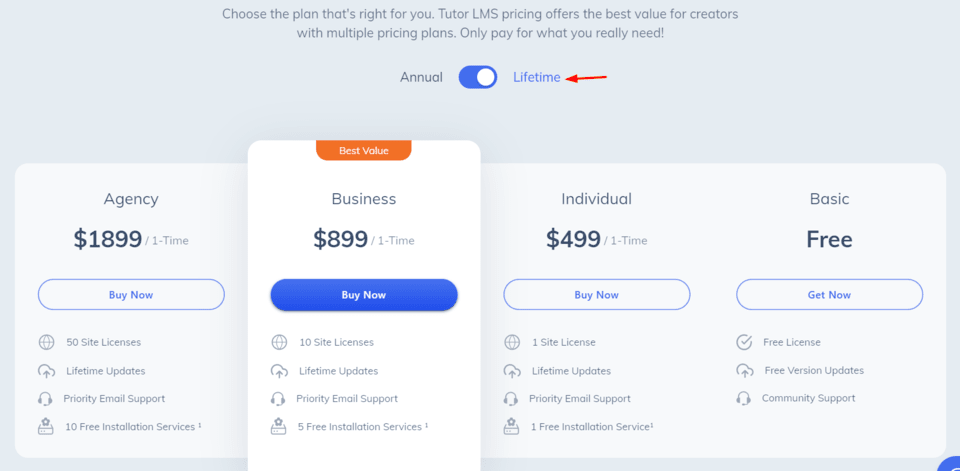 Tutor LMS Lifetime Deals:
| Plan | Annual | Lifetime |
| --- | --- | --- |
| 1 Site | $199/year | $499 |
| 10 Sites | $399/year | $899 |
| Unlimited | $799/year | $1899 |
Free plan
Along with premium plans, tutor free plan also available with limited features. Front end course builder not include in free plan.
Mastertsudy vs Tutor Comparison Video
Academy LMS Plugin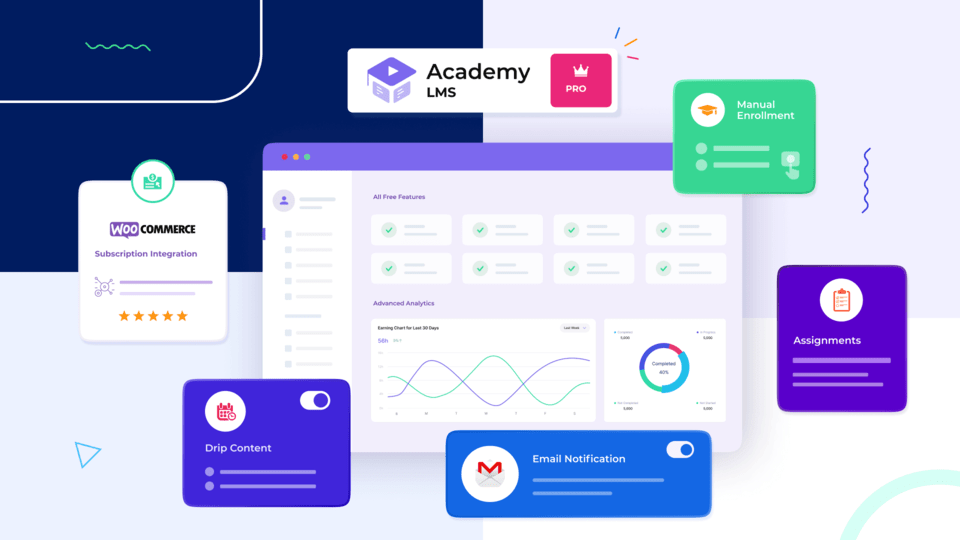 Academy is a comprehensive learning management system plugin designed for WordPress.
It offers advanced features to create and manage high-quality online courses. Academy Analytics provides data-driven insights to assess course efficiency and student performance.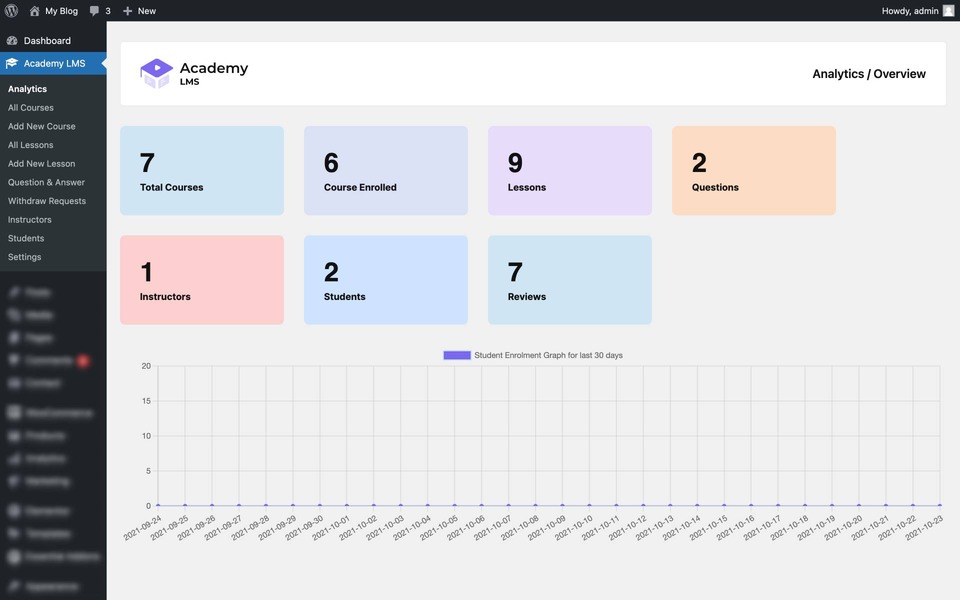 Key Features 
The course builder is robust and has next-generation features, including the ability to use a range of media such as texts, attachments, excerpts, and YouTube and Vimeo videos.
Q&A system allows unlimited questions from students to instructors, who can answer them seamlessly through the system.
Academy has a certificate builder that enables administrators to award students on successful completion of their courses.
This e-learning plugin allows for multiple instructors to be assigned to preferred courses, and revenue can be shared among instructors and admins upon the sale of premium courses.
The quiz builder feature makes it easy to create engaging quizzes alongside online courses, with unique question types, timers, and more.
Academy integrates seamlessly with WooCommerce plugin, allowing administrators to sell premium courses and generate revenue through various payment gateways, including shopping carts, one-time purchases, lifetime access, and subscription models.
Reports and analytics give detailed data on courses, students, instructors, and overall progress, student enrollment, and student retention.
The plugin also offers advanced customization options to create unique style and performance needs.
Academy LMS Lifetime Deal: Pricing & Plans
Academy has 3 annual plan starting from $119/year for 1 website and also offer Lifetime Deal for all 3 plans at $357 for 1 site license.
Good news, academy lms lifetime deals also available. Means just pay for one time you will get lifetime support and updates.
And there's a free plan but it's doesn't offer add-ons and unlimited courses.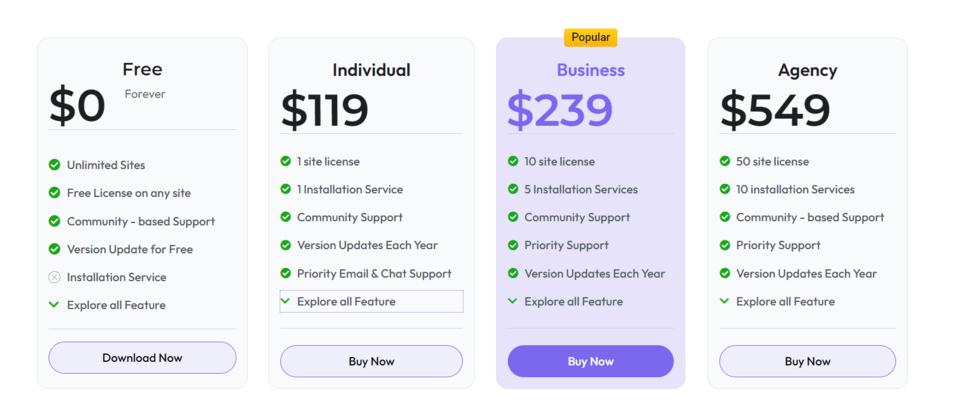 Appsumo Lifetime Deal
Appsumo also offer academy lms lifetime deals at very affordable pricings compared to official website starting from just $29 for 1 site and coming with 60 days money back guarantee.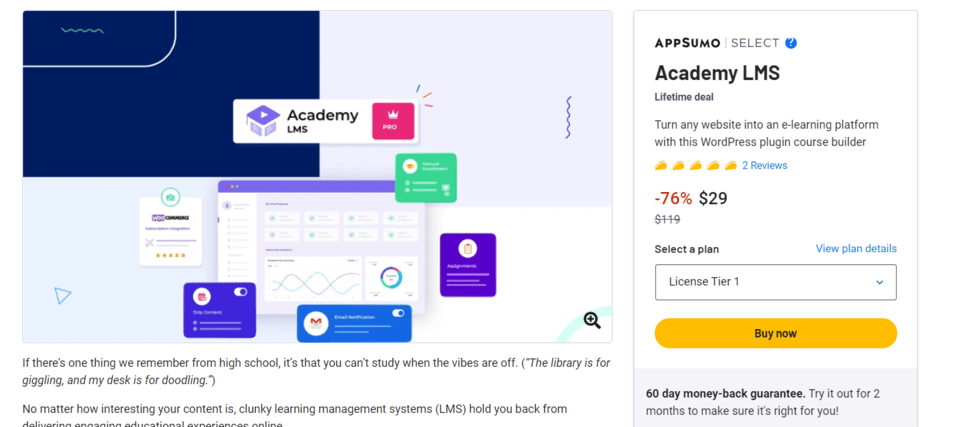 Academy LMS Lifetime Plans Comparison:
Free Plan
There's also a free plan available to experience Academy features.
You can also Read – Best WordPress Lifetime Deals
Real-life Experiences: Benefits of WordPress Lifetime Deals
If you're considering WordPress lifetime deals, here's why they're worth considering. You can get unlimited access to advanced features for a single payment.
That means no ongoing fees and you can enjoy premium e-learning plugin features without any time limits. 
For all the users who want to create and sell online courses, lifetime deals offer an affordable and hassle-free solution. Plus, you will good customer support
Which WordPress LMS Plugin Offers the Best Lifetime Deal?
Looking for the best lifetime deal for a WordPress LMS plugin?
My first choice masterstudy plugin, offering advanced features and a user-friendly interface.
Tutor is another great option with a drag and drop course builder, quizzes, and analytics. Both plugins provide lifetime access and seamless integration with popular tools.
Remember, Choose the one that fits your budget and requirements.
Final Thoughts on Best WordPress LMS Plugin Lifetime Deals
If you want to create your e-learning platform, a WordPress LMS plugin with a lifetime deal is a smart choice.
Because compared LMS platforms like Teachable or Teachify, these LMS plugins offer lots of useful features, they work well with other plugins you might want to use. 
Make theme right plugin for your specific needs,. Think about how big your platform is, how much you want to customize it, and how much support and updates the plugin developer offers. 
FAQ: Most Asked Questions for WordPress LMS Plugin Lifetime Deals
How much is LMS plugin for WordPress?
Most affordable is Academy Lms as it's lifetime deal also available on Appsumo starting from just $29 one time payment.
Can I use WordPress as an LMS?
Yes, you can
Is Tutor LMS free?
Although there a free tutor plan is there, but that's very limited and feature restricted. That's why suggest go with premium plans.
What LMS plugin would you use on your new membership site built on WordPress?
I personally like the masterstudy as it is the most advanced one, offering all addons without anything costing extra.
Liked this, You might also like reading these,
Learnpress vs Masterstudy LMS Comparison

Academy LMS vs Materstudy LMS: Which 1 Better?
Thank you for reading this post, don't forget to share with more people like you!