Unbiased QAPop review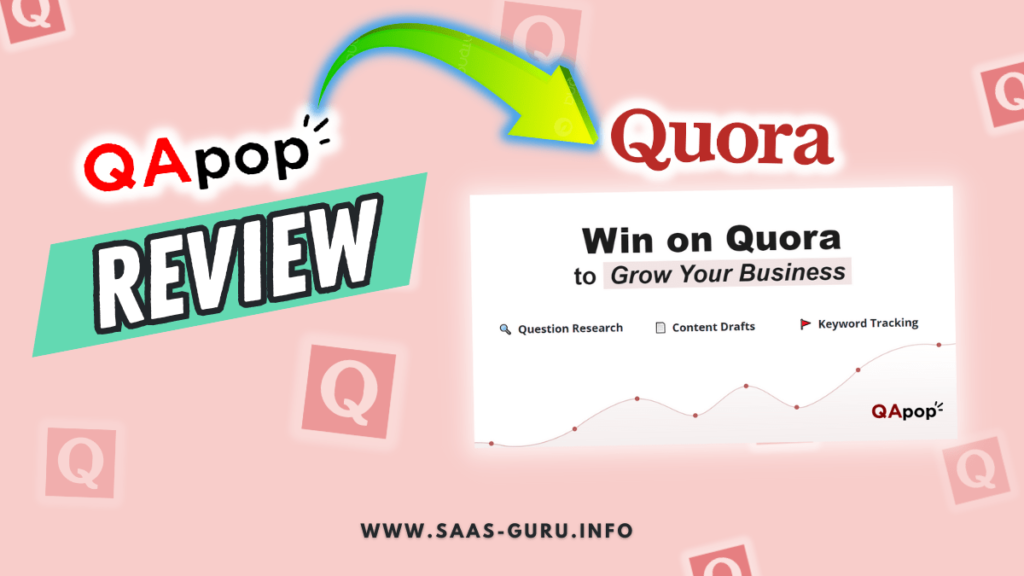 QApop lets you find most searched questions for your topic on quora and generate answers with its Ai assistant to grow faster.
You can experience Qapop features with it's free plan (no credit card needed).
In this post, we will do a detailed QApop review, a Quora Marketing Tool that is designed to help businesses drive more traffic through high-quality answers on Quora. QApop provides valuable insights by identifying the most relevant and impactful questions on Quora for a particular business.
We'll also explain how QApop works, its key features, and the benefits of using it to boost your organic traffic. And I'll share my personal experience using this tool.

Additionally, QA pop allows users to easily share their insights and findings on popular social media platforms such as Facebook, Twitter, and Instagram, expanding the reach of their Quora marketing efforts.
QAPop (Quick Features Overview)
| Features | |
| --- | --- |
| Find Questions | ✅Yes, with Topic or Keywords |
| Question Analysis | ✅Yes |
| Ai Writer | ✅Yes, Generate Quality Answers |
| Keyword Research | ✅Yes |
| Content Draft | ✅Yes |
| Monitoring | ✅Yes, Track Question keywords |
| New Question Alerts | ✅Yes, via email |
| Report Storage | Forever |
| Free Plan | ✅Yes, 7 Days Free Trial |
| Best For | Bloggers, SEO experts & agencies, Marketers |
| Demo Video | Click here to watch QApop Review video with Features demo |
| | 👉 Try QApop for Free |
What is Quora Marketing?
Are you struggling to get organic traffic to your website? Use Quora Marketing, It's a powerful method that can help you increase your online visibility and organic traffic to your blog.
In this content marketing method, we use quora to find relevant questions related to our blog posts, products or services and then provide a helpful answer including link to our website.
This way we not only get backlink to website but also get free high quality referral traffic and brand visibility.
In a recent statics report, it is find out every month quora get 300+ million traffic as of 2023 and most of it around 65% from search.
What if you can even get fraction of this traffic. Sound exciting isn't it!
And with the help of QA pop, you can automate quora marketing with less time and efforts.
So now you understand the let's dive in and explore how QA pop can take your marketing strategy to the next level!
Detailed QApop Review: A Quora Marketing Tool
Although quora is a easy to use platform but as a marketer it very hard to find top questions for your topic, niche or brand and creating an insightful answer even harder and time consuming.
That's where Qapop pops. With the help of Ai. It analyze and find out top questions with traffic insights and even generate informational, good looking answers for that question within few minutes.
What is QApop and How it Works?
QApop is an Ai powered Quora marketing tool that helps you identify and research the top questions in your niche. With AI-powered algorithms, it generates relevant, high-quality answers for you to provide on Quora.
It also tracks non-answered questions with high views. So you get new opportunities and answer them.
It Integrate seamlessly with your Quora profile and only find relevant question based on your given topic keywords.
QA pop makes research, answer, managing and optimizing Quora marketing really easy and effortless.
QApop Review Video: Watch Features Demo
Key Features of QApop:
Keyword/Topic Analysis: Find Top Questions in Your Niche
When it comes to researching top questions in your niche, QA pop offers a topic analysis tool. This allows you to find the most relevant questions that potential customers are asking on Quora, including popular and trending ones. 
All you need to add some keywords which describe your topic or niche.
It's Ai will start analysis and find top question for you relevant to entered keywords. Plus it will also provide the insights like views, upvote numbers, traffic to that question and followers to let you know which one you should answer.
With QApop, you can also analyze how other experts are answering similar questions, helping you stay ahead of the competition.
Additionally, QApop helps you discover new topics and keywords that can be used to optimize your website and content. 
These analysis report will store in 'Reports' section.
And once you open any analysis report and go to 'Keyword ideas' section, there you will find more related keywords with search volume and competition insights.
I am pretty sure using these powerful features, you can boost your traffic organically.
AI-Powered Answer Generation:
Once you pick the suitable question to answer, you can use QApop Ai to generates high-quality answer for that questions.
It saves time by automatically creating answers that showcase your expertise. You can even customizable the response to match your brand voice and style, the AI answer generation helps attract more views and upvotes.
It will consistently providing helpful answers to improve your Quora profile's reputation and authority. All the generated answers will be stored in content draft section.
Monitoring: Track Non-Answered Questions with High Views:
Qapop not only help you with answers but also track unanswered questions with most possibility.
Identifying questions with high views that remain unanswered is a good strategy. And with this feature, you can provide informational, insightful answer and gain brand/profile visibility.
This will increases your chances of being featured as a top answer and allows you to get the traffic.
Plus this monitor feature also send update or alert emails about new questions.
Benefits of Using QApop
Boost your organic traffic with QApop, an AI-powered Quora marketing tool.
Utilize its keyword research capabilities to identify high-traffic questions on Quora.
Generate informative answers that include relevant keywords and backlinks to your website.
Increase your chances of being featured as a top answer and attract more users to your website. Continuously optimize your answers based on performance data for maximum organic traffic.
Establishing leadership through Quora marketing involves showcasing your expertise and knowledge by providing insightful answers on the platform.
Leverage Quora's large user base to reach a wider audience, establish your brand's authority, and use analytics to refine your thought leadership strategy.
Pros & Cons of QApop:
Pros
Automated marketing on Quora
Targeted question answering assistance
Efficient energy allocation for question answering
Well-organized knowledge base for Quora marketing
User-friendly interface
AI-powered content drafting for high-quality answers
Custom notifications for top questions to answer
Cons
While QApop can be a valuable tool for Quora marketing, it does have some drawbacks.
Firstly, the AI-generated answers may lack the personal touch and authenticity of human responses.
Ai writer has limits for generating answer.
Limited integration options.
My Personal Experience with QApop: CaseStudy
I've recently started using QApop and it's completely transformed my Quora marketing strategy. This tool has simplified the entire process and allows me to find the most relevant questions for saas tools.
It stands out because it has a really great user experience and user interface. It designed to be simple and easy to use, so people can easily find what they need and use all the features without any trouble.
Even if someone is new to using Quora for marketing, they can easily figure out how to navigate and use QApop.
The most amazing feature is how fast and easy it is to generate accurate answers with the assistance of AI. I can write answers that are right on target in just a matter of minutes.
One feature that stands out to me is the option to monitor questions that have a high number of views but no responses.
This gives me an advantage in answering to most viewed questions yet non answered or only few. Plus, the customizable question alert also a good feature which ensure that I never miss out on any valuable opportunities.
It also show data in good way to be nice like traffic, QA score, views, and followers, which makes it even easier for users to understand and get a quick overview of their data. 
QApop Pricing:
On official website, qa pop pricing starts from $19/month for starter plan and if you switch to yearly plan then pricing will be $15/mon (20% off) when billed annually.
There are three plans available with various credits and limits.
Table
Use discount coupon code 'SAASGURU' and you will get 10% extra discount while buying any plan.
Is there any Qapop Free Plan or Trial?
Qapop also offering 7 days free trial to experience it's feature and based on that you can switch to premium paid plans.
What do people think of QApop?
People have been raving about QApop and its ability to boost organic traffic through Quora marketing. Users love how easy it is to use and how effective it is in driving targeted traffic to their websites.
If you're looking for a game-changer in your marketing strategy, QApop is definitely worth checking out.
Final Words on QApop Review: Worth it or Not!
After testing and experiencing this digital marketing channel, I can say QApop is a valuable tool for boosting links and increasing organic traffic through Quora.
Its key features, such as researching top questions and generating AI-powered answers, make it a powerful asset for increasing visibility and driving engagement.
While there may be some drawbacks and limitations to consider, overall, the user experience with QApop has been positive. Pricing is also much affordable compared to features we are getting.
Not only you can use this for your blogs but also use it for selling your quora marketing services. And many users also have found it to be a valuable tool for their Quora marketing strategies.
You can experience this tool risk free with it's 7 days free trial.
Faq – Most Asked Questions on QApop Review
Is 'Quora marketing' a thing?
Yes, Quora marketing is a legitimate strategy that businesses use to drive traffic and increase their online visibility. By providing valuable answers to relevant questions on Quora, businesses can establish themselves as industry experts and attract potential customers to their website or blog.
How QApop helps in Quora Marketing?
It find best question to answer so you don't have put manual efforts.
How credits Used in QApop?
Qapop give limits on how many question you can find and keyword tracking.
Is There any QApop Lifetime Deal?
Lifetime deals has been ended and now you cannot find anywhere. But if you will "SAASGURU" for premium plans you will get 10% extra discount.
Thank you for reading this post, don't forget to share with more people like you!