WriteCream Review: After spending tons of hours, your copy/content or ads didn't engaging readers then WriteCream A.I content writing tool is best for you.
WriteCream review by Saas Guru
We all know, creating engaging content is how much difficult and time-consuming and sometimes it's like money consuming too! when ads copy can't able to bring leads or sales.
That's why! some people lose hope and never try again.
But after knowing about writecream, you will never feel that way again, in fact after using this user-friendly tool content writing process will be child's play to you.
Because all you have to, choose the type of content → enter few details and → click on the "generate" button.
And the A.I will write to you!
But don't think, it will replace the content writers, it cannot,
Rather that it will increase their output 2x or 3x and help them create better content.
So hey there, I'm Basant here, the founder of Saas-guru. where you can read reviews and comparisons of best Saas deals.
And today in this post, I am review WriteCream (A.l powered content writing tool).
Highlights (TL;DR):
You don't have to spend money on hiring expensive copywriters and freelancers to write copy for you. Writecream can help you in writing a high-converting copy that is,
1️⃣ Grammatically Perfect
2️⃣ Well Structured
3️⃣ Lexicomane (Google!)
4️⃣ 100% Original
Users can create Voiceovers & Podcasts in human-sounding voice-overs for YouTube videos and podcasts in 40+ voices.
This also supports multi-language.
Multi-lingual support- writecream is not bounded by the language barrier and can generate a.i results from scratch in 75+ languages.
Best for Bloggers and Marketers.
Personalized email/linkedin/image icebreaker- the icebreakers generate 2x faster now, Make cold emails even more compelling with hyper-personalized, AI-generated images that are made especially for your prospect.

All this comer under, Life-Time Deal (1 time payment).
What is Writecream ai?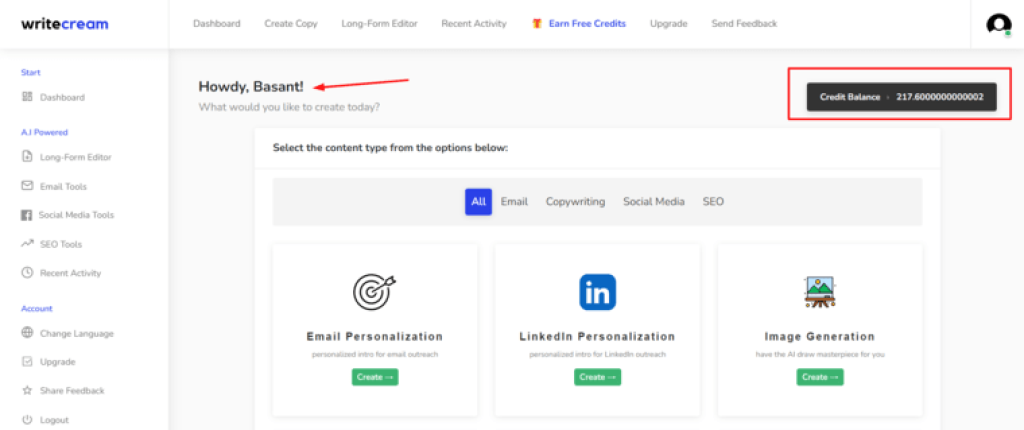 Writecream is an Artificial intelligence powered content writing tool (consisting 40+ tools) for copywriting needs such as blog article, copywriting for ads, product descriptions/reviews, emails and social media posts.
Plus, users can also use it for their outbound marketing campaign & outreach like cold emails, LinkedIn, backlinks etc.
Recently, after writecream update there have been new features like chat genie, long-from content writer, ai image generator. Overall content generation quality also improved alot.
Every generated content passed by grammar check, spelling mistake and 100% original.
To check the originality manually, it has even a plagiarism checker tool.
Writecream also offer chrome extension and mobile app to use it's tool anywhere anytime.
Is there any Writecream Lifetime Deal?
Yes, Writecream lifetime deal available on Appsumo. Although official pricing starts from $29/month but appsumo listed lifetime deal is just $59 one-time payment.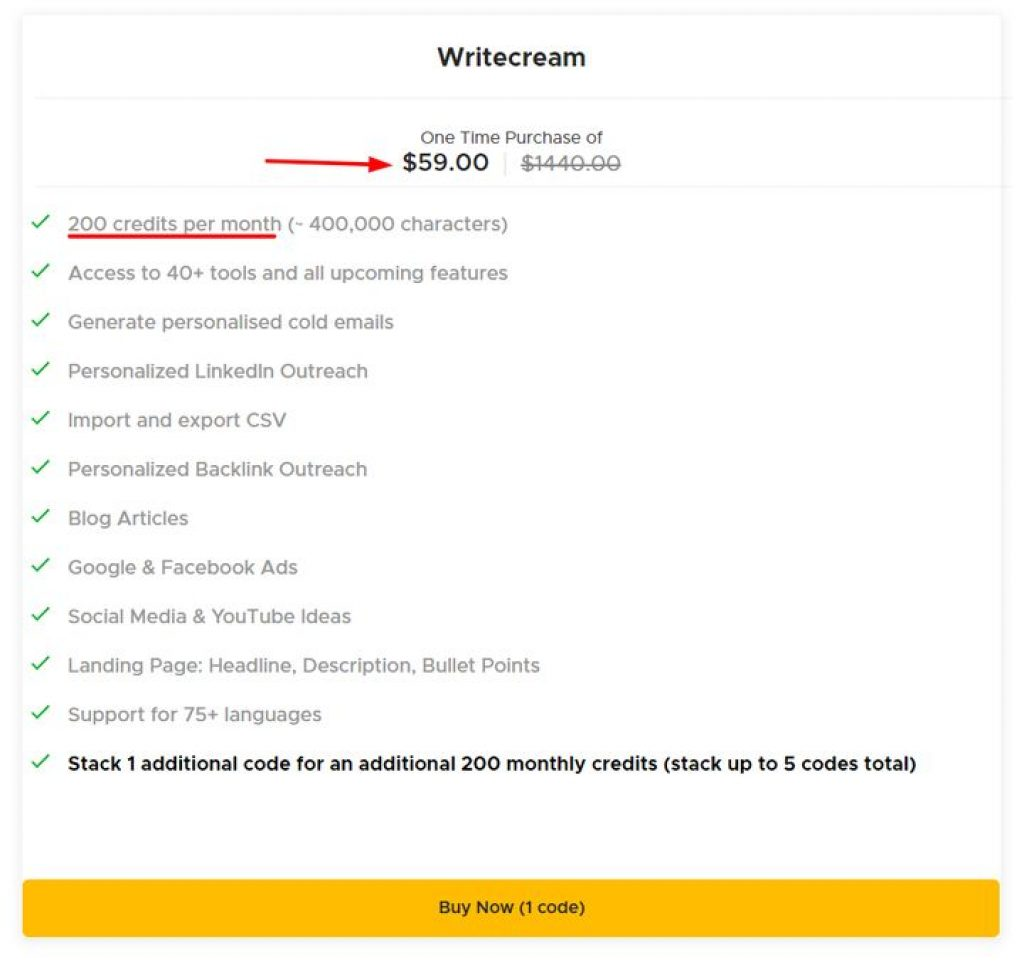 In this writecream LTD, you got access to all 40+ ai assistants, mobile app and chrome extension, chatgenie, ai image generator and all other features with 200k credits (400,000 characters) per month.
And if you want to increase credits limit, you can stack means buy more codes in this deal.
The best part, there's also 60 days money back guarantee. Somehow if you are not happy with the writecream performance then return within 60 days of purchase date and your 100% money will back.
This makes Writecream lifetime deal totally risk free.
What is My Experience with Writecream?
I bought writecream LTD in March last year, since it has been 7-8 months and I'm consistently using writecream for blog posts (not full posts but sections like intro, outlines etc), social media content and one of my favorite for answering quora questions.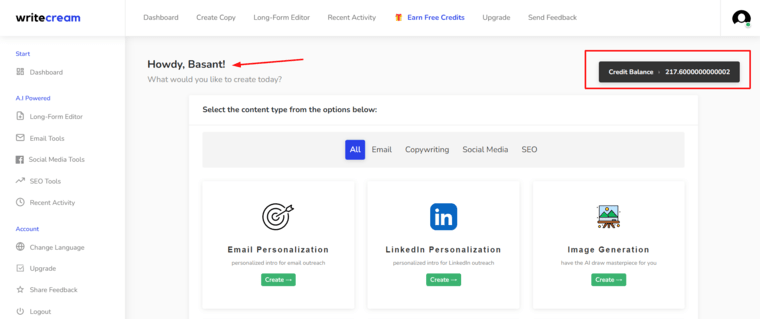 I have even used writecream for youtube video's script generationg, and it was mind blowing. Withing few seconds I got a very enagaing sciript.
Recently after their update, 1 latest feature I'm playing most which is Chatgenie (a ChatGPT alternate feature). It's like having a conversion with Ai.
It answer all my commands. You won't believe it even created a wordpress plugin with coding out of scratch.
Here's the example,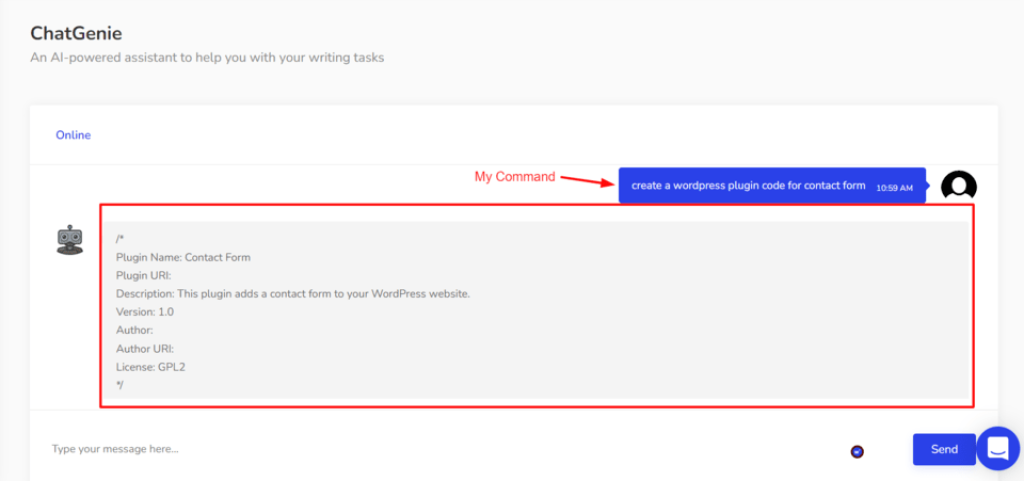 How to Use Writecream for Content Generation?
Writecream designed their platform with easy user interface that even a beginner start using it's tools just after the sign up.
There is only 2 steps to use writecream,
1st Step: Select any ai tool based on your content objective, i.e I want to generate some blog title ideas so I selected 'Blog Ideas'.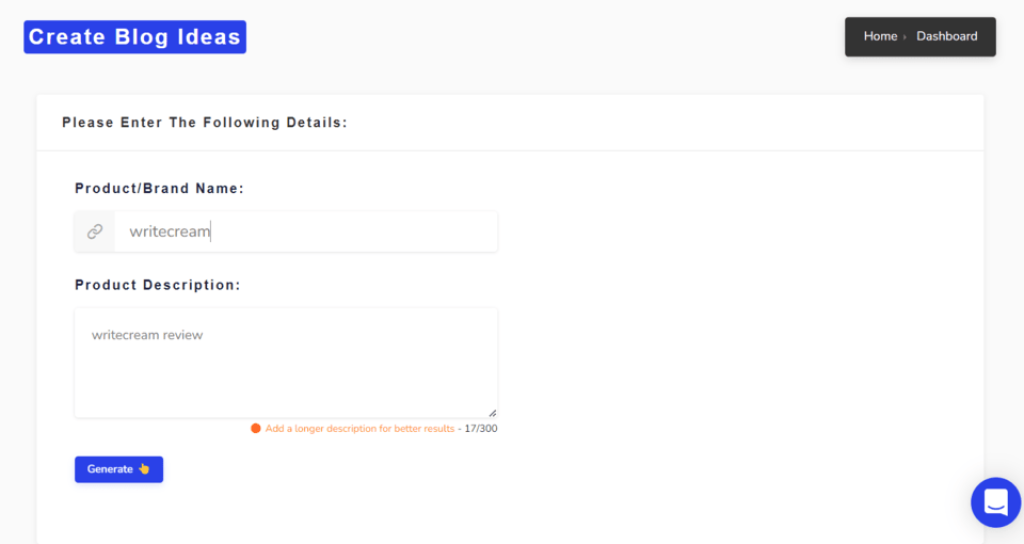 2nd Step: Now it will ask you to enter some information like Product name which is our topic keyword and few words about desiring the topic so that It can understand the content motive. Like me you can just use google for description part.
And after these just click on generate button, within few seconds I got some attention grabbing blog ideas.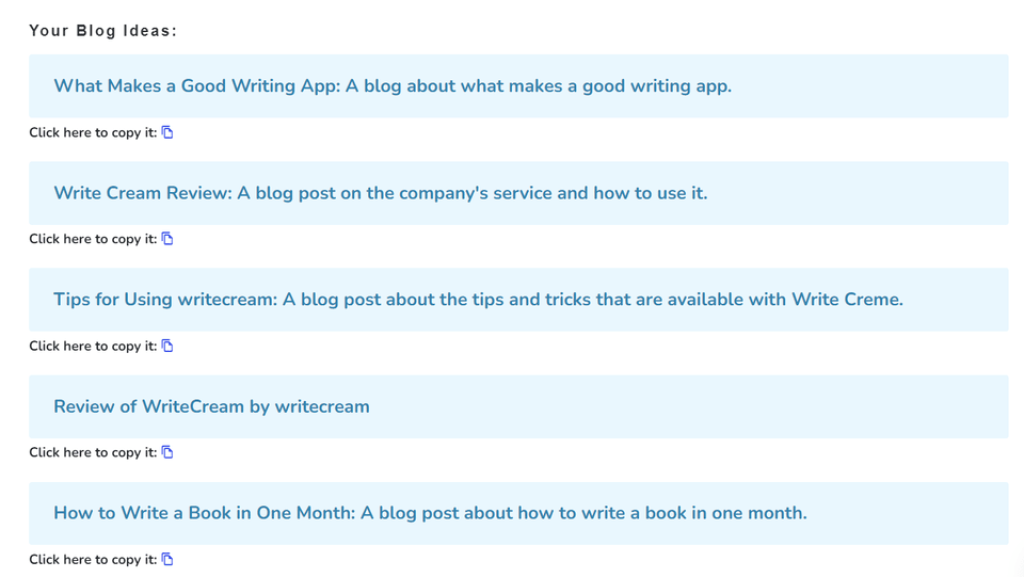 Writecream AI Features: What makes it best Ai writer
◾️Ai Assistants & Content Types
With the help of write cream, users can create 30 different types of content, and the best part all content types are divided into 4 section tabs, so you easily access what you are looking for-
Email
Copywriting
Social Medial
& SEO
which are basically making users to select the content type that they wanna create with A.I.
Let's explore write cream all features and content types.
#1. Email
There are 6 types of content under the Email section which are,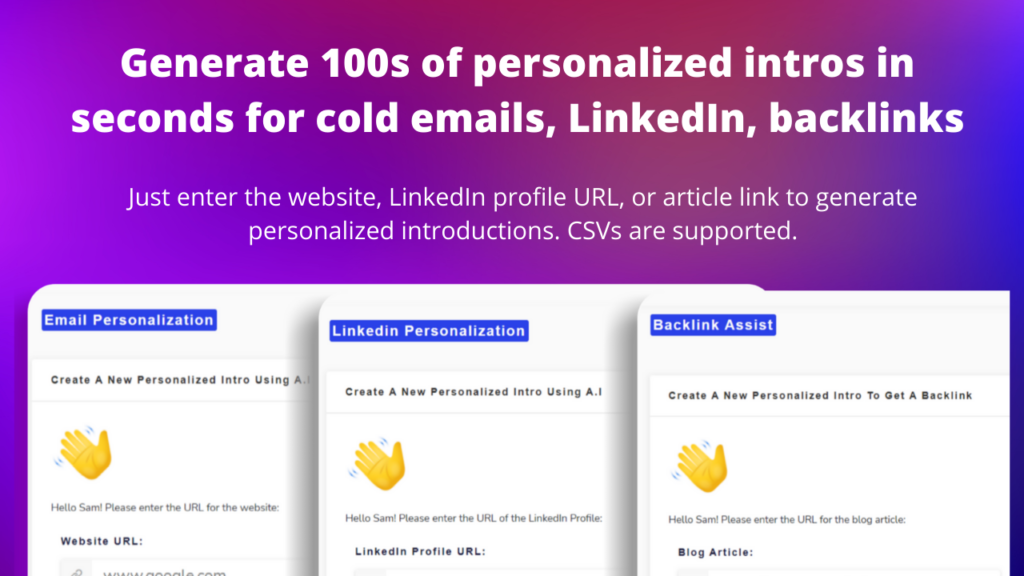 Email Personalization- With this, users can create personalised Outreaching emails in one click and more amazing things here, there's also a URL section where users can enter the URL of website (for which they want personalized email). Which makes it super amazing as it will generate results based on that website content.
Linkedin Personalization- Like email personalizations, this tool also do the expect here you have to enter the LinkedIn profile link of that user, for you wanna create a personalised message.Basically, what it does, A.I scan the profile via URL that you entered while generating results and based on the content it scanned, results are generated.
Image Icebreaker- We all know a picture says thousand words, and sometimes finding the right image can be really difficult. But not with this tool. Just enter the website Url and after scanning A.I will show you the right image that you use without spending any time on searching.
Pitch an Angel- This tool is especially for entrepreneurs or those who are looking for Seed funding for their innovation/software/business. Just enter the Product or Brand name, type a few words what that product do and click on generate.Boom! A.I will generate an engaging message that you can send Angel investors.
Backlink Personalization- As an SEO expert, backlinks creation is very important for any blogger and on top of that sending personalised intro to other websites owners (from where backlinks are needed) is curial otherwise everything will be wasted. I personally spend a lot of time on this but this tool creates that hours, spending works in few minutes. That's crazy, isn't it!
Audio Icebreaker- Being from few years in the online industry, I have never seen anything like this. Where A.I not create the message but also transform it into human-like vocal audio. And on top of that, it is not bounded by 1 language or Voice type. For example, users can choose any language like Japanese and then select voice type whether it's the male or female voice. And users can do it just by entering the URL of the website.
#2. Copywriting Tool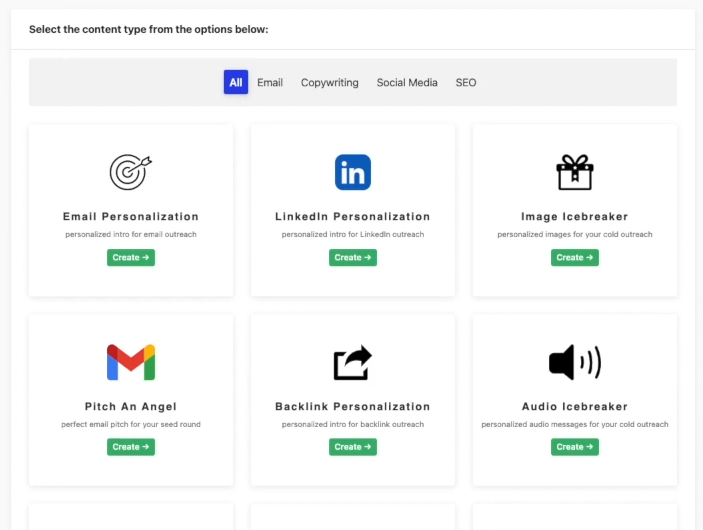 For copywriting WriteCream A.i has 11 tools, with those you can create engaging and attention-grabbing headlines for your website or product. Just enter the Website/Brand name and few words for, what it is about.
You will be amazed that Writecream a.i can also create descriptions for products. Now E-com has never been so easy before this tool.
Here are the more things that it can generate,
Website Headline/Copy
Brand/Product Descriptions
E-commerce Products Description-
Before After Bridge Copywriting
Pain Agitate Solution Copywriting
Valur Proposition
Feature to Benefit
Website Subheadline
Compelling Bullet Points
Product Review Generator
Voiceovers– You will be amazed after knowing that write cream also let it's to generate voice covers in different languages and vocals in both men's & women's tones. And all happen via entering few details.
#3. Social Media
Creating engaging social media content/Ads and captions is now easy-peasy with Writecream, All you have to do enter few and click on generate button, Boom attention-grabbing Ads and captions are ready to use. Believe writing cream a.i is a lifesaver when it's about social media context.
Here's what Writecream offer for your Social Media game,
Social Medial Post Captions
Facebook Ad Copy
Engaging Social Posts
Youtube Video Topic Ideas
#4. SEO
With this section, let the A.I generate the best SEO optimized content for you, here are the all content types you can generate.
Blog Ideas- From here, you can get tons of high search blog ideas, on which you can start writing blog posts.
Google Ad Copy- This will write engaging Ad copies for your google campaign, just enter the product/brand name and few details about what it is about and done!
SEO Meta Description- Increase posts CTR on search engines via A.i generated attention-grabbing meta descriptions.
Blog Conclusion- Give posts a better and sweet ending.
Blog Outline-Create SEO optimized outlines for your posts.
Blog Intro- Start your post with interesting and read encouraging intros.
Blog Headline Expander- Create paragraph just from a line.
Quora Answer Assist- Quora is a great way to get referral traffic to your blog and establish authority but it's also true that it's very time-consuming as we have answer quality and helpful content every time. But this one tool is very powerful when it comes to quora. It almost makes your work 80% easier and quicker and enter question and few keywords about that and boom it will generate the results that you can answer.
◾️Long-Form Content Editor
Along with short form ai writing templates, writecream also has a long-form writing assistant for long-form content creation.
The dashboard is more like to wordpress and doc, available with all writing formats in the header.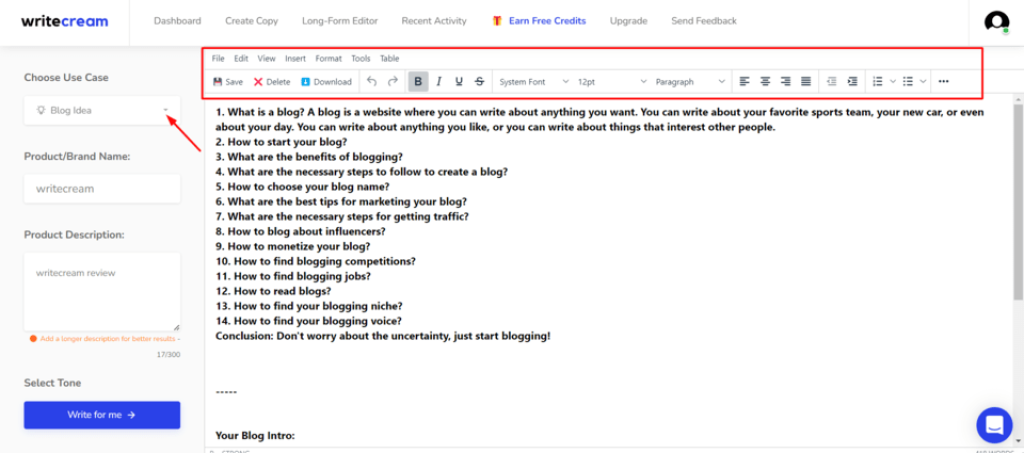 But the best part of this long-form editior, it is designed to let you use all ai assistants in one place.
For example,
you can start with generating 'Blog Ideas' and after that use 'Blog Outlines' to generated subheadlings.
After that you can select the subheading and use 'write more' command to generate more detailed content.
Thus, in the end you full blog will be generated.
And once article is done, click on download button from header to download article in text format file or you can just simply copy and paste this article in your website to publish.
See, long-form editior has features in 1 dashboard.
◾️ChatGenie
It's an Ai chat section where users can ask or command ai to generate specific things for example you can ask trip advise, correct a sentance, rewrite paragraph, find errors in code etc.
Using ChatGenie is like having conversation with ai, getting answers in few seconds.
And the answers it provide is just mind blowing very relevant to topic.
You won't believe My friend asked it about some good stocks, and guess what it give a list. Although there is only list no financial information. But still that was exciting.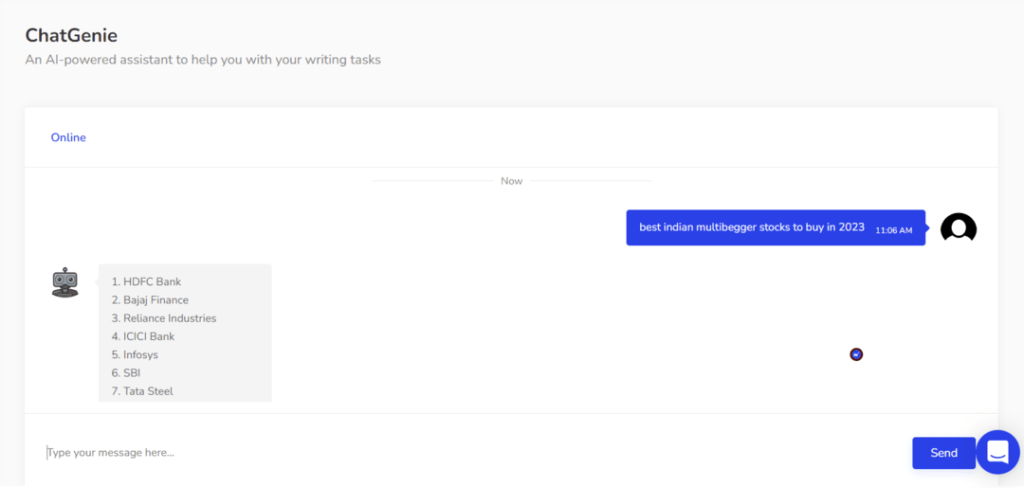 To use ChatGenie, all you have to write your question or command.
In future we can see even more improved version of chatgenie.
◾️AI Image Generator
Image generation by ai creating a lot buzz these days, so considering that writercream also added an ai image generator in their platform.
To use that you have to write few words describing about the image and just hit generate button, witnin few seconds it will create the relevant image.
Which you can download in high quality.
◾️Plagiarism Checker
This is another premium feature developers added. With this plagiarism tool users can check the originality of generated content.
It show results in 0 to 100 scores where 100 means 100% original.
And if there is any duplicate content it marked the words or sentence.
You target should be to get 80+ score.
Writecream Free Trial
To experience this amazing ai tool, there's also a free plan avilable but with limited access.
Free plan provide,
20 credits (generate 40,000 characters)
20 icebreakers
2 long articles (5,000 words each)
4 short articles (1,000 words each)
4 podcasts
4 YouTube Voice Overs
And every month these credits renewed at $0.
If you are considering checking out this tool without buying then experiencing free plan is good option.
Writecream Reviews
Overall in every popular rating platform Writecream has good reviews and ratings. Let me show some of them.
Appsumo Ratings on Writecream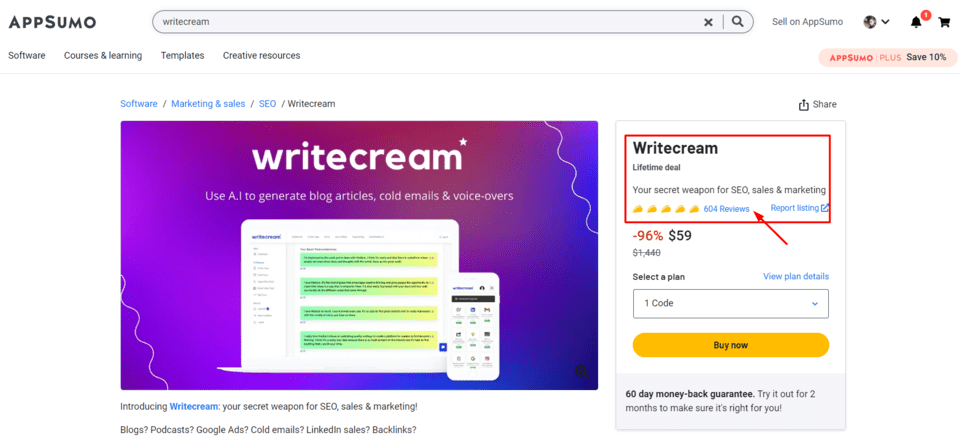 Writecream is one of the best selling lifetime deal on appsumo with around 600 positive reviews. It has overall rating 5 out of 5.
Trustpilot Rating on Writecream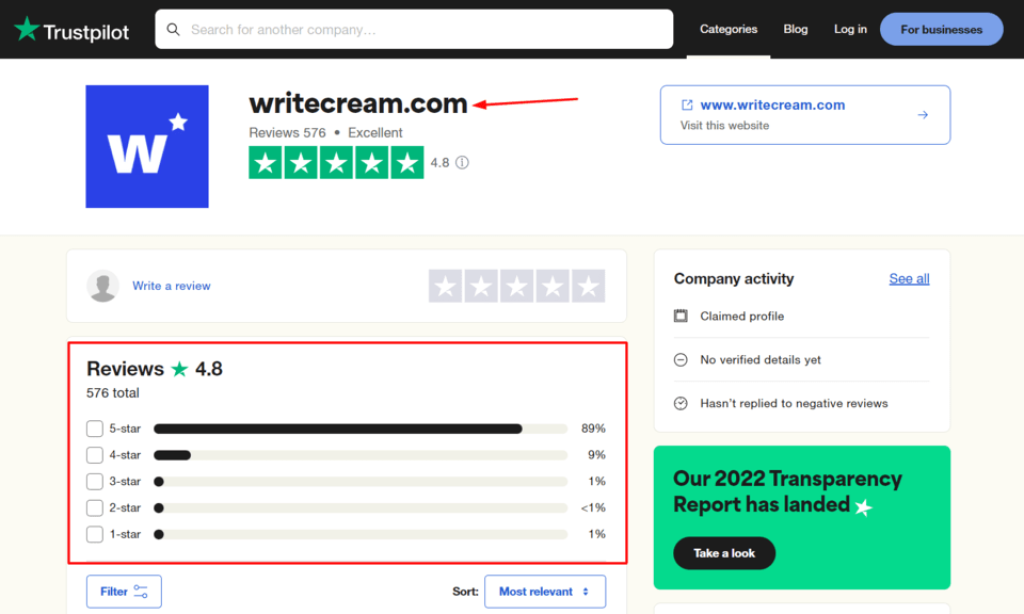 On Trustpilot, with more than 500+ users review Writecream has overall 4.8 rating out of 5.
Capteraa Rating
Capterra another software rating platform and here also Writecream has 4.8 ratings out of 5 from more than 190 users.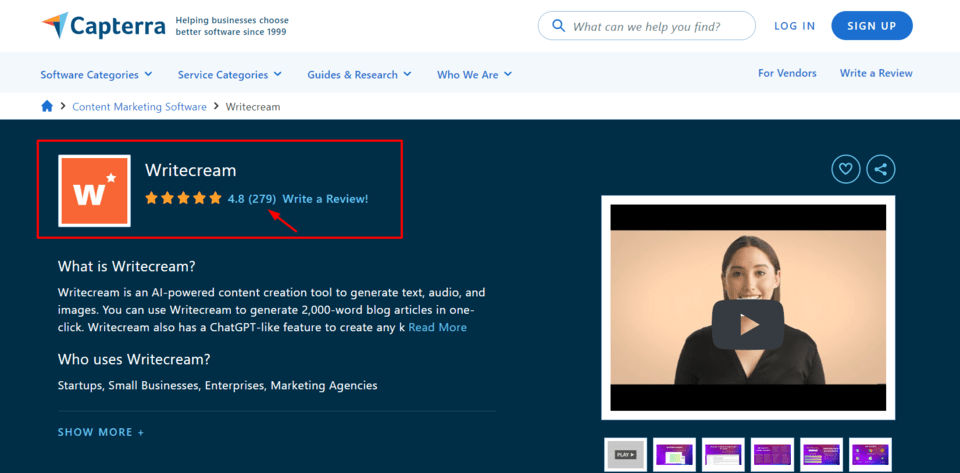 Pros & Cons of Writecream
Pros
Writecream has an easy-to-use UI/UX, with more than 30 copy+content+outreach caterized tools
Multi-language voice covers recording
WriteCream is highly focused on personalised content, just enter url of site/linkedin and it generates many good outreach contents.
Support team are very fast
Very effective results for backlinks outreach
Cons
Everything is OK with this app, haven't found any issues. Developers improving every problem they are founding.
Writecream Review – Video
In this video I'm doing a comprehensive Writecream Review. After it's update Writecream ai writer content quality improved a lot. Plus new ai assistants launched Including Ai image generator & CHATGPT like feature.
👉Get Writecream Lifetime Deal- https://appsumo.8odi.net/get_writecream
[Use a New Appsumo Account to Get 10% Extra Discount]
Writecream Pricing & Plans
If we check writecream's pricing from it's official website, it has 3 plans and lowest start from 29$/month.
Which gives access to all tools and unlimited credits every month.
But in Appsumo, Writecream Lifetime Plan available with more affordable pricing – $59/one-time payment.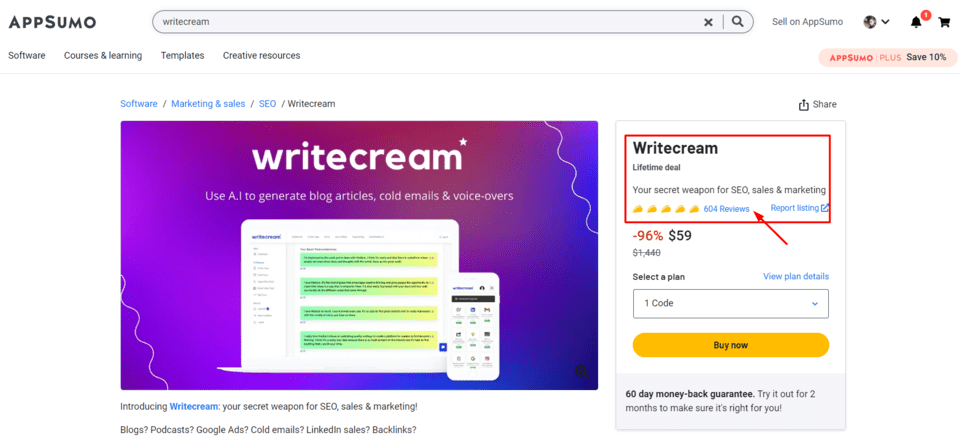 Writecream LifeTime Deal
In this appsumo lifetime deal, we are all getting features with 60 days money back guarantee. That's why my suggest to go with lifetime deal.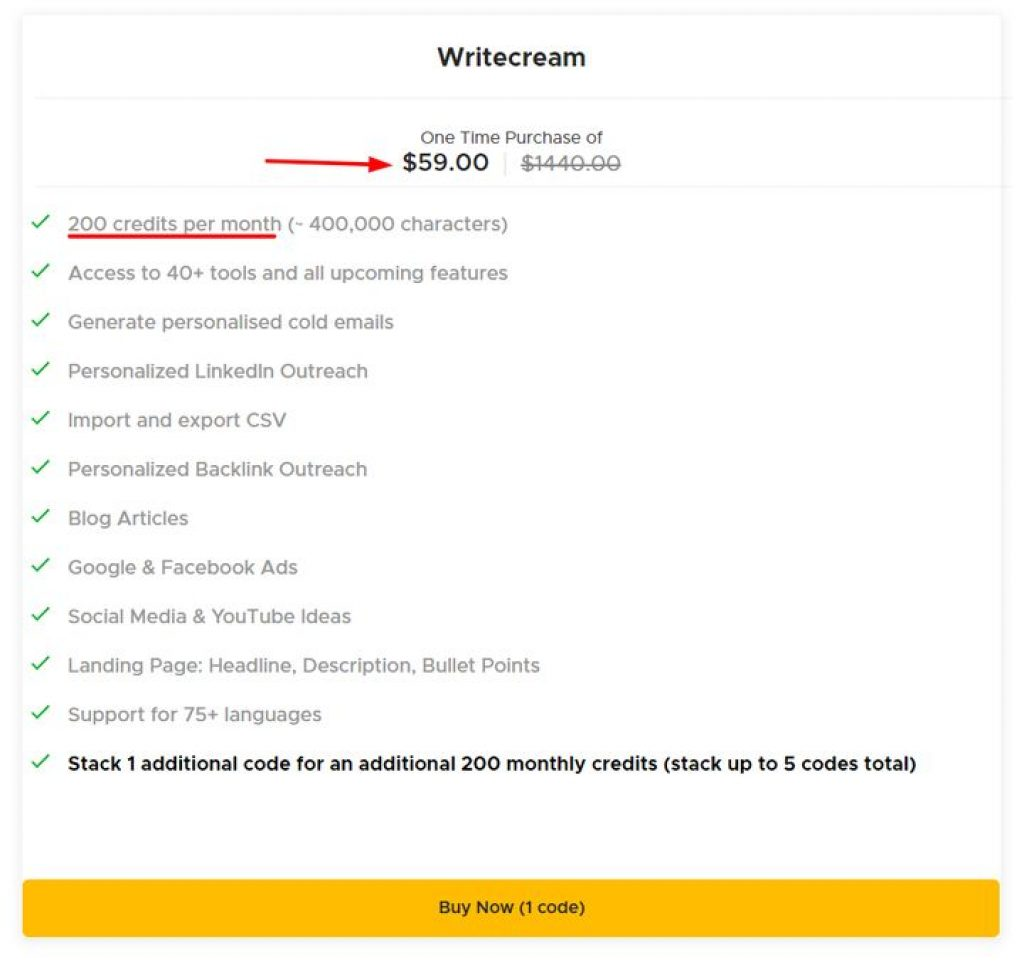 How Does Writecream Compare to others?
There are many Writecream alternatives available with A.i GPT-3 commands and in this section, we are going to compare them with WriteCream. So we can where it stands against them.
Writecream vs Writerzen
Features
Writerzen
Writecream
Ai Writer
✔️
✔️
Content Assistants
❌
✔️, 50+
Grammar Check
✔️
✔️
Idea Recommendation
✔️
✔️
Plagiarism Check
✔️
✔️
Sentence Formatting
✔️
✔️
Copywriting
✔️
✔️
SEO Writing
Assisatant
✔️
❌
ChatGPT Like
Feature
❌
✔️
Topic Ideas Generation
✔️
❌
Keyword Research
✔️
❌
SEO Audit
✔️
❌
SERP Tracking
✔️
❌
Content Management
✔️
✔️
NLP
✔️
✔️
Free Version
Available?
❌
✔️
Lifetime Plan
✔️
✔️
Pricing
$23/Month
$59/Lifetime

Get Writerzen
Get Writecream
FAQ – Most Asked Question on Writecrteam Review
Is Writecream free?
Althouth writecream offers a free plan but only give limited access to experince it's features. There's also a lifetime deal
What is Writecream?
Writecream is an A.I powered content writing tool (consisting 40+ tools) for copywriting needs such as blog posts, SEO meta description, copywriting for google/facebook ads copy, product descriptions/reviews, emails and social media content.
Plus, users can also use it for their outbound marketing campaign & outreach like cold emails, LinkedIn, backlinks etc.
How do use Writecream?
Thank you for reading this post, don't forget to share with more people like you!
Thank you for reading this post, don't forget to share with more people like you!