Searching for a tool that can help you in blogging content generation and SEO optimization then you should read this Bramework review.
When bramework first introduced and made some hype, I got exicted it really there's a tools which can made my blogging and writing effortless, So I give it a try.
And after trying bramework and all of it's features such as keyword research, ai writing assistant and SEO optimization for few months. I can say it worth it.
And here's my detailed review of Bramework. In which we will talk about it's features, using benefits, pro and cons and lifetime deal pricing.
So without spending any more time, let's get started!
Bramework review by Saas Guru
About Bramework
To rank higher on the search engines, we need to write high-quality and SEO optimized blog posts.
But the entire process—from content research & brainstorming to outlining to draft to optimization takes hours (even few days).
But what if, there's a tool that can do all this stuff for you and saves countless hours, then let me introduce Bramework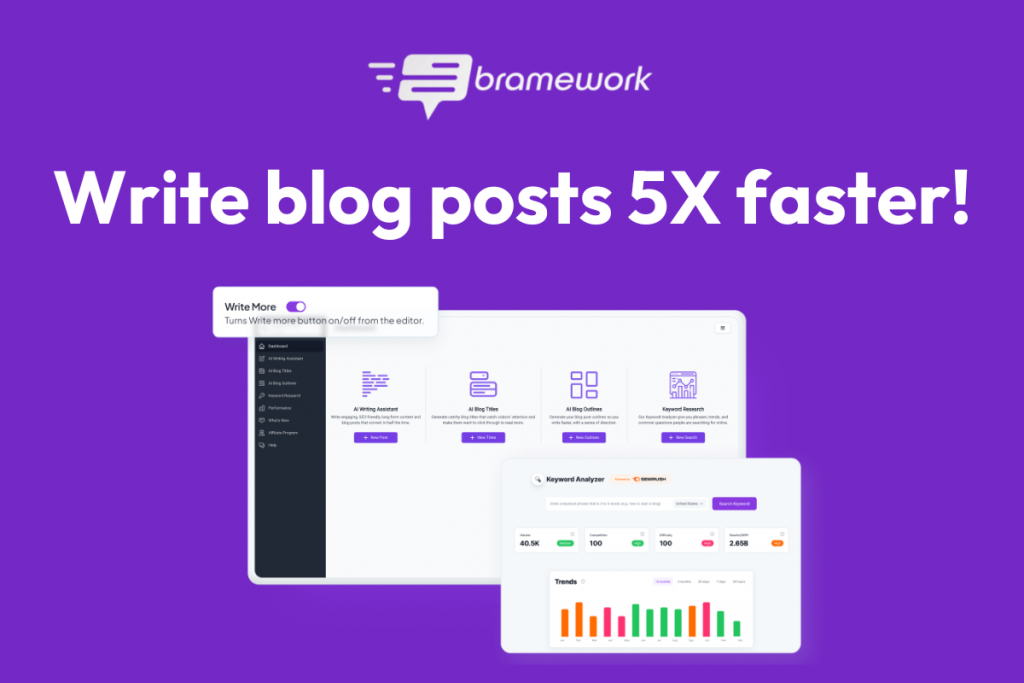 This new blogging software called Bramework was designed to write better quality & SEO optimized blogs easier and faster.
Bramework is an a.i writing tool based on GPT-3, which generate content on short as well as long-form formats for making content writing an easy task.
This tool lets you find trends, phrases, and even common questions that people are searching for online with just a click of button.
Plus, using Bramework you can also do keyword research and see keyword's volume, competition, difficulty, trends, and more.
Bramework Features :
Bramework has 3 main core features,
Ai Writing assistant
Keyword Research
Keywork Rank Tracker
Lets discuss about them in detail.
A.i Writing Assiatant
With Bramework, you can create blog posts in half the amount of time by inputting some keyword information and letting the writing assistant take care of everything.
See below to watch it in action,
To start, enter your primary Topic keyword and include few more other related keywords you want to cover in your post.
And Click on "Create." In seconds the AI writer will generate original, unique content that's ready to be reviewed and personalized.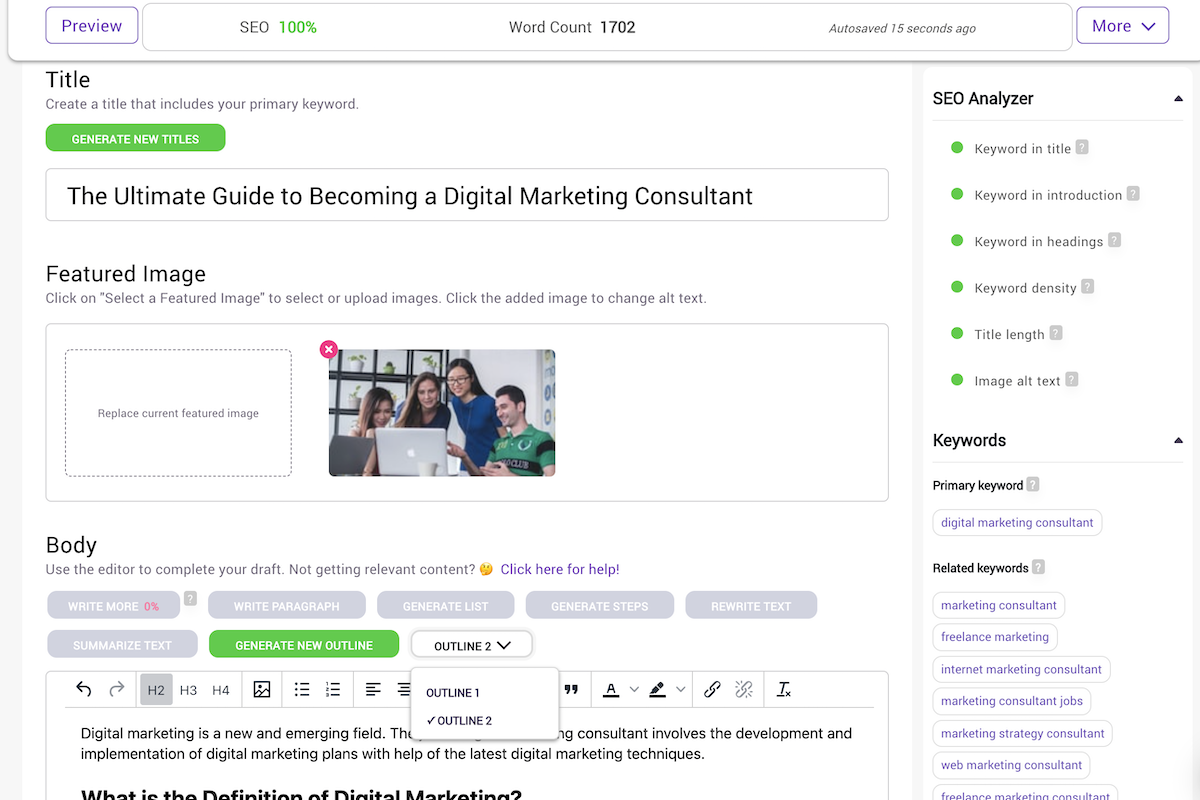 In the writing dashboard, The assistant will show you more keywords you need to add in your content, SEO insights to make it fully optimized.
And once the content is ready you can publish it on your blog.
Keyword Research
Bramework provides comprehensive information about keywords.
With this tool, I can easily find out how many times my keywords were searched in Google or Bing.
see keyword monthly volume, competition, difficulty, trends, and more, letting me know to only focus on the terms and phrases that matter.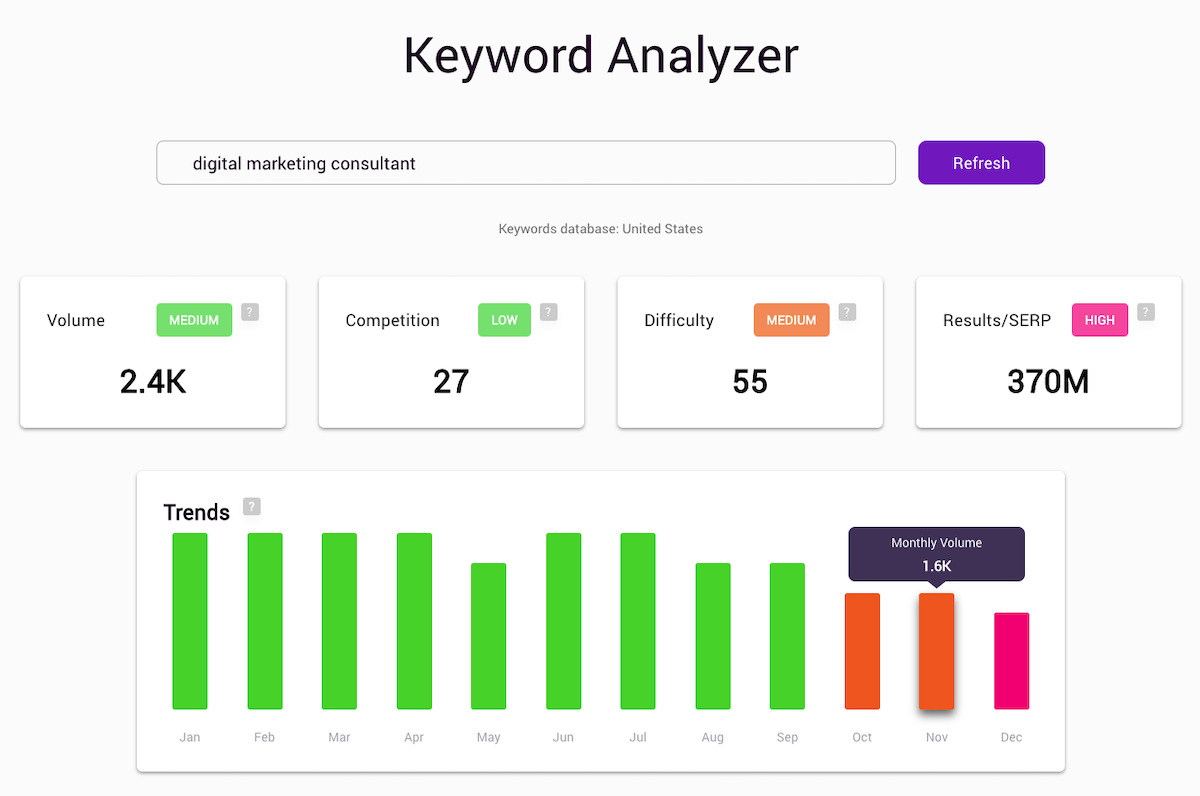 I can also discover what kind of content is being generated by those search queries. This tool gives me great insight into what people are interested in.
Keyword Ranking Tracking Tool
This NEW FEATURE will allow you to see how well your article is doing with daily ranking updates after you hit publish!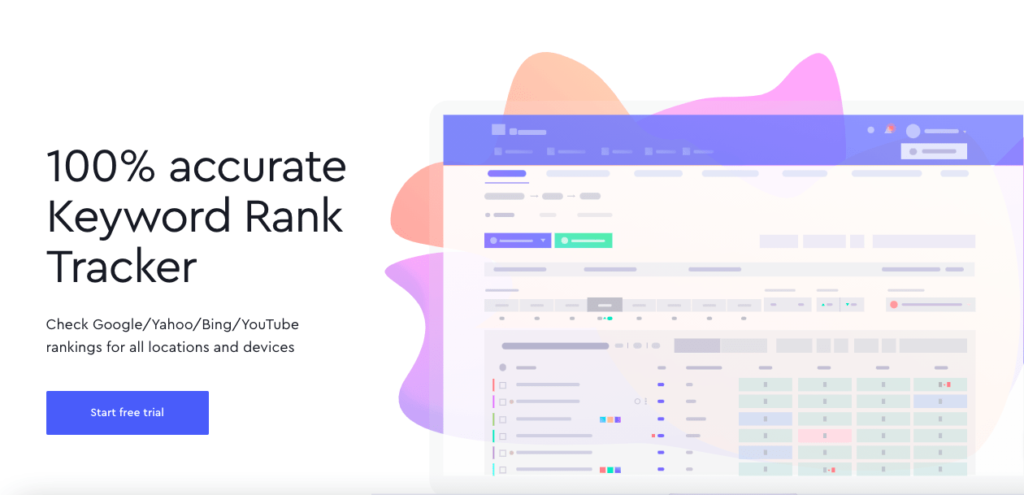 Blog Outline Generator
To make things even easier, this section let you generate blog post outlines in a flash.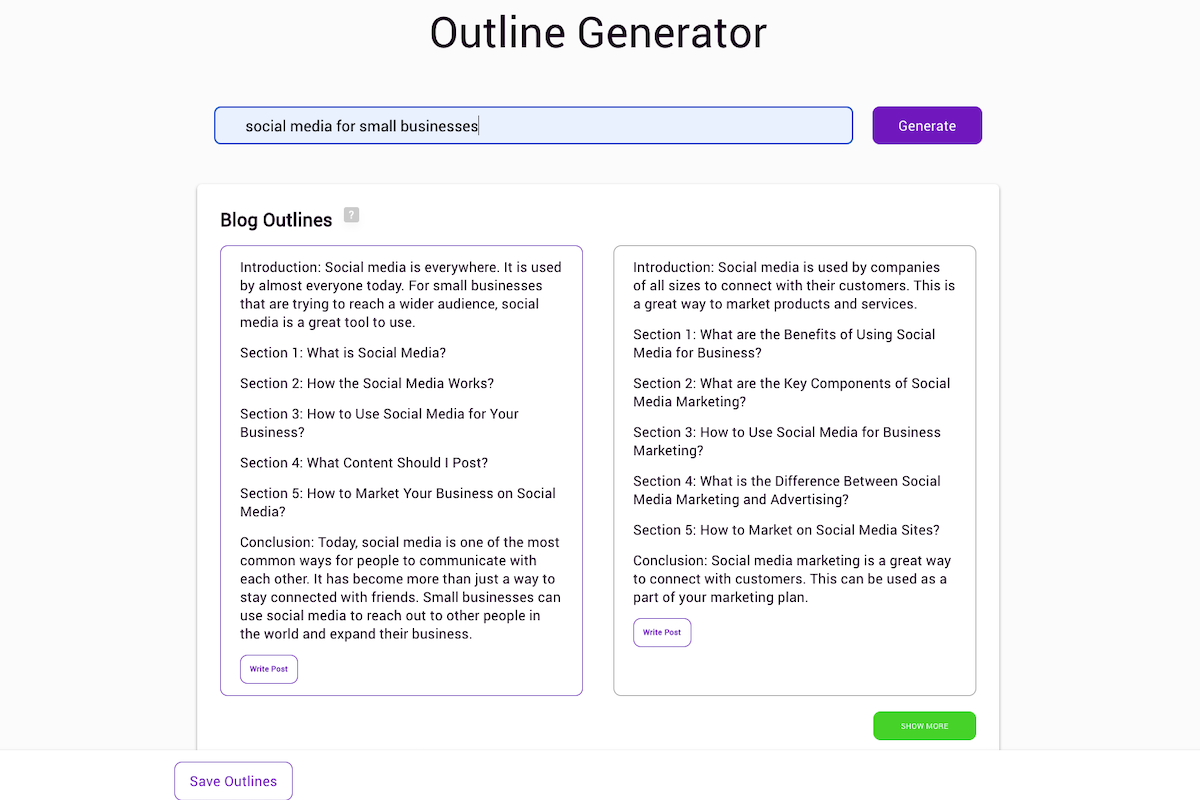 You just have to type the topic, and click on "generate",
Then it will show multiple options for outlines including the introduction, headings, and conclusion.
Once you have your outline, you can get your content written faster thanks to an AI built roadmap that gives you a feel for what needs to be included in each section.
Blog Title Generator
Your blog posts' titles are generated automatically by the tool.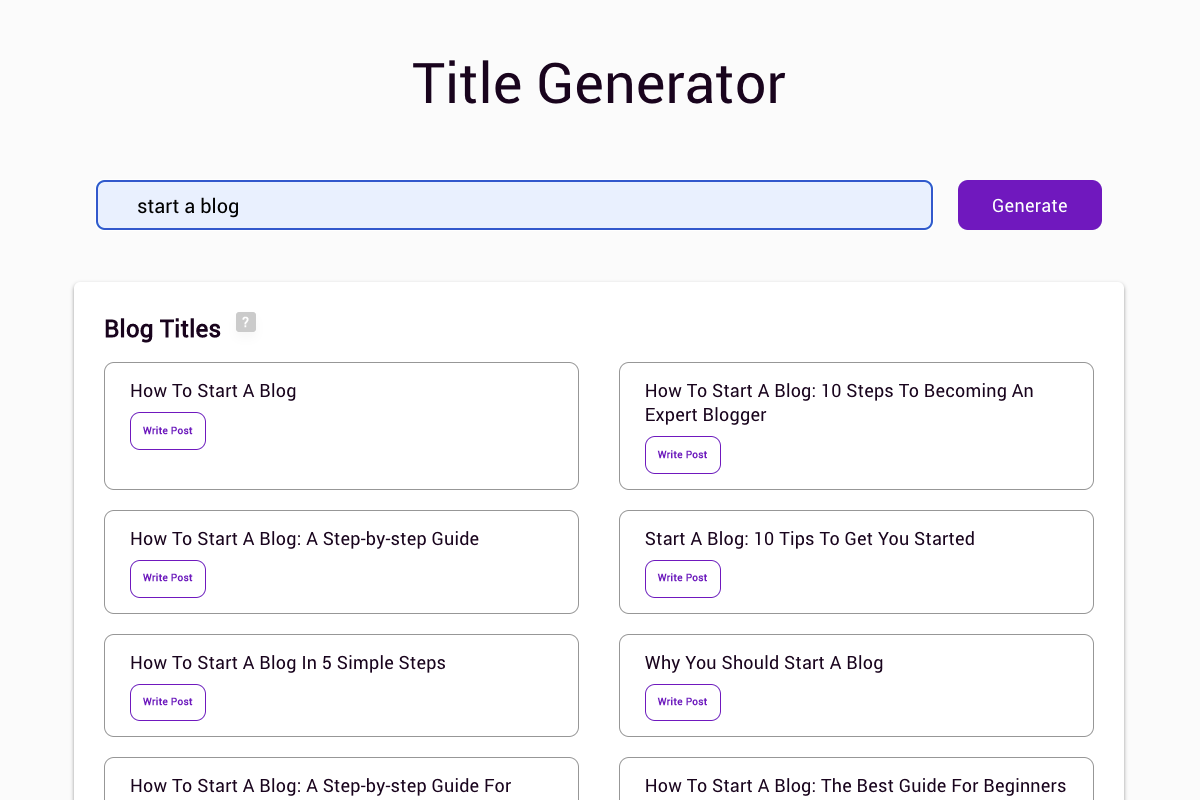 The title generator provides a wealth of great blog post titles that attract readers' eyes.
Just give an idea for your blog post, and it'll provide dozens of relevant, catchy titles. You'll be surprised how good this tool is!
Plus You can also use these titles as content headlines or descriptions when sharing your articles via social media.
Image Finder
There's also an inbuilt stock image library where you find copyright free images suitable to use in your posts.
Plus it even ad relevant images while saving content automatically
Bramework All Features,
| Features | Bramework |
| --- | --- |
| Platform | Saas, web based |
| Ai Writing Assistant | ✔️ |
| SEO Management | ✔️ |
| Keywork Research | ✔️ |
| Image Finder | ✔️ |
| Content Generation | ✔️ |
| Grammar Check | ✔️ |
| Idea Recommendation | ✔️ |
| Plagiarism Check | ✔️ |
| Sentence Formatting | ✔️ |
| Suitable for | Startups, Enterprises, Marketing Agencies, Bloggers, Content Writers, Copywriters, SEO experts, Social Media influencers |
| Copywriting | Website Content, Blog Intos, Topics & Ideas, Product Descriptions, Social Media Content , Google/facebook/Linkedin Ad copies & headlines |
| Content Management | ✔️ |
| Import/Export | ✔️ |
| 24/7 Live Support | ❌ |
| Phone Support | ❌ |
| Email/Help Desk | ✔️ |
| Online Chat | ✔️ |
Pros and Cons
Pros
Bramework has an easy-to-use UI/UX, with categorized tools
In-built keyword research tool is very useful
Writing assistant show keywords show SEO insights, related Keyword to use
Blog post outliner analyze the topic and automatically generates outlines
Cons
Sometimes generated content is not relevant otherwise everything is good
Bramework Pricing: Is There any Lifetime Plan
Normally, Bramework monthly plan starts from $19/mon.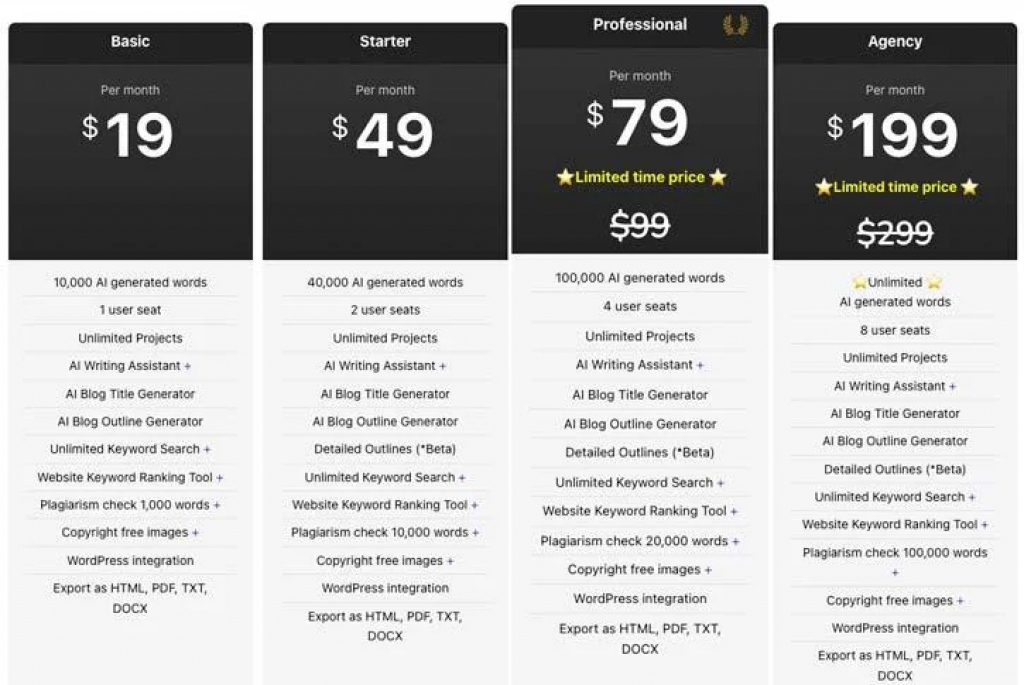 But here's the good news, Bramework Lifetime Deal also available.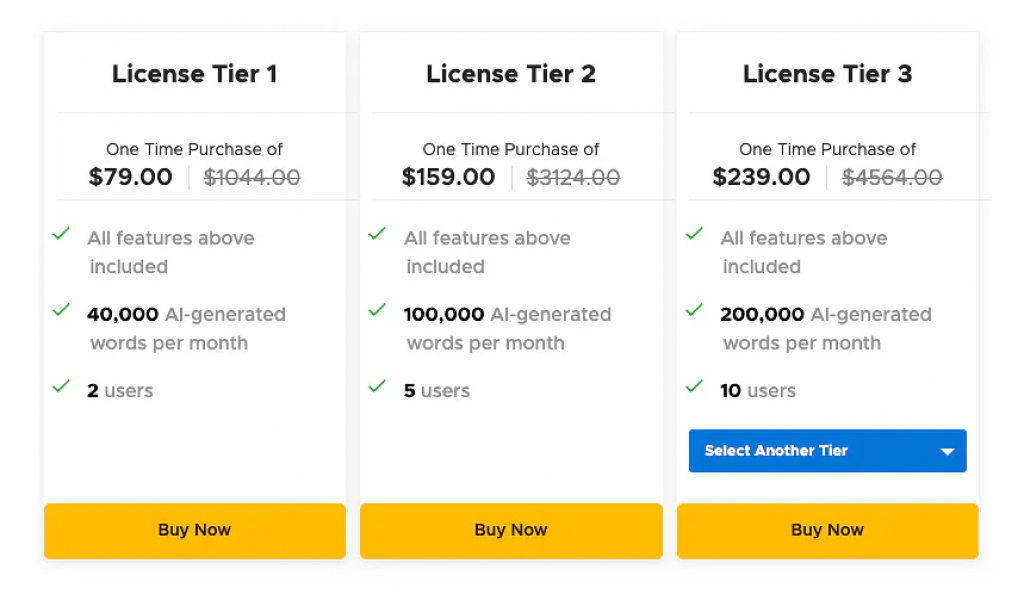 All these lifetime plans available on appsumo starting from $79/one time payment.
Bramework Lifetime Deal: Includes
Lifetime access to Bramework
All future SimilarContent Plan updates
AI writing assistant
AI blog title and outline generator
Unlimited keyword search
AI steps generator
AI listicle generator
Website keyword ranking tool
Plagiarism checker
Unlimited copyright-free images (via Unsplash)
WordPress integration
Export to HTML or PDF
Recommended keywords and keyword trends
Auto image alt text
Image finder
AI title generator
AI summarizer
AI rewriter
And there is also 60 days money-back guarantee for every plan, which means if somehow you are not happy with Postly (which is not going to happen), you can return it under 60 days of purchase and full money will be back without asking any question.
So why are you hesitating!
[wpsm_box type="blue" float="none" textalign="left"]
Needs Attention: Most deals are out of stock within a week of coming to a lifetime deal offer. So take it now if you need it or don't want to miss it.
[/wpsm_box]
---
Bramework Review Video with Demo
Here's my detailed review video of bramework platform with live demo and tutorial, make to subscribe our channel for stay updated to new saas tools updates & alerts.
Concusion
Bramework offer all features to make your blogging and content writing effortless. It's keyword research really provide good data along with important metrics such as monthly serch volume, trend and keyword difficulty.
And analysing these target low competition keywords can rank posts higher on google.
Once published, there's also a rank tracking feature inside bramework to track the post.
Isn't this sounds goos, all the important tools at one place.
Plus all lifetime plans come with 60 days money back gurtantee, this gives freedom to experience this tool risk free.
I hope, you find my Bramework review helpful, if still have any questions or queries ask me in comments.
Faq: Most asked questions
Thank you for reading this post, don't forget to share with more people like you!