RelayThat Review: Designing graphics is not easy especially for non-designers. There are tons of things you need to take care brand colors, fonts, attracting image, engaging text and encouraging call to action. Most important you to take care about the size of channel or platform you are building that design.
But what if there a tool which can do all this stuff and suggest best headlines for copy, colors schemes, font combinations, resize your design for all platform sizes in 1 click like an agency level graphic design process.
And the best thing, You don't need to be an expert!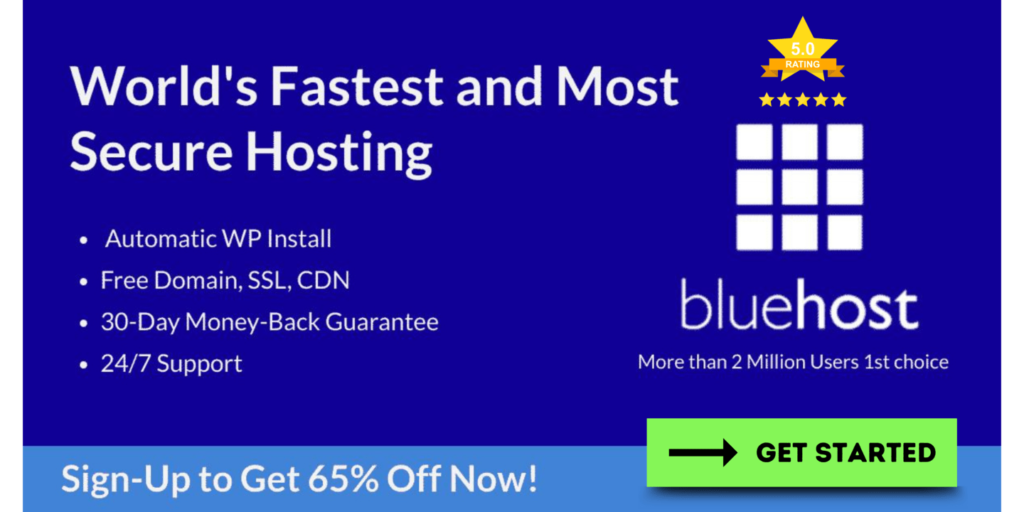 Let me introduce Relaythat – A Canva like platform but some of outstanding features that even Canva don't have.
In this article, I'm going to review Relaythat in detail, discuss it's features, usage benefits, pricing, pros & cons and in the end tell you whether it's a good choice or not?
So let's dive in!
RelayThat review by Saas Guru
Disclaimer: Saas-guru.info is reader-supported and earns money from mentioned affiliate products. You may find few affiliate links on this post as well. When you click on links, we may earn a commission without costing you extra!. This helps us to cut down costs of review products, online tools and website.
RelayThat Review – What is RelayThat & How it Works?
Relaythat is an easy to use Graphic designing platform which offer pre-designed templates and smart layouts to start creating graphics for any channel or platform.
No matter it's your social media post, banner or ad creative, you can instantly create professional like graphics using RelayThat.
You can add you assets, customize text, fonts, colors and whether it's square, horizontal, vertical or any other size in 1-click resize design for all platforms.
And once your beautiful designs are done you can download it in high quality.
RelayThat Appsumo Deal
Recently, relaythat launched their LTD plans on appsumo with starting price of $59 one time payments.
Compared to their official pricing, Realythat Appsumo Deal is much affordable and value giving. I've covered all the lifetime plan information in detail below. Make sure to also check that.
Features of Relaythat
Dashboard UI:
Relaythat offers a simple, neat and clean user interface for it's dashboard.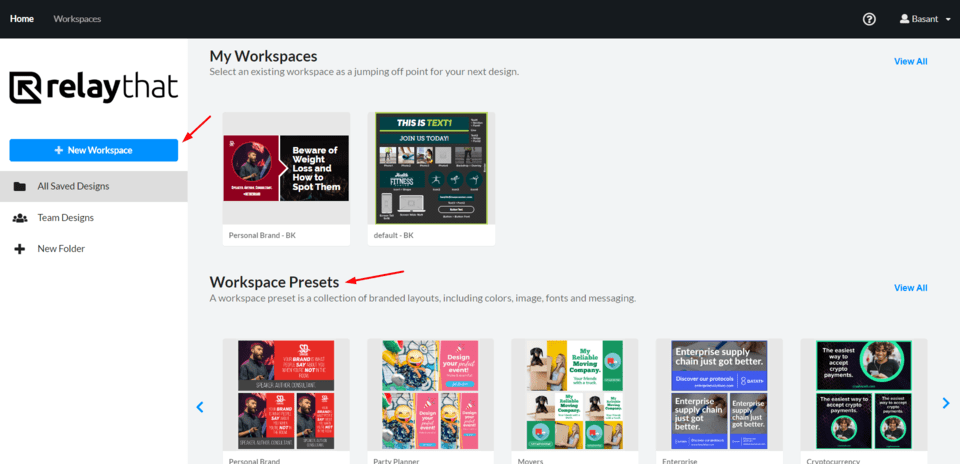 To make the things straightforward and locating design works easily it offer workspaces. Which users can create with different brand or project's name and then manage graphics related to them effortlessly.
'Designing/editing panel' also looks easy to understand with Left side for choosing elements like layout, image, text, color etc. And the Right side for editing selected element.
In the middle, you can see graphic with real time editing.
It's a simple tool with goal to create amazing looking social media posts, ads etc.
Workspace Presets:
To diversify and managing the designs for brands and projects Relaythat has workspace creation feature.
And to help you out there are 25 pre-designed workspace presets available to select from such as Personal branding, Investing, Automotive, Fitness and much more..
These presets is collection of branded layouts, colors, font combinations, and texts.
Plus it also offers folders features to manage your designs.
Layouts & Templates:
One of the best feature, Relaythat has pre-configured layouts and templates for various size Ads, social media platforms etc.
It makes easy while selecting the right size for a certain required design.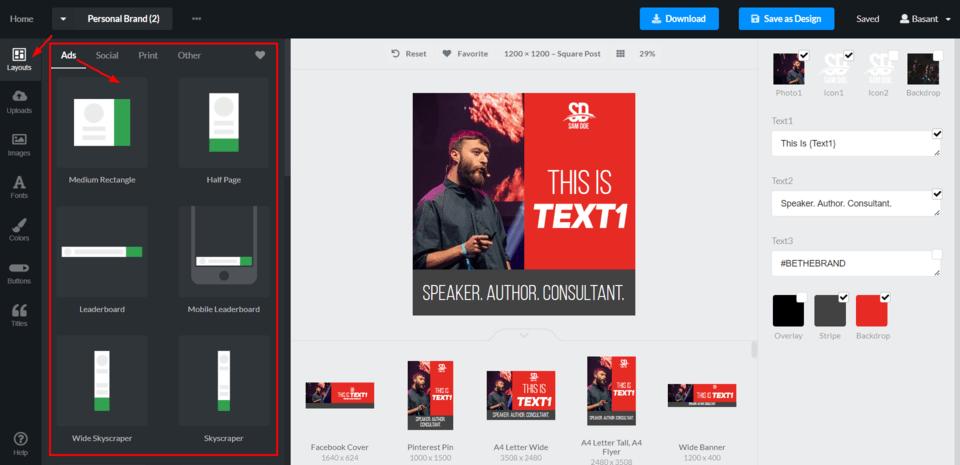 For example, suppose you want to create a graphic for display ad. But don't know what are the right dimensions for that. So it can be really hard and time consuming to create the right sizes ad isn't it?
But with Relaythat it's a piece of cake, just go to 'Layouts' section in editing panel.
And there you can see Pre-configured sizes for various Ads, Social media, Printing services and other. Now all you have to select the required size and you are done. It will show your graphic in that size in real time.
You can also change layout after the designing is done or use 1-click resize feature.
1-Click Resize:
With 1-click resize, you can turn your graphic design into any size and it will automatically resize design into that layout with beautiful previews you can choose from that simple this feature is.
For example, you have a facebook square post and want to resize it into a vertical story format. Then go to layout>social and select vertical story.
And boom!, with in instant it will resized into story size in just 1 click. Plus also show other size layouts for that design.
Engaging Headlines Templates:
Another great feature is 'Headline Generator', which move out the guesswork and help you to add engaging titles or headlines on your graphics.
Just go to 'Title' section and here it will show a category to select from which kind of Title copy you want to create such as Secrets based, Industry, Problem or a Skill based.
Let me give you a demo for weight loss title, I selected Problems. Now it will give me a list of engaging titles where all I need to replace [Problem] text with Weight Loss.
After that from this list select any title which you are finding suitable and it will be added in your graphic.
From the right hand side, you can customize text, font, size and colors.
Stock Images & Icons Huge Library:
To create stunning designs, Relaythat also offer a huge library of high quality 3 million+ copyright free images and 100k+ icons.
Just search your query and it will show all related images and icons with color combinations to freely use in your designs.
Fonts Design & Pairing:
This section lets you change or customize fonts with almost any popular font and the best thing you can even pair different text lines with same or different fonts.
You can change font size, color and even add shadow to stand out.
Plan Relaythat also offer various fonts combinations in Ideas tab, and in 1 click you can apply those fonts combo that will just look amazing in any design.
Magic Import:
Like the name suggestion it's magical features that I haven't seen in any software until relaythat. Let me tell you what it can do.
You can add images, icons, colors and much more directly just from a link. Yes, you don't need to first download and then upload them.
Just use this 'Magic Import' feature form 3 dots, and paste that image link you want to import. And it will show you images, color and icons to add them in design.
Color Pallets:
Believe me this feature just saves a lot time and efforts.
Relaythat offer tons of brand color pallets and schemes you can select from and apply in your design in single click.
And from the right hand side you can even change those colors individually.
How To Use Relaythat – Tutorial
After creating your account, Using relaythat is really easy let me show you how to use relaythat for graphics designing in 8 easy steps.
Step 1 – Create & Select Workspace Preset
This is the first thing you have to do, select a workspace. There are around 25 workspaces available with different presets. You can choose any of theme based on your requirements.
For example, if you want to create graphics for Auto industry then select 'Automotive' or if it's for finance and investment then select 'Investing'.
Once you choose any preset it will load the workspace with a pre-designed template. Which you can customize according to your needs.
Plus you can even rename your workspace with Brand or project name to manage them.
Step 2 – Upload Your Assets
Now in this step you can upload your assets like image or icons to use them in design.
Best thing Relaythat also offer 3M+ Copyright Free Stock images and 100K+ icons to search and use from.
Step 3 – Select Color Scheme
To change color or get best color ideas, Go to 'Color' section and from here you can find tons of branded color schemes and pallets. Which you can easily apply in your design in 1 click and from right side customize and change color configuration.
Step 4- Add Attracting Title
From 'Title' section you can find engaging and action taking tons of title ideas which can be added in any design.
Just select category, replace words and 1-click you can add them in your designs. Later then you can change or customize text fonts.
Step 5 – Customize Text & Fonts
In it's 'Text' section, 'Relaythat has almost all popular text fonts available and somehow if your desired custom font style not there then you can even upload them.
Additionally, relaythat also has tons of best Fonts pairing ideas to choose and apply in your design in 1 click.
Once you changed the font style, you can increase or decrease their size, highlight with background color and add shadow to stand them out.
Step 6 – One-Click Resize
Till now, your design will be pretty much completed but it's possible you have created that in square, horizontal or any there size and now want change into other size like from horizontal into a vertical.
So just move to 'Layout' section and choose desired size and click on it. Instantly it will resize it and show design previews.
In above feature, I already discussed about 1-click resize in detail.
Step 7 – Download Your Design
This is last step, where by clicking on 'Download' button you can export your design in JPG or PNG format and download in your device.
You can even add SEO keywords to be used in file names while exporting.
For Pro+ users it also offer to download all sizes in 1 click.
RelayThat Pricing
On official website Relaythat Pricing starts from $15 and offer 2 plans – Pro & Pro+ Plus.
Pro – $15/month
In pro plan user get all features and create upto 5 workspaces.
Pro+ Plus – $25/month
This plan offer 2 users limit with all features access and 20 workspaces. There's one more extra feature you will get to download all design sizes in 1 click.
Is There any RelayThat Free Plan or Free Trial available?
Sadly Relaythat don't have any free plan or free trial for it's platform. Users have to purchase any plan to experience it.
But don't worry below I will tell you how you can get 60 days relaythat trial and if you liked keed it for forever. I'm talking about Relaythat lifetime deal.
RelayThat Lifetime Deal
Currently, relaythat also offering lifetime access plans on Appsumo and compared to monthly subscription plans it's much more affordable, relaythat appsumo pricing start from $59 one-time payment.
There are multiple plans available with different limits. Graphic designers choose any of them based on their requirements.
Single – $59/one-time payment: in this plan, coming with 5 workspaces user create and download unlimited images. This plan good for beginners and newbies.
Double – $117/one-time payment: This plan offer all single plan features but user limit 2 including team sharing and upto 20 workspaces. Best for individuals.
Multiple – $177/one-time payment: All features, 3 users including 2 team members sharing and upto 15 workspaces. Best for small businesses.
In this multiple plan you can stack upto 5 codes.
Return & Refund Policy
Every Relaythat Appsumo Plan come with 60 days money back guarantee. Simply means you can use it as 2 months trial and if not satisfied and return within 60 days. And your 100% money will be refunded.
Best things no questions will be asked while refunding. That's the beauty of Appsumo Lifetime Deals.
Pros & Cons
Pros of Relaythat – What I Liked
Cons – What I Didn't Liked
Who Should Use RelayThat?
This designing & brand management solution is just perfect for Bloggers like me, Social Media managers, Marketing Agency, Startups, Small online businesses, Ad agencies and E-commerce stores.
You can literally crate anything from social media content in any size to marketing materials in realythat in fraction of the time even without any design experience.
Relaythat Alternative: RelayThat vs Canva Comparison
Canva Overview
Canva Pro is a graphic design platform that offers a wide range of templates, images, and design tools to help users create professional-looking graphics, presentations, and marketing materials.
It has a user-friendly interface that enables users to create designs easily, collaborate with team members, and access advanced features such as color palettes, photo effects, and resizable designs.
Canva Pro also offers unlimited storage for designs and access to a vast library of stock images and videos.
Relaythat Overview
On the other hand, Relaythat is an automated design platform that uses AI algorithms to create designs quickly and easily. It has a set of pre-designed templates that users can customize with their own images, text, and colors.
With Relaythat, users can create a consistent brand identity across different channels, such as social media, email, and advertising.
The platform also offers tools for 1 click resize and optimizing designs and generate multivariate designs automatically.
What's the Difference: Relaythat vs Canva
Focus: While Canva has a wide variety of design options, Relaythat is specifically geared towards creating designs for social media, advertising, and marketing campaigns.
Templates: Canva has a larger selection of templates that can be customized, while Relaythat focuses on creating numerous versions of designs based on a set of initial templates.
Brand consistency: Relaythat emphasizes brand consistency by allowing users to create and save brand templates for specific designs while Canva has more focus on customization and individual creativity.
Workflow efficiency: Relaythat is designed to be more efficient by allowing users to quickly create multiple versions of a design with a few clicks, while Canva has more of an open-ended approach.
Pricing: While Canva charges heavy monthly subscription pricing, Relaythat available with a affordable lifetime deal.
In summary, if you prefer a more customized and hands-on approach to design, Canva Pro may be a better option.
However, if you are looking for a fast and efficient way to create consistent designs, Relaythat may be a more suitable choice. Ultimately, it depends on your design needs and preferences.
Final Conclusion on Relaythat Review
Overall, I find out Relaythat is the most affordable canva alternative in some terms and using this platform also super easy.
It's Ai almost manage everything in minimum clicks and deliver agency level designs for any size and don't forget you can download all sizes in high quality at same time.
Best thing, you don't need to pay every month, just go with Relaythat lifetime deal and use if forever at one time payment.
There's also 60 days money back policy so it's totally a risk free deal to try out.
FAQ: Most asked questions
What is relaythat and what does it do?
It's an Ai powered Graphic designing platform which instantly create stunning designs in any size for social media, Ads and marketing purposes.
What are the benefits of using relaythat review?
-Create graphics for any platform and in any size
-1 Click resize
-Lots of layouts and templates
-Tons of Font styles and combination ideas
-Engaging Title generator
-Branded Color pallets
-etc
Is there a free trial of Relaythat?
Relaythat don't offer any free trial or free plan.
For Using RelayThat, Should I have to download the software or go through their website?
To use relaythat, users need to goto it's website and sign in their account.
Thank you for reading this post, don't forget to share with more people like you!