Honest In-depth rankAtom review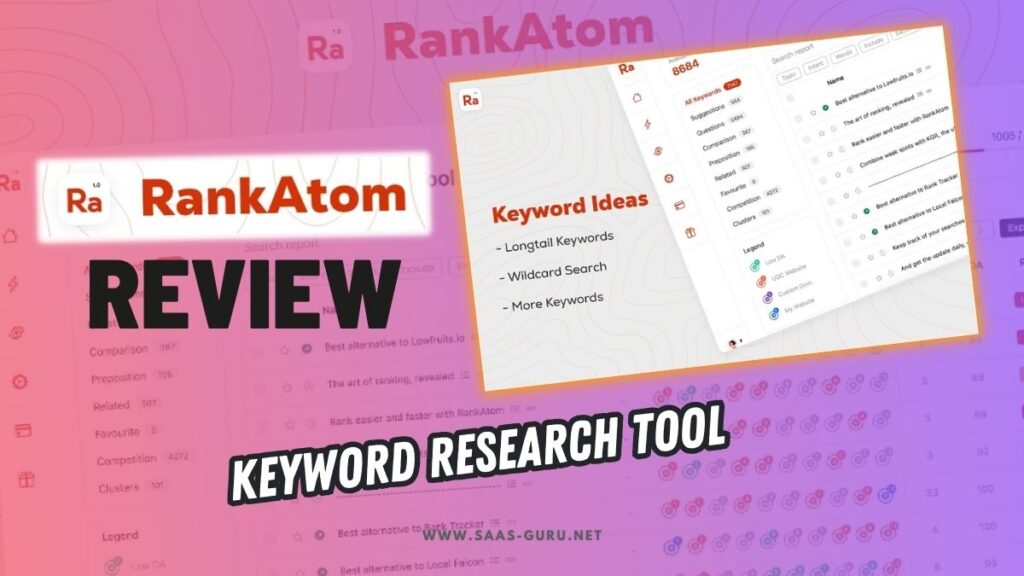 In this Rankatom review, we provide an in-depth information of this popular keyword research & SEO tool, including its features, user interface and currently going on lifetime deal.
Updated on 29 October 2023 – Add Competitor Analysis feature details
Doing keyword research is not easy especially if you finding keywords which are easy to rank with low difficulty for you blog post.
But don't worry in this article I'm going to review a very powerful yet easy to use keyword research tool like like Ahrefs or SEMrush.

And along with keyword research this tool also offer rank tracking feature. The tool is RankAtom.
To provide an honest review of Rankatom, I personally bought its lifetime deal and tested out performance and after that sharing my experience. I am really amazed with its ui and features.
We will also explore the power of keyword research with RankAtom, including how it helps in identifying low competition or long tail keywords.
So, If you're also want find easy to rank keywords and improve search traffic, this post is a must-read.
Excited to tell more so let's get started with quick overview of Rankatom.
RankAtom (Quick Overview)
| Features | |
| --- | --- |
| Keyword Research | ✅Yes |
| Keyword Search Filters | ✅Yes |
| Rank Tracer | ✅Yes |
| SERP Analysis | ✅Yes |
| Long Tail Keywords | ✅Yes |
| Competitor Analysis | ✅Yes |
| BERT Analysis | ✅Yes |
| KGR (Keyword Golden Ratio) | ✅Yes |
| Report Storage | 90 days |
| Export | ✅Yes |
| Lifetime Deal | Starting from $39 |
| Money-back Guarantee | 60 Days Refund |
| Best For | Bloggers, SEO experts & agencies, Marketers |
| Demo Video | Click here to watch RankAtom Review video with Features demo |
| | Get RankAtom LTD |
What is Rankatom?
Rankatom is an advanced yet super easy to use keyword research tool also coming with Keyword Rank Tracking & Competitor Analysis features. It's the new SEO tool in industry founded in June 2023 by Krishna Anubhav.
The platform has Ahrefs or Semrush like keyword filters to make your keyword finding really easy.
About Founder
Krishna Anubhav is a growth hacker worked with many renowned people and companies like Sonu Sood (Bollywood Actor), After collaborating with 500 saas companies, he launched his own saas SEO keyword tool Rank atom with unique features in June 2023.
Before founding Rankatom, krishna was head of marketplace in Pitchground (Appsumo like Saas Marketplace).
RankAtom Review Video
Here's the detailed rankatom review video with features demo and tutorial.
My Experience with RankAtom
Previously I was using scalenut for Keyword research and clustering. And got know about Rankatom recently from appsumo. After checking it's features I instantly bought lifetime deal.
The first thing that made exacted is it's user interface. Really simple to use and easy to navigate. UX colour is eye comforting with fast performance. I will talk more about Ranatom UI after this section but for now lets focus on keyword results.
And when I tried it's key feature Keyword Research. Results was outstanding, it feels like Ahrefs or SEMrush like with advanced key filters. Within 3 steps (explained below in detail) I got my perfect keywords list filled with easy to rank low competition keywords.
There was also an export feature to download the selected keywords with insights like search volume, CPC, DA and SERP competition information.
And you can even copy selected keyword and paste on wordpress dashboard or Google Doc app to get started.
Rankatom Lifetime Deal on Appsumo
For those who are looking for a Keyword Research Tool with Lifetime Deal, Rank Atom is perfect as it's LTD plans available on Appsumo starting from just $39 one-time payment.
In these LTD plans you will get all premium features of rankatom including,
BERT analysis
Keyword Research
Rank tracker
SERP Competitor Analysis
90 days report storage
Intent-based filtering
Keyword clustering
Data insights
Visual progress tracker
Best part, you will get all the future features and updates as well and don't need to pay anymore once investing in Rankatom LTD plans.
RankAtom User Interface & User Experience
It offers a neat and clean user interface with orange in prime UX color but eye comforting. All the key features and settings options available on the left side menu.
And on the home dashboard users can easily track their remaining credits.
On the right we have platform using tutorials on how to use rankatom.
How To Do Keyword Research with RankAtom
To get started with Rankatom, you have to sign in and go to 'Keyword Research' feature from left side menu.
Here it will ask you to enter seed topic keyword and select country and language (for which you want to do keyword research).
Within few seconds it will generate the report with seed topic name and show below keyword research. Click on it to open the report.
Here you can see all the discovered keywords related to your entered topic.
Now what you can do, use available options to filter the results to find suitable easy to rank keywords.
For example, applying 'intent', you can filter out search intent type keywords like, informational or transactional type.
Previously without any filters applied total keyword was 4500. But after apply informational intent type we got 281 keywords which I can use for my informational content.
So that's how you can use Rankatom Keyword Research Tool and filters to find most suitable keywords for you.
Once you got the keywords list you can select keywords and perform SERP analysis to find weak spots.
Remember you are going to spend credits for keywords which you will select for SERP analysis and if KGR is enable it will cost you 2x credits.
Features of RankAtom:
Although Rank Atom has 3 core features but you will find extra functions into those. So here I am also going to explain them. Lets get stated with first core feature Keyword Research.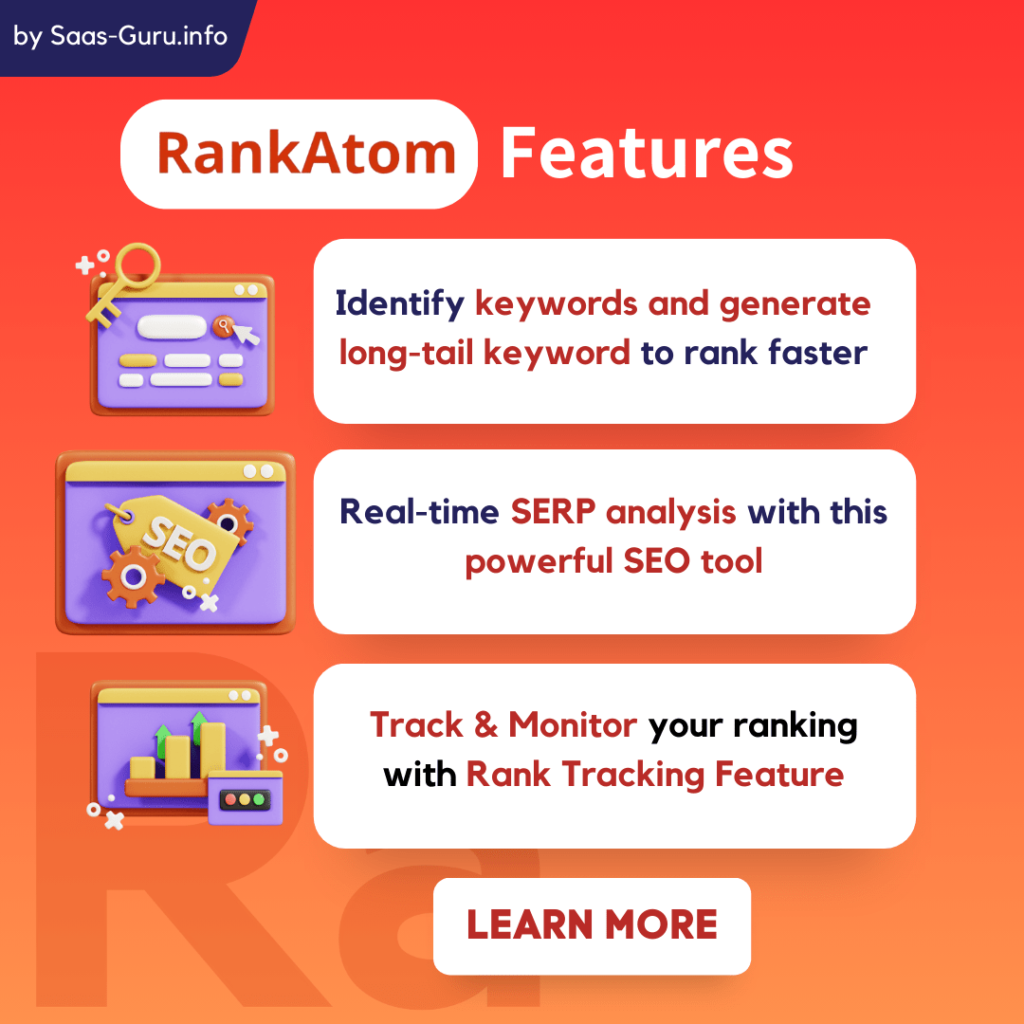 Keyword Research
I already showed how you can do keyword research with Rankatom so here I will explain it's function and how you can use them to find right keywords.
◾️Wildcard Search:
This is the highly first thing you can do, searching through list. Enter your search term which want to find related to topic.
For example, I have entered 'How to' in wildcard search area and it showed me all the keyword which have 'how to' in them.
◾️Keyword Types:
Next we have types of keywords which are showing on left side. Selecting any of these keyword types it will only show results related to that type.
For example if you select 'Question' type it will show you all question type keyword queries searched by users.
There are other types as well,
All keywords – This will show you all total keywords
Suggestions – Other relevant keywords
Questions – Already talked about it
Comparison – Show you competing keywords
Preposition – It will show you staring or connecting keywords with topic
Related – It will show all highly related keywords
Favorite – If you have marked some keywords with favorite it will show here.
Competition – It will show all Serp competition domains
Clusters – Here you can create keyword groups with 1 click
◾️Filters:
Here we talk about available filters and what they do in Rankatom's keyword research process.
Topic – Choosing 'Topic' will show you all the highly relative subtopics, from which you can select one or multiples and it will filter out keywords based on selected subtopics.
Intent – Using this filter you can find out keyword based searcher's intent (reason behind searching keyword). In my case, For example user can search soundbar for purchase or checking's information.
Here you can select from 4 intentions,
Informational
Navigational
Transactional
Commercial
Words – Using this you can filter out keywords with desired number of words. For example you can find 3 keywords or minimum have 2 words.

Using this filter you can super easily find long tail keywords.
Include & Exclude – Suppose you want to find keywords which must have a term then use Include filter and exactly the opposite Exclude filter work help you finding keywords without some terms.
Volume – This filter lets you find keywords with certain search volume you entered.
For example I have filtered 4 words long tail keywords with minimum search volume 8000.
CPC – With this you can find low cpc keyword which will save you money and target high conversion keywords while running ads. just enter minimum or maximum CPC.
DA – This filter means Domain Authority and it only work for analysed keywords means to use this filter you have to spend extra credits. Using this filter you can find weak spots with minimum or maximum DA websites ranking in top 10 serp.
For example I have filter out with minimum 15 Domain authority websites targeting keywords.
This let me know If I my domain authority is higher than these low DA competitors I can rank easily for those keywords.
Relevance – Here you can filter out low, medium or High relevant keywords to your seed topic.
Weakspots – In this filter there are some pre-configured metrics to choose from to easily find weak spots for analysed keywords.
it's just like what we did in DA filter example but a little bit advanced. Just select from options and it will find easy to rank keywords automatically.
Others filter – In this we have some more filters which we can use.
For example, I applied 'People Also Ask', and then it only showed me all question type keywords which show in google search engine.
So these are all the filter which you can use to make easy your keyword research with less efforts. Although it's looks complicated using them but believe me once you start using them you will start loving them.
Now let's move to the next key feature – Rank Tracker.
Rank Tracker
Rank atom has one more amazing feature that is really essential in SEO – Rank Tracker.
With this you can track your keywords and their ranking on search engine for any targeted country. This will keep you updated with rankings up and down.
All you need to just enter your tracking keyword with article URL, select country and language and it will start tracking it with real time within few seconds.
Best thing, you can also select tracking update frequency from Weekly, Daily or Monthly.
Competitor Analysis
Recently they have added 1 more new features- competitor analysis. Using this you can view competitor's domain DA, Traffic, backlink number and how many keywords are competing on serp data.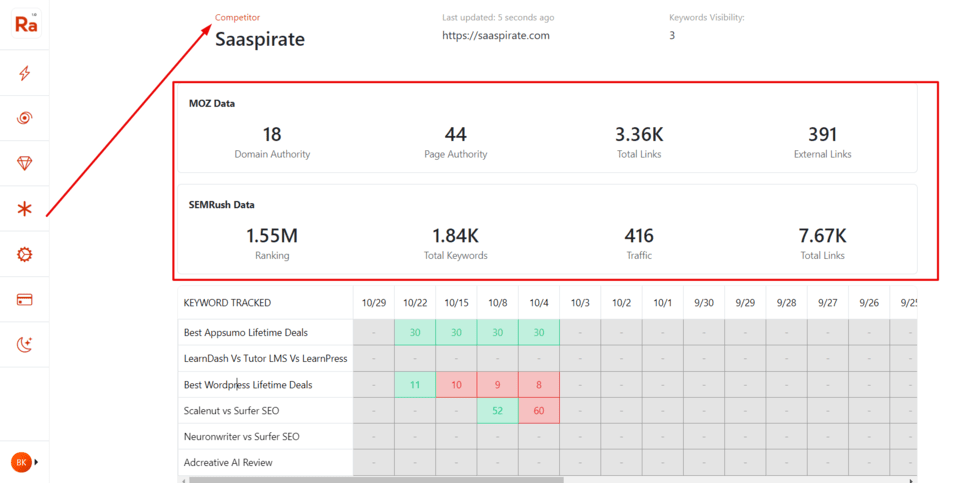 All this competitor data fetched from Moz and SEMrush, make it accurate and trustable.
BERT Analysis
In most simple words it is sentimental analysis behind keywords based on NLP model. It helps in understanding keyword intent better for searcher.
Using Ranatom's Bert analysis features you can analyse questions and check out which domains are ranking in SERP for providing answers in their content. Based on this you can know which kind of content will work well.
But when I tried to use it there are few flaws I faced,
It take a lot time to generate report around 10-15 minutes.
For every question it will consume 10 credits.
While an analysis going on, you cannot use for another analysis until first one completed
Settings for KW Research
Now we have the final feature global settings for keywords report generation. Here you customize the report generation settings.
For Example by default KGR (keyword golden ratio) will be disabled but when you will enable it. Rankatom start showing KGR metric for analysed keywords but it will consume 2 credits for each analysed KW.
Here you can even add your own domain and add low DA competitors competitors.
So these are the main features and functions and how you can use them to better KW research in rankatom.
RankAtom Pricing

The official pricing by Rank atom available in 2 forms monthly and yearly subscriptions, starting for $39/month for monthly plans and $31/mon (20% off) for yearly plans. All plans works on credits so each higher plan will give you more number of credits.
But compared to these subscription plans, Rankatom Lifetime Deal seems more valuable and can save you lot of money with just one-time payment.
Rankatom LTD plans starts from just $39 for 3000 KW research credits.
How Credits Works in Rankatom?
Rank Atom platform has a very unusual way for credits usage. But don't worry I'll explain it in detail.
KW Research – For every kw research report it consume 1 credit no matter how many keywords it discover in report. But the keywords you will select for analysis, it will consume 1 credits for each keyword, making it easy to generate a large number of keyword ideas.
And if you have enabled KGR metric from settings then it will cost you 2x credits for each keyword analysis.
For example, if you have selected 10 KWs, normally 10 credits will be burned but if KGR enabled it will cost you 20 credits.
Rank Tracker – This will cost you 1 credit for every keyword tracking from SERP.
BERT Analysis – Here you have to careful because it cost 10 credits straight for every analysis done.
Every month these credits renewed automatically if you have Rankatom lifetime plan.
Pros of RankAtom
👍Simple and Easy to use
Rank atom has a user friendly interface even a beginner can easily get started. All the features available on the left side menu and on right side it has tutorial on how to use it's features.
👍Super Fast Performance
It only take around 10 seconds for every KW report to generate.
👍Wildsearch Feature is just amazing
What I liked most is it's wildsearch with the help even a beginner easy find right KWs.
👍Powerful Filters & Keyword Types
Rank atom offers Ahrefs or SEMrush like filters with real time filtering the results. It's one of the best things you will like about this platform.
👍Good Way to Indicate Credits & Usage
Credits used in rank atom platform is really value giving, You will consume credits for keywords which you will analyse or track. Plus on the top it indicate the credits remaining.
👍Reports Storage
All the KW research report you will generate will be in your account for 90 days and i think that enough beacuse even after 1 month some data change which you need to update.
Cons of RankAtom
👎Doesn't Show keyword Difficulty
Unlike other KW Research tool it's does not show difficulty or competition which make hard although you can use KW SERP analysis to find weak spots.
👎Bert Analysis Needs Improvement
This takes of time to generate report and yet still needs some improvements for results.
👎Credit Consumption for Bert Analysis is way much more
For every bert analysis it take 10 credits.
RankAtom Alternatives
When it comes to keyword research, there are several other tools available for them RankAtom can be a good alternative.
SEMrush is a comprehensive SEO toolset that offers keyword research, competitor analysis, and more.
Ahrefs, on the other hand, is known for its backlink analysis capabilities but also provides robust keyword research features with powerful filters.
Then there is Scalenut a suite of AI SEO tools, including a keyword Research, Traffic Insights, Content Optimization, Serp Analysis and rank tracking.
Is RankAtom Worth?
Investing in RankAtom can give you good benefits for KW Research, SEO strategies and website rankings. With its lifetime deal which is starting from $39, users can enjoy long-term value and cost savings.
You can expect an impressive return on investment with increased organic traffic and improved search engine rankings. RankAtom is a worthwhile investment due to its beneficial features and impact on easy finding of right keywords which can rank easily.
Who Should Consider Using RankAtom?
If you're a blogger, SEO expert or digital marketer looking to boost organic traffic or a content creator aiming to optimize blog posts for search engine rankings, RankAtom is a valuable tool.
SEO agencies and professionals needing in-depth keyword research will also benefit.
Online businesses seeking improved visibility and targeted traffic can leverage RankAtom to stay ahead of the competition.
FAQ – Most Asked Question on RankAtom Review
What is Rankatom and what does it offer?
RankAtom is a powerful keyword research tool that offers comprehensive data and insights to help you optimize your website's search engine rankings. It provides accurate search volume, competition analysis, and keyword suggestions, making it an essential tool for any digital marketer or SEO professional.
Is There any Free trial or plan for Rank Atom?
Yes there is free trial.
How Credits Used in Rank Atom?
In this platform you will spend credits only for keywords you selected for analyse and used for rank tracking.
Is There any Rankatom Lifetime Deal?
Yes, Currently Rankatom ltd plans available on Appsumo.
My Final Verdict on RankAtom Review
After extensive use and evaluation of RankAtom, I am confident in stating that it is a game-changer for keyword research. This powerful tool has significantly improved my Keyword Research strategy and helped me achieve higher rankings on search engines.
The features and insights provided by RankAtom have exceeded my expectations, making it an indispensable resource for any serious SEO professional.
With its user-friendly interface and powerful analysis tools, I highly recommend RankAtom to take your SEO efforts to the next level.
With its AppSumo lifetime deal, you have access to a comprehensive package that is definitely worth the investment. Whether you are a beginner or an experienced marketer, RankAtom is a game-changer in upcoming future.
Share your thoughts, queries and experiences in the comments below.
Thank you for reading this post, don't forget to share with more people like you!