Are you tired of spending hours creating ad creatives that just don't seem to hit the mark? Explore AdCreative.ai, the ultimate solution for all your advertising needs.
In this Adcreative ai review, we will talk about its features, pricing, pros, and cons, so you can make a right decision about whether it's the good tool for you or not!
From understanding the science behind AdCreative.ai to driving engagement and enabling greater conversions, we'll cover it all.
We'll also explore AdCreative ai alternatives and provide a step-by-step guide on how to use this powerful tool.
For those, who are checking this article just for Adcreative ai Lifetime Deal, sadly it's lifetime deal ended. But good thing they are offering Free $500 google ads credits.
So lets get straight into the review.
Adcreative Ai Review by SaasGuru
Disclaimer: Saas-guru.net is reader-supported and earns money from mentioned affiliate products. You may find few affiliate links on this post as well. When you click on links, we may earn a commission without costing you extra!. This helps us to cut down costs of review products, online tools and website.
AdCreative ai Review – What is it?
AdCreative.ai is a powerful platform that simplifies the ad creation process.
Its user-friendly interface and AI-powered technology allow marketers to create stunning graphics, banners, social media posts and ad creatives effortlessly.
With AdCreative.ai, you can save a lot of time by automating the creative process. The Ai tool generates seamless designs that align with your brand guidelines, leading to better conversion rates.
Whether you're a startup or a small business, AdCreative.ai takes care of the rest. It offers a free trial for newcomers to explore its features and benefits. Unlock the potential of your ad campaigns with AdCreative.ai.
The Science behind AdCreative.ai – How it Works?
AdCreative is an AI-powered platform that revolutionizes the ad creative process. By utilizing machine learning algorithms, it analyzes and comprehends the elements that contribute to successful ads, including colors, images, and text.
Through this understanding, it generates ad concepts and variations tailored to specific criteria, such as target audience and desired messaging.
Real-time data analysis and optimization are also offered to enhance ad performance.
With pricing options suitable for small businesses and larger enterprises, AdCreative.ai streamlines the ad creation process, saving time and effort while delivering high-quality, engaging advertisements.
It's a good tool for marketers, e-commerce owners or small businesses looking to maximize their ad campaign's effectiveness.
The Role of Machine Learning in AdCreative.ai
Machine learning plays a crucial role in the functioning of AdCreative.ai. By leveraging advanced algorithms, the platform can analyze vast amounts of data and identify patterns and trends in successful ad creatives.
This data-driven approach enables AdCreative.ai to generate ad designs that are more likely to resonate with target audiences and drive better conversion rates.
Plus there are also features such as A/B testing and real-time performance tracking, which further optimize ad campaigns and improve ROI.
Driving Engagement/Results with AdCreative.ai
The platform analyzes brand data and generates optimized ad designs, saving marketers a lot of time and effort. With image and video editing tools, customizable templates, and automated ad copy generation, AdCreative.ai offers a user-friendly interface for seamless design creation.
By harnessing the power of AI, businesses can enhance their ad engagement rates and improve conversion.
With these capabilities, AdCreative.ai proves to be a valuable tool for marketers looking to create high-performing ad creatives that deliver results.
Key Features
With its advanced features, Ad creative simplifies the process of creating impactful ad campaigns.
Automatic Ads Creation: One of its standout features is automated ad creation and optimization, which saves marketers a lot of time and effort. With features like automatic copywriting, image generation, text generator and video editing,
Friendly User Interface: AdCreative.ai offers a user-friendly interface that allows beginners and non-designers to create professional ad creatives without the need for graphic design skills.
Seamless Brand Designs: It provides seamless designs, taking care of aspects like branding, fonts, and creative sizes.
Better Conversion: By leveraging artificial intelligence, AdCreative.ai ensures better conversion rates and helps businesses maximize their ad campaign's effectiveness.
Resizable Ads Design: Another best features, you can resize ads in any size for any platform layout such as Facebook square, reels/shorts vertical or youtube horizontal.
Scaling Up: AdCreative enables businesses to scale up their advertising efforts. With its automated ad creation, ad testing, audience targeting, and performance tracking features, businesses can easily create multiple ad variations and find the most effective ones.
The platform utilizes machine learning algorithms to analyze data and make data-driven recommendations for improving ad performance.
Analytics/Reports: Furthermore, the tool offers performance metrics and insights to optimize ad campaigns and improve conversion rates.
Team Collaboration: One of its standout features is its ability to enhance collaboration among team members.
With AdCreative multiple team members can work on ad projects simultaneously, making it easier to brainstorm ideas and iterate on designs.
Team Members also get real-time feedback and comments, streamlining the review process. this reduce the need for back-and-forth communication.
By enabling efficient collaboration, AdCreative.ai not only saves time but also helps teams produce better ad creatives that resonate with their target audience.
Many real-life examples and success stories demonstrate how AdCreative.ai has helped businesses achieve their advertising goals. With this platform, marketers can create high-performing, high-converting ad creatives that capture their audience's attention and drive results.
AdCreative ai Review Video: Demo + Tutorial
Here's my detailed review video of Adcreative ai with live demo and tutorial, make to subscribe our channel for stay updated to new saas tools updates & alerts.
Supported Integrations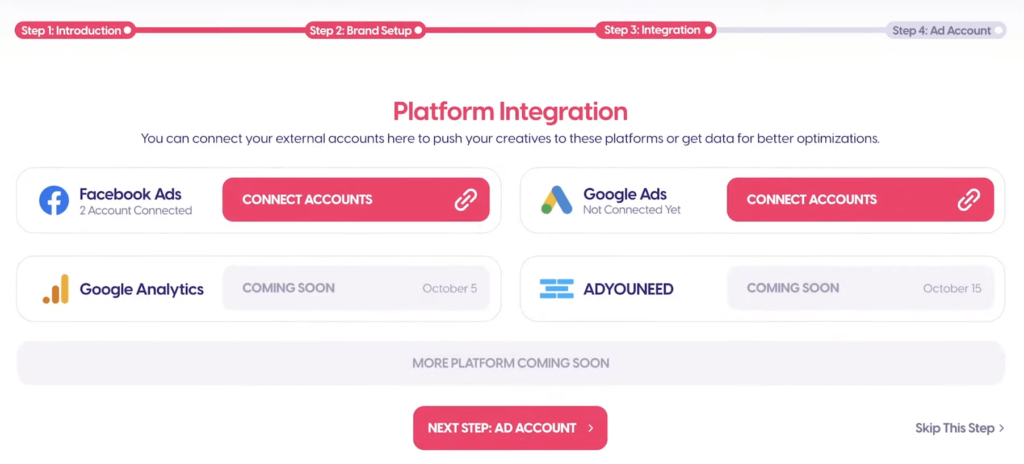 It provide integration with popular advertising platforms like Facebook Ads and Google Ads,
Users can easily import existing campaigns and creative assets for optimization and automation, saving time and effort. With AdCreative.ai's integration capabilities, advertisers can manage all their ad campaigns in one centralized location.
Real-time analytics and performance tracking across different advertising channels help users make data-driven decisions.
Furthermore, AdCreative.ai extends its integrations beyond ad platforms, offering compatibility with popular CRM systems and marketing automation tools for a holistic marketing approach.
This makes AdCreative.ai the perfect tool for marketers seeking seamless designs and better conversion rates.
Pros and Cons
Pros and Cons of using AdCreative.ai
Pros
AdCreative.ai comes with a lot AI-powered features, making it a valuable tool for creating high-quality ad content.
With its ability to automatic ad creative designs, businesses can save a lot of time and effort.
The platform also offers real-time feedback and suggestions, helping marketers refine their ad creatives for better performance.
Cons
However, AdCreative.ai might not be the best fit for businesses with specific branding requirements or those who prefer a more hands-on approach to ad creation.
Alternatives to AdCreative.ai
Here are some of the best Adcreative Alternatives,
Comparison: Adcreative Ai vs Google Marketing Platform
When comparing AdCreative.ai with the Google Marketing Platform, it's important to consider several factors.
The Google Marketing Platform offers a wide range of features and integrations with other Google products such as Google Ads and Google Analytics.
It provides tools for ad creation, campaign management, and analytics, making it a comprehensive solution for digital marketers.
However, AdCreative.ai also brings a lot to the table with its AI-powered platform that helps businesses create and optimize their digital ad campaigns.
It offers features like A/B testing, real-time performance tracking, and seamless designs. Consider factors like pricing, ease of use, available features, and customer support when deciding between the two.
Choozle vs Adcreative: Where Choozle Stand Against It?

Choozle, a programmatic advertising platform, offers extensive targeting options and integrations with ad exchanges.
In contrast, AdCreative.ai is an AI-powered creative automation tool focused on generating ad creatives.
While Choozle provides detailed reporting and analytics, AdCreative.ai emphasizes efficiency in creating ad content.
Ultimately, the choice between the two depends on specific advertising needs and priorities.
How to Use AdCreative Ai (Step-by-step Guide)

To make the most of AdCreative.ai, follow this step-by-step guide.
Begin by creating an account and selecting the type of ad creative you want to create. The AI-powered platform offers features like image and video generation, copywriting assistance, and performance tracking.
Once you input your preferences, AdCreative.ai provides suggestions and templates.
Customize the suggested content by adjusting brand colors, fonts, and other elements to align with your branding. Preview your ad creative, make any final adjustments.
And then download or publish it directly to your advertising platform.
With AdCreative.ai, creating high-performing ad creatives is a seamless process that saves you time and delivers better conversion rates.
Pricing & Plans
AdCreative.ai offers a range of pricing options to cater to different needs and budgets. The pricing is determined based on factors such as the number of users, ad spend, and additional features.
Pricing starts from $21/month and have multiple plans.
They provide both monthly and annual subscription plans, giving users flexibility in choosing the most suitable option. The pricing structure is transparent and clearly outlined on their website, ensuring customers have a clear understanding of what they are paying for.
Users can easily select the plan that best fits their requirements and have the ability to upgrade or downgrade as needed.
Understanding the Pricing Plan
Every plan is based on the number of ad creatives generated per month, allowing users to choose a plan that aligns with their requirements.
For those with lower volume needs, the basic plan provides a fixed number of ad creatives per month at an affordable price.
On the other hand, premium plans are available for high-volume users or those in need of additional features. It is crucial to carefully consider your advertising needs and budget when selecting a pricing plan with AdCreative.ai.
Is Their Any Adcreative Lifetime Deal?
Unfortunately, Adcreative ai lifetime plan ended and now there is no LTD.
But surprisingly, it is offering better deals,
AdCreative.ai Discount: You can grab 2 months free on yearly plans and 25% OFF by applying FIRSTYEAR25 after the sign-up!
BONUS: For a limited period, AdCreative.ai is giving free Google Ads credits worth $500.
Free Trial Plan: There also free adcreative plan you can try to experience this platform before buying any premium plan.
Why Adcreative Lifetime Deal is No More?
Adcreative is an online saas business which requires many expenses like team, hosting, support, APIs cost , software development updates and much more.
And with lifetime deal they cannot offer these things for better experience as some things needs to pay every month or year. Hope you are understanding what I am trying to say.
That's why they only offered their lifetime plan only for few period and now ended!
Advantages of Using AdCreative.ai
This platform enables users to generate unique and engaging ads quickly and efficiently.
With a wide selection of templates and customization options, businesses can create ads tailored to their specific needs.
AdCreative.ai automates the creative process, saving valuable time and resources.
Additionally, the platform provides data-driven insights and recommendations to optimize ad performance and improve ROI.
Its user-friendly interface makes it accessible to businesses of all sizes, eliminating the need for extensive design skills.
Potential Challenges with Ad Creative
While AdCreative.ai offers numerous advantages, there are also potential challenges that users may face.
One such challenge is the learning curve associated with the platform. It may take some time for users to fully understand and leverage all of its features and capabilities.
Additionally, AdCreative.ai heavily relies on AI technology, which means that it may not always produce desired results or have limitations in certain scenarios.
Cost is another consideration, as adopting AdCreative.ai requires an investment in the software and potential training or support.
Lastly, concerns about privacy and data security may arise when using AI-powered advertising platforms like AdCreative.ai.
Despite these challenges, the platform offers increased efficiency in ad creation, improved targeting capabilities, and the potential for higher conversion rates.
User Reviews
Users have been raving about the AI-powered ad creation capabilities of AdCreative.ai. They praise the platform for saving them a lot of time in creating ads.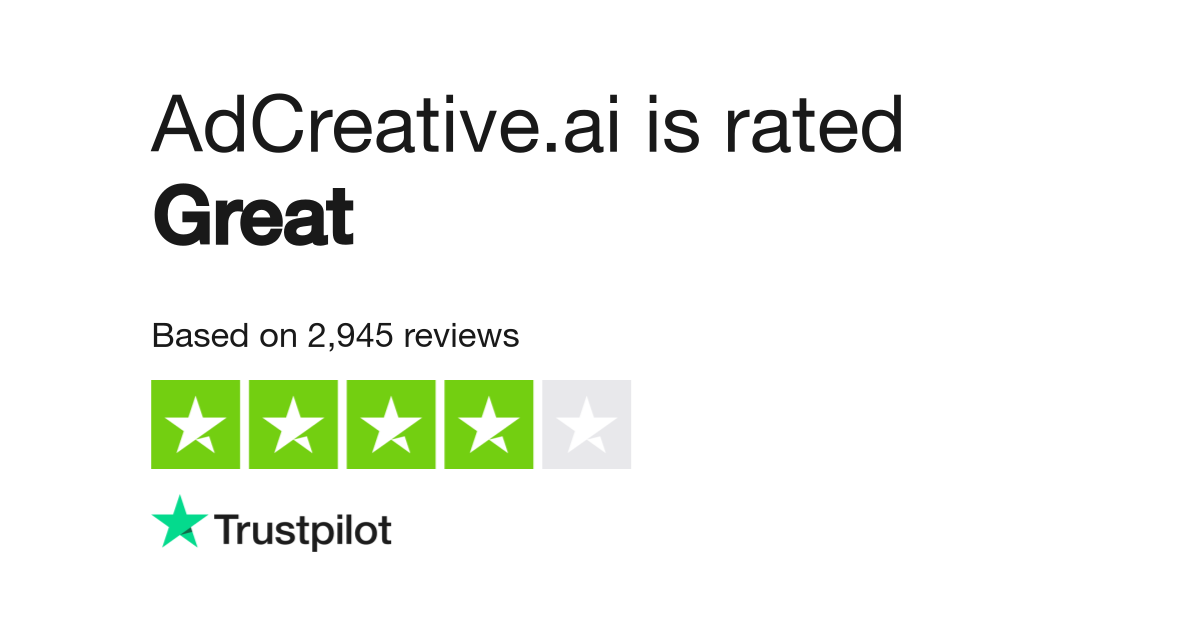 Users find the interface to be user-friendly and intuitive, making it easy to navigate and create stunning ad creatives. AdCreative.ai's ability to generate high-quality and engaging ads has been a game-changer for many users.
They appreciate the cost-effectiveness of using AdCreative.ai compared to hiring a professional designer.
Testimonials also highlight the positive impact on ad performance and conversion rates after using AdCreative.ai. It's no wonder why so many marketers and small businesses are turning to this AI-driven tool.
Who Can Benefit from AdCreative.ai?
AdCreative.ai can benefit marketers, advertisers, small businesses, startups, digital agencies, content creators, and social media influencers.
It offers a cost-effective solution for creating high-quality ads, scaling ad production, and enhancing content with professional-looking visuals.
Is AdCreative.ai the Right Tool for You?
Considering your needs for an AI-powered solution to create high-quality ad creatives, It might be the perfect fit.
With its diverse features including image and video generation, text optimization, and audience targeting, it offers a comprehensive toolkit.
Before making a decision, ensure that it aligns with your specific requirements and budget. Take advantage of free trials or demos to evaluate its suitability.
Adcreative ai Review: Conclusion
In conclusion, AdCreative.ai is a powerful tool that offers an array of features to enhance your ad creative process.
With its advanced machine learning capabilities, it enables greater conversions, scalability, and seamless collaboration.
While there are alternatives in the market, AdCreative.ai stands out with its user-friendly interface and comprehensive platform integrations.
To make the most of this tool, follow our step-by-step guide on using AdCreative.ai
With its advantages in delivering high-quality designs and success stories from satisfied users, AdCreative.ai is ideal for businesses looking to elevate their advertising game.
If you're ready to take your ad creatives to the next level, give AdCreative.ai a try today!
FAQ: Most Asked Questions – Adcreative ai Review
Is ad creative ai worth it?
Yes, With its advanced machine learning capabilities, it enables greater conversions, scalability, and seamless collaboration Ad creative worth trying out.
How Does AdCreative ai Stand Out in the Market?
AdCreative.ai distinguishes itself in the market through its AI-powered ad creative generation. Utilizing machine learning algorithms, it produces personalized and high-quality ad creatives. With a user-friendly interface and a variety of customization options for different ad formats and platforms, AdCreative.ai enables marketers to craft engaging advertisements.
How can you use AdCreative.ai?
Generate high-quality ad copy and designs effortlessly with AdCreative.ai. Simply input your product details, target audience, and desired tone, and let the artificial intelligence algorithms do the rest.
Customize and edit the generated ad variations to perfectly align with your advertising campaigns. Enhance your ad creative process with AdCreative.ai.
What are the features of AdCreative.ai?
AdCreative.ai offers an aI-powered platform that provides image generation, video editing, and copywriting assistance.
With machine learning algorithms, it analyzes audience preferences and generates personalized ad suggestions. Other features include A/B testing, performance tracking, and integration with popular ad platforms like Facebook and Google Ads.
Why AdCreative.ai is the Best Ad Creative Tool out there in the Market?
AdCreative.ai stands out as the best ad creative tool in the market due to its advanced AI technology, which generates high-quality ad creatives quickly.
With customizable templates, real-time data analysis, and optimization suggestions, it offers businesses of all sizes an accessible and effective solution for their advertising needs.
How much does AdCreative ai cost?
It pricing starts from $21/month. Every plan is based on the number of ad creatives generated per month, allowing users to choose a plan that aligns with their requirements.
For those with lower volume needs, the basic plan provides a fixed number of ad creatives per month at an affordable price.
Who can use AdCreative AI?
– Startups
– E-Commerce
– Agencies
– Marketers
– Graphic Designer
Thank you for reading this post, don't forget to share with more people like you!