Screpy vs Siteguru: Searching for a SEO analysis & Site audit tool, In this post I've compared Siteguru vs Screpy – 2 Best SEO audit and analysis tools for improving your website ranking.
Siteguru and Screpy both are Ai based website audit and Search engine optimization analysis tool with tons of other features, which analyze website and show all SEO issues which are stopping to rank higher on google.
But which one you should choose? Don't worry this comparison post will help you!
So without delay lets start with reviewing & checking both tools features first.
Disclaimer: Saas-guru.info is reader-supported and earns money from mentioned affiliate products. You may find few affiliate links on this post as well. When you click on links, we may earn a commission without costing you extra!. This helps us to cut down costs of review products, online tools and website.
Screpy Review
Screpy is an a.i SEO analysis tool, designed to help website owner drive organic traffic to their site by optimizing their content.
Once you add keywords into the search box, Screpy begins scanning for relevant results using artificial intelligence based on those keywords. You can then choose to rank any of these results higher than others, making them easier for visitors to discover.
It's an excellent option for website optimization. You'll get everything you need to improve your site performance including PageSpeed ​​Monitoring, Uptime Monitoring, SEO Performance monitor, Keyword Tracker, Syntax Checker and more!
Screpy also helps you measure and improve keyword performance over time.
---
Overview & Features
Site Audit
Just enter your site URL and click on "start", Screpy automatically scans the site for potential issues and helps in resolving those SEO errors and site health score out of 100, so you can improve search engine rankings and visibility.
Finally, it generates a list of actionable technical SEO & Content Marketing recommendations based on this SEO data.
---
Monitor Website Performance
Screpy helps you achieve page speed by creating simple, useful tasks for each speed problem on your site. You'll get a single score for each task, showing how well you're doing. Screpy integrates with Lighthouse, making it easy to see exactly where your problems are.
Basically, you can monitor and improve page speed using it.
Plus it also observes Website Uptime, Screpy will send you an email when your website goes down or is slow. You can also check your performance history at any time.
---
Keywords SERP Tracking & Analysis
See how your rankings change over time, as well as what other pages are ranking for the same terms with SERP keyword tracking.
Just add the keywords you want ranked for, and Screpy automatically keeps track of your rankings and the rankings of the top 100 search engine results.
The best thing about Screpy is that it provides actionable tips to get those rankings without having to spend hours researching and analyzing them yourself. Screpy pulls up the top 100 results for you and shows you exactly how to improve your results.
But it only offers SERP tracking not keyword research.
---
Pricing: Screpy Lifetime Deal
Lifetime access to Screpy Pro+ Plan
All-in-one AI-based SEO tool
25 websites
10,000 monthly analyzed pages
5000 monthly analyzed keywords
10 teams & 25 team members
Google Keyword Rank Checker (SERP)
SEO Audit & Reports
Easy to understand SEO optimization tasks
PageSpeed analysis
W3C Validator
Website uptime monitoring
Email notifications
Mobile analysis
On-demand analysis
Export data
Support included
All future plan updates
60-day Money Back Guarantee
Normally you would pay $624/year for Lifetime Access, but for a limited period of time, you can get Lifetime Access for just $49 on Appsumo Deal!
Siteguru Review
Siteguru is also Ai powered website analysis tool which scan & audit websites and show where exactly need to improve SEO strategy to boost rankings. It's a good alternative to Ahrefs & Semrush audit tool.
After it's crawler audit website it provide action taking to do list to with suggestions to remove all SEO errors.
Plus it connect with Google Analytics and Search Console to give better accurate real-time data insights on keywords rankings and website traffic.
Users can even use siteguru for freelancing SEO services as it generate white label reports. There's also a free trial plan to experience it's features.
---
Features Overview
Site SEO Audit & Web Analysis Tool
After sign in to the dashboard, you have to enter site url and it's Ai will start crawling all you website pages and show SEO errors. This process can take upto 30 minutes depending on number of pages.
Once audit complete, Siteguru will give you an actionable to do list of SEO errors.
SEO To-Do List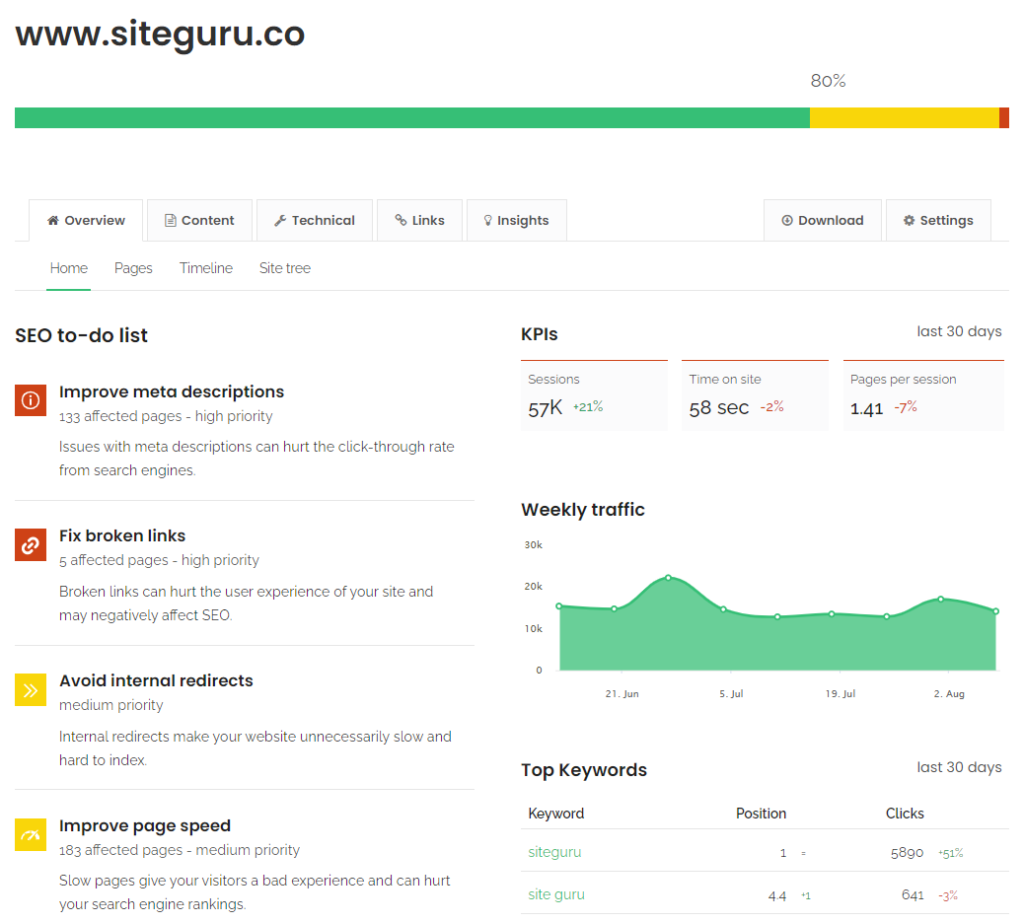 I
In this to do list you will get all the SEO errors with action taking priority (in Red and Yellow colors) and number of effected pages such as,
Improve meta page titles and meta descriptions
Duplicate content or Empty pages
Improve Page indexation
Avoid Page redirects
Etc..
Once you click on any of these errors, it will show all the pages and suggest how you can solve that issue.
Your goal is to remove all these errors one by one and improve site SEO.
Site Structure Tree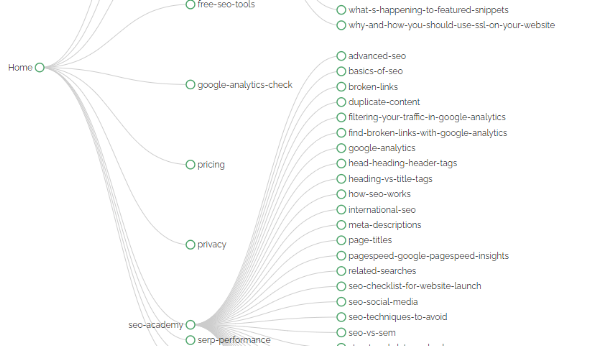 This feature let you see your site structure of pages in a format of like tree branches. Make sure to create a simple site structure so that it helps google to find and crawl pages fast.
The most popular website structures used by SEO professionals are Silo & Hierarchical.
Traffic Insights
Siteguru also offer connectivity with Google search console and Analytics and fetch accurate data on website traffic and keywords positions.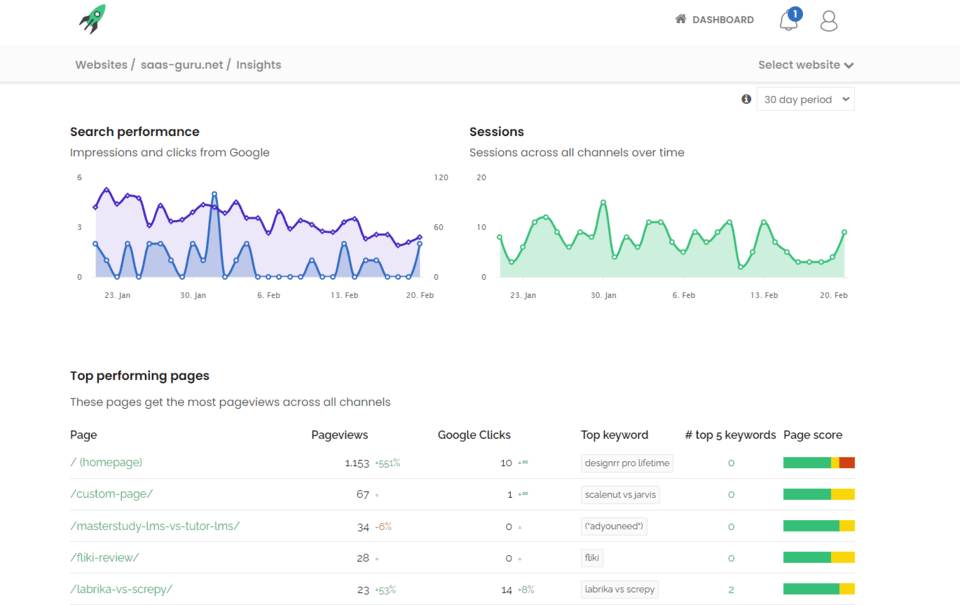 You can even see all of ranking keywords, how much clicks and impressions they are getting, their position and page SEO score.
And the best thing, Siteguru suggest keywords, Content post needs update, SEO and indexing issues you can improve to rank higher.
Links Analysis
This section lets you easily find broken links (if available) and replacing these links you improve SEO of that page.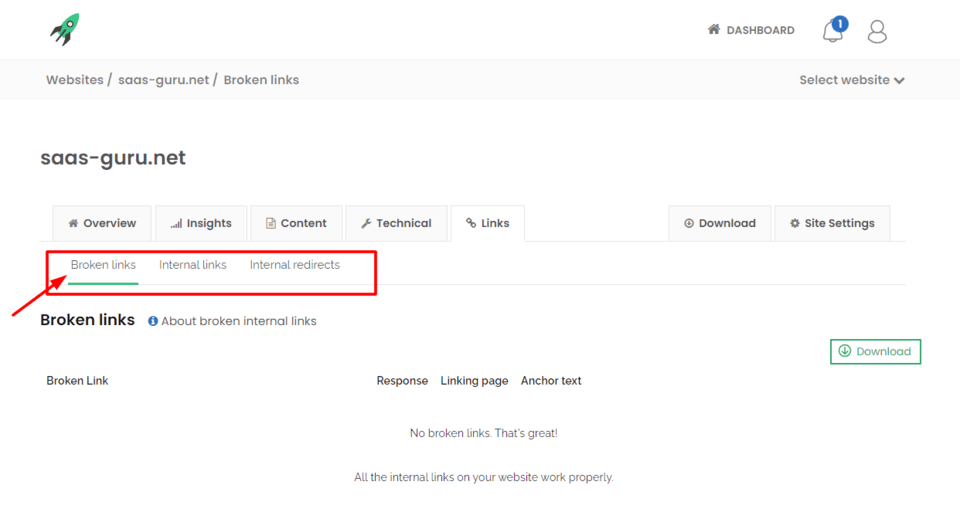 Along with broken links, It also shows all pages with internal links and redirecting links.
---
Siteguru Lifetime Deal: Includes

Lifetime access & Future Updates
All-in-one AI-based SEO tool
Site Structure
Keyword Rank (SERP) Checker
SEO Audit & Reports
Actionable SEO optimization to do tasks
PageSpeed analysis
Email Alerts
Mobile analysis
On-demand analysis
Export data
Support included
60-day Money Back Guarantee
Siteguru Lifetime access pricing start from $69 one-time payment and provide 60 days (2 months) return & refund policy.
---
Screpy vs Siteguru: Side by Side Comparison
Differences
Siteguru
Screpy
SEO Audit
✔️
✔️
SERP Tracking
✔️
✔️
Site Link Structure
✔️
❌
Keyword Research
❌
❌
Internal Links
✔️
✔️
Keyword Suggestions
✔️
❌
LSI Keywords
✔️
❌
Sharable Links
✔️
✔️
Pagespeed Monitoring
✔️
✔️
Uptime Monitoring
❌
✔️
Ratings
Ease of Use- 4.8
SEO Audit- 4.6
Content Insights- 4.5
SEO Analysis- 4.5
Ease of Use- 4.5
SEO Audit- 4
Content Insights- 3.2
SEO Analysis- 3.5
Support
Chat & Email
Chat & Email
Free Trial
✔️
✔️
Get Siteguru
Get Screpy
Screpy vs Siteguru: What's the Difference
Site Audit & SEO Analysis Comparison
The major differences I have find in their SEO audit time and analysis,
Siteguru site audit is more detailed and took less time in analyzing the website compared to Screpy which provide just basic information that we can get even from free tools like google search console.
Siteguru show SEO errors list in priority of impact which needs to be solved first in form of a To-do list. Ands this list encourage users to take action.
While Screpy user interface don't feel like that it just provide audit results.
Winner: Siteguru audit is fast, more advanced and provide detailed data on analyzed pages.
Traffic Insights & Accuracy
Because Siteguru integrate with GSC (google search console) & GA (google analytics), it's Ai fetch website traffic, keywords and indexing data directly from google itself.
That's why provided data is so much accurate and trust worthy.
While Screpy first of all don't offer connectivity with GSC or GA and totally depend on it's Ai. And I think that's the reason you will find some inaccuracy on it's showing data.
Winner: Siteguru
Conclusion- Which One is Better: Screpy or Siteguru?
Overall in every comparing factor, I found Siteguru is better than Screpy.
Siteguru analyze all SEO factors whether it's page, content, link or indexing problem you can find all issues in an action taking to do list and suggestions on how to remove them.
And best thing, it's User interface designed in a way which encourage users to take action.
Plus, don't forget it's affordable lifetime deal coming with 60 days money back guarantee. All these make it an Ideal SEO tool for your website to improve SERP rankings.
Liked the comparison, You might also like reading this,
Thank you for reading this post, don't forget to share with more people like you!