Are you searching for a writing assistant that can save your time and efforts for content writing then you should read this detailed Peppertype ai review.
Writing is not easy task epecially if you do content writing like me, this takes time and efforts.
But after using peppertype for few days, I find that it's a good writing assistant which saves my alot time without droping content quality.

In this detailed review of Peppertype ai. I'll talk about it's features, writing assistants, benefits and lifetime deal pricing.
So without putting so much time, let get into the review!
Peppertype ai review by Saas Guru
Peppertype Review – What is it?
Peppertype.ai is an artificial intelligence writing assistant that can help you write your content. It's based on GPT-3 & Open A.i and uses NLP to generate human-like relevant results for your entered topic.
With Peppertype.ai you can simply write your post and the AI will take care of the rest.
This can help you manage your social media, blog, youtube, ad copies and other platforms content with ease and still have time to take care of other activities that are important to you.
Peppertype creates great content for you by using it's A.i or learning from your existing content. You can use it to write blog posts, articles, ad copies, quora answers or even ebooks. With Peppertype AI, you can get more out of your writing while saving time and effort.
---
Peppertype Ai Features
Users can Choose from over 35 different types included with Peppertype.ai, including ad copy, social captions, blog outlines and website copy. After you've selected the type of content, enter your topic, brand or product.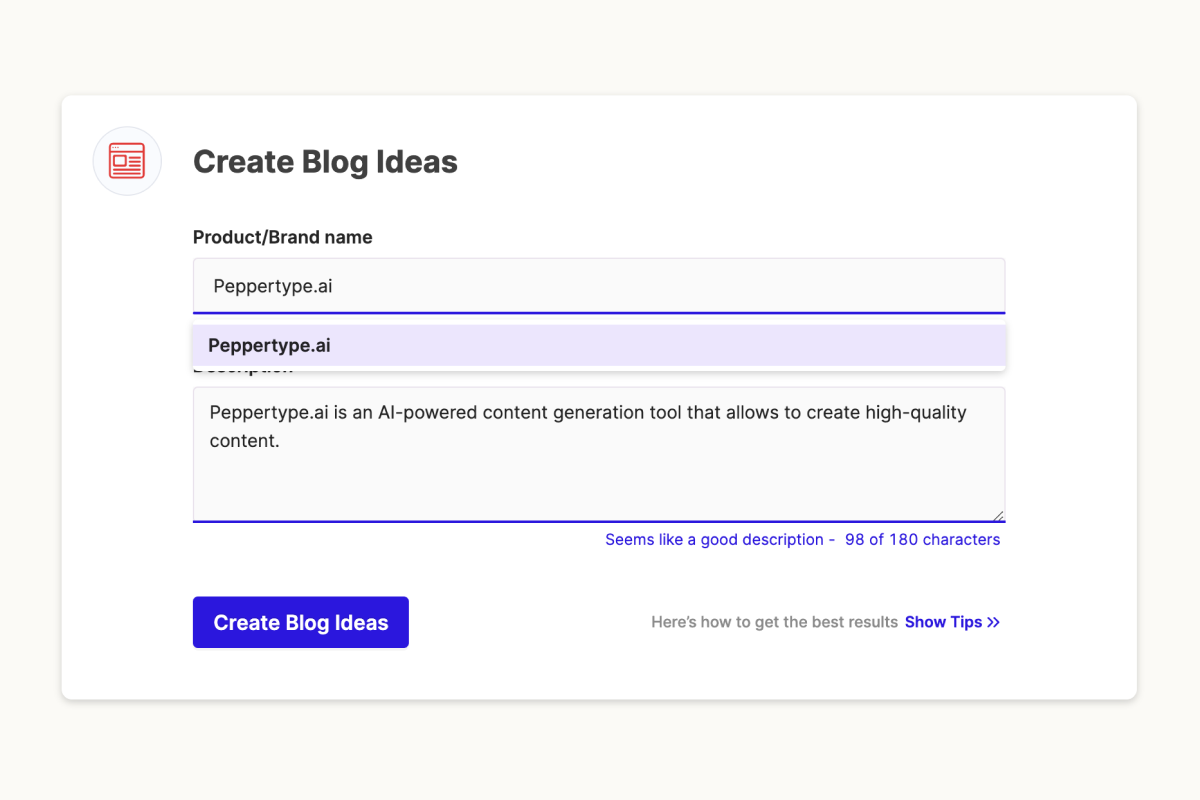 Peppertype.ai automatically generates creative content.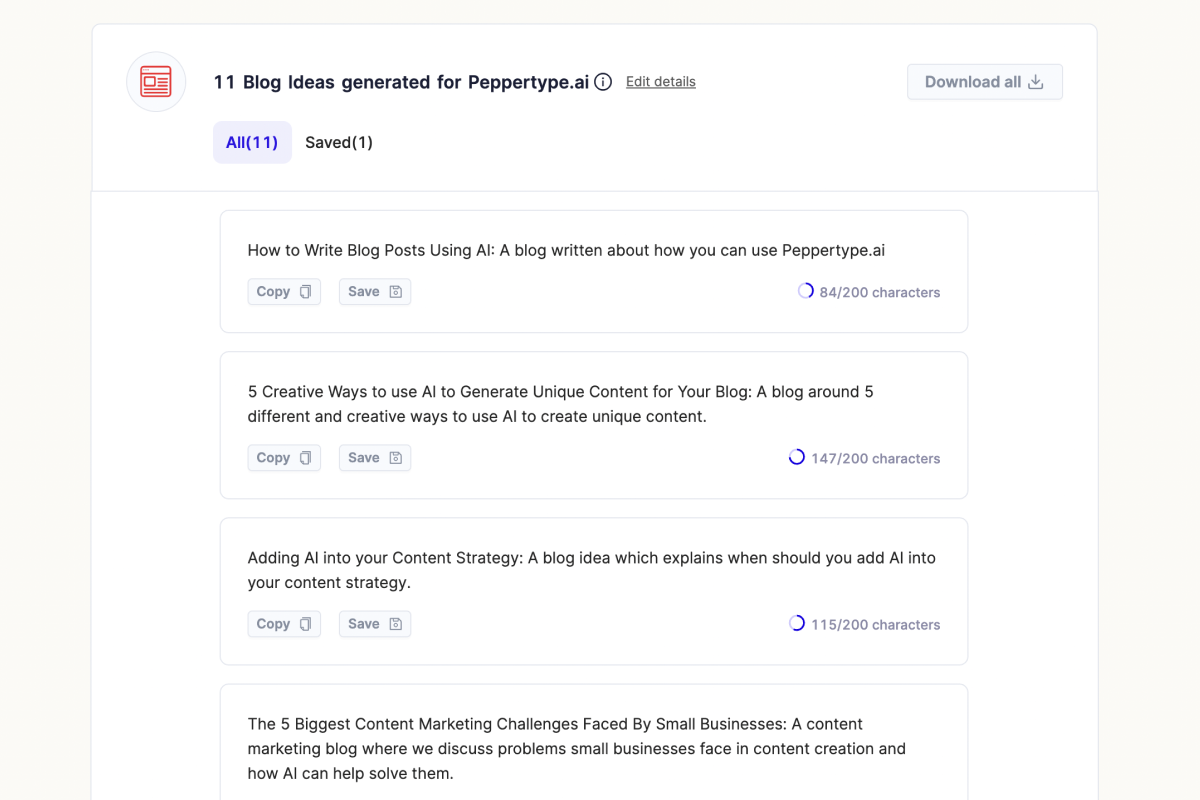 All Writing Features of Peppertype ai
| Features | Peppertype Ai |
| --- | --- |
| Content Generation | ✔️, Website Content, Blog Intos, Topics & Ideas, Product Descriptions, Social Media Content , Google/facebook/Linkedin Ad copies & headlines |
| Best Alternative to | Rytr, Jasper ai |
| Grammar Check | ✔️ |
| Idea Recommendation | ✔️ |
| Plagiarism Check | ✔️ |
| Sentence Formatting | ✔️ |
| Copywriting | ✔️ |
| A.I/Machine Learning | ✔️ |
| Import/Export | ❌ |
| Content Management | ✔️ |
| SEO Management | ❌ |
| Free Version | ✔️ |
| Best for | Startups, Enterprises, Marketing Agencies, Bloggers, Content Writers, Copywriters, SEO experts, Social Media influencers |
| | ???? Get Peppertype ai |
Peppertype ai Features
---
Pros and Cons
Pros
Peppertype has an easy-to-use UI/UX, with categorized tools
Over 35+ content objectives to choose
Peppertype generates tons of quality content for me in a matter of seconds.
Company is good, lots of things coming in furure.
Good support.
Cons
Sometimes generated content is not relevant that spends credits, otherwise, everything is good
Don't have full fledged long-form content editor like google doc
Benefits of using Peppertype.ai
???? Creates a ton of different content pieces like product descriptions, articles, blog posts, social posts, ebooks.
???? Automatically checks content for grammar, plagiarism, and relevancy.
???? Has over 35+ types of content for you to choose from depending on your content objective & goal.
SHORT-FORM content, you can generate with Peppertype
– Google Ad Headlines
– Google Ad Descriptions
– Blog Ideas (Titles)
– Facebook Ads
– Product Descriptions
– Instagram captions
– Website Headlines or Copy
– Website SEO Meta Descriptions
– Website sub-headlines
– Tweet Ideas
– One liner tweets
– Value Proposition
– Product Review Generator
– YouTube Video Ideas (Titles)
– Feature to benefit
LONG-FORM content, you can generate with Peppertype
– Blog intro
– Blog outline
– Blog conclusion
– Blog section heading expander
– Pain-agitate-solution copywriting
– Before-after-bridge copywriting
– YouTube Video Description
– Compelling bullet points
---
Peppertype.ai Lifetime Deal: is There any LTD
Sadly, peppertype has not offering any lifetime deal or plan for now. Recently they have ended their lifetime plans on Appsumo.
If you want to stay updated with Saas Deals and get Alerts on Lifetime subscribe my newsletter!
Currently, It has offering 3 pricing plans, which starts from 25$/month (when purchased yearly on billing) for the starter plan.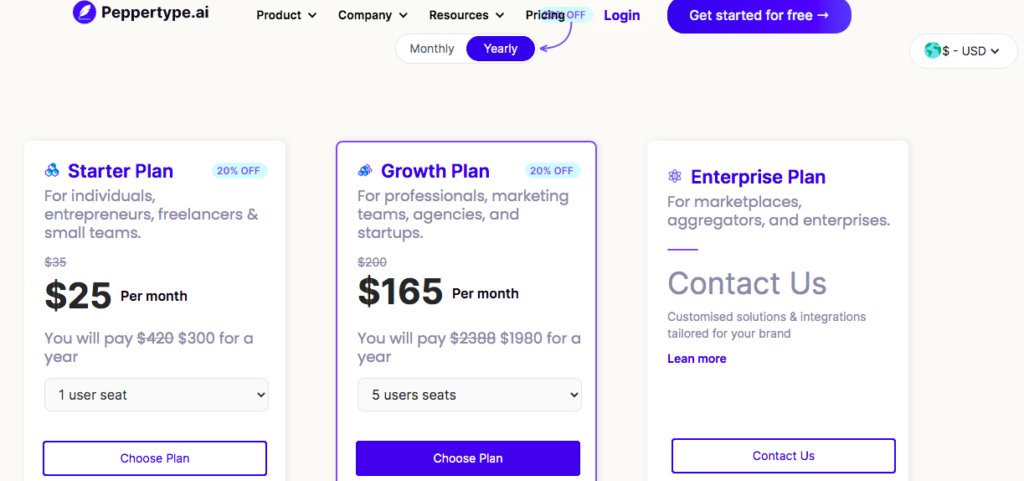 Each plan gives additional access to various features.
Why There's No Lifetime Deal on Peppertype?
There are lots of expenses included in running on these types of online applications like hosting or server charges, Features updation cost, development team salary, marketing cost, customer support team salary, other tools integration & API billing and much more hidden cost.
So think yourself, how can they continue running their business for lifetime if there's no way to pay the cost bills every month.
That's why there is no Lifetime deal offered by peppertype
And it seems logical otherwise their business will be shut down after few years.
---
Peppertype: Detailed Review Video
Here's my detailed review video of Peppertype platform with live writing demo and tutorial, make to subscribe our channel for stay updated to new saas tools updates & alerts.
Peppertype ai Alternatives – Which You Consider using
Jasper
Jasper.ai is also a GPT-3 artificial intelligence-based content writing tool that can help you create ads copy, long content posts, social posts, blog/e-commerce product descriptions, marketing emails, and much more.
What's great about Jasper.ai is that it can help you save a lot of time and effort in creating content. All you need to do is input what you want to write about, and Jasper.ai will do the rest.
In addition, Jasper.ai is constantly learning and improving its algorithms, so you can be sure that the content it produces will be of the highest quality.
[rehub_affbtn btn_text="Read My Detailed Jasper Ai Review…." btn_url="https://saas-guru.info/scalenut-vs-jasper/"]
Scalenut
Along with being an Ai writer, Scalenut also offers Content research, Briefs, Keyword/SEO suggestions and NLP terms to get a higher SERP position in search engines.
In most simple words, Scalenut is the perfect tool for content researchers who want to get the .most out of their content.
With Scalenut, you can easily find the most relevant and target keywords for your content, write SEO-friendly long-form content, and create click-worthy marketing copies.
There's also a Cruise Mode similar to Jasper's Boss Mode without needed to pay extra.
[rehub_affbtn btn_text="Here's My Detailed Scalenut Review…." btn_url="https://saas-guru.info/scalenut-vs-jasper/"]
Thank you for reading this post, don't forget to share with more people like you!