Are you searching for a tool which can turn 1 long video into mulitple short content pieces with auto transcribe (subtitles) then this ContentFries review for you.
After tring dozens of tools to convert my youtube video into multiple short videos such as Shorts or Reels, I came across ContentFries. Converted that youtube video into 12 content pieces with auto generated subtitles (yes you can also do that with it).
Which bringed more 1000+ views, 7 new subscribers and 2 sales, isn't that exicting without re-creating the same for short videos getting more traffic.
So after using it for few months, here' my review.
And in this detailed contentfries review, I'll talk about everyting what is it, features it's useage, benefits and much more.
In the end I'll will also discuss about it's lifetime plan. So let's get started!
About ContentFries – What it is?
If I talk about what is the most popular way for content creation & marketing then no doubt Videos are the first choice, they are attention-grabbing, engaging, easy to understand and the best way for marketing.
But only creating the video does not makes it successful, you also have to upload and re-format it for different platforms to reach the every rightful audience, for example
For Youtube, the video format should be (1920×1080) Horizontal rectangular
For Facebook, it should be (1080×1080) square with attention-grabbing looking
For Tiktok, Youtube Shorts, Instagram reels like platforms, the video format should be 9:16 (1080 X 1920) or vertically fullscreen
So you have to turn that video into these above-mentioned formats to reach every platform audience.
And believe me, it's not easy in fact it takes hours to turn the same video into various formats for different platforms.
But what if, there's a tool that can do this for you without spending hours.
Then let me introduce, ContentFries- Content Multiplier, best for digital marketers.
With this, you can generate various formats but also can turn 1 video into 100+ content pieces with few steps in few minutes.
And the best part, you don't have to upload big videos, just copy-paste the video link and the video is ready.
ContentFries is a solution that makes it easier than ever to create high-quality content in different video formats and sizes All you need to do is upload any video on YouTube, and ContentFries will automatically edit and optimize it for other social media channels. Plus it adds captions automatically.
Watch My Video Review of Contentfries with Demo
Here's my detailed review video of Contentfries platform with live demo and tutorial, make to subscribe our channel for stay updated to new saas tools updates & alerts.
Highlights (TL;DR):
[wpsm_column size="one-half"]
[wpsm_box type="gray" float="none" textalign="center" width="10″ ]
Stop spending hours on what can take you minutes with ContentFries
[/wpsm_box]
[/wpsm_column]
[wpsm_column size="one-half" position="last"]
[wpsm_box type="gray" float="none" textalign="center" width="10″ ]
Best tool for turning video into various formats for different platforms and social media.
[/wpsm_box]
[/wpsm_column]
[wpsm_column size="one-half"]
[wpsm_box type="gray" float="none" textalign="center" width="10″ ]
Fill your content calendar fast—create weeks' worth of content in a single afternoon
[/wpsm_box]
[/wpsm_column]
[wpsm_column size="one-half" position="last"]
[wpsm_box type="gray" float="none" textalign="center" width="10″ ]
Add attention grabbing templates, Progress bar, subtitle (voice text), and graphics.
[/wpsm_box]
[/wpsm_column]
[rehub_affbtn btn_text="???? Get ContentFries" btn_url="https://pitchground.sjv.io/get_contentfries"]
Pros and Cons
Pros
Create stunning content pieces with faster speed 
Easy turns 1 video in +100 content
Automatically add subtitles/captions
Global template library give the attention-grabbing look
Video Uploading is very easy just copy-paste the video link only takes few seconds no matter how long is video (if you have already uploaded on youtube/facebook or any other platform).
Save hours and maybe days efforts
Ui looks very good
Cons
As for now, only 12 video templates are available, but the team adding more every month so that's not a big issue
New users need few time to understand it's features so I suggest watching tutorials first
---
ContentFries Features
Context Editor
This feature does exactly what it says. It creates bite-sized videos for Facebook, Instagram, Linkedin, Tiktok, Twitter, YouTube or anything else.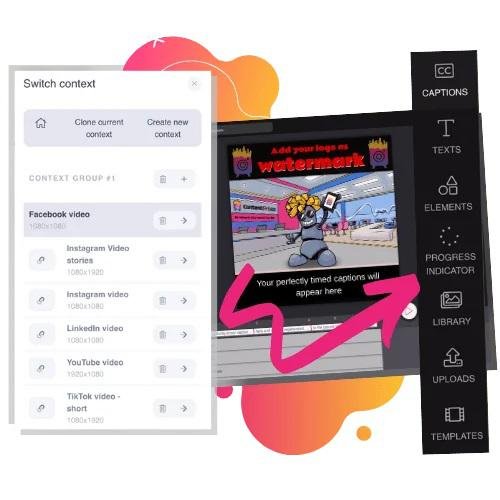 It also generates text captions automatically or lets you add/edit the captions yourself manully.
It gives you tools to create reusable templates, add headlines (like titles), logos, progress bars, and even images. Then, it lets you export your content into the formats you need.
Context Editor tools,
Auto Captions Generator – generate and edit automated captions to encourage your audience to watch your videos and promote engagement
Contexts System – to make your content contextual on any platform
Progress Bar – this is like what you usually see on most videos on Facebook where there's a progress bar on the videos rather than tapping the screen most of the time
Catchy Headlines And Texts – add and edit catchy headlines and texts that have the power to hook your audience's attention.
Images – easily add logos or your special watermark to make your content unique
Templates – create, add, and save your template to make things a lot easier for you the next time around.
Dead Simple Content Multiplying – easily drag and drop to chop out important pieces out of your original content so you can repurpose them
Video Injections – add your signature intro and outro in a breeze
Advanced Cutting Mode – cut out those unnecessary parts of your video that you don't want to be included in your masterpiece
Content Trimmer & Multiplier
Content Creation Tool   – Trimmer & Multiplier with Auto Transcribe
Multiplying and repurpose content  is an important part of creating quality content.
ContentFries helps you multiply and repurpose your raw videos by generating hundreds of videos out of a single video.
You can easily edit those videos and add captions and subtitles.
You can even stitch the end credits together automatically.
With ContentFries Content Multiplier you can create dozens of videos out of a video in minutes! Templates make it easier than ever. Just choose a template and let ContentFries generate a piece of content for you.
You can even add titles and descriptions to the generated pieces of content. You can even export the generated content into different formats such as MP4, GIF and JPG. For more information about how ContentFries works, please read this article.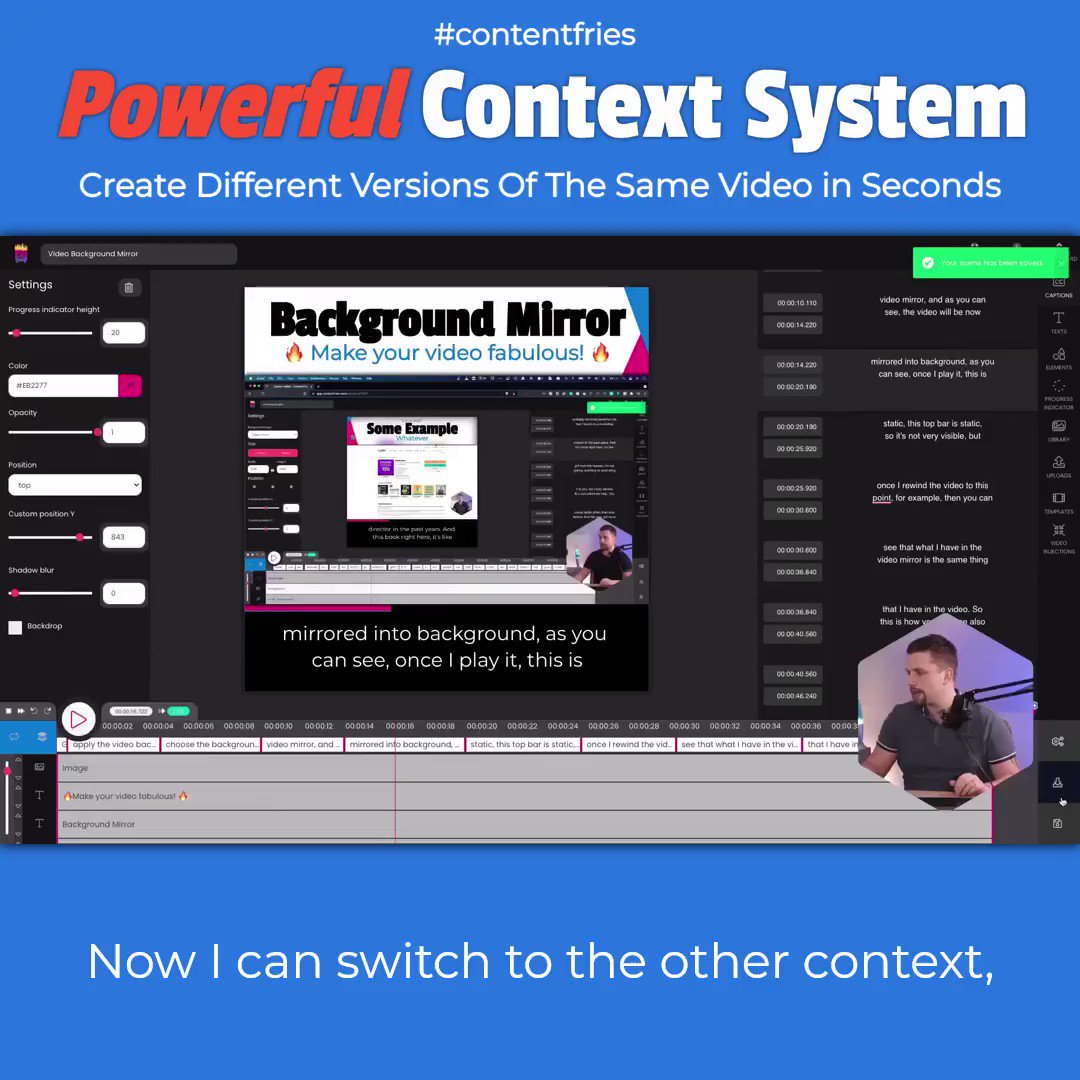 Quotes Generator
A magical tool that generates beautiful quotes instantly. Just click a button and get a quote.
You can choose the category of your liking, or upload your own quote idea and the system will randomly generate quotes according to your preference.
Use your own photos as background. Smart crop your pictures to fit the right size. Add as many quote suggestions as you want and let the system generate very special quotes from your own ideas.
Beautiful Quotes for your friends, relatives, business partners, clients.
---
Benefits of Using ContentFries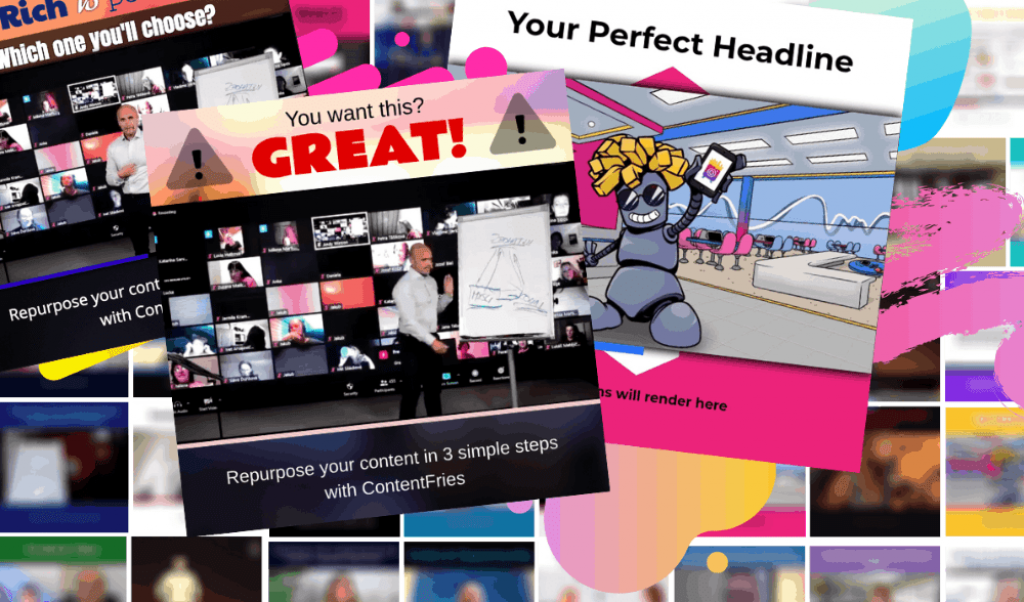 Stop spending hours on what can take you minutes with ContentFries;
Save time and money on video transcriptions, captions and subtitles;
Fill your content calendar fast—create weeks' worth of content in a single afternoon;
No PC sweating and heating—export your videos in many formats in a bulk on the cloud;
Forget spending endless hours learning a video-editing software just to make your video social media-friendly;
Get the most out of your long-form videos, interviews, podcasts on camera, webinars, Q&A, keynotes, reviews, and others;
Increase your reach, engagements, traffic and more!
Target Audience with repurpose video content 
Users review after using ContentFries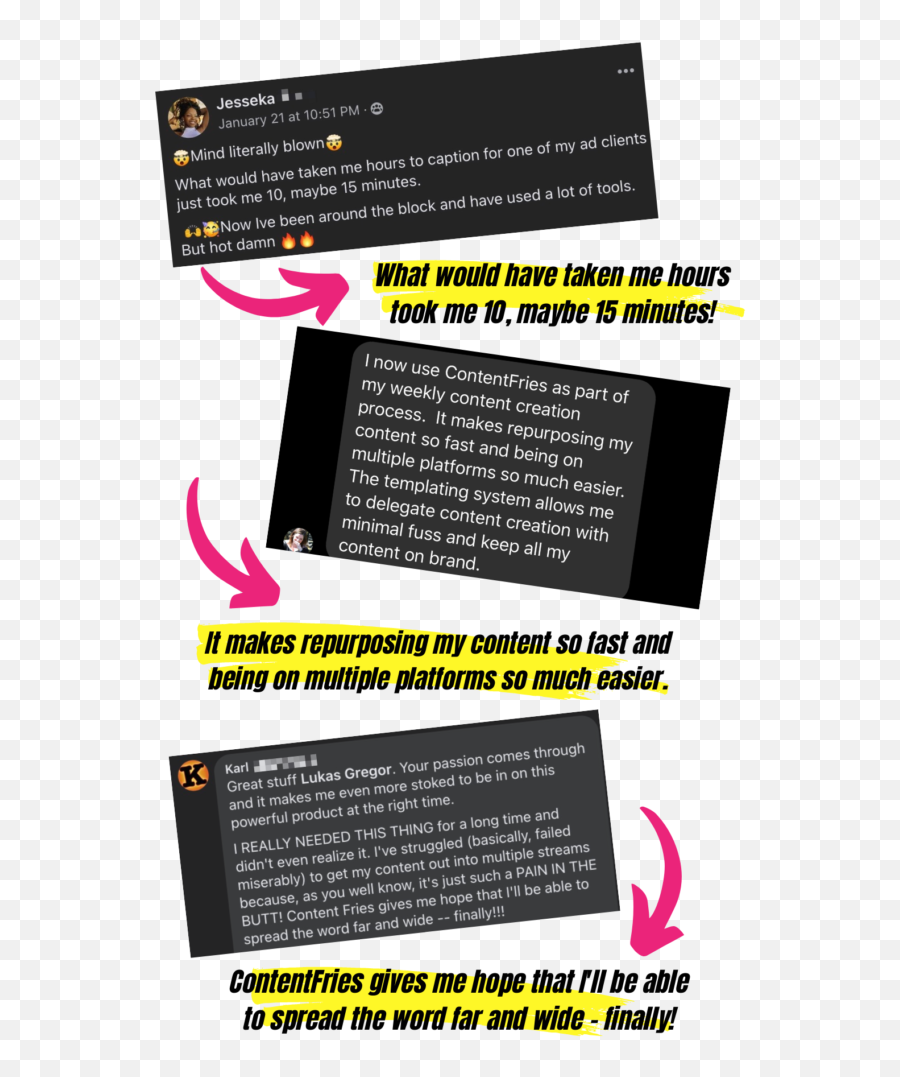 ContentFries Lifetime Deal: Is there any LTD Plan
This is the most amazing part about this review because Content Fries Lifetime Deal is available on Pitchground with a very affordable one-time payment. Which starts from $97 for lifetime access.
Content Fries Lifetime Plans
▪️ Plan A (Junior) – $97/lifetime
✔️ 30 Minutes Of Automatic Transcriptions / Month
✔️ 5 Hours Of Video Rendering / Month
✔️ ContentFries Context Editor
✔️ Automatic Captions Generator
✔️ Add Images / Logos / Watermarks To Video
✔️ Add Texts / Catchy Headlines To Video
✔️ Add Progress Bar To Video
✔️ Automatic Resized Video Variants Generator
✔️ One-Click Wonderful Video Templates
✔️ Export Videos In Bulk
✔️ Stock Images Library
✔️ ContentFries Content Multiplied reach
✔️ Multiply Your Content Like A Text Document
✔️ Automatically Stitch Intros And Outros To Your Content Pieces
✔️ One-Click To Apply Templates
✔️ One-Click To Multiply Content
✔️ ContentFries Quotes Generator
✔️ Generate Dozens Of Quotes In Seconds!
✔️ Your Custom Photos To Photo Libraries
✔️ Add Your Quote Ideas
✔️ Huge Library Of 1m+ Quotes And Random Images
✔️ All Features And Updates To The Junior Plan
✔️ 60 Days Refund Policy
Plan B & Plan C gives more limit and access.
And there is also 60 days money-back guarantee for every plan, which means if somehow you are not happy with Contentfries (which is not going to happen), you can return it within 60 days of purchase and full money will be back without asking any question.
So why are you hesitating!
[wpsm_box type="blue" float="none" textalign="left"]
Needs Attention: Most deals are out of stock within a week of coming to a lifetime deal offer. So take it now if you need it or don't want to miss it.
[/wpsm_box]
---
Conclusion
Contentfries really a good tool which makes video repurposing alot effortless and time saving. And don't forget subtitles automatically added in any language.
You can even import youtube video using just link and turn that video into 100+ content pieces.
And what made it more value giving is Contentfries lifetime plan, I mean you can try to find an alternative but each one has monthly or yearly subscriptions.
But here only one timep payment and you got lifetime access and updates with good support.
I hope you find this Contentfries review helpful, if having any question or queries ask me in comments.
---
FAQ – Most Asked Question about ContentFries
What is ContentFries?
It's an online tool that turn 1 long video into multiple short videos in any format with auto subtitles.
What languages are supported by the automatic captions generator in ContentFries?
ContentFries leverages multiple world's most advanced speech-to-text technologies, so the list of supported languages is a really long one. The list of supported languages: Afrikaans Albanian Amharic Arabic Armenian Azerbaijani Basque Bengali Bosnian Bulgarian Burmese Catalan Chinese, Cantonese Chinese, Mandarin Croatian Czech Danish Dutch English Estonian Filipino Finnish French Galician Georgian German Greek Gujarati Hebrew Hindi Hungarian Icelandic Indonesian Italian Japanese Javanese Kannada Khmer Korean Lao Latvian Lithuanian Macedonian Malay Malayalam Marathi Mongolian Nepali Norwegian Bokmål Persian Polish Portuguese Punjabi Romanian Russian Serbian Sinhala Slovak Slovenian Spanish Sundanese Swahili Swedish Tamil Telugu Thai Turkish Ukrainian Urdu Uzbek Vietnamese Zulu
Is there any Content Fries watermark on videos?
No, There's no watermark on videos if you purchased the lifetime deal to any paid plan.
Thank you for reading this post, don't forget to share with more people like you!