In this article, you will read detailed Oxolo review with features, pro cons and know whether its actually worth or not?
If you are looking for an AI tool that can transform your products into engaging marketing videos without any efforts? let me tell you about Oxolo.
It's an AI video generator that is revolutionizing the way online businesses can create and promote their products.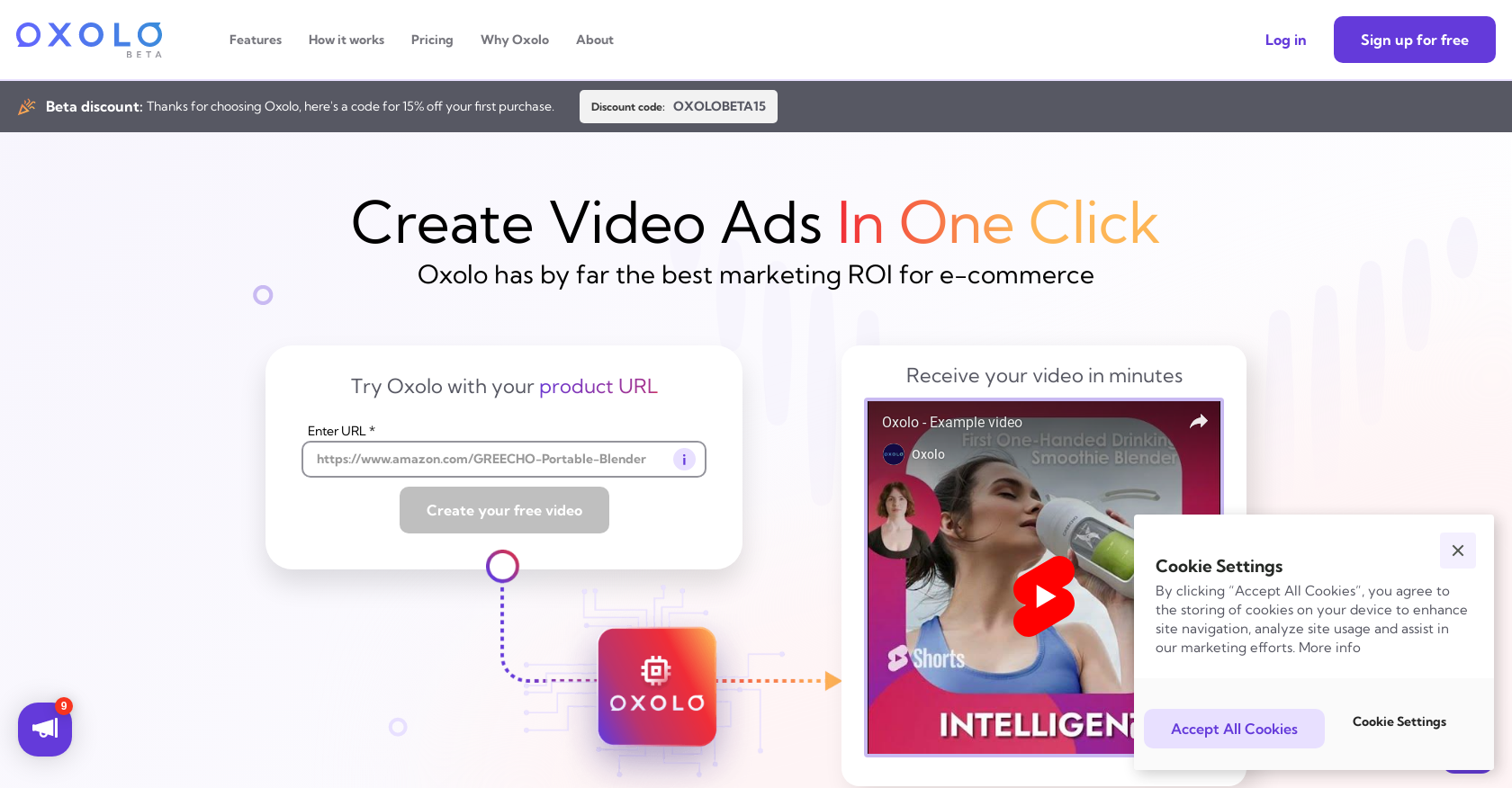 In this review, we will dive deep into what Oxolo is and how it works. We will explore its key features and the benefits it offers to marketers and business owners.
Additionally, we will compare Oxolo with other popular AI video tools in the market, giving you a clear understanding of its game-changer features. Finally, we will discuss the pricing of Oxolo and answer some frequently asked questions to help you make an informed decision.
So lets dive in!
Oxolo Review by Saas Guru
Disclaimer: Saas-guru.info is reader-supported and earns money from mentioned affiliate products. You may find few affiliate links on this post as well. When you click on links, we may earn a commission without costing you extra!. This helps us to cut down costs of review products, online tools and website.
Oxolo Review: What is it?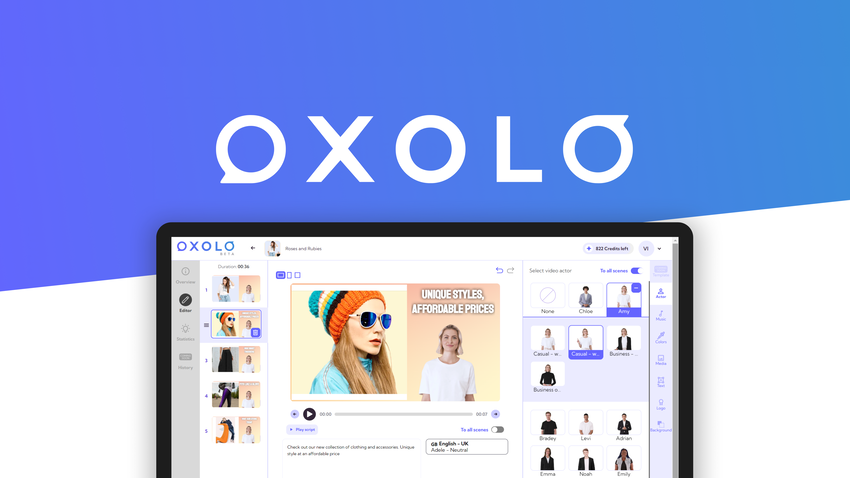 Oxolo is an innovative Ai tool that transforms product into attracting marketing videos using artificial intelligence technology just from URL or images.
By harnessing machine learning algorithms, it can analyze text and generate professional visual content with ai avatar, voice-over and animations. Eliminating the need for costly equipment or editing expertise.
The platform also provides customization features to ensure the videos align with your brand's style and target audience.
How It works?
This tool revolutionizes the process of video content creation for e-commerce ads. With its user-friendly interface and powerful features, it takes product marketing to the next level.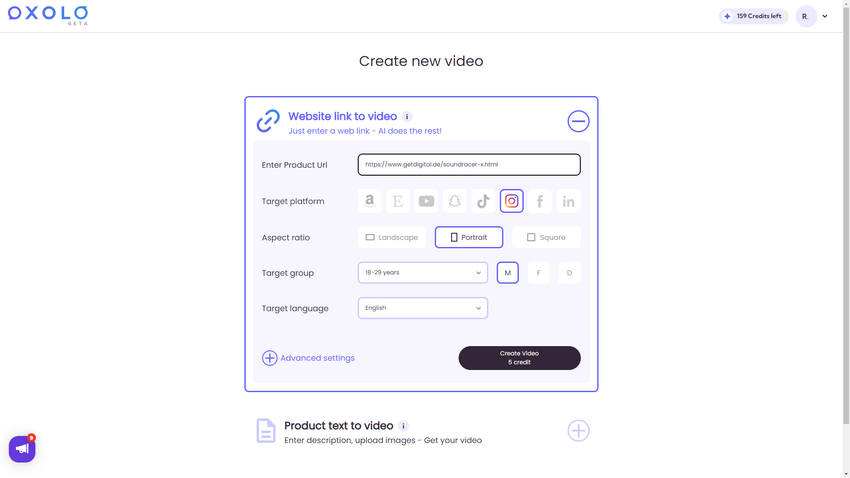 By providing just product URL or images with description, it's Ai analyze and convert it into attracting marketing piece with animation, Ai avatar talking about that product features and text effects. All this done in 1 click.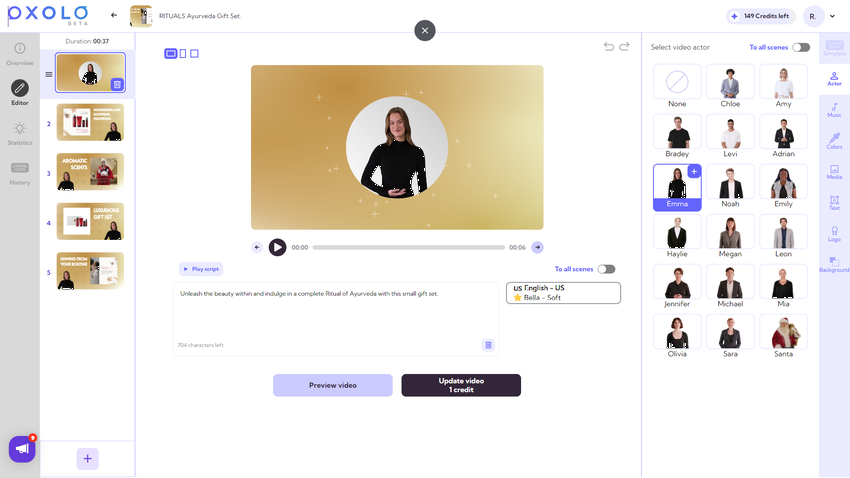 For customization, The platform offers a wide range of features, including templates, music, and text overlays, empowering small business owners and marketers to create professional-looking videos effortlessly.
Key features of Oxolo Ai
User-Friendly Editor:
It provides a user-friendly visual editor that speeds up the video creation process, making it easy for users to create high-quality videos without any editing experience.
AI-Driven E-commerce Video Generator:
With Oxolo, users have multiple ways to generate content.
They can enter a website link,
Provide Images and Write a product description,
Or start from scratch in the video editor.
The AI technology analyzes the input and generates accordingly.
Convert URL into Marketing Piece: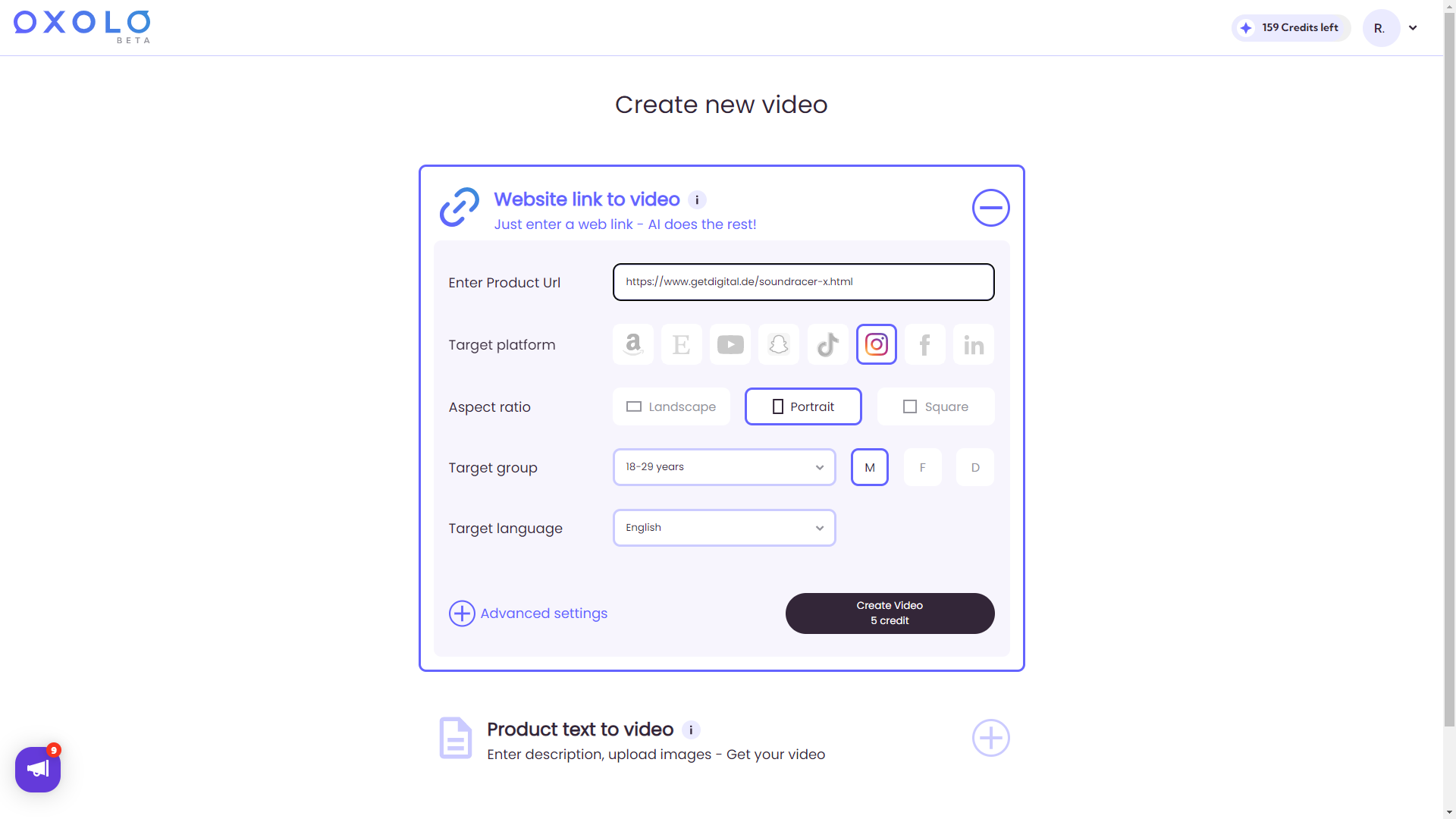 Best thing about this video editing software, Users can simply enter their product listing's URL to convert unique selling points into a video script.
And It pulls text and photos from the product page, suggesting the best color palette for the background.
Customization Options:
It offers customization options, allowing users to choose from templates in different aspect ratios (landscape, portrait, or square). Users can also customize the Ai actors, color palette, fonts, and add their logo to certain scenes, showcasing their brand's personality.
Multilingual Support:
The platform supports up to 50 languages, making it easy to create for a global audience.
Users can create accessible content and find AI actors that can mimic different voice styles, enhancing their connection with local audiences.
Expert/Editor Mode:
Oxolo's straightforward interface enables users to perfect their videos by swapping actors, voices, images, and editing the script.
Users can easily make adjustments to create the desired video.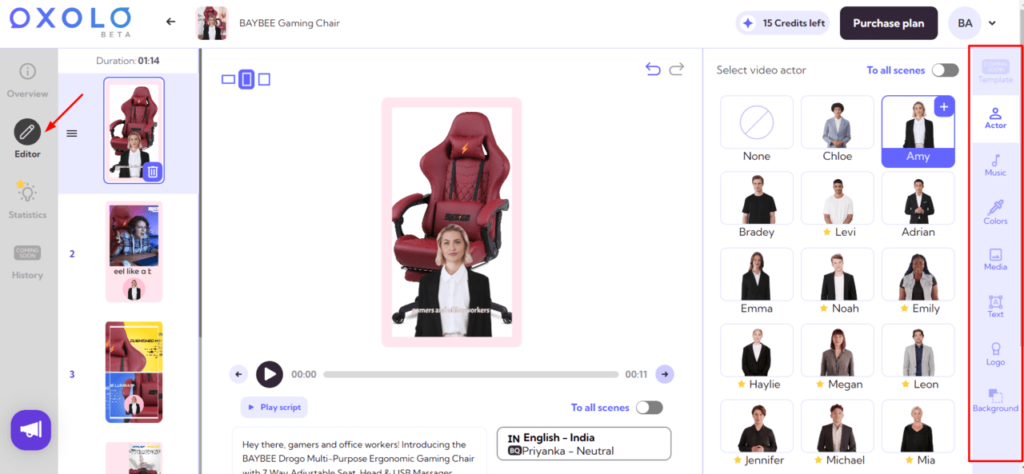 Download and Sharing:
Once the video is complete, users can effortlessly download and share it on their product pages, social media platforms, or websites. The generated videos are optimized for platforms like Instagram, Facebook, YouTube, and even TikTok.
Powerful AI Studio:
It provides access to a powerful AI video studio with features designed to help users create engaging and scroll-stopping product videos.
This allows users to scale their video production and create visual content tailored for different social platforms.
Oxolo Review Video with Demo & Tutorial
Benefits of using Oxolo
Oxolo AI provides a range of benefits for e-commerce businesses and marketers.
One of the key advantages is its time-saving capability.
By using this AI tool, you can generate high-quality marketing videos without spending excessive time or effort.
This AI-powered platform simplifies the process of video production, eliminating the need for complex and costly procedures.
With its user-friendly interface, even small business owners can create professional-looking videos in a matter of minutes.
The ability to customize templates and styles allows you to tailor the videos to your brand and target audience, ensuring maximum impact. And the best part? You don't have to be an expert in video production to use it.
Whether you're a seasoned marketer or just starting out, Oxolo AI takes your video marketing to the next level with its advanced AI technology.
Oxolo Review & It's Alternatives
1. Animoto
Animoto is a popular video production tool that empowers marketers to create high-quality marketing videos effortlessly.
With an easy-to-use interface, Animoto provides a wide range of customizable templates for e-commerce videos, making it a go-to option for small business owners and marketers.
Upload your own images and videos, add music, and customize the content to match your brand and style.
Animoto's advanced AI technology ensures that you can create professional-looking visual ads without the hassle and cost of costly video processes. Take your e-commerce video generation to the next level with Animoto!
2. Magisto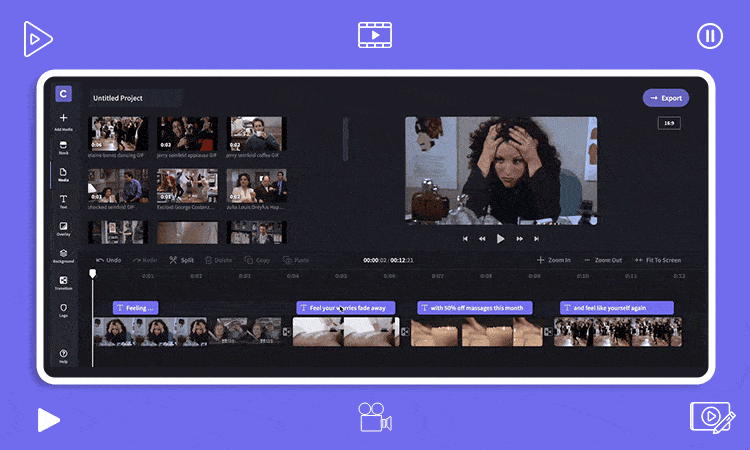 Magisto is an AI-powered video editing platform that empowers users to effortlessly create professional-looking videos.
Create high-quality marketing videos by customizing your footage with text, music, and effects, and choose from a wide range of templates to match your desired style.
Share your videos on social media platforms, embed them on your website, or use them in email campaigns.
With Magisto, the process of creating e-commerce videos becomes easy and efficient, allowing you to showcase your products in a visually compelling way.
Pricing: $12/month
Pricing of Oxolo
It offer 2 pricing plans Basic (starting from $29.99/mon) and Business ($199.9/mon) with monthly and yearly subscriptions. This makes it a little bit expensive as you have to pay every month or year.
But the good thing, there's also a very affordable Oxolo Lifetime Deal, Available on Appsumo.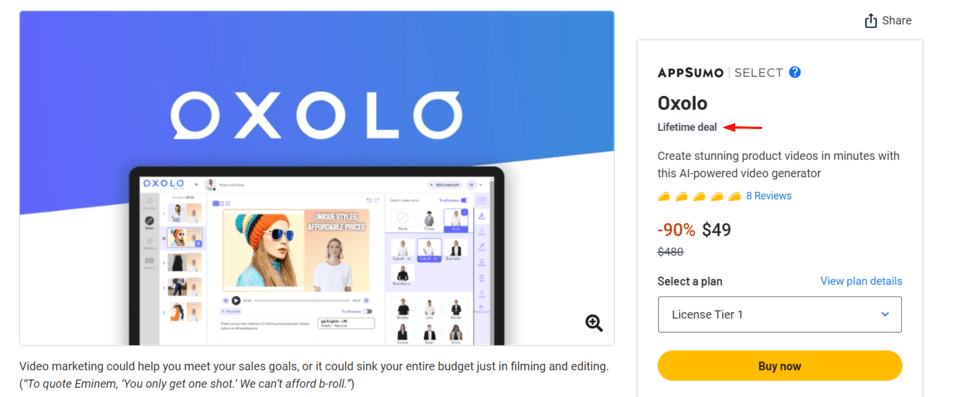 Oxolo Lifetime Deal by Appsumo
In this plan, only need to pay for one-time and you will get lifetime access. Oxolo Lifetime Deal pricing starts from just $49 one-time payment and has 3 tier plans with different credit limits.

Features included in all plans
Up to 20 minutes of rendering time
16 actors and future actors
50 languages and future languages
Up to 5 scenes per video
25 templates
Upload your own images and videos
Color branding
Logo branding
Subtitles
Stock images
Commercial license
Analytical tools
HD downloads
Create video from URL copy and paste
User-friendly studio editor
Display script
Easy updates to videos
Best part, every plan comes with 60 days money back guarantee, mean somehow if you are not with Oxolo or unsatisfied, Just return within 60 days and your 100% money will be refunded without any question asked.
How Credits Spends?
With every LTD tier plan, users will get some credit to create and export the generated video. For example Tier 1 plan offer 50 credits every month.
And creating 1 video will spend 5 credits, means in this plan you can generate 10 videos per month, and after that next month these credits will be renewed.
Comparing to official site pricing, it much more affordable,
Conclusion – Is Oxolo worth Buying?
In conclusion, Oxolo AI has everything you need to create professional-looking videos that captivate your audience. Plus, with its lifetime deal pricing plans, it's a cost-effective solution for businesses of all sizes. If you're looking to take your marketing videos to the next level, definitely give Oxolo AI a try.
Have any questions or want to share your experience? Comment below!
FAQ: Frequently Asked Question for Oxolo Review 2023
Are there any limitations or challenges when using Oxolo to generate videos?
Although this platform is amazing but there are some limit.

First the quality of videos generated may vary depending on the input information and images. Users may need to review and edit the generated videos to meet their marketing needs.

Second, Credit spends, it take 5 credits for 1 video. So users need to take care before using it carelessly.
Thank you for reading this post, don't forget to share with more people like you!