In this article, you will know everything about Best Appsumo Sumo Day Deals 2023 and best lifetime deals you can get on software or Saas tools.
You'll find the best lifetime deals on Content creation, WordPress tools, Productivity, SEO tools, Marketing, Ai Tools, Analytics, Customer Relationship Management (CRM), Automation and much more.
Here are some of my favorite best Sumo Day Deals,
What is Sumo Day by Appsumo?
Every year, App sumo launches a sale which they call Sumo Day. This is a 4-days (96 hours) sale in which they either bring back popular deals or offers exclusive deals on software products to its customers with great allowances.
During Sumo Day, App Sumo negotiates with software vendors to give their customers lifetime access to various software tools at heavily discounted prices.
The sale usually lasts for 96 hours, and it is open to all existing sumo-ling (old customers) and new customers.
App Sumo created Sumo Day as a celebration of its customers' loyalty, giving back to the community by making the best deals available.
This is the great time to get best appsumo lifetime deals with more discount..
And in this post, I have also given list of Best Appsumo Lifetime Deals that you can consider buying this Sumo Day 2023 Sale.
But before that let me tell you what is appsumo and whether it's safe or not?
Appsumo Overview – Is it Safe Place for Buying Software Lifetime Deals?
AppSumo is a website that offers lifetime deals (one-time purchases) on software/saas tools for entrepreneurs, small businesses, content creators, marketers, and freelancers.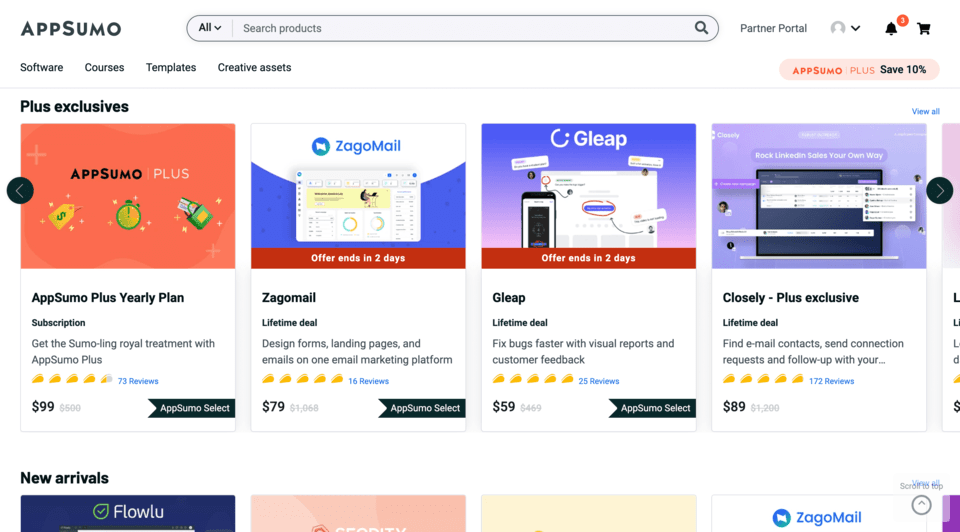 They offer discounts of up to 99% off, so you can get the tools you need to grow your business without breaking the bank.
In most simple words, you will get the product for a lifetime without paying full price.
In addition, App Sumo also offers a variety of other perks for entrepreneurs. For example, they have a referral program that allows you to earn credits towards future purchases, and they offer a 60-day money-back guarantee on all of their products.
if somehow you are not happy with the purchase, you can return it within 60 days of purchase and the full 100% money (no partial refunds) will be back without asking any questions. No risk on LTD cancellations at all.
It makes this marketplace totally risk free!
And it's been 13 years since appsumo launched in 2010 by Noah Kagan with vision to help entrepreneurs getting software LTDs so they don't have to pay every month.
You can even users review and other free online proofs of customers.
So what are you waiting for? If you're looking for the best deals to grow your business, then head on over to AppSumo and check out their latest sumo day lifetime deals.
Best AppSumo Sumo Day Deals – 2023 Software Lifetime Deals
Best AppSumo LifeTime Deals For Sumo Day 2023
1. Optinly – No code pop-up builder (Best Appsumo Sumo Day Deal)
Optinly lets you easily create goal-based web page popups with specific triggers. You can use these attention grabbing pop-ups to engage visitors, capture email or leads and grow customer base. It's the best Appsumo deal for pop up builder.
There are 6 pop-up types that you create from scratch using drag n drop builder or simply choose from 30+ prebuilt templates or create from scratch using drag n drop builder.
And the prebuilt templates are fully customizable, you can change the font, colour, add images, animations, links, and much more to get the pop-up in tip-top shape, right from Optinly.
Optinly is Best Alternative to: OptinMonster, WisePops, and Poptin
Optinly lifetime deal cost only $59 for 5 site access to use unlimited pop ups.
Normal Price: $300/year subscription for 1 site
Appsumo Price: $59 (Lifetime Deal)
2. Sendfox – Most affordable email marketing solution
SendFox is an affordable email marketing tool for bloggers, podcasters, marketers and other content creators that lets you set up your own email campaigns, schedule, and automate.them.
Appsumo's founder Noah mentions they created Sendfox to cut down their expenses on email marketing campaigns that they are running via other email marketing tools. As we know it costs a lot.
But now thankfully, with their email marketing tool, you can get SendFox lifetime deal in just 49$.
If you're looking for an affordable email marketing solution that lets you set up email automation, send drip campaigns, and create landing pages, SendFox is the best appsumo deal for email marketing.
With SendFox, you can easily create beautiful email newsletters, automated email sequences, and landing pages that convert.
Plus, SendFox integrates with a variety of third-party tools, so you can use it to its full potential.
Sendfox is Best Alternative to: Mailchimp, Convertkit and Active Campaign
Normal Price: $240
Appsumo Price: $49 (Lifetime Deal)
---
3. Katteb – Factual Ai Writer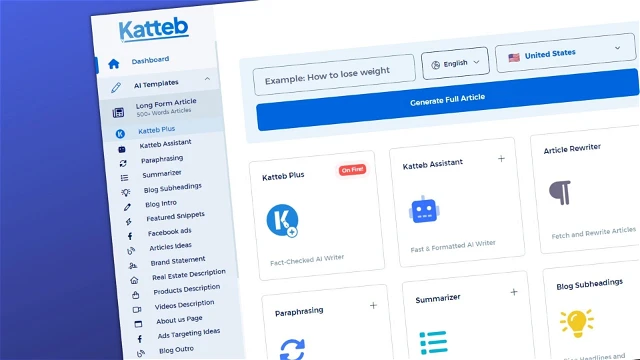 Unlike the most ai writers which generate low quality and inaccurate content. Katteb is a fact checked ai writer for high-quality content with updated information.
It uses a proofreading engine to make sure your content is highly readable and enjoyable.
Using Katteb, you can create short as well as long form SEO optimized content in minutes.
Katteb is Best Alternative to: Copy.ai, Jasper
Katteb lifetime access plan starts from $39 in which users get 15,000 words/month content generation limit with all features.
Normal Price: $999/month
Appsumo Price: $39 (Lifetime Deal)
---
4. Tykr – Global stock market tool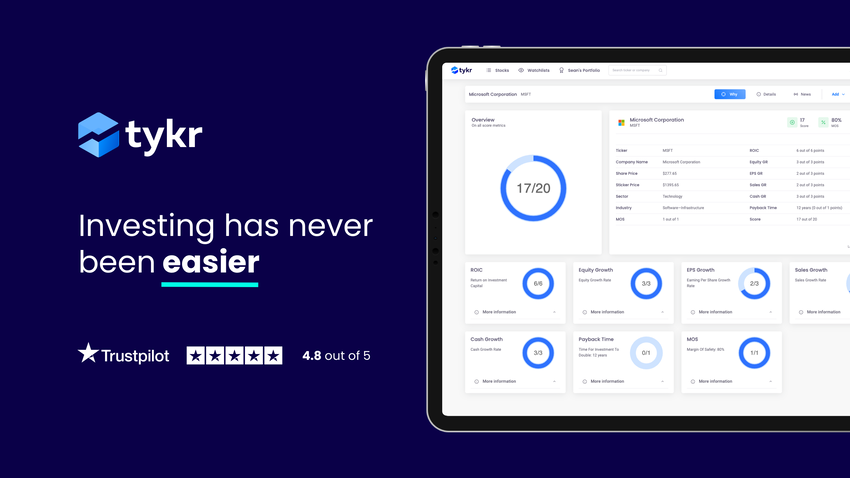 When it comes to investing in stocks, it can be tough to know when to buy and sell. Do you wait for the perfect moment? Or do you jump in and hope for the best?
With TYKR, you can take the guesswork out of stock investing. TYKR is an ai-powered stock market investment that will tell you when to buy and sell stocks (based on the company's Financial statements), removing the emotions and guesswork from the equation.
With TYKR, you can find out the stocks which have a high chance to grow in future and see how they would have performed in the past.
This way, you can make informed decisions about when to buy and sell stocks in the future.
All you have to sign up and select the country, and which stock market you want to monitor and analyse.
TYKR is an excellent tool for both beginner and experienced investors. If you're new to the stock market,
TYKR can help you learn the ropes and make your first trades with confidence. And if you're an experienced investor, TYKR can help you fine-tune your strategy and get the most out of your investments.
Features & Benefits Video:
Tykr is Best Alternative to: Beginner and advanced investors who want to reduce risk, save time, save money, and increase their annual returns
Normal Price: $900/year
Appsumo Price: $119/one-time payment
---
5. NeuronWriter – Content Optimization Tool with Ai writer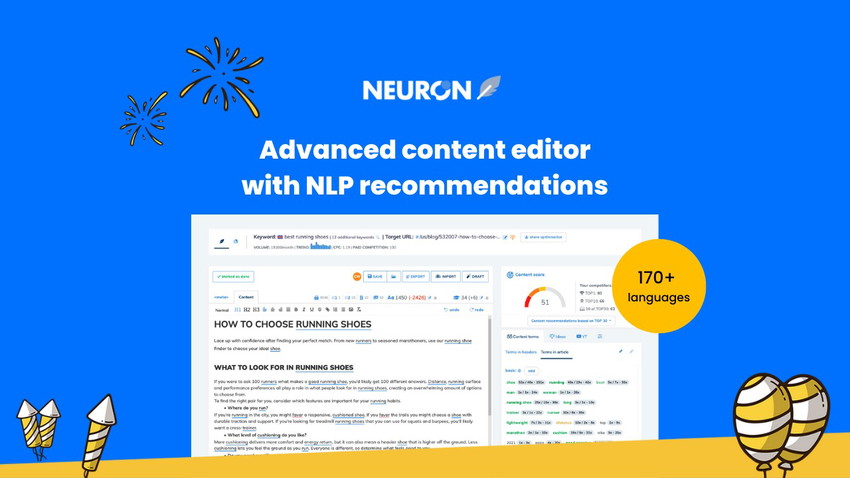 NeuronWriter uses natural language processing (NLP) to analyze your content and help you identify areas where you can improve your SEO.
For example, NeuronWriter can help you choose the right keywords to use in your content, and it can also help you optimize your titles and descriptions.
It is designed to help you boost your SEO rankings by making it easier for you to write high-quality, keyword-rich content. It does this by using a variety of NLP techniques, including keyword extraction and semantic analysis, to help you identify the most effective keywords to use in your content.
In addition to helping you improve your SEO, NeuronWriter can also help you save time. NeuronWriter can automatically generate content for you, and it can also help you format your content so that it is easy to read and understand.
If you are looking for a way to boost your SEO, NeuronWriter is a great option to consider
Best for: businesses and entrepreneurs looking for a powerful AI tool to assist with content and SEO
Neuronwriter is Best Alternative to: Frase, Marketmuse, SurferSEO
Normal price: $750/year
Appsumo Price: $69/one-time purchase
---
6. Siteguru – Website SEO Audit tool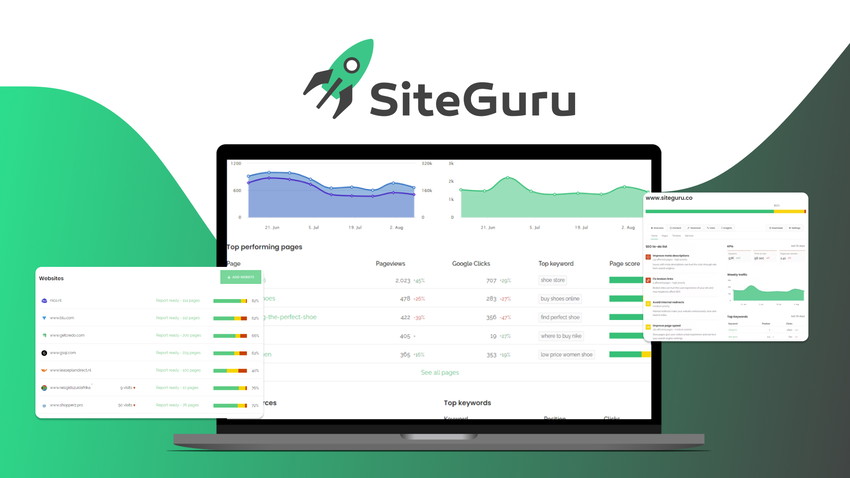 If you're serious about getting your website to rank higher in search engine results pages, then you need to audit your site's SEO.
With SiteGuru, you can get a full SEO audit that tells you exactly where you need to start making changes.
This is important because knowing where your site needs improvement is the first step to fixing those issues and improving your rankings. SiteGuru makes it easy to get started on the road to SEO success.
SiteGuru is an important tool for anyone who wants to improve their website's SEO. With its easy-to-use interface and comprehensive report, it's a great way to get started on the path to better search engine rankings.
Best for: Great deal for website & online business owners, bloggers, marketing agencies and everyone who just getting started with SEO as well as experienced SEO consultants
Siteguru is Best Alternative to: Labrika, Sheerseo
Regular price: $499/year
Lifetime deal: $49/one-time payment
---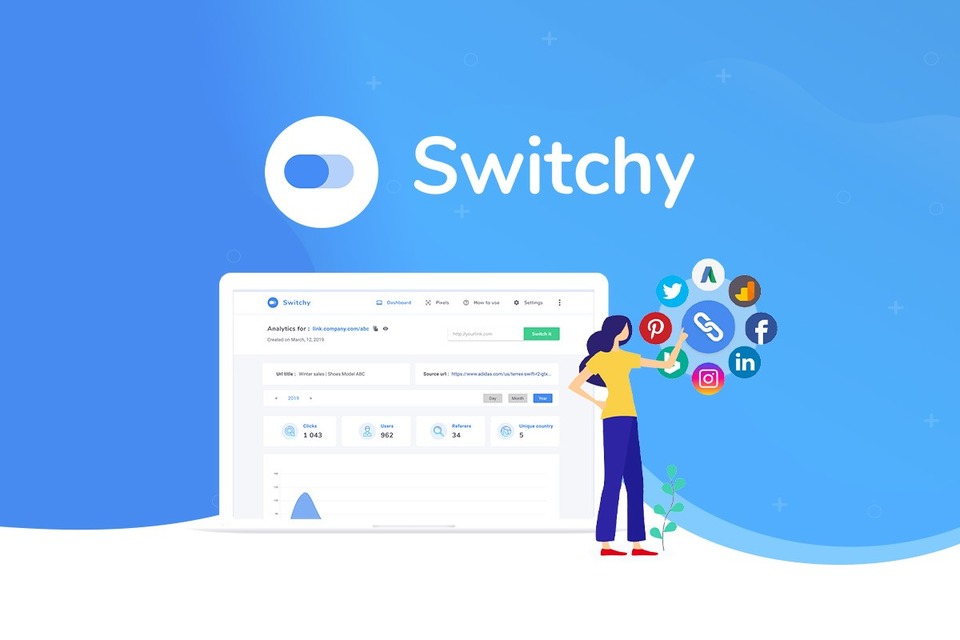 Switchy is a custom link shortener tool like bitly or Rebrandly. Which lets you retarget ugly long links into short form links.
You can connect custom domain, manage links, track them, add analytics pixels, UTMs, tags, geo-redirect or do A/B testing. Plus there also some deep linking features.
The best part, switchy also lets create branded bio link pages to share various type content such as blog posts, videos or links with previews in one beautiful layout page.
Switch is Best Alternative to: Rebrandly
Switchy LTD plan pricing start from $39, where you will get 30,000 clicks/month, 8 custom domains connectivity, 10 team members access and 2 bio pages you can create.
Normal Price: $47/month for 10,000 clicks
Appsumo Price: $39 (Lifetime Deal)
---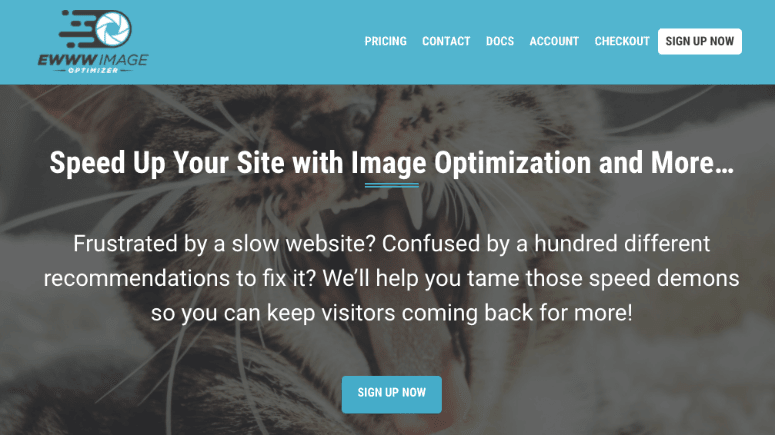 If you are looking for plugin to reduce website images size and make them load faster then Ewww is the best appsumo deal, which lets you do that easily on automation.
Just install this plugin, and EWWW image optimizer automatically reduce heavy images file sizes without effecting their quality. Resulting, your website speed will improve to load faster, and now because it loading faster so bounce rate will be decrease, improve SEO and rank higher on google.
EWWW is Best Alternative to: WP Smush
EWWW lifetime deal cost only $99 one-time payment for 10 website licenses.
Normal Price: $150/year subscription for 10 sites
Appsumo Price: $99 (Lifetime Deal)
---
Flexclip is an online video creating platform with auto captions & text to speech feature which edit and create stunning videos, slideshows in minutes for any social media format.
Users can even switch 1 video format into other, for example horizonal 16:9 (1920×1080) into a vertical 9:16 (1080×1920).
It has 3000+ prebuilt videos templates, 1000+ text animations presets, 4 million+ copyright royalty free images, videos, icons and music.
Overall flexclip is a overall solution for creating beautiful trending videos in minutes.
Flexclip is Best Alternative to: Flimora
Flexclip lifetime deal pricing is $69 for unlimited video downloads.
Normal Price: $400
Appsumo Price: $69 (Lifetime Deal)
---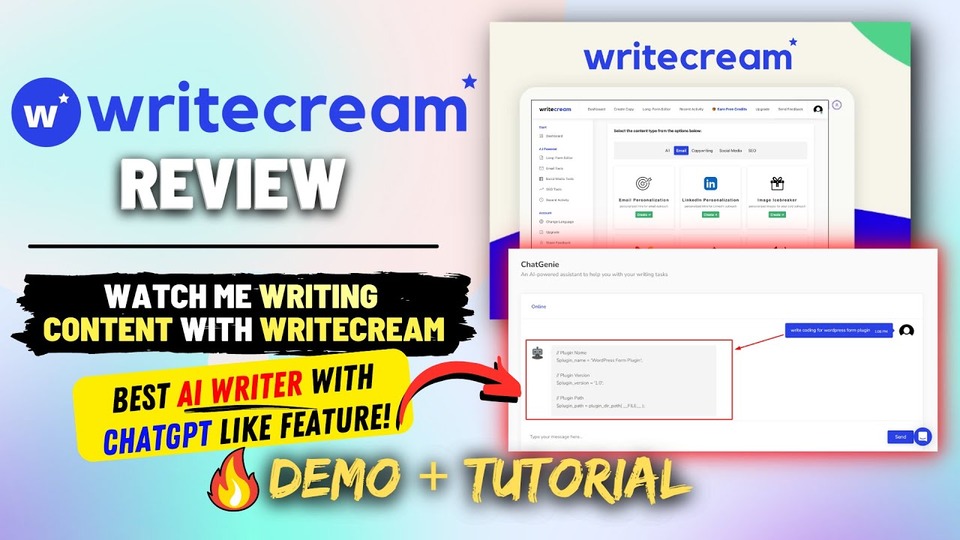 Writecream is one of the Best Ai Writing Tool which also has a chatgpt like conversational ai called ChatGenie.
Believe me, writecream is one of the best appsumo deals in Ai writing tools.
It comes with over 40+ right tools to meet their copywriting needs. This includes creating ads, product descriptions/reviews, blogs, and various forms of social media content.
What's more, users can leverage Writecream ai writer to generate personalized scripts for their outbound marketing efforts, outreach, and cold emails, as well as backlinks purposes.
And there's also an in-built Plagiarism checker to check originality for generated content.
Writecream is Best Alternative to: Jasper, Wordhero, Peppertype
Writecream lifetime deal cost just $59 in which you will get 400,000 characters credits for content generation.
Normal Price: $588/year for 400,000 characters limit.
Appsumo Price: $59 (Lifetime Deal)
Who is Sumo Day Best for?
If you are either one of these – Blogger, Marketer, SEO expert, Social Media influencer, Consultant, Coach/Teacher, Entrepreneur, E-commerce owner, YouTuber, Graphics designer, Freelancer, or doing any kind of Online Business. Then at some points you need software tools to grow your business.
And App sumo is the right place for getting Saas Lifetime Deals with upto 99% discount. Compared to softwares original pricing app sumo offer a lot affordable deals. And in Sumo Day you can get even more benefits on deals.
Popular tools back, extra 10% discounts, giveaways, big savings and much more for 96 hours till the Sumo day ends.
When is Sumo Day 2023 Sale?
Every year app sumo held this annual sale in June or July. This year's Sumo day also scheduled from June 11 2023 at 4 pm CT to June 15 2023 at noon CT timezone.
What kind of software deals are available on AppSumo Sumo Day 2023?
App sumo categorizes deals under Operations, Marketing & Sales, Build it Yourself, Media Tools, Finance, Development & IT, and Customer Experience, with sub-categories available for each. You can shop by category.
You can find software and most powerful tools for almost every category that can basically grow your business. Here are some popular categories with example,
SEO Tools: Provide website health, Serp analysis, KW research and prosperity information and warnings – Siteguru, Labrika
Email Marketing Tools: Used to create and analyze email campaigns – Sendfox
Course Building Tools: Interactive teaching websites with all LMS features – Acadle
Site Building: Create any niche of websites easily – Webullar
Project Management Tools: Provides real-time information and accelerates innovation process
Social Media Marketing Tools: Streamline social media marketing workflow and curate content for Facebook/Instagram, Linkedin, Tiktok or Google my business – Sociamonials
Client Management Software: Helps maintain a flourishing pipeline and track client activities
Sales Funnel Builders: Guides setting up segments and increasing sales through promotions and advertising
Ai Content Writing Tools: Manage content writing processes, client communication, and projects – Writecream, NeuronWriter
Stock Photos: Crucial for blog visual representation and initial reader interest – Depoistphotos
Video Hosting & Marketing Platform: Hosts and distributes video content to connect with people globally
Video Editing Software: Fundamental tool for YouTube and marketing video creation – Flexclip
Security Tools: Build trust and reliability by improving privacy regulations and user awareness
WordPress Plugins & Tools: Themes and plugins catering to WordPress management needs – Wp reset, Ewww Image optimizer
Ai Photo Editing Software: Used to enhance and create gripping photos and animations
Web Development Tools: Accelerates projects and allows collaboration with team members
Productivity Tools: Enhance productivity by providing a structured layout of task processes
How Does AppSumo Sumo Day Work?
Appsumo's biggest sale of the season starts from 1st day to 4th day, straight 96 hours Sumo day deals start to being live. And you can even see some of the best selling deals back on LTD or exclusive deals just for the sale period.
For every deal which are available for sale during this period tagged with 'Sumo Day' at left side top corner, like this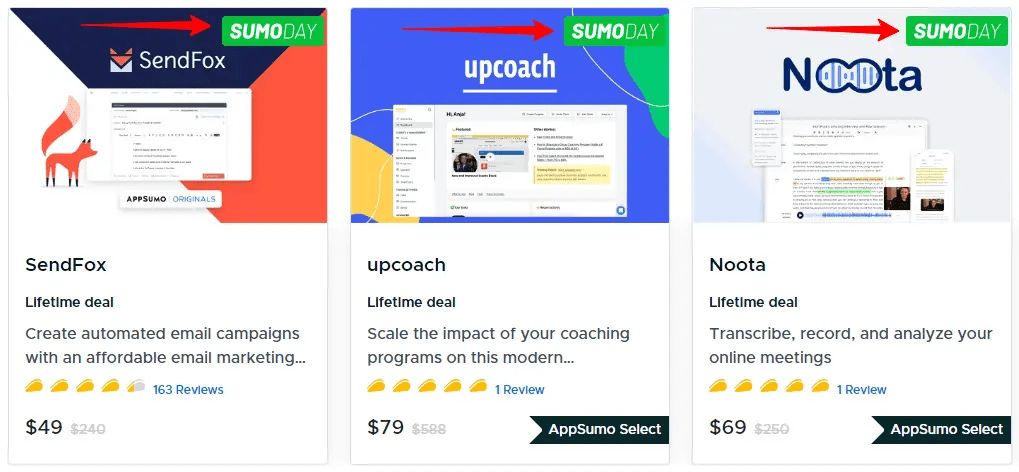 It will instantly help users to identify best sumo day deals.
What is Appsumo Plus Membership?
Although it's a free marketplace for buying saas tools, but App sumo also offer premium rewards membership program to it's loyal customers called Plus Membership. In which it offer many benefits.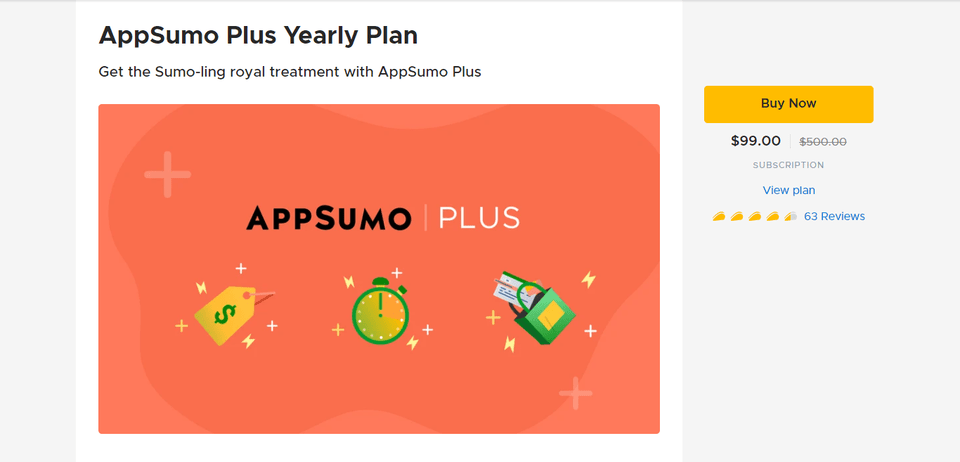 🔥 Appsumo Plus Benefits,
✔️ Membership discount – Extra 10% off deal purchases
✔️Access to AppSumo Originals Plus Exclusive Freebies (SendFox, KingSumo web pro, EmailBadge, ShortySMS, SleekBio)
✔️Access to AppSumo Last Call (96 hour members only access to all-star deals we bring back to the store)
✔️Access to Extended Access Deals (72 hours of bonus access to recently expired deals)
✔️Access to The Sauce (Plus exclusive business community)
👉Get Appsumo Plus here – https://appsumo.8odi.net/get_plus
Appsumo Plus Review (Video)
Anything Special for Appsumo Plus members During Sumo Day 2023?
Along with sumo day deals, Plus member can also get 10% extra discount which save them more money. Plus some of deals will be just exclusively available for plus members.
There are also other surprise benefits which will be unveiled, once sale is live.
Any Discount or Coupon Codes for Appsumo Sumo Day Deals 2023
For new users or first time buyers, platform offers 10% discount on total cart checkout process. Here, how you get that.
Want an extra 10% discount on Appsumo Deals, Just follow these steps below,
Wait for few seconds, until a discount pop up appears
Enter your Email address (will be used for creating new app sumo account)
Check your inbox, you will get an extra 10% discount
NOTE: This is only for your First-order or New Users.
Is There any Giveaways During Sumo Day?
Yes, appsumo holding a giveaway "Custom Swag Pack' for it's customers. Anyone can enter this plain fun giveaway free of cost, a perfect way to win free goodies.
Lucky Winners will get Custom brand printed,
T-shirts
Magnets
Keychains
Stickers
These custom products will be cash-like equivalents to 10 grand. And lucky giveaway winners will announced via email.
FAQ: Most Asked Question for Appsumo Sumo Day Deals 2023
Thank you for reading this post, don't forget to share with more people like you!