OptinMonster vs Optinly: In this post, we are going to review and compare the 2 pop up builder tools- Optinly vs OptinMonster. And will find out which one is really the best tool for pop up creation to increase your email lists, sales and website visitors attention.
Optinly and OptinMonster, both of them are popular pop-up building & lead generation tool, packed with lot of features, which let users create or manage various types of optin form & pop-ups on their website to capture leads, boost conversions, promote discounts or offers and many more things.
But which one you should choose?, because each one has it's unique features, pros and cons.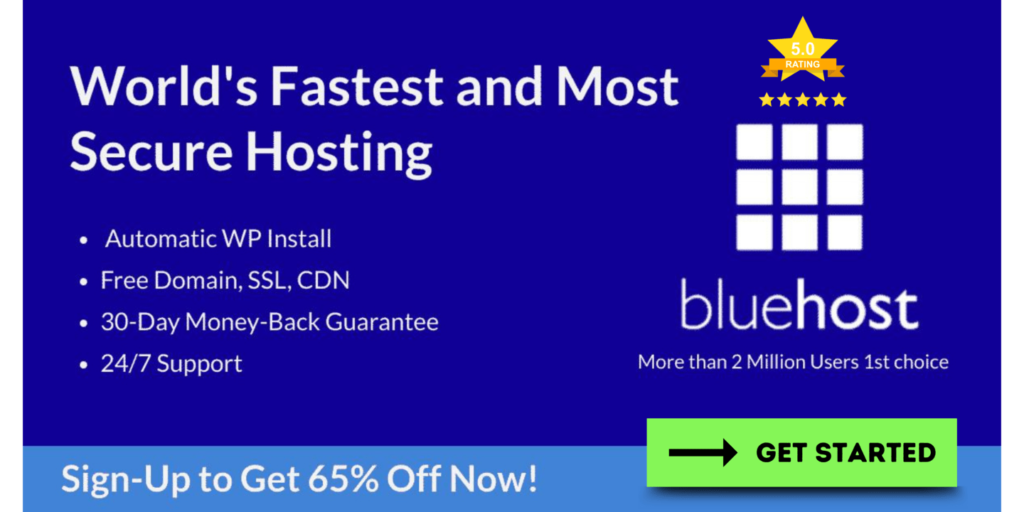 Don't worry this post will help you to find out.
So, let's start with comparing these tools specs & features side by side!
Attention Please: Optinmonster don't offer any lifetime deal and have high monthly prices! So if you are searching for a lifetime deal consider checking Optinly (it's the best Pop up builder wordpress plugin with lots of good features).
You can also Read detailed Optinly review here…
Optinmonster vs Optinly: Side by Side Comparison
Features
Optinly
OptinMonster
Pop up Types
Exit Popup
Float Sidebar Popup
Full Screen Overlay
Gamification Popup
Notification Popup
Time Delay Popup
✔️
✔️
✔️
✔️
✔️
✔️
✔️
✔️
✔️
✔️
✔️
✔️
Pop Up Campaign Types
Floating Bar
Full Screen
Inline/After Post
Lightbox Popup
Side Bar Campaign
Slide in
Spin the wheel
✔️
✔️
✔️
✔️
✔️
✔️
✔️
✔️
✔️
✔️
✔️
✔️
✔️
✔️
E-Commerece
Promote Special Discount
Coupon/Product Popup
Increase Cart Value
Abundant Cart
Collect Feedback
✔️
✔️
✔️
✔️
✔️
✔️
✔️
✔️
✔️
✔️
INTEGRATION
Integration Available
Shopify
Webhook integrations
ESPs (email service providers)
CRM & Email Tools
✔️
✔️
50+
CRM & ESPs
✔️
✔️
All popular email service providers
Pop Up Tool Features
Unlimited Page Views
Advanced Triggers
Analytics Dashboard
Countdown Timer
Mobile Responsive
Mobile Targeting
Prebuilt Templates
Rule based Targeting
Personalised subscriber view
Success view
Google Tag Manager
A/B Testing
✔️
✔️
✔️
✔️
✔️
✔️
✔️, 30+
✔️
✔️
✔️
✔️
✔️
❌
✔️
✔️
✔️
✔️
✔️
✔️
✔️
✔️
✔️
✔️
✔️
Free Plan
✔️, very limited
❌
Lifetime Deal
✔️
❌
CUSTOMER SUPPORT
24/7 Live Support
Email/Help Desk
Online Chat
Phone Support
❌
✔️
✔️
❌
❌
✔️
✔️
❌
Get Optinly
Get Optinmonster
Optinly vs Optinmonster: What's the Difference?
Major Differences:
Both of them have mostly and pretty much similar features, functionality, pop up types and the things you can do. But still are few aspects where they don't match like,
User Interface & User Experience (Ease of Use)
You cannot get the100% out of any online tool until you are good at using it and that comes from the ease of use or more simply how easily you can use it.
That's why UI & UX matters most for any tool.
And here for this factor, Optinly my first choice, onboarding and installation setup process is very easy. NO matter which CRM (WordPress website, Shopify, Bigcommerce, Magento etc) you are using, optinly integrates with them easily with one click.

The same goes for email service providers, as the matter of fact, Optinly has in-dashboard integration available for 50+ ESPs which can be integrated with API.
Plus, there is also webhook integration available if your ESP is not available in the list.
Surely, Optinly made all this integration process very user-friendly that even a beginner or non-techie person can do in few clicks.
And all the features are available on the left side menu which users can access in one single click.
Pop Up Creation & Settings
In optinly and optin monster, you can create any type of pop up, opt-in form or marketing campaigns from scratch or customize using pre-built templates.
Then you can add onsite targeting and triggers to control the appearance on your website based on various factors such as exit intent, scrolling, time delay or page load.
Winner: Optinly
Pricing Plans:
Optinmonter only offer monthly subscription plans and have expensive pricing tags, specially on subscription basis.
It can charge up to $100 or more for all of their features, that's why they are not good suite for you.
Plus, even with this much charging every month they don't offer unlimited page views, which means as soon as the page view limit hit pop-ups appearing on your site will stop.
While on the other hand, for the same features and specs Optinly available with good pricing.
Optinly is a very affordable and budget friendly tool, it's pricing with all features and unlimited page views start from only $25/month (yes, no need to pay the high expensive prices like optimonster).
And here's the most sweet part because there's also Optinly Lifetime Deal available on appsumo.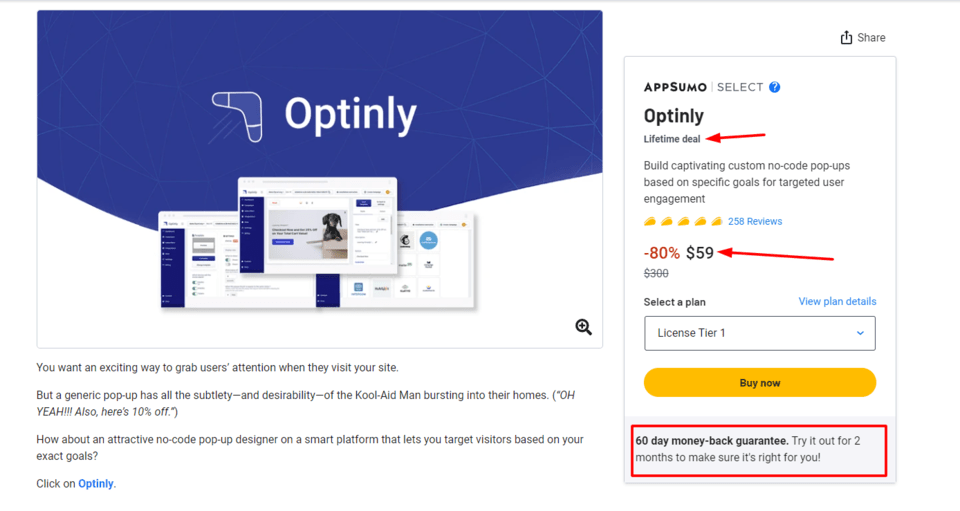 Optinly Lifetime Deal: Includes
Lifetime access to Optinly
All future Plan updates
Multiple Sites Allowed
WordPress, Shopify integration
75+ premium templates
 Exit-intent technology
6 pop-up form types
12 email service provider integrations
In-depth analytics dashboard
Advanced targeting
Integrations: Zapier, Pabbly Connect, Integrately, and Pixabay
Spin wheel gamified pop-up
Eyecatcher and pop-up launcher
Countdown timer pop-up
And there is also 60 days money-back guarantee for every plan, which means if somehow you are not happy with Optinly (which is not going to happen), you can return it within 60 days of purchase and full money will be back without asking any question.
Needs Attention: Most deals are out of stock within a week of coming to a lifetime deal offer. So take it now if you need it or don't want to miss it.
GET Additional 10% OFF on Optinly Lifetime Deal
Want an extra 10% discount on Appsumo Optinly Lifetime Deal, Just follow these steps below,
Wait for few seconds, until a discount pop up appears
Enter your Email address
Check your inbox, you will get an extra 10% discount
NOTE: This is only for your First-order or New Appsumo Users.
Needs Attention: Most deals are out of stock within a week of coming to a lifetime deal offer. So take it now if you need it or don't want to miss it.
Optinmonster vs Optinly Comparison: Video
In this video, I've compared 3 pop up builder tools- Optinly vs OptinMonster vs Poptin. And will find out which one is really the best tool for pop creation to increase your email lists, sales and website visitor's attention.
Who Wins: Optinmonster vs Optinly
Both tools are good but currently in terms of features, but optinmonster have high pricing tags that usually most people can't afford especially if you are a small business.
While with the same features and specs, Optinly is much more affordable and the best part It's on Lifetime Deal.
That's why I recommend to go for the Optinly Lifetime Deal, in one-time payment (which is even less Optinmonster 1 month plan price), you are getting lifetime access for multiple websites, all features, future updates and unlimited pages
FAQ: Most Asked Questions on OptinMonster vs Optinly
What is Optinly used for?
Optinly is a pop up builder with advanced lead generation and pop up features. You can set onsite retargeting triggers when and who to show pop ups and there also 100s of pre-designed templates available ready to use.
Is Optinly really free?
No it's not completely free. Although Optinly free plan available but it's very limited and don' offer advanced features.
Is There a Optinly wordpress plugin?
Yes, you can install optinly wp plugin in your wordpress site.
What kind of popups we can create with Optinly?
Display popups, wheel popups, Fullscreen overlays, basically you can create any kind of popup campaigns with it's popup maker.
Thank you for reading this post, don't forget to share with more people like you!